Easy, Delicious Wassail Recipe (It Smells Like Christmas!)
"What is that AMAZING smell? It smells like Christmas!" my nine year old exclaimed as she came down the stairs. That amazing smell was the traditional holiday punch, Wassail, simmering on our wood cook stove.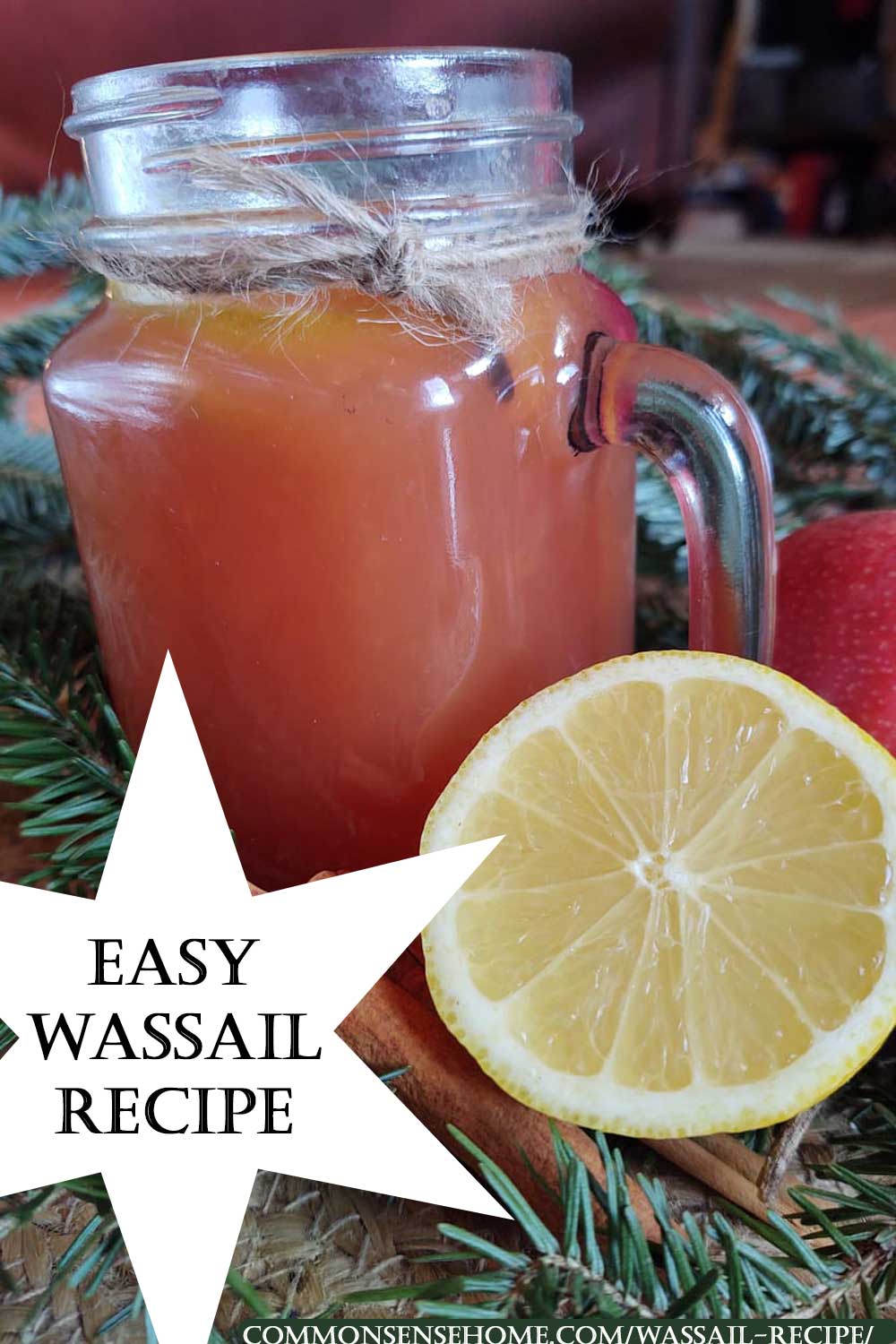 I keep it pretty simple around the holidays, this recipe included. No need to add stress to the season when you can have delicious results in a fraction of the labor.
With just a few ingredients and five minutes of your time, you'll want to add this recipe to your yearly holiday traditions.
What is a Christmas Wassail?
Wassail is a hot punch or mulled cider, served with or without alcohol.
There are so many lost traditions of the past. Very few remain today, such as the burning of a Yule log, stringing popcorn, and singing carols. The drinking of the wassail is one tradition that has stood the test of time and is a great way to bring in the New Year!
The tradition of drinking wassail dates back to the 8th century as you can see in the eighth-century poem, Beowuf.
The rider sleepeth,
the hero, far-hidden; no harp resounds,
in the courts no wassail, as once was heard.
Another earlier recording took place in 1066, during a toast before the Battle of Hastings
Rejoice and wassail
Pass the bottle and drink healthy
Drink backwards and drink to me
Drink half and drink empty.
Generally drunk from a bowl and shared with guests, friends, and family, the earlier recipes included mead, mulled cider, or brandy. Partakers would dip out of a community bowl as they toasted "Wassail!"
What does wassail mean?
Wassail is an Old English word meaning "be you hale."
The tradition of drinking wassail is associated in wishing someone good health as you sip of the hot mulled cider or hot apple cider.
Add a little bit of fun and tradition by including the proper toast with your holiday drink.
Cheers!
After you receive your hot beverage, toast cheers and say 'Wass Hael!' Then reply: 'Drinc Hail!'
Wassail – Old English word meaning
be whole
be well
drink and be healthy
be beautiful
be healthy
Drinc Hail = drink to your good health.
Not sure about you, but I think saying 'Wass Hale' and 'Drinc Hail' is a fine well-wishing to offer those around me.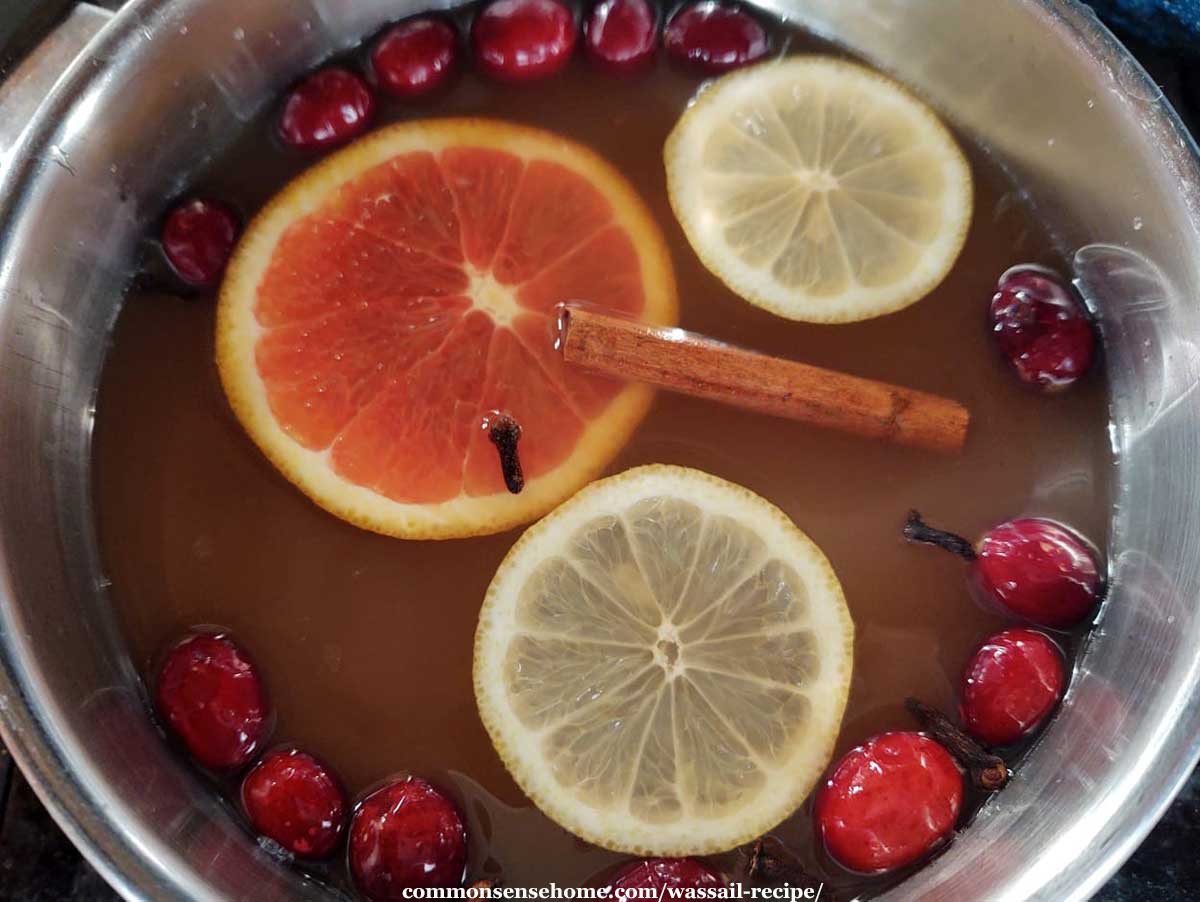 When to Drink Wassail?
Often associated with the Christmas holiday, wassail was traditionally drunk on the twelfth day of Christmas, which was January 5th or 6th depending on if you started counting on December 25th or 26th.
The 12th Day of Christmas marked the coming of the Epiphany which is one of the oldest holidays celebrated by the Christian Church.
However, we feel that you'll enjoy this recipe so much you'll want to make it for any special social gathering, not just for your Christmas party!
What is Wassail made of?
Early in the middle ages, this recipe consisted of spiced wine, cloves, and spices. The ingredients were expensive, making it a costly drink only reserved for special occasions.
Thankfully, today the ingredients are fairly affordable and readily available.
Some of the traditional ingredients included
Crab Apples
Sugar
Cinnamon
Ginger
Nutmeg
Toast
Traditional Wassail Recipe Ingredients
Some "old school" wassail ingredients include:
Apples
Brown Sugar
Ale or Beer
Sweet Sherry (rum, brandy, wine)
Ginger
Mace
Cloves
Berries
Eggs
Brandy
Buttered Toast
You can find instructions for a traditional recipe at Colonial Williamsburg ~ Recipes for A Twelfth Night Celebration.
Homemade Easy Wassail Recipe
As I mentioned earlier, I like to keep things simple, especially around the holidays. This time is crazy enough, I don't need to squeeze in one more thing that will take a lot of time and preparation.
You can easily make this in less than ten minutes — five if the kids aren't helping.
This recipe offers the amazing flavors of cider, cinnamon, and spice, along with the sweetness of apples, simmered with the tartness of lemons and cranberries, the perfect blend for a warm holiday drink!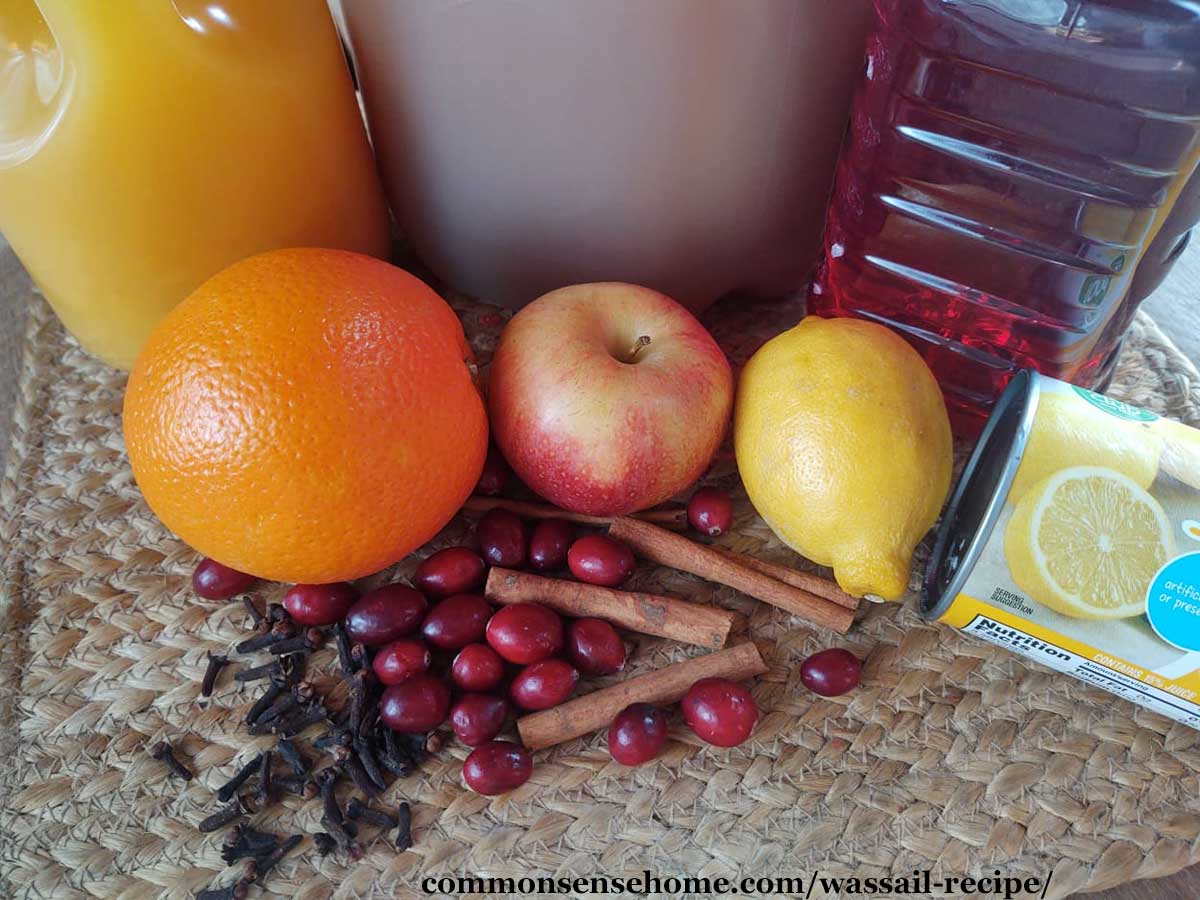 Shopping list for your hot wassail:
cloves or allspice
cinnamon sticks
orange juice
frozen lemonade concentrate
1 gallon apple cider, spiced cider, or apple juice
lemons and oranges for garnish
You can heat your wassail in a large pot on the stove top or in a slow cooker. Heat for around 45 minutes.
Print
Easy Homemade Wassail
Hot wassail is a delicious drink that the whole family can enjoy from two to ninety-two. It smells like Christmas in a mug.
Author:
Prep Time:

5 minutes

Cook Time:

45 minutes

Total Time:

50 minutes

Yield:

19

–

8

ounce cups

1

x
Category:

Beverage
1 teaspoon

of whole cloves or

1/4 teaspoon

of ground cloves or allspice

4

–

6

cinnamon sticks

1

cup

fresh cranberries

8

ounces

of orange juice

1

can frozen lemonade concentrate

8

ounces

cranberry juice

1

gallon

of apple cider or spiced cider
lemon and orange slices for garnish
In a large pot on the stove or in a slow cooker, add all of your ingredients.
Cook on low heat for 45 minutes.
Garnish with fresh orange and lemon slices.
Serve your hot wassail and toast!
Notes
For adults only, you may add:
Rum
Spiced Rum
Brandy
Sherry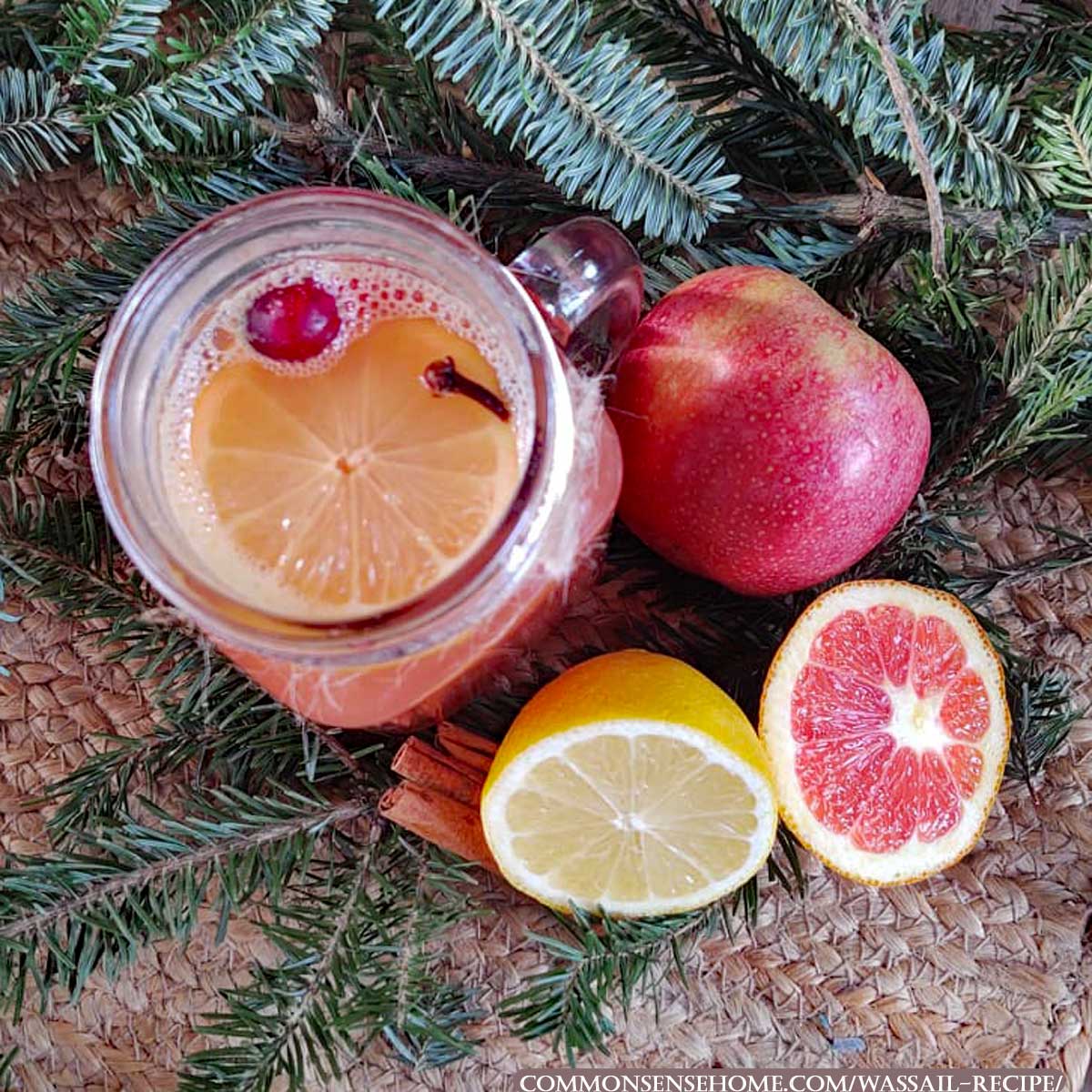 How long can you keep wassail?
This recipe will keep in the refrigerator for 7-10 days. However, you can bottle and ferment it like they did in the old days.
If you like, you can make your own Wassail Beer and Ale with one of these traditional "alcohol-included" recipes Wassail Beers & Ales. These can last for years, if you don't drink it all first.
The Wassail Song
Maybe before reading this recipe you weren't even familiar with the drink, but you knew the song? My son's girlfriend was shocked to know it was an actual drink, yet she knew the song well.
History of the Song
Record of this song dates back as early as the 1700s but is thought to have variations that date back even further.
The song was earlier known as "Gloucestershire Wassail" which was a traditional Christmas Carol in England. The current version of the song we sing today was developed in the early 1900s, with the author unknown.
Christmas Carol
"Here we come a-wassailing
Among the leaves so green;
Here we come a-wand'ring
So fair to be seen.
Love and joy come to you,
And to you your wassail too;
And God bless you and send you a Happy New Year"
After the 'Cheers' are made, top off your homemade Wassail experience with a little rendition that has kept this drink a part of our holiday traditions for hundreds of years!
Other Traditional Holiday Drink Recipes
While these recipes may not date as far back as the wassail, they've certainly been a part of the holiday festivities for generations.
Include a little memories from the past into your celebrations with our homemade holiday drinks:
We also have a traditional yule log cake recipe Bûche de Noël), easy sugar cookies, and 3-in-1 Christmas cookies.
This post is by Amber Bradshaw of My Homestead Life.
Amber and her family live off grid on forty-six acres in the Smoky Mountains in East Tennessee.