Over the years I've received many inquires about what above ground root cellar type options might be available for people in cold and warm climates. For those in warm climates – sorry, the physics are not in your favor, unless you have a spring house, but this post will give you some ideas to keep homegrown food on the table year round.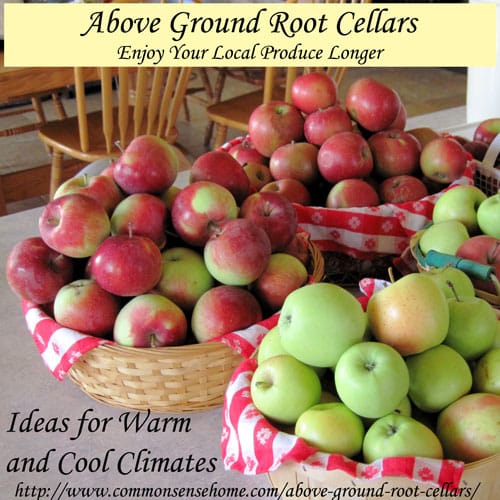 For those in cold climates – there are a number of above ground options that may help you store  your harvest without processing for at least part of the non-growing season. We'll cover those, too. First, let's talk root cellar physics. (Don't worry, I've got a minor in physics to go with my math degree – I'll get you through this.)
Root Cellar Physics
The goal of a root cellar or other food storage area is to create conditions that extend the shelf life of stored food. In a classic underground root cellar, it is cool and damp, with no direct sunlight. The ground surrounding the cellar acts as a constant temperature heat sink. Below about three to four feet (depending on how deep your ground freezes in winter), the ground maintains a fairly steady temperature (roughly 50-60 F in most areas). This steady ground temp helps keep the root cellar at a steady temp.
There should be a small amount of air flow into and out of a root cellar. Cool outside air should be allowed to come in to help lower the temperature in the cellar, and stale inside air should be vented out to remove excess ethylene gas that is generated by certain produce that will prematurely age the produce. No air flow at all = rotten produce. This is why simply burying an old fridge or freezer in the dirt with no ventilation is not a good idea. Introducing cooler outside air helps drop the temperature closer to refrigerator like conditions, which are preferred by many types of produce.
Classic root cellars also have dirt or gravel floors. This helps moderate humidity levels. Most produce prefers fairly high humidity to keep it from withering and wilting. Think crisper drawer in your fridge.
For a full listing of preferred storage temperature and humidity levels for over 30 different fruits and vegetables, as well as more information on underground root cellars, see the post "Root Cellars 101".
Now let's take a look at how we can get close to these conditions, and which foods are good storage or production choices when we can't match these conditions. Obviously, these options are not truly "above ground root cellars", because the term is an oxymoron, but since that's how people often describe this sort of storage, that's what I used for the title.
Above Ground Food Storage Options for Cold Climates
Garages and Outbuildings – If you have a garage or outbuilding, you may be able to adapt it for food storage. Note that any chemicals in the air (such as gasoline fumes) may be absorbed by fresh produce in open bins – living food "breathes" – so keep that in mind when you are planning. We have an insulated garage attached to the house, and I refer to it as my "seasonal fridge". The insulation keeps the temperature moderated, and we usually don't see freezing temps inside the garage until nighttime temperatures dip into the single digits.
You want to buffer your produce from temperature swings. You can do this by storage in coolers or insulated bins if your building is not insulated. Even if your building is insulated, adding a second layer of insulation won't hurt (as long as there is ventilation). For instance, when the local apple picking season is wrapping up, the boys and I hit the orchard for an assortment of apples, including those that are know for good keeping qualities. I sort through these apples and make sure to remove any that are bruised or blemished, as a damaged apple really can spoil the whole bin. The apples are then packed in old coolers or heavy duty cardboard boxes and placed in the garage. The boxes go up on metal shelves to make them harder for rodents to access and are used first. The coolers can be stored at ground level and are used later. If you leave the cooler spigot open and leave the lid not sealed completely tight, this will generally provide adequate ventilation. Do check frequently for any signs of spoilage, because this may not work quite as well farther south. (We are in northeast Wisconsin.)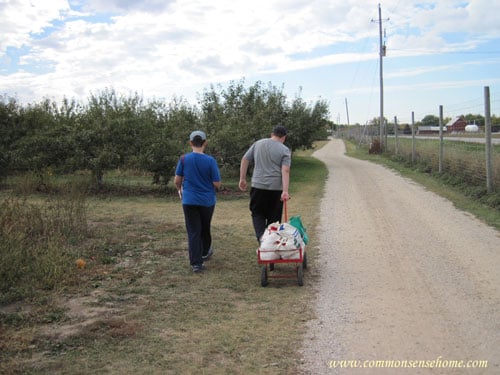 If you have an outbuilding with a dirt floor, you can dig into the dirt to make a more accessible in ground storage than burying things out in the yard. Do take note of greater risk of rodent infestation. In the book Root Cellaring, they discuss digging in a used metal storage locker. This would protect from rats and mice and good ventilation. Hanging bags or baskets also help prevent rodent access, but leave the produce more exposed.
Porches or Decks – If you have an unheated porch or attached deck with high clearance underneath, you may be able to put it to work for food storage. Just watch out for pests. Heavy duty plastic such as storage buckets will deter mice and bugs, but rats can gnaw right through plastic and you must protect your storage with metal. Using two layers of protection, say plastic buckets inside a metal garbage can, would keep food more accessible for you and less accessible for them. Remember, rodents can cram their bodies through any openings they can get their heads through. They leave urine trails to make their paths to food. If they find their way into your stash, you must take measures to control them and keep them out. See our post Best ways to get rid of mice in your house and garage for more information.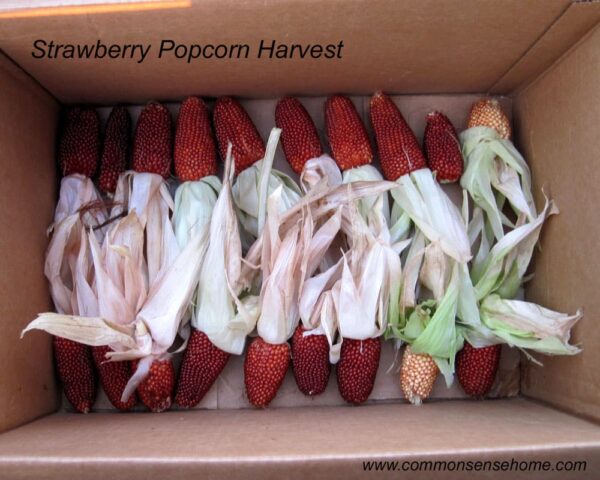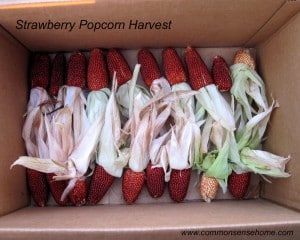 Inside the House – Attics, pantries, bedrooms, stairwells – all are fair game for food storage. If you have a part of the house that is not heated or minimally heated, this may be a prime location for food storage. Dried shell beans, dried produce and herbs, bulk grains, pumpkins and squash, onions and garlic – all of these store well in cool, dry conditions. (Pumpkins and squash have lived both in my pantry and in the root cellar. The pantry seems to work better for me.) Closets on exterior walls in minimally heated rooms could get very close to actual root cellar conditions. Hiding some squash in a box under the bed may work well for you – just don't forget you put them there or the smell of rotting squash will remind you. Last year I tucked our squash and pumpkin along one side of the stairway from our basement to garage while I waited for other space to become available.
Visit page 2 for warm climate ideas from southwest Louisiana.