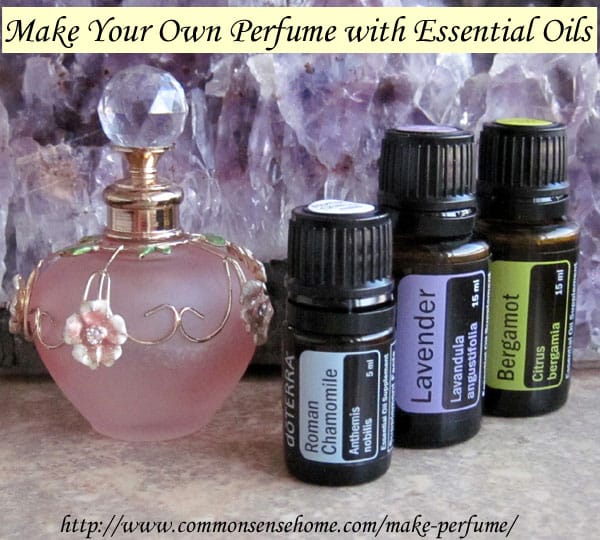 Why subject yourself and those who are close to you with a chemical cocktail when you can make your own perfume with non-toxic ingredients? The modern fragrance industry uses some pretty scary chemicals.
In "Scent of Danger: Are There Toxic Ingredients in Perfumes and Colognes?", Scientific American discusses a 2010 study of perfumes and fragrances by the Environmental Working Group, they found that:
The average fragrance product tested contained 14 secret chemicals not listed on the label…. Among them are chemicals associated with hormone disruption and allergic reactions, and many substances that have not been assessed for safety in personal care products." EWG adds that some of the undisclosed ingredients are chemicals "with troubling hazardous properties or with a propensity to accumulate in human tissues." Examples include diethyl phthalate, a chemical found in 97 percent of Americans and linked to sperm damage in human epidemiological studies, and musk ketone, which concentrates in human fat tissue and breast milk.
All you need to make perfume at home is a quality oil to use as a base, good quality essential oils, and a non-reactive container to store it in. I'm sharing some perfume making tips from my friend, Jo, at Jo's Health Corner. You can visit her Young Living Essential Oil store here. Jo is a wonderful lady with years of experience in natural health and using essential oils.
MY LATEST VIDEOS
Note: Even though essential oils are derived from plant material, there's still a chance that an individual may be sensitive to them. Before using an oil that is new to you on the skin, Jo recommends doing a skin patch test by washing and drying the forearm and applying a single oil blended in a carrier oil to the arm – just enough to moisten. Ideally the area is covered with sterile gauze and left for 24 hours, then checked for any signs of irritation. If irritation occurs, topical use of that oil should be avoided.
Which Oils Should I Use as a Perfume Base?
For your carrier oil, you want an oil that has a neutral smell that does not go rancid quickly. Some options include:
If you want to make a solid perfume, use equal parts carrier oil and beeswax. Melt together gently and then add fragrance and pour into container for storage.
Which Essential Oils Should I Use to Make Perfume and How Much Should I Use?
Jo recommends a blend of high, middle and low notes in perfume blending.
Top notes: 3 drops
Middle notes: 2 drops
Base notes: 1 drop

The top notes are the most pungent and volatile. They act quickly and disappear quickly, and their first impression only lasts for about 30 minutes. They stimulate and uplift.

The middle notes are more stable. Their scent unfolds anywhere from one hour to three hours after application. They soothe and balance the body, and they round out a blend with softer tones.

Base notes are the least volatile and may be used as fixatives in a blend, holding in the fragrance longer than a blend without a base note. They are heavier and thicker than other oils, and are generally relaxing. Base notes are deep, warm, sensuous, and often sweet-smelling.
For a listing of which oils are top, middle and low notes, visit her post: "Make Your Own Perfume". Jo has graciously allowed me to share some of her recommended perfume blends. I picked some of my favorites that I think will work well for my friends and I. Note: 0.5 fluid ounces equals about 1 tablespoon.
Jasmine Perfume Blend
2 drops jasmine
4 drops sandalwood
2 drops ylang ylang
0.5 oz. carrier oil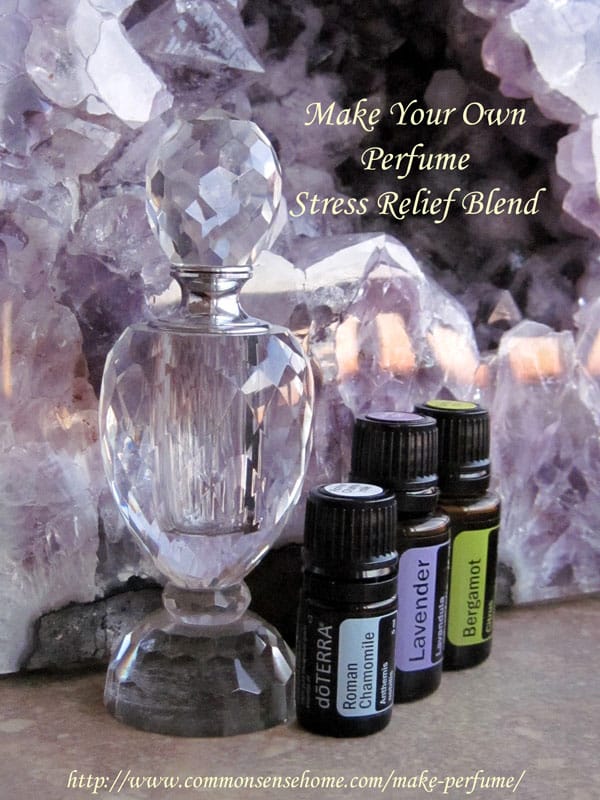 Stress Relief Perfume Blend
3 drops lavender
2 drops bergamot
1 drop Roman Chamomile
0.5 oz. carrier oil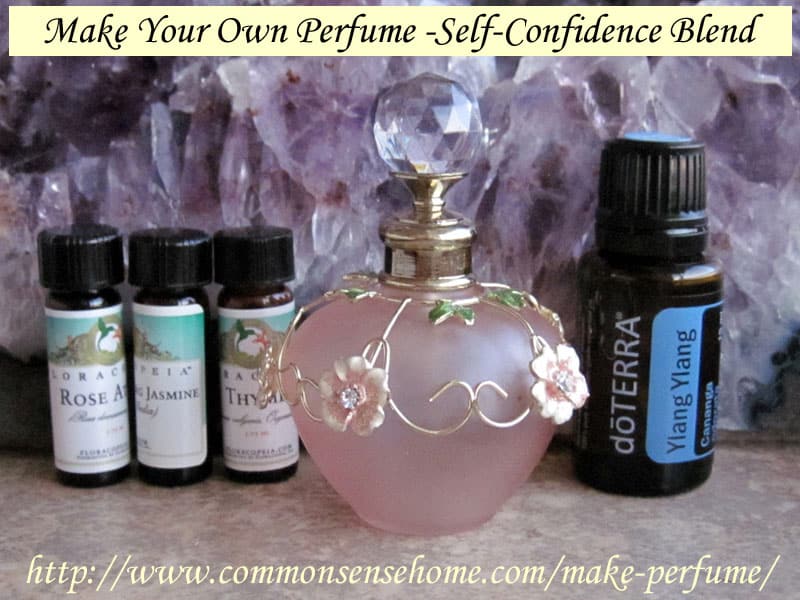 Self Confidence Perfume Blend
1 drop jasmine
1 drop rose
I drop ylang ylang
3 drops thyme linalool
10 ml carrier oil
Put in roll on bottle and apply throughout the day as perfume.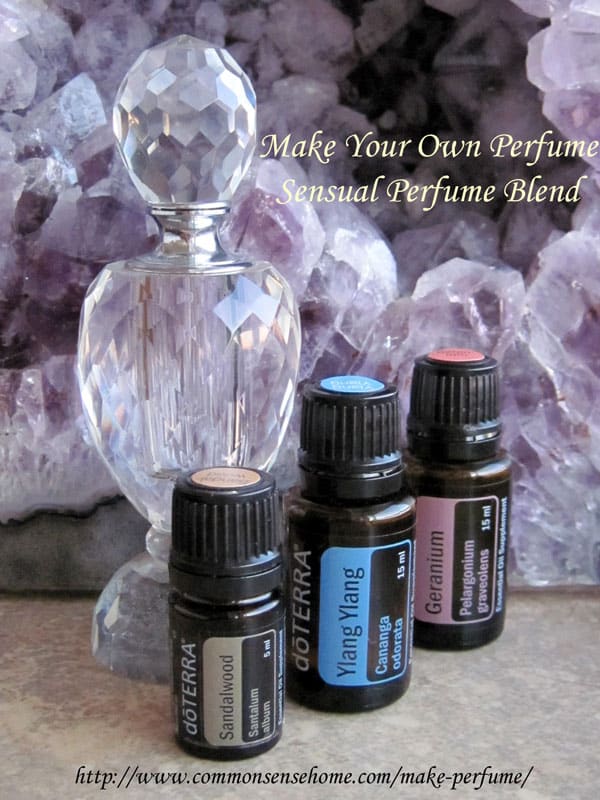 Sensual Perfume Blend
2 drops ylang ylang
2 drops geranium
2 drops sandalwood
0.5 oz. carrier oil
Simply mix the essential oils into the carrier oil and store in a glass bottle or roll on applicator. Put these blends in a pretty bottle, and you have a beautiful and functional gift – or just a little special something for yourself.
For more ideas on how to detox your home and life, check out our other recipes for Green Cleaners and Non-toxic Personal Care Products, such as easy hard lotion bars.
Thanks for reading, and don't forget to Share and Pin for later.
Get Homesteading 101 FREE, plus weekly updates and Subscribers Only information delivered to your inbox.