Cranberry Orange Bread Recipe (Plus Quick Bread Baking Tips)
This easy cranberry orange bread recipe combines tart cranberries and sweet orange flavor into a moist and delicious bread. It works well for full sized loaf pans, mini loaf pans – even muffins.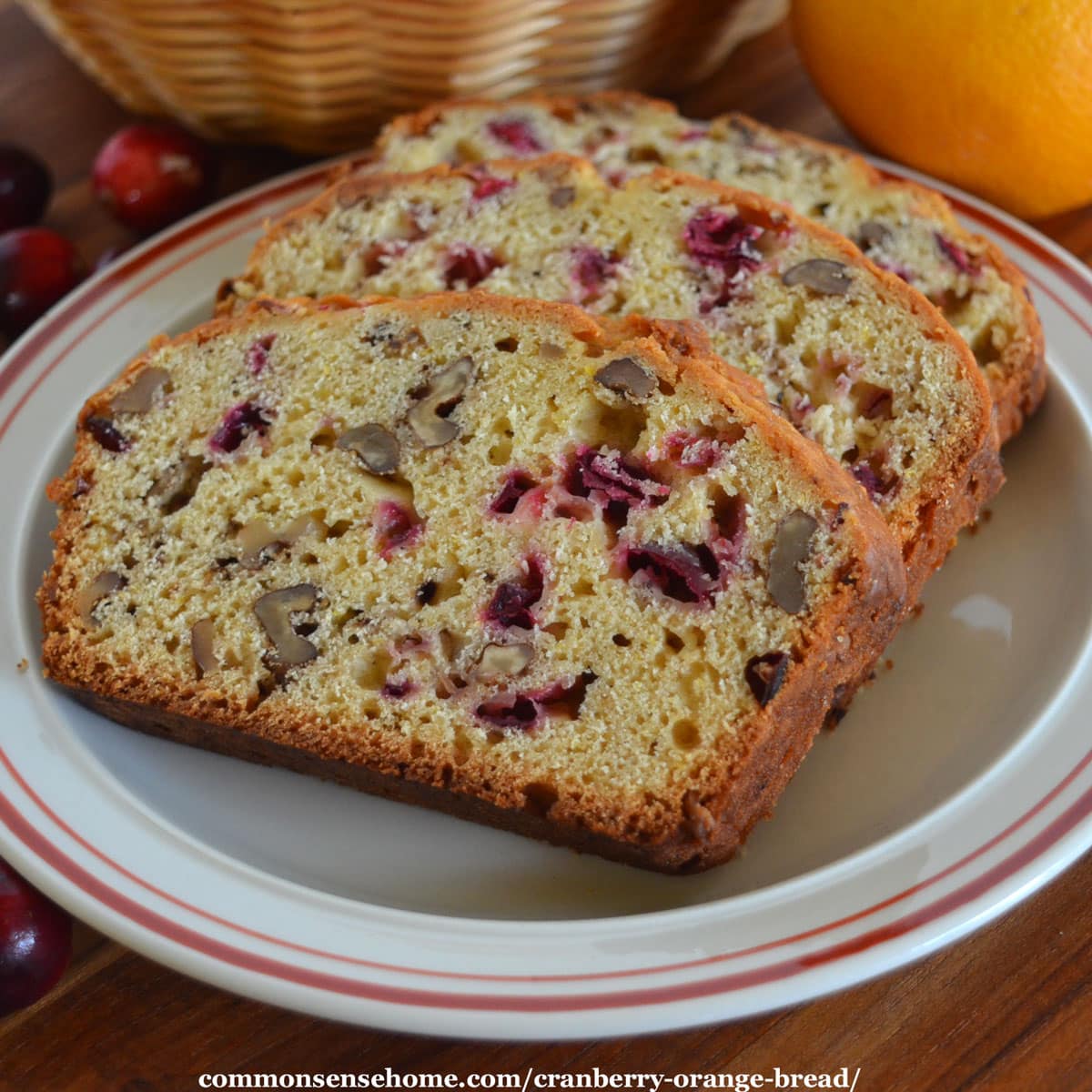 I got this recipe from my old college roommate's sister, who's been a professional baker for around 50 years. It's one of the most popular breads at their small bakery during the holiday season. They bake the bread as mini loaves, and use fresh cranberries.
Frozen cranberries will do in a pinch if you don't have fresh, but dried cranberries are best saved for another recipe. The orange zest brings out the orange flavor, so take time to zest your oranges. (We use organic oranges to avoid pesticide residue in the skins.)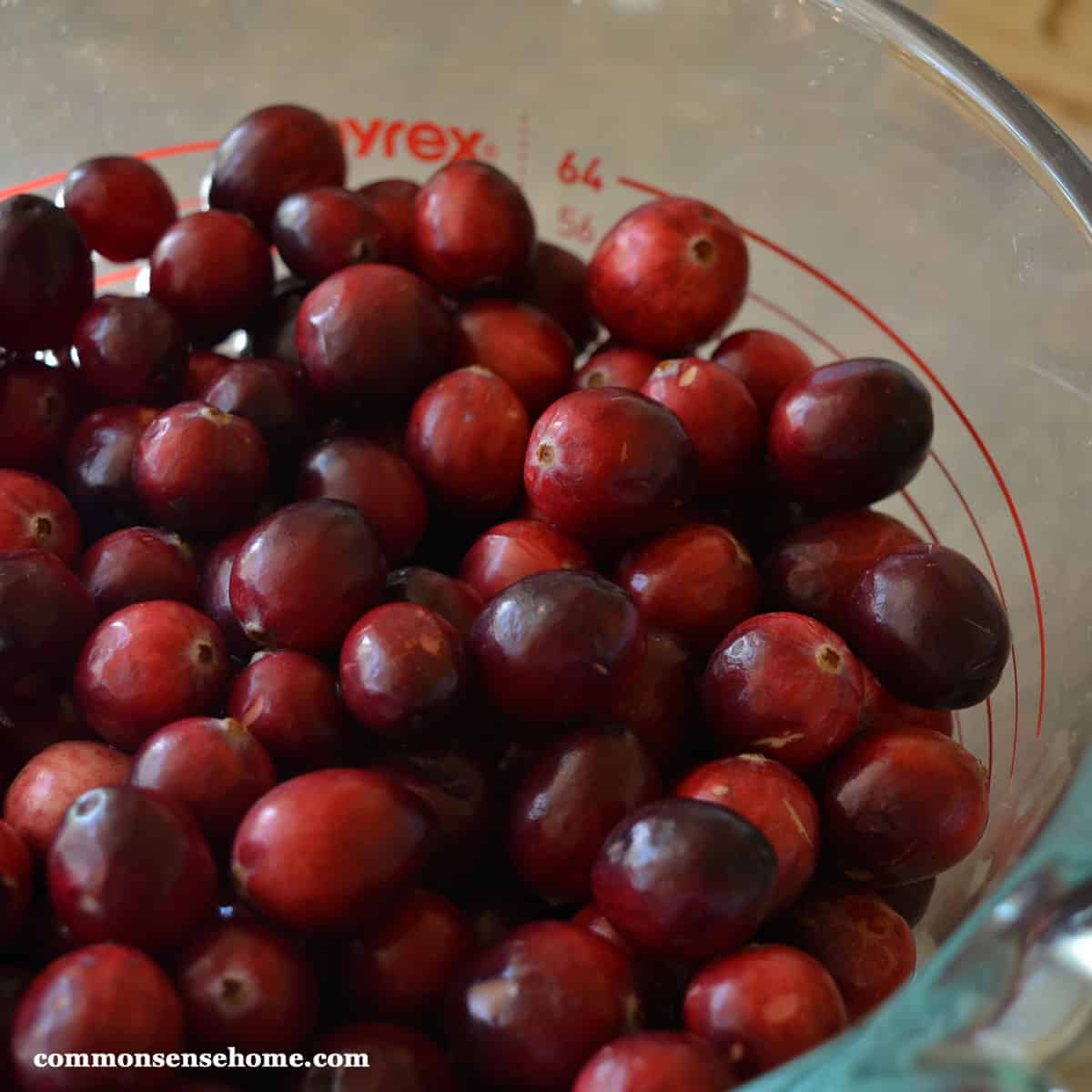 Cranberry Orange Bread Recipe Baking Tips and Q&A
In this section, we'll cover some common questions that people run into when baking quick bread recipes.
Why does my cranberry bread sink in the middle?
This cranberry orange bread recipe is pretty reliable, but sometimes you might have bread that falls and has a soggy center.
This may happen when there is:
too much moisture in the bread (measure carefully, adjust if needed in the future)
not enough leavening (such as baking powder or baking soda)
too much time between mixing and baking (baking soda starts to activate as soon as it gets moist)
undercooked bread (check to see if a toothpick inserted in the center comes out clean)
gluten free flour substituted for regular all purpose flour (gluten free flour may require extra baking time)
Can you freeze cranberry orange bread?
Yes, most quick breads freeze well, so they are perfect to make ahead. Simply cool completely on a wire rack after removing from the pans, and then wrap or seal in an airtight container. Use your bread within 2-3 months for best quality.
What's the difference between a loaf pan, mini loaf pan and tea loaf pan?
A standard loaf pan is 9 by 5 inches. Most mini loaf pans are 5 1/2 by 3 inches. A tea loaf pan is 12×4 inches.
This cranberry orange bread recipe fills two 9×5 loaf pans or tea loaf pans, or six mini loaf pans. (Tea loaf pans hold as much batter as standard loaf pans, but bake more quickly.)
Can you rebake bread that is undercooked?
If you take your cranberry orange bread out of the oven and find that it's raw in the middle, you can rebake it. It won't be the same as if it was properly baked.
You have several options:
Put it back in the oven at 350°F for 10-20 minutes. Edges will likely get hard, but gooey center should disappear.
Slice the bread and place the slices on a baking sheet. Bake at 350°F for 10 minutes, flip and bake for 10 minutes more. Call it cranberry orange biscotti. People will think you're feeding them a fancy recipe instead of underbaked cranberry orange bread.
Use your slightly underdone bread to make bread pudding, so it gets baked again but not dried out. (There's a good bread pudding recipe in our book, Never Buy Bread Again.)
How long does homemade bread last?
Fresh bread is best within 2-3 days, but may last up to a week depending on conditions. Freeze for longer storage. If you want to skip the plastic, try reusable bread bags for storage. Wrap the reusable bags in foil for freezer storage.
The orange juice in this recipe adds some acidity, which helps the shelf life, but the bread is moist, which reduces shelf life.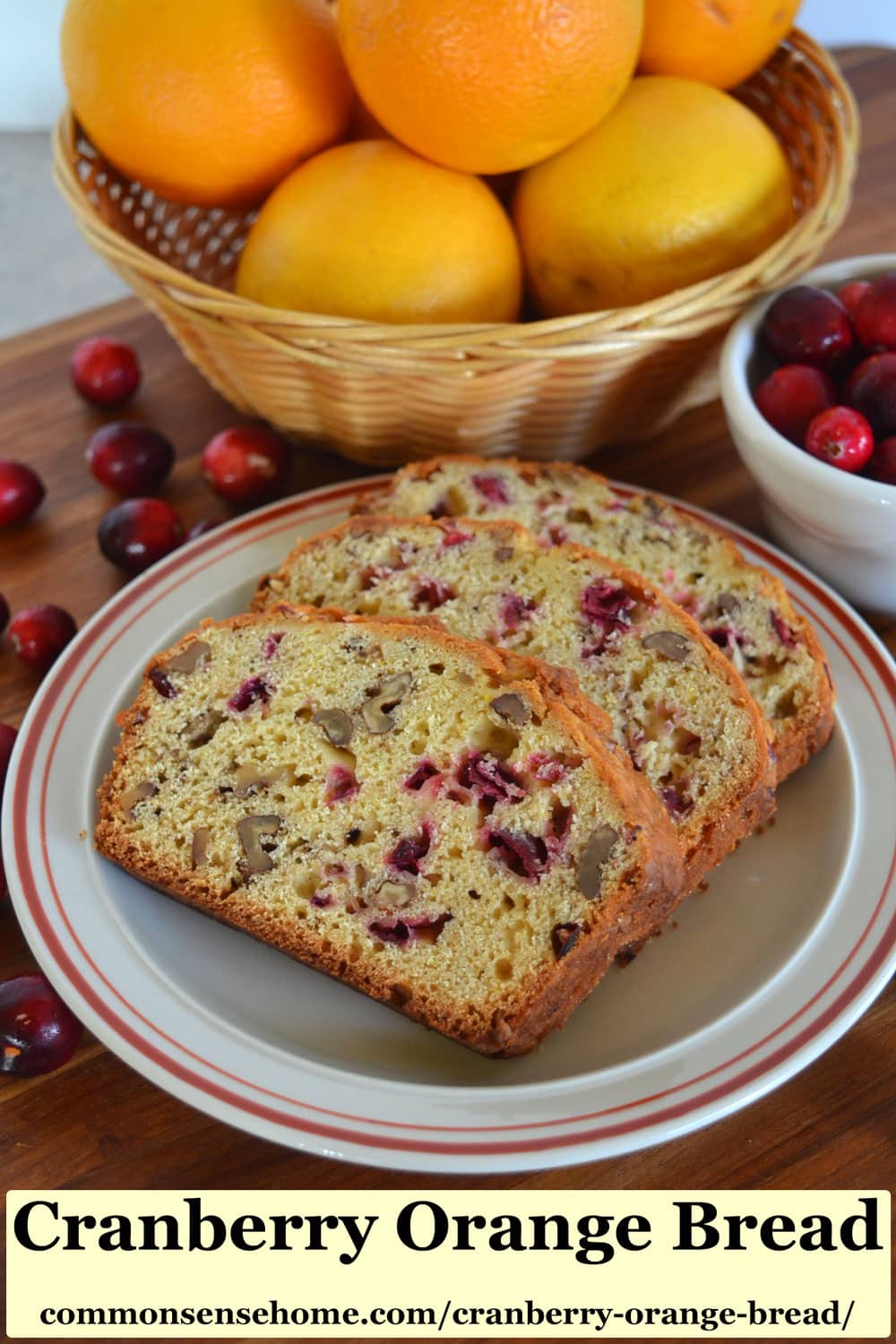 Print
Cranberry Orange Bread
This cranberry orange bread recipe combines tart cranberries and sweet orange flavor into a moist and delicious bread. Perfect for the holiday season.
Author:
Prep Time:

20 minutes

Cook Time:

45 minutes

Total Time:

1 hour 5 minutes

Yield: Two

9

x5 loaves

1

x
Category:

bread

Method:

baking

Cuisine:

American
4 cups

all-purpose flour

1 1/2 cups

sugar

1 teaspoon

baking soda

3 teaspoons

baking powder

1 1/2 teaspoons

salt

2 cups

fresh or frozen cranberries, chopped

1/2 cup

butter, softened

2 Tablespoons

orange zest

1 1/2 cups

orange juice

2

eggs

1 cup

chopped nuts
Mix flour, sugar baking soda, baking powder and salt in a large bowl or stand mixer. Stir in softened butter until mixture forms a crumble.
Stir in orange zest, orange juice and eggs. Blend until just moistened. Fold in chopped cranberries and nuts.
Pour into greased loaf pans. Bake at 350°F for 40-50 minutes for 9×5 loaf pans, 30-40 minutes for mini loaf pans and tea loaf pans, until toothpick inserted in center tests done.
Let rest in pan for 5 minutes before moving to wire rack to cool completely.
Notes
Makes two 9×5 loaves or tea loaves – or – six mini loaves.
To bake as cranberry orange muffins, fill greased or paper lined muffin cups 3/4 full and bake at 375°F for 15 to 20 minutes. Makes about 24 standard muffins.
If using frozen cranberries, chop while frozen, but allow them to warm up a bit before adding them to the batter. If they are still cold when you're adding them to the batter, you'll probably need to add a little extra baking time.
Keywords: cranberry, orange, holiday, fall recipes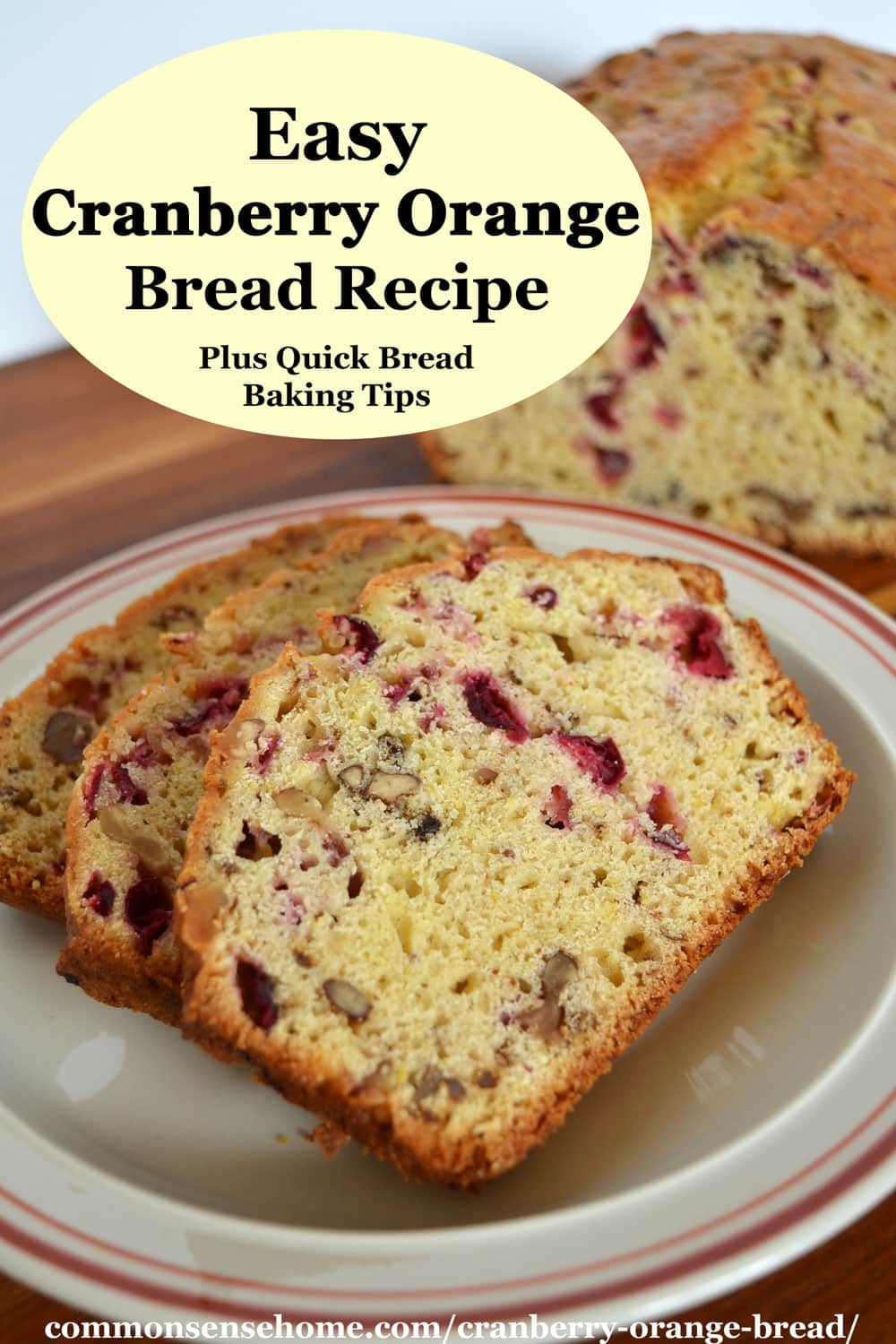 More Easy Bread Recipes
We have over 100 recipes on the site, all listed by category on the Common Sense Recipes and Kitchen Tips page. They include: