My kids don't like to eat much first thing in the morning. Brunch mid morning, second breakfast, elevensies, luncheon, afternoon tea, dinner and (later in the evening) supper – sure – just not a large meal immediately upon waking. (They are a bit like Hobbits at times.) My youngest used to enjoy a glass of warm chocolate milk, but I made him kick the habit because of all the sugar that's typically in most chocolate milk mixes (even homemade, it's tough to get the flavor the boys want without all the added sugar).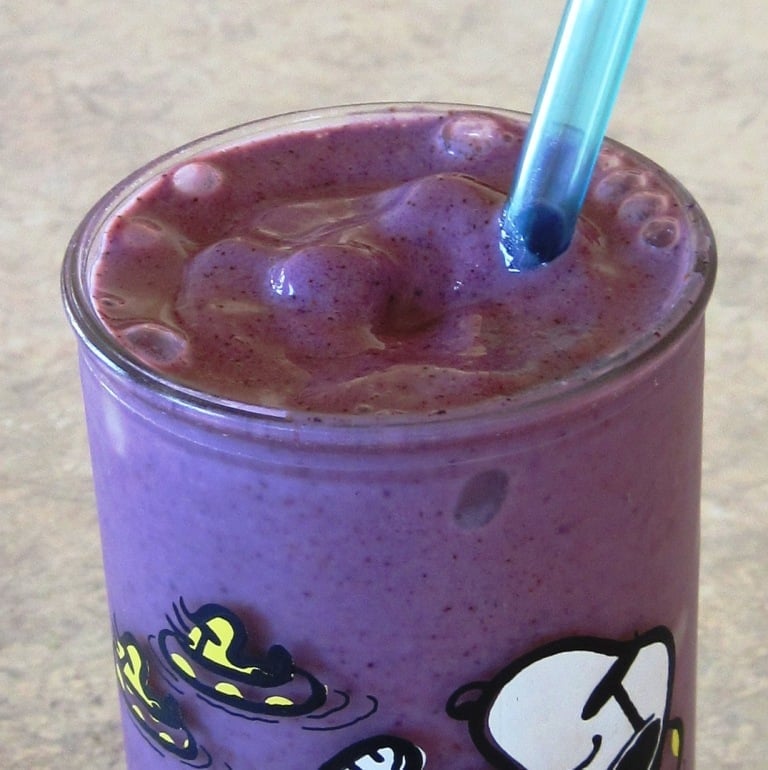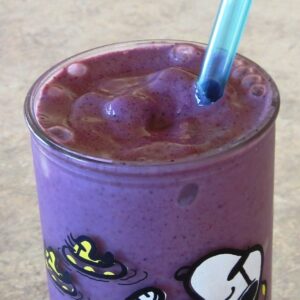 Instead of chocolate milk, I'm now making him breakfast smoothies. Have you ever watched Iron Chef or Top Chef and noticed those high powered blenders with the black bases and plungers that they use for everything from ice cream to sauces? Those bad boys are Vitamixes, and they can blend just about anything. After learning about them from a friend and pining for one for several months, I finally took the plunge and ordered one last year. Now I use it almost every day. I originally bought it with nut butters in mind (and it does work for that), but I use it more for smoothies than anything else. It can blend frozen fruit into a smooth and creamy mix that has a texture like a really good sorbet. It's like eating ice cream for breakfast, but it's good for you.
Dunc's Probiotic Breakfast Smoothie
To make Duncan's probiotic breakfast smoothie, I start with about one cup of homemade unsweetened yogurt or milk kefir. Then I add about one frozen banana. (I freeze the bananas in chunks, so I just throw in several pieces.)  Add 1/2 cup to 3/4 cup frozen blueberries, 1/4 to 1/2 cup frozen tart cherries, one teaspoon amalaki powder (optional), one tablespoon calcium/magnesium blend, and six or seven drops of vanilla liquid stevia. Put the lid on the Vitamix, blend well, and you've got creamy, yummy breakfast loaded with antioxidants and probiotics.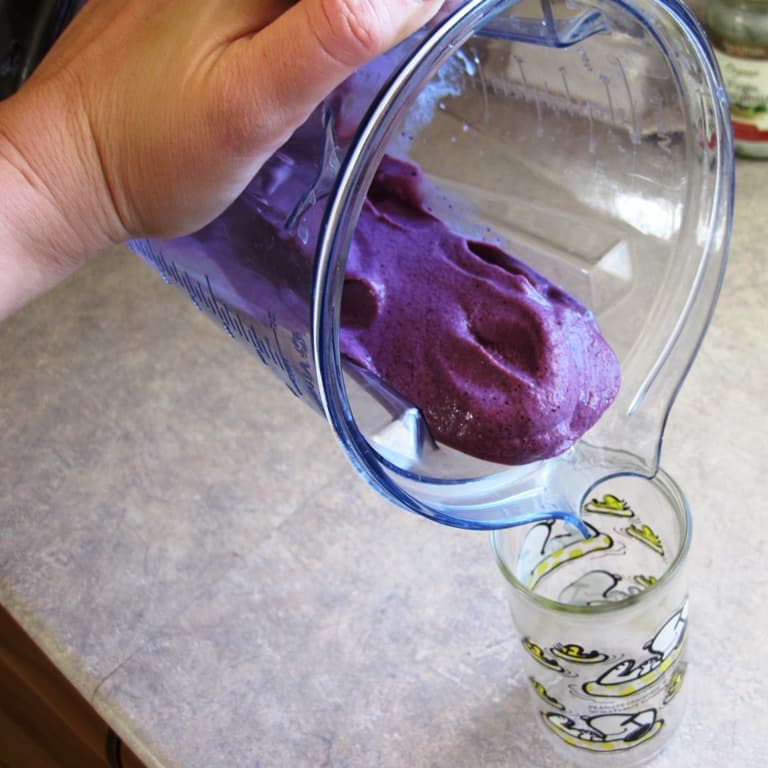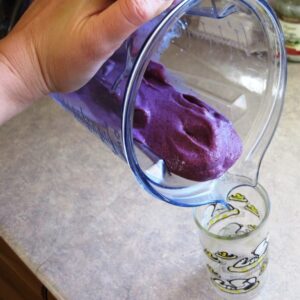 As you can see, it's pretty thick. You could use any combination of fruit, this is just what I happen to have in the freezer. The color is really bright, but it's all from the wild blueberries and tart cherries. The banana adds natural sweetness. I've tried to sneak in some celery or other veggies, but Duncan's not interested in those in his smoothie just yet. I figure this is still a lot better than pop tarts or sugar laden breakfast cereal. We go picking cherries (Link Removed) in Door County so I stock up on those at a good price, and I buy blueberries in bulk when they're in season and freeze those, too.
If by chance you find yourself in the market for a high powered blender, I highly recommend the Vitamix. I liked it so much I became an affiliate, which means that if you order using the banner ad at the bottom of this post, you get free shipping and I get a small finder's fee. They've got a seven year warranty, so even though it's a little more expensive than your basic blender, you'll get your money's worth. They also have a safety circuit breaker, so if you do something that is overheating the motor, it shuts itself off until it cools down instead of damaging the unit. I found this out when I tried to grind too many sprouted wheat berries while making a large batch of Essene bread. I thought I had killed it (yes, I didn't read the manual), but I contacted customer service, and they explained the feature. It's back in action and still running great.
Do you make smoothies – breakfast, green or otherwise? What do you like to put in yours?