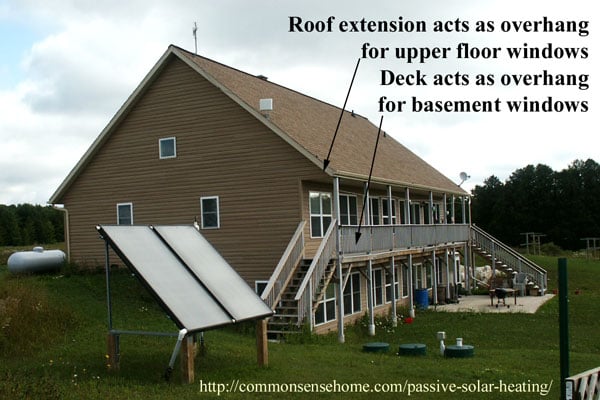 Green Building
Common Sense Homestead Open House Saturday, October 6, 2018, from 10:00 a.m. until 4 p.m.
Living in a Concrete Bunker – part one
Living in a Concrete Bunker – part two
8 Things You Need to Know About Rocket Mass Heaters
What You Need to Know About Masonry Heaters for Radiant Heat
Aging in Place – Making Your Home Livable for a Lifetime
Solar Thermal
Getting Started with Solar Cooking
Solar Electric (Photovoltaic)
3 Types of Home Solar power & How to Mount Your Solar Panels
Solar Site Check – analyzing your location
Designing Your Solar Electric System – getting the most out of your available space
How Much Energy Will a Solar Electric System Produce?
Emergency Power Options for Your Home- Gasoline Generators Versus Battery Backups
Surviving Without the Grid – Emergency Backup Power
Building Our Home
Part 2 – Finding land and an Energy Star Builder
Part 3 – Passive Solar, Radiant Heating and Attached Greenhouse
Part 4 – ICF, HVAC and Plumbing
Part 6 – the Deck, Cabinetry and Woodwork
Part 7 – Masonry Stove and Passive Solar
Part 8 – Eco- Friendly Flooring
Green Cleaners
6 Ways to Get the Musty Smell Out of Clothes and Towels
Best Odor Eliminators for the Refrigerator, Freezer and Carpets and More
How to Remove Hard Water Buildup from Faucets and Showerheads
Do It Yourself Laundry and Household Cleaners
DIY Cleaners Made with Essential Oils
Non-toxic Personal Care Products
Easy, Non-toxic Homemade Deodorant
Super Easy Hard Lotion Bar Recipe
Non-toxic Pest Control
How to Get Rid of Mice in Your Home and Garage
Non-Toxic Home Pest Control – Avoid the Risks of Neurotoxic Pesticides
Keep Your Pantry Pest Free – 7 Green Pest Control Tips
DIY Natural Garden Pest Control
Green Products and Books
We Don't Celebrate Earth Day – Here's What We Do Instead
Pillowcases to Reversible Tote Bag Upcycle Project
Books
Products
The Eco-Desks from Cosmic Walker Cabinetry
Household Traditions Powdered Laundry Detergent
Household Traditions Powdered Dish Detergent
Household Traditions Liquid Dish Detergent
Prairie Pin Pouch Handmade Clothespin Bag
Get Homesteading 101 FREE, plus weekly updates and Subscribers Only information delivered to your inbox.