All Natural TLC for Your Skin – MadeOn Skin Care
Ever since reading "No More Dirty Looks", I've been even more dedicated to keeping toxic products of my skin and my family's skin, too. I was honored when Rene from MadeOn Skin Care contacted me and asked if I would do a review of some of their products. Today I'll be writing about the Au Chocolat lotion bar, the Bee Silk bar, the natural lip balm and the calendula goat milk soap.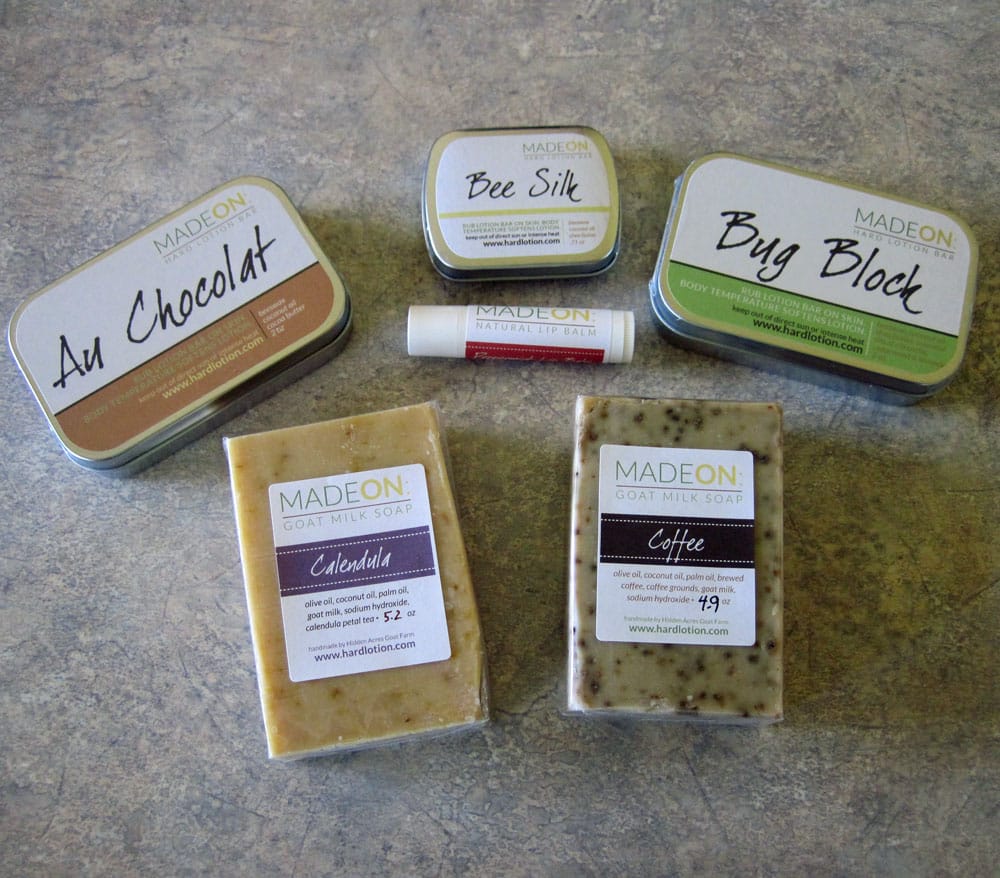 I love these products because they are the type of thing I would make myself. Like most people, I'm often strapped for time, so it's nice to have companies I trust to purchase from when I don't have time to make everything on my own. Also, if you do enjoy doing it yourself, Rene has DIY kits and instructions with everything you need to make products for yourself or to give as gifts. I think it's lovely that she has this option available as well, and doesn't hoard her knowledge as a "trade secret".
Au Chocolat Hard Lotion
The first thing that struck me about the lotion bars was their cute decorative tins. These would be great for taking your lotion along in a purse or diaper bag. No liquid means it's not a problem for airport security, either. Each tin is individually shrink wrapped for quality control.
When I opened the tin, I was hit by a wave of chocolate aroma. Mmmmmm…chocolate….. The bars are a little softer and easier to smooth over the skin than the bars I made myself, and the tin helps preserve the chocolate scent. (I noticed on my homemade bars that after I left them sitting out for a while, the chocolate aroma dissipated.)
I love how the bars nourish and protect, but don't leave a greasy or waxy feeling. The natural oils help to heal your skin, not just cover it up. Unlike petroleum products, which can actually create a dependency in your skin, so you have to use more and more product to achieve the same results, these products work with your skin's natural oils. All scents are gentle and natural – no synthetic endocrine disruptors to be found. I keep a bar on my nightstand to smooth on at night, and one on my desk top to use during the day. These are great for gardening hands or when you've had your hands soaking and scrubbing dishes for way too long.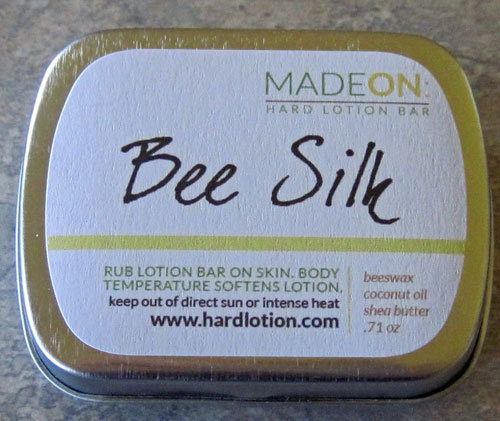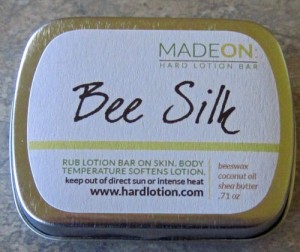 Bee Silk
I asked one of my favorite baby bees to help me try out this lotion bar designed especially for tender skin. Young Miss M loved her lotion bar and was able to easily spread it on her skin. The Bee Silk bars contain beeswax, coconut oil and shea butter. Miss M and her mom both have really dry skin, and shea butter is one of the oils they found to be most soothing.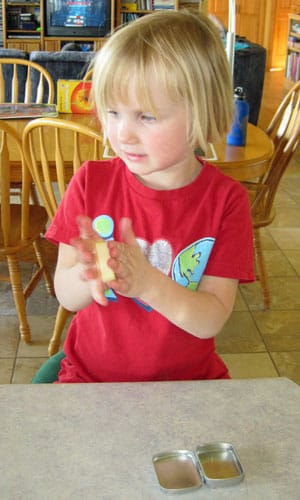 Miss M was hard to get a picture of because she wouldn't sit still – too busy rubbing the bar on all her exposed skin. 🙂 It's also great for diaper rash and has a milder odor than lanolin.
MadeOn Peppermint Lip Balm
For lip care, MadeOn offers natural scent or peppermint lip balm. I'm a fan of the peppermint – I like that little tingle when the natural peppermint essential oil hits your lips. This balm goes on soft and smooth, not waxy like some other brands. Like the Bee Silk, the lip balms are made with coconut oil, shea butter, beeswax. I always keep a container of natural lip balm in my pocket, especially when I'm working outside, as our wind here is very drying.
Calendula Soap
Last up for this review is the calendula goat milk soap. It's made from Olive Oil, Coconut Oil, Palm Oil, Goat Milk, Calendula flower petals, sodium hydroxide (lye).
I've tried out a lot of different natural soaps over the years, with mixed results. Straight olive oil based soaps don't seem to agree with my skin, but with the other oils and goat's milk, this one was a winner. The calendula flowers are also healing.
One of the things I like best about this soap was that it didn't immediately turn to mush in the shower. Many natural soaps I've tried before have turned quite soft and gooey and dissolved quickly, so a bar doesn't last very long. This bar held up much better and lasted quite a while.
If you like a little well deserved TLC for your skin, I highly recommend Rene's wonderful product line. Please leave any questions or comments below, and let me know if you'd like to me to host a MadeOn product giveaway. I've added MadeOn Lotion to my affiliates, so if you shop with them it does help support my blog, but all my opinions are my own and you know I've been in love with hard lotion since I made some earlier this year. Sometimes it's just nice to let someone else do the work. 🙂 You can visit their site here.