Prairie Pin Pouch Handmade Clothespin Bag – Made for Heavy Use
The Return of the Classic Clothespin Bag
The Prairie Pin Pouch is a modern rendition of a classic clothespin bag. I found these handmade laundry helpers in a somewhat unusual fashion. Some friends were visiting from out of town one afternoon when the phone rang. On the line was Julie Pruett, creator of the Prairie Pin Pouch.
As it turns out, Julie read a review I wrote several years ago on Amazon.com about a clothespin bag that didn't stand up well to our high winds. The flimsy thing kept blowing off the clothesline, which dumped my pins 12 feet below. (Our clothesline is on our raised deck.) It was very frustrating.
Julie saved that review, contacted me about her handmade clothespin bags, and sent me a sample.
Prairie Pin Pouch Handmade Clothespin Bag Basics
Plenty of Room for Clothespins
These clothespin bags are made of durable duck cloth to help them stand up to years of wear. They measure 13 by 11 inches, so they have plenty of room for clothespins. If you compare my old bag side by side with the Prairie Pin Pouch (old bag is on the right), you can see how much larger the new bag is.
Stay Open Top
The Prairie Pin Pouch is also hard wired to stay open for easy pin access. If you look at where the hanger connects to the bag, you'll see the Prairie Pin Pouch has closed wire loops, as opposed to the original pin bag which has the hooks stuck through grommets.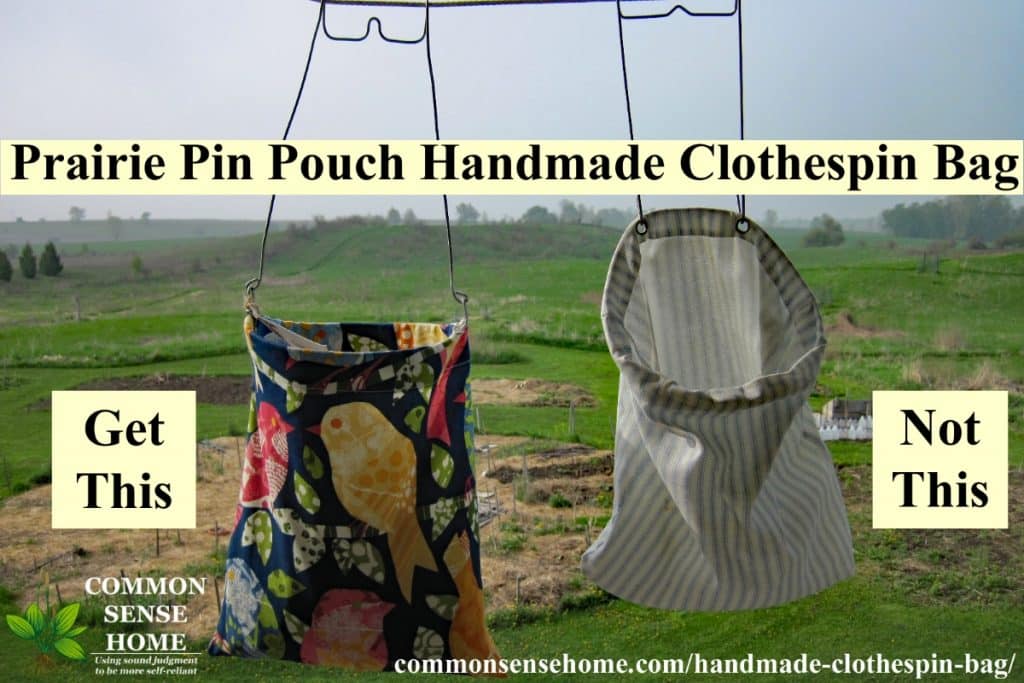 Deep Grip Hanger
When you examine the hanger itself, you can see how much more substantial the Prairie Pin Pouch hanger is compared to the other bag. It grips the clothesline with over an inch of metal, so it's much tougher to blow this clothespin bag off.
Thank You Gifts
Julie packs each bag with a little something extra – a bar of Fels-Naptha soap for laundry stain removal (or making your own homemade laundry soap) and 15 clothespins to help get your started. These are the peg styled pins, which work better on a narrow/wire laundry line. I have a thicker cloth line, but I thought it was still a nice touch. If you have the right line for them, they don't have any springs to get unsprung in high winds. (I killed many clothespins over the years via sprung springs, until I found Kevin's Quality Clothespins.)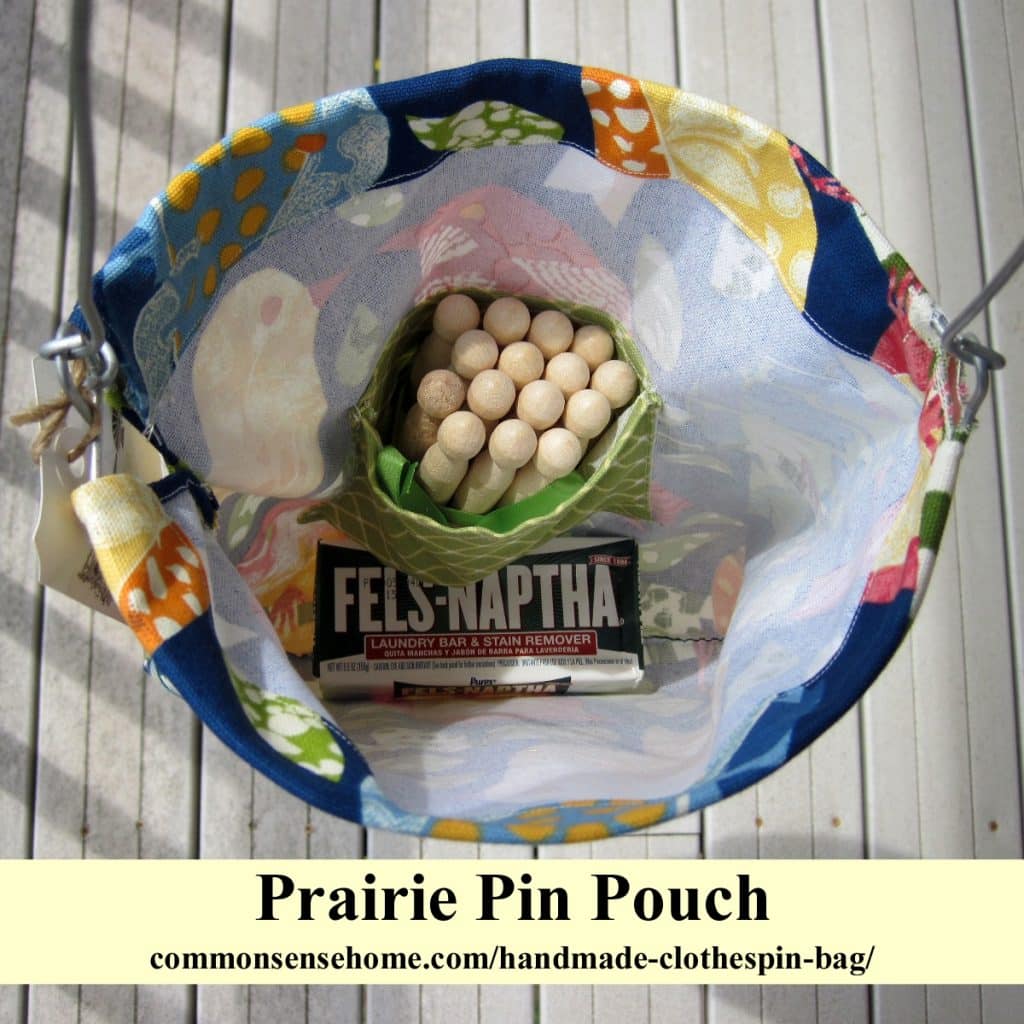 The only thing I might suggest would be to tweak the design a little to place the hook towards the back like the Original Champion Bag from 1950 shown on the PPP website. I remember my mom having one of those bags, and it wore like iron. That laundry bag lasted through six kids and roughly half a century. I suspect the Prairie Pin Pouches will hold up as well. Julie has seven different fabric options shown on the site, so you can brighten up your laundry line while you hang up your clothes.
I got my Prairie Pin Pouch in 2013. Four years later and it's still holding up well.
You may also find useful:
Originally posted in 2013, updated in 2017.