I've pulled together a list of homesteading resources from my site and around the internet featuring herbalism, food preservation, gardening, local food, natural health, homestead animals, homemaking, preparedness and more.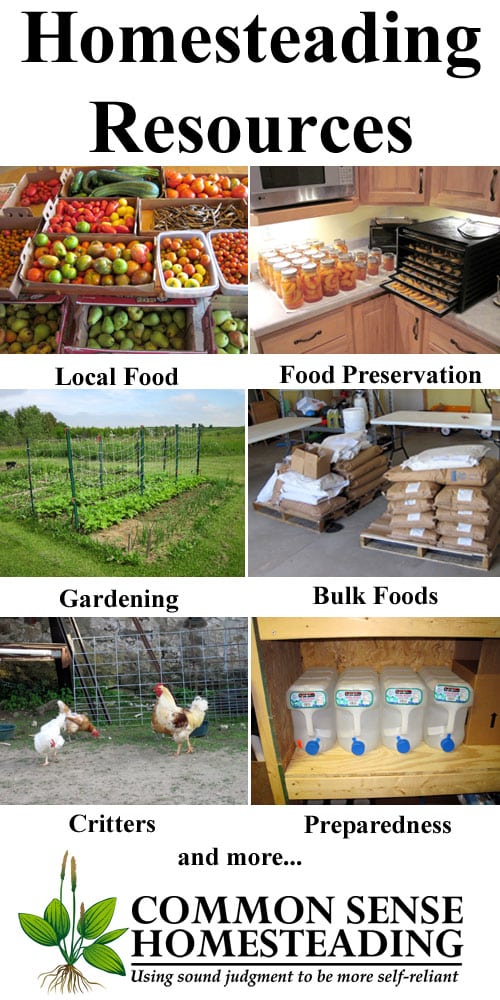 Note: I am an affiliate of some of these companies, which means that I receive a small payment if you purchase from the site through my link at no extra cost to you. Thank you.
Real Food and Food Preservation
List of Canning and Preserving Recipes on Common Sense Home
Home Food Preservation – 10 Ways to Preserve Food at Home
How to Can Food at Home – Quick Guide to Safe Home Canning
Home Food Drying – 6 Things You Need to Know to Dehydrate Food at Home
Home Freeze Drying – What You Need to Know About the Newest Method of Home Food Preservation
Getting Started with Solar Cooking
Getting Started with a Home Grain Mill
Recipes to Nourish – Real food and holistic health.
Herb and Spice Blend Recipe Cheat Sheet – never buy another spice mix again. Buy in bulk, mix your own and save money.
Simply Canning – All things canning and home food preservation related.
SB Canning – Excellent site for all things canning, plus some other food preservation techniques. Creative recipes, how-to's, great photos – wonderful stuff!
PickYourOwn.org – where to find local food, and what to do with it once you find it
Food in Jars – blog about canning and preserving.
Traditional Cooking School by GNOWFGLINS e-courses and e-books – Wardeh is my "go to" person for cultured dairy, sourdough, and fermented foods. She has a ton of information on cooking healthy, traditional foods.
Bulk Natural Food and Product Suppliers
UNFI – United Natural Foods – UNFI is the leading independent national distributor of natural, organic and specialty foods and related products including nutritional supplements, personal care items and organic produce, in the United States.
Country Life Natural Foods – Country Life Natural Foods is a wholesale and retail distributor of natural, organic and vegetarian foods as well as a resource for information that promotes physical, mental and spiritual health.
Thrive Market – Thrive Market is a membership-based online shopping club that gives you and your family unlimited access to the the world's best wholesome foods and products in everyday sizes at wholesale prices. Plus, they offer free nationwide delivery on orders over $49. FREE 30 day trial membership.
Frontier Natural Products Co-op – Frontier Natural Products Co-op specializes in natural and organic products. They feature a wide variety of organic herbs and spices.
Azure Standard – "We specialize in natural, organic, earth-friendly foods and products. We deliver directly to customers, buying clubs and retailers by semi truck and UPS."
Herbal Education
The Herbal Academy offers several online courses and e-books for beginning to advanced herbalists.
Online Introductory Herbal Course
The intention for this self study program is to give students with little or no herbal experience a glimpse into the world of herbs. Make your own teas, tinctures, and body care products. You'll be mixing up new recipes in the kitchen, using spices and herbs you never knew had medicinal properties! This is a 6 unit, online course.
Learn more: Visit the Introductory Herbal Course
Online Intermediate Herbal Course
This program is intended for students with some herbal training, whether that be workshops, the Introductory Herbal Course or self study. This program will include intermediate topics such as safety and side effects; discussions about theory and energetics; in-depth coverage of physiology; and guidance for herbal formulation. This is a 10 unit, online course.
Learn more: Visit the Intermediate Herbal Course
The Herbarium
Get access to complete and constantly updated herbal monographs, photographs, thoughtful articles, and educational podcasts, videos, tutorials, and teaching charts. As part of The Herbarium community, you will have all of these resources right at your fingertips, enriching your life-long journey through herbalism. The Herbarium membership is open to anyone at $45/year.
Learn more: Visit the Herbarium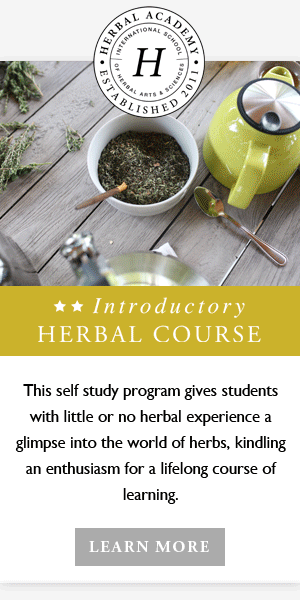 Gardening
List of Gardening Posts on the Common Sense Home website
10 Heirloom Seed Companies You Don't Want to Miss
Dave's Garden and Garden Watchdog – Dave's Garden is a large gardening community with info on all things gardening. The Garden Watchdog page offers customer reviews of 7,373 mail order gardening companies.
GardenWeb – Online gardening community.
The Old Farmer's Almanac Gardening page – best seed starting dates, best planting dates, plant guides, hardiness zone maps – lots of good reference info.
Plant Hardiness Zones and Microclimate – Creating Your Best Garden
Online Nurseries We Recommend
Cold Stream Farms – Cold Stream Farm is a wholesale / retail bare root tree and shrub nursery in Michigan. Not fancy, but great prices and very good quality.
Stark Bro's Nursery – Great variety of plants, plus a newsletter with growing tips and online planting guides.
Raintree Nursery – Unusual edibles including fruit trees, nut trees, berries, vines, citrus, subtropicals, rootstocks, mushrooms and ornamentals.
Grandpa's Orchard – Grandpa's Orchard® nursery offers a huge selection of varieties of apple, pear, cherry, peach, nectarine, apricot, plums and prunes on a diverse selection of rootstocks— dwarf, semi-dwarf and semi-standard. We also offer rootstock for the hobbyist as well as other useful fruit growing products.
Willis Orchards – A mail-order plant nursery located in Cartersville, Georgia that sells trees, bushes and plants.
St. Lawrence Nurseries – Under new management for 2016, this company has been offering plants and trees for northern growers since 1981.
Fast-Growing-Trees.com had seaberries, which we couldn't find anywhere else.
My Favorite Garden Seed Sources – plus tips for seed storage and germination.
Homestead Animals
List of Animal Related posts on Common Sense Home – includes goats, chickens, geese and rabbits.
sheep! Magazine – explores a wide range of sheep-related topics of interest to sheep growers and sheep product marketers at all levels of experience.
Keeping a Family Cow message boards – active online discussion forum focused on all things family cow.
Backyard Chickens
Backyard chickens – BackYardChickens has become the #1 destination for peeps looking for information on raising chickens in any urban, suburban, or rural backyard!
What to Feed Chickens – Do's and Don'ts for a Healthy Chicken Diet
Quick Lock Chicken Door – Predator Resistant, Easy Latch Open or Closed
Bird Flu Busters – 5 Strategies for a Healthier Flock
General Homesteading Resources
Homesteading – What the Modern Homesteader Needs to Know
We also have an e-book titled, "Common Sense Home 101: 7 Steps to Become more Self-Reliant Now" that's available for download FREE to subscribers. Just sign up on the subscription page.
Mother Earth News – MOTHER EARTH NEWS provides wide-ranging, expert editorial coverage of organic foods, country living, green transportation, renewable energy, natural health and green building.
Rural Living Today has a great list of homesteading resources, and a homesteading blog.
Chickens/Ducks, Goats, and other Livestock Forum
Homemaking
Household Tips on Common Sense Home
Keeper of the Home – Natural Inspired Living for Homemakers
Tipnut.com – Your Online Guide To The Crafty & Clever
Local Food
Local Harvest – "Find farmers' markets, family farms, and other sources of sustainably grown food in your area, where you can buy produce, grass-fed meats, and many other goodies."
Pick Your Own – "This website provides local listings of pick your own (also called U-pick or PYO) farms in the United States, Canada, Britain, Australia, New Zealand, South Africa and other countries."
Sustainable Table – "Sustainable Table's "Eat Local, Buy Local, Be Local" section is designed to help consumers learn what's happening in the local movement, and to better understand the concept of local food."
Eat Wild – "Your source for safe, healthy, natural and nutritious grass-fed beef, lamb, goats, bison, poultry, pork, dairy and other wild edibles."
The Farmer's Garden – Members can search and post free classified ads to trade, sell or give-away excess homegrown produce, tools, gardening space or other gardening related items and activities with people in their local area. Food banks and individuals can also post wanted classifieds for surplus food, garden tool, gardening space, etc.
EatLocalGrown.com – The eatlocalgrown project was created to help you Find, Rate and Share Locally Grown Food! There are categories for Farms, Farmers Markets, Grocery Stores/Co-ops, Restaurants, Artisans and more.
Wisconsin Specific Sites
Wisconsin Farm Fresh Atlases – These regional food guides include farms, farmers' markets, restaurants, stores and other businesses that sell local food and use sustainable production and business practices. The Atlases cover most regions of Wisconsin.
Something Special From Wisconsin – Every dollar spent on SSfW™ products and services supports local farmers, food processors, entrepreneurs, our communities and livelihood, as well as the Wisconsin way of life. It is not only an investment in the state's economy but in its future. You can be guaranteed that when you see the trademark logo, at least 50% of a product's ingredients, production, or processing activities are from Wisconsin.
Wisconsin Distilleries Association – In 2011 several of Wisconsin's distillers formed this association to promote Wisconsin made spirits. Related issues we also promote include; Wisconsin agriculture, tourism, small batch distilling and the safe enjoyment of alcoholic beverages.
Wisconsin Specialty Meats map – Specialty meat producers in Wisconsin.
Nami Moon Farms – Pasture Raised Meats, honey, vegetables, eggs and more. Located in Custer, WI.
Natural Health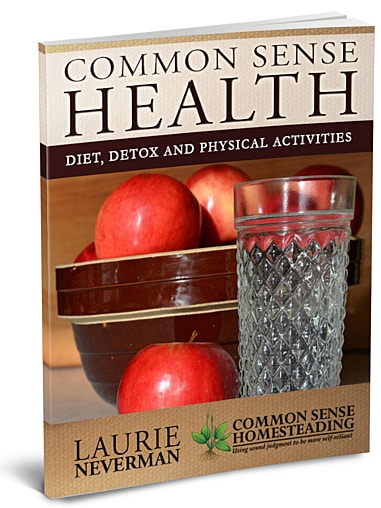 The "Common Sense Health:Diet, Detox and Physical Activities" e-book is a hype free, "back to basics" toolbox to give you ideas to help you improve your health. No big investment or complicated format, just start where you are with what you have.
Topics include:
Detox: Things you can do to remove toxins from your life. It's tough to heal when your body is full of garbage.
Diet: Healthy eating choices, focusing on nutrient dense food. You are what you eat – make it count!
Physical Activities: Go beyond exercise to activities that have been used by holistic practitioners, such as oil pulling and barefoot therapy.
List of Natural Health and Home Remedies posts on the Common Sense Home website
Earth Clinic – From their site: "full of effective, home-tested, and community-vetted remedies and cures proven through years on this site and in the homes of commonsense families for centuries." – commonsense families – gotta love that!
Heal Thyself – This is a great online community that promotes knowledge sharing and healing through traditional foods.
Food As Medicine -Todd Caldecott, a medical herbalist and practitioner of Ayurveda shares insights for using food to promote healing.
Organic Agriculture
Acres USA – Organic and sustainable farming info. Great magazine, plus excellent book store of hard to find titles.
OrganicA -a resource for organic apple production
MOSES – Midwest Organic & Sustainable Education Services – The Midwest Organic and Sustainable Education Service (MOSES) is a nonprofit organization based in Spring Valley, Wis. We promote organic and sustainable agriculture by providing the education, resources and expertise farmers need to succeed.
Preparedness
Valley Food Storage is one of the few emergency food storage sites that offers storage food made with ingredients that you'd be likely to use if you were cooking from scratch – no heavy duty preservatives or artificial anything. Their products are non-GMO and MSG free, and they have gluten free options. They also offer emergency supplies, camping supplies and water storage and filtration options.
List of Preparedness Posts on Common Sense Home
Widener's Reloading and Shooting Supplies
Preparedness Supplies from Emergency Essentials
Emergency Essentials carries a full line of preparedness products at some of the best prices I have found. They also have monthly specials, so it pays to check back regularly.

Blogging
For my blogging friends, help on creating images that bring people to your website. I just recently purchased this e-book and liked it so much I became an affiliate. Now all I need to do is update all my posts with better photos. 😉
For my website hosting, I'm currently using
LiquidWeb,
and have been very happy with them.
Disclosure: Some of the links on this site are "affiliate links", which means that if you purchase an item after clicking on the link, I receive an affiliate commission. I only post links to products/companies that I believe in. If I wouldn't use it for my family, I wouldn't recommend it for yours.
I hope you find these resources as useful as I have, and appreciate all those who have shopped through my site. As you can probably guess, the funds go towards homeschooling and homesteading books, garden seeds, website costs, and all the other odds and ends that keep us going.