Proteak Cutting Board Review
After I wrote the post "Why Wooden Cutting Boards are Best", I was contacted by Madeline of Proteak Renewable Forestry. She said Proteak couldn't agree more, and that they'd like to give Common Sense Home readers a chance to win one of their Proteak cutting boards and a 20% discount on their Proteak Store purchases. So without further ado, here's some background information, a review, and a chance to win.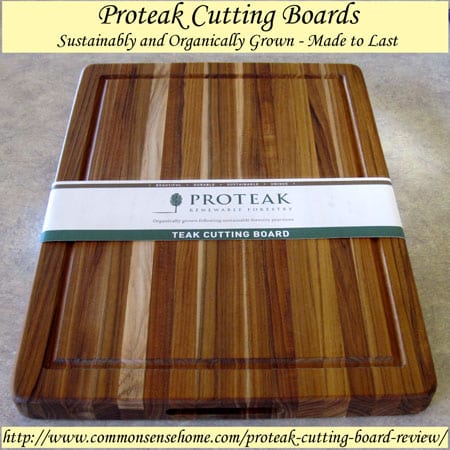 What is Teak?
Teak is a tropical hardwood that has been used through history as a long lasting, water resistant, durable hardwood. Its great in the kitchen because of its high oil content which lends itself to its water resistance and natural antibacterial qualities.
Where is the wood for these cutting boards grown?
The wood for Proteak products is grown on sustainable, organic plantations. From the Proteak website:
Proteak commenced its renewable teak operations in 2000, when the company began planting teak trees on reclaimed ranch lands in the state of Nayarit, roughly three hours northeast of beautiful Puerto Vallarta on Mexico's Pacific coast. This region was chosen for its soil and precipitation characteristics, which closely mimic teak's best growing regions in Southeast Asia. These ideal growing conditions allow Proteak to cultivate its trees without the use of irrigation or fertilizer, thereby producing top-quality teak with minimal impact on the environment.

Less than 6 years later, Proteak's plantations were ready for their first thinning. During this process, up to 50% of trees on a plot are harvested with the purpose of both extracting timber and also opening up the canopy to allow sunlight and open space for the remaining trees to mature.
…
Environmental and social sustainability have been cornerstones of Proteak's guiding philosophy since day one. Shortly after cultivation began, Proteak was awarded a Forestry Management Certification from the Forest Stewardship Council (FSC), affirming Proteak's dedication to ecologically sound forestry techniques. In addition, Proteak seeks to stimulate the agricultural community by providing quality jobs with fair wages for workers in a traditionally low-income area of Mexico.
Proteak Boards are Beautiful and Made to Last
These are the prettiest cutting boards I have ever seen. The wide range of colors is very striking – everything from black to nearly white. (The end grain boards are even more stunning.)  The board in the photo also includes a juice channel around the edge of the board to catch drips, as do many of the other boards available. There are also hand grips cut into the ends of the board. At 20×15 inches, this board is BIG – at least compared to my other cutting boards. Their large boards must be intended for prepping your entire meal right on the cutting board. 😉
The boards are solid (and really heavy – do not drop one on your foot). At one and half inches thick, these are built to last. This particular board is from the same collection of cutting boards that Cooks Illustrated magazine called "the last cutting board you will ever need" after testing it for six months against nine other companies. This is the type of kitchen item that is given as a gift and passed down for generations. If you don't have a local craftsperson available to make you a solid board that's made to last, this is a good way to vote with your dollars for a company that's paying fair wages and environmentally sound practices abroad.
I did not receive anything for this review other than a cutting board, which the boys have been using to process apples. I think this is a good product made by a company that's trying to do the right thing. Good luck to everyone, and share with your friends if you think they might be interested, too.