No More Dirty Looks – If You Wear Makeup or Use Personal Care Products, You Need to Read This Book
No More Dirty Looks: The Truth about Your Beauty Products–and the Ultimate Guide to Safe and Clean Cosmetics by Siobhan O'Connor and Alexandra Spunt is a "must read" for those who use conventional beauty products.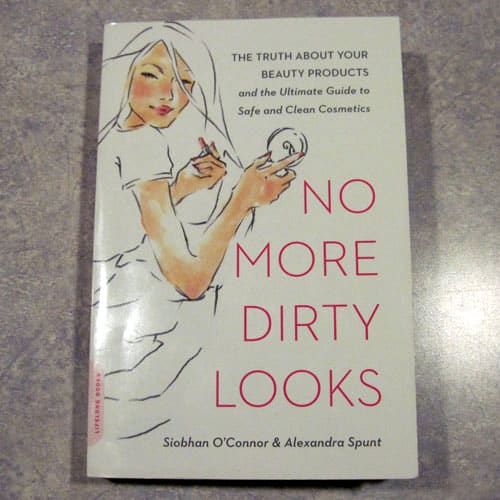 Top "Common Sense Ideas" from No More Dirty Looks
Skin is absorbent – this is why transdermal medications work.
If you wouldn't put it in your mouth, why would you put it on your skin?
The "why bother" clause – "If you can't be sure a product is safe – and it's not doing your looks any favors – why bother using it?"
The book starts with the authors' story of how they got interested in beauty product ingredients after realizing that the primary ingredient in their "keratin" hair treatment was formaldehyde. (Ever wonder why some salons stink so much? Yes, they are filled with toxic chemicals.) They give a brief overview of the regulations guiding the cosmetic industry (or lack thereof) and a rundown of some of the most common toxins found in personal care/beauty products.
Next up, there's a breakdown of products by category (hair, face, makeup, body, and nail treatments), listing most frequent "nasties" and offering suggestions for safe products you can purchase or make at home.
Finally, they wrap up by touching on diet and lifestyle suggestions, as well as ways to build awareness and encourage companies to use safer ingredients. Beauty really does start from the outside in, after all.
My only beefs are fairly minor. I would have liked to have seen more DIY recipes. Quote from the book:
"We've also heard that it's super easy to make an actual lip gloss using beets, beeswax and oil, but that broke our two ingredient rule and the idea of heating up wax (and having to clean it) made us tired. We have every intention of trying it someday, of course, and encourage you to as well."
Anyone who's visited my blog knows that I regularly do things quite a bit more complicated than just melting wax, so that was a little disappointing. A lot of the brands recommended are not readily available in my area, either. (I'm eying up Do It Gorgeously: How to Make Less Toxic, Less Expensive, and More Beautiful Products …)
In the diet section, they promote leafy greens and berries and berate sugar and simple carbs, which is good. Unfortunately, they also rip on red meat, and make no mention of bone broth, organ meats and fermented foods – staples of traditional diets and good health. Sorry ladies – we'll have to agree to disagree here. May I recommend reading the book Deep Nutrition: Why Your Genes Need Traditional Foods?
Great resource listed in this book – the Environmental Working Group Cosmetics Database, which lists over 69,000 products. The Cosmetics Database contains "product and ingredient safety ratings, health information about cosmetics ingredients and smart shopping tips you can trust."
I don't use a lot of cosmetics or personal care products, but since reading this book I ditched my Cetaphil cleanser and have been using only coconut oil for a cleanser and moisturizer (so far, so good). I've made some hard lotion bars for moisturizing my skin, which I really like. I'm shampooing less frequently, working towards "no poo". You can check out several DIY recipes in the Non-Toxic Personal Care Products section of the Green Home page.
Hopefully, you'll be inspired to adopt the "why bother" motto as well, and reduce your potential exposure to harmful products.