Solar Emergency Gear – Lights, Power, Radios, and Ovens
Solar emergency gear isn't just for summer or warm climate areas. The new generation of solar gadgets and tools can be used year round – even in cold temps. Some items, like the SunOven, have been around for years, proving their durability and long life. New tools like LuminAID solar lights are making huge inroads in emergency relief and general use solar lighting. In this post I'll share some of my top picks for emergency solar lights, power, radios, ovens and more to give you an overview of the tools that are now available.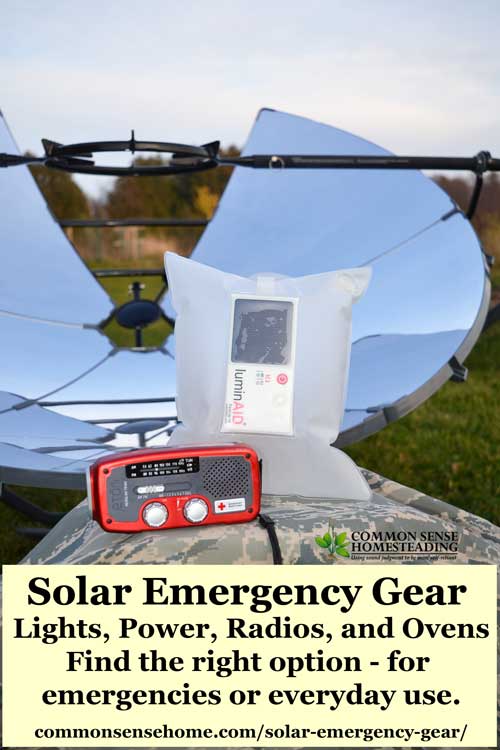 Solar Emergency Gear – Lights
LumindAID inflatable solar emergency lights – I did a full review of the LuminAID lights earlier this year. I like their impact and water resistance, and how they light up an area with a diffuse light instead of a glare. We haven't used them in an emergency yet (thankfully), but they were handy to light up the inside of our new shed when we were working after nightfall.
Etekcity Portable Outdoor LED Camping Lantern – One of the top rated solar emergency lights on Amazon, these lanterns are styled like a traditional propane lantern – without the fire danger. The unit uses 3 standard AA rechargeable batteries, which are included. It provides 60 lumins for 12 hours on a full charge. Etekcity also includes a 10 year limited warranty.
See also Biolite Solar Home 620 Solar Light Kit (Emergency or Off Grid)
Solar Emergency Gear – Power
Goal Zero 22004 Yeti 150 Solar Generator – Goal Zero is a recognized leader in portable solar power. This generator is small – about the size of a toaster. I'm not keen on the name "generator" because it doesn't generate power, it only stores power. You can recharge it from a wall outlet, a car or solar panels. (See Goal Zero Nomad 20W Solar Panel and 8mm adapter cable). This is a moderate duty unit, suitable for powering laptops, lights and smartphones. (Don't try to plug in the circle saw.)
Soluser Solar charger for Cell Phones, Cameras, GPS, etc – This is a palm sized unit that's designed primarily for take along extra power. It has four USB ports, one of which is USB-C. This covers most tablets and smartphones. For a quick charge it's best to plug it into an outlet, but the solar panel does work. Handy to have along if you have a device that drains its battery quickly.
Goal Zero 31901 Yeti 1250 XX-Large Solar Generator – If you want a solar generator big enough to power tools and refrigerators, then this is the size unit you need. Again, think battery bank (like the smaller unit above). It's usually paired with two (or more) Goal Zero Boulder 30M solar Panels and an adapter cable. With a full charge, the Yeti 1250 can power a refrigerator for 12 hours or a chest freezer for a week. Several people noted in Amazon reviews that they use this unit for their CPAP machines. Recharge time on the unit will depend on sun exposure and number of panels.
Solar Emergency Gear – Radios
Solar Hand Crank Self Powered Emergency Radio with LED Flashlight – Small unit with AM/FM/NOAA weather radio. Charge via the sun, hand crank or micro USB. 50 lumen flashlight.
Kaito KA500 5-way Solar Power/Crank AM/FM/SW/NOAA Weather Radio This is a slightly beefier unit. Charges via hand crank, solar panel or USB port and can use AA batteries. Kaito KA500 Emergency Radio Review
Solar Emergency Gear – Solar Cookers
SunOven – The SunOven is an insulated solar box cooker. These units have been in use around the globe for decades. In addition to baking and slow cooking, they can also be used to dehydrate food and purify water.
Sol Source Solar Cooker – These units look something like an old-school satellite dish at ground level. They use a parabolic dish to concentrate the sun on your cooking vessel, allowing you to grill, steam, bake, boil or fry. (The SolSource is the reflector featured in the top and bottom photos. Cookware is placed in the black center circle.)
GoSun Sport – Tube shaped solar cooker with a cooking trough inside an evacuated tube, flanked by concentrating "wings". At only 8 pounds, this unit is the lightest of the bunch – a better fit for camping or backpacking. It tolerates clouds better than the other two units because of the high degree of insulation provided by the vacuum tube.
All three units can be used to boil and/or purify water. For a more detailed comparison of these solar cooking options, check out "What's the Best Solar Cooker? Choosing the Right Unit for Your Cooking Style".
Related links: