How to Get Rid of Ants Naturally & Why You Should Protect Outside Ants
I'm not quite sure when they moved in. First we were seeing one or two small black ants at a time. They were in the basement near the woodpile, so I thought they were coming from the wood. Then we started seeing an ant or two or three on the main floor, closer to the kitchen. I knew those weren't from the woodpile, and it was past time to do something about the ant problem.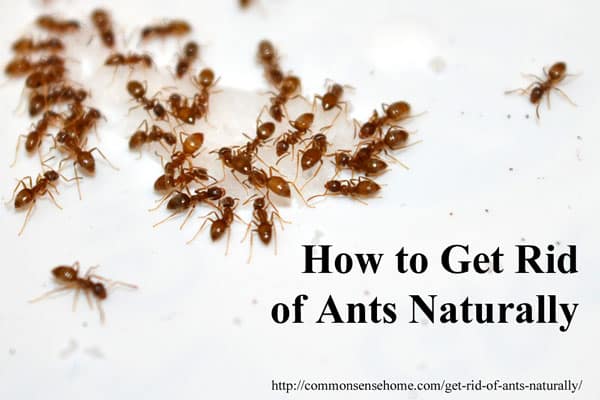 Like most of what I do around the home and yard, I wanted an ant control option that was as non-toxic as possible (except to the ants). I hit the laundry room and the pantry and made up the ant bait. I set one spoonful out in both locations, and the next time I checked, both of them were swarming with ants. Yuck! Thankfully, after a few days of frantic bait munching, the numbers have trickled to almost nothing, and our indoor ant problem should shortly be at an end.
There are more than 10,000 species of ants in the world, so I'm not going to claim that the options in this post will get rid of all of them, but they should help control some of the most common types of ants in the garden and yard. What we most typically see here in Wisconsin inside the house are small, sweet eating ants and big honking wood ants (carpenter ants). Outside, there are a mix of shapes and sizes of ants, but thankfully no fire ants. (I hear those things are plain nasty, so if any of our southern readers have tips for dealing with fire ants, please leave a comment to share your expertise.)
Get Rid of Ants Inside the House – Small, Sweet Eating Ants
The ants that we get inside our home most often are what we call "sugar ants". They are attracted to sweet things, and will happily poke into any open container in the pantry, or just pick a spot and set up house. This year we had them show up in the basement bathroom, near the laundry room, in the garage, and near my seed starting area in the basement. (Ten years with no ants inside, then BAM! Ant explosion!)
For sugar ants, you can mix up a bait solution of sugar water and borax, similar to the commercial ant bait Terro® (or if you don't want to mix up your own, just buy some Terro®. In small quantities (such as the spoonful that is typically put out as bait), it's pretty safe for kids and pets.
Many years ago, when my eldest was a toddler, he put everything in his mouth. Somehow he found the piece of cardboard with Terro® on it that I had hidden in the back of a closet. I called poison control, and they assured me that he should be fine, which he was. That said, do try to keep your bait out of reach of children and pets, just to make sure they don't manage to hunt down enough that it could make them sick. I don't want some tiny pup turning up sick or dead due to ant bait overload.
Indoor Borax Ant Killer Recipe
1 part Borax to 3 parts cheap syrup or sugar (Buy Borax online)
If using sugar, add enough water to make a syrup like consistency
For instance, I could make up a small batch with 1 teaspoon Borax, 3 teaspoons sugar, and enough water to make it like syrup. Or I could make up a large batch with 1/3 cup borax and 1 cup corn syrup and keep it in a sealed jar to use as needed. Place the ant bait on a flat or shallow surface, such as a piece of cardboard, a used canning lid or a lid from sour cream container. You want to make it easy for the ants to get access. If children or pets are a concern, you can use a plastic container and punch small holes in the side close to the ground so the ants can get easy access but kids and pets can't.
Liquid bait works best, probably because the Borax spreads throughout it more evenly. In inexpensive corn syrup will work just fine for this, but I don't usually have that in the pantry, so I just make up sugar water instead. You could also use molasses or jelly, but why waste the good stuff on critters you're trying to get rid of?
More Borax will not kill the ants faster!
Don't be tempted to add more Borax in hopes of knocking out the ants faster. The goal here is to get them to take the sugar/Borax mix back to the nest and feed it to the queen, so the whole colony is wiped out. If they tip over as soon as they take a bite, it defeats the purpose. This bait will work best if refreshed every couple of days or so, because a crust will form on the top, making it tougher for the ants to eat.
Other suggestions from readers include:
Talcum powder applied where the ants are entering the home
Water with serrano peppers in it, accessible for the ants to drink
Get Rid of Ants Inside the House – Carpenter Ants
I have a very unpleasant memory from my childhood involving wood ants. We never had them eat the house, but sometimes they came in with the fire wood. I had been seeing a large wood ant here and there in the house for about a week, and didn't think much of it. I squished them and went on my way.
One spring Saturday morning, I stumbled into the kitchen, poured myself a bowl of cereal and plopped down in front of the TV to watch cartoons. I noticed an ant crawling on the edge of my cereal bowl, so I dispatched it. The next thing I know, I realize that the bite of cereal in my mouth is kicking. Ewwwwww! Sure enough, I look down into my bowl, and there are about half a dozen large ants trying to use the puffed corn cereal as life boats. I ran outside and spit out the mouthful of ant and cereal, and gave the rest of my breakfast to the dog. I know I can eat bugs (there's even a post on the site from my bug eating friend, Paul), but that was gross, and a strong endorsement for never engaging in distracted eating. Blech.
Signs of Ant Damage
If you do spot carpenter ants in your home, you'll want to inspect for signs of damage such as "frass" – fine wood trailings that look like sawdust, which you may be able to track back to the colony. Wood ants prefer damp wood, such as moist areas under a shower, decks, foundations, wood piles (check!) and nearby trees. If the colony has gotten large enough, structural repairs may be necessary in addition to getting rid of the ants themselves.
Like many household pests, such as mice and ants, leave chemical trails that they follow around your home, so cleaning the area with strong smelling cleaners such as vinegar can be disruptive to their feeding patterns.
DIY Natural suggests the use of Food Grade Diatomaceous Earth (DE) for carpenter ant control, spraying or injecting the powder straight into the nest area. You can purchase bulb dusters online via Amazon.com and at some garden or hardware stores. Be careful not to inhale the powder, as it has microscopic sharp edges that are not good for your lungs.
Tipnut also notes that:
If a colony senses something is up when its members start dying and begins to feel stressed, the Queen Ant will likely give orders for the colony to split up into a few smaller colonies, trying to preserve as many members as she can. This is why it may take several days of laying out fresh bait regularly–you're trying to get enough poison into all the colonies to wipe out the whole lot.
Getting Rid of Ants Outside
Unless they're really in an absolutely horrible location, I'd ask you to consider leaving outside ants alone. Ants perform many important functions, such as:
aerating the soil
cleaning up plant debris
controlling termite populations
acting as a food source for birds and other animals
If you truly need to get ants to move out, activities that regularly disturb the nest may do the trick. Applying water, diatomaceous earth, vinegar (this may also kill plants, so be careful) or strong scented herbs like mint or sage to the ant hill will encourage ants to move to a new location without killing all of them.
Readers also suggest putting corn meal out by the ant hills. The theory is that the ants eat the cornmeal and it swells up inside their stomachs. I haven't tried this method. As I mentioned above, I try to let outside ants do their thing, and suggest you do, too.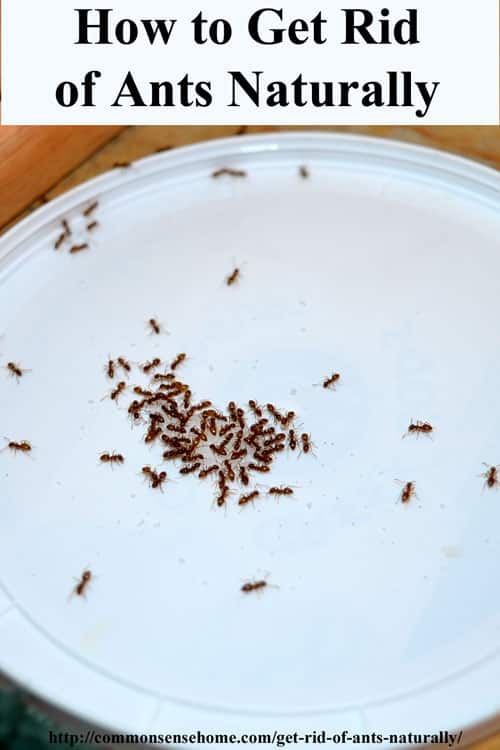 I hope you found this post useful. If so, please share or Pin. If you have a tip for getting rid of ants (especially fire ants), please leave a comment below.
You may also find these other posts from our Green Home Series useful:
Wondering why your home has bug troubles? Check out this infographic from Terro®.