Kevin's Quality Clothespins – The Best Clothespins You've Ever Used
I love the smell of laundry fresh off the line – but I don't love having cheap, flimsy clothespins launch themselves off the line in pieces or finding heavy, wet items dropped on the ground below the line. Since our laundry line is on our elevated deck, when laundry drops, it really drops, falling over ten feet down. I was hanging clothes recently and thinking, "It sure would be nice if someone started making heavy duty clothespins again."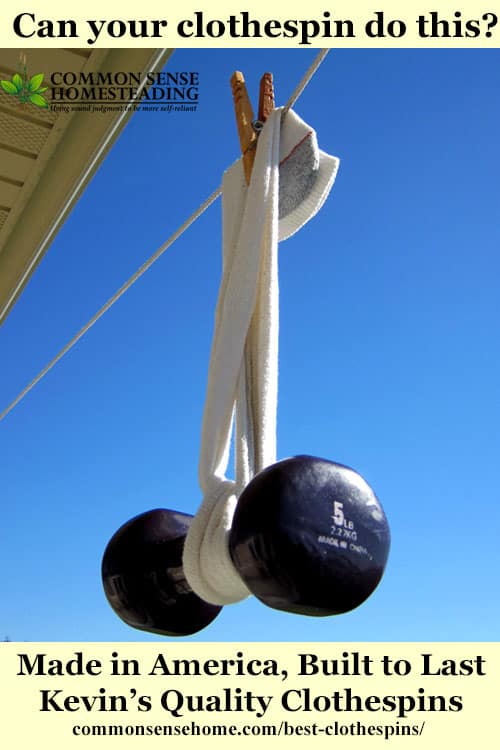 Ask and ye shall receive, because the next time I checked my inbox, there was a message from Hilary of Kevin's Quality Clothespins, letting me know about their heavy duty, American made clothespins. I received a sample set of 10 for review.
7 Reasons Why Kevin's Quality Clothespins May be the Best Clothespins You've Ever Used
Kevin's Quality Clothespins are hand-crafted from solid maple hardwood, specifically end pieces from a local mill that supplies wood for guitars. I like that they are able to re-purpose what would otherwise end up as scrap. The wood has a light colored grain and will not bleed tannin onto clothing.
The clothespeg springs are heavy duty stainless steel from an American manufacturer – no rust or corrosion. They are much larger and stronger than standard imported clothespin springs.
Kevin's Quality Clothespins are made in America with materials sourced from local suppliers.
Each clothespin is treated with natural linseed oil before assembly to help them resist weathering. You won't find any treatment on the nekked cheapo clothespins.
These clothespins are big enough to go where other clothespins can't. They are large enough to tackle heavy rugs and quilts on a standard clothesline, and can even open wide enough to accommodate a 1/2 inch dowel. No more items slipping off drying racks.
No slip grooves at the end of the pins make it easier for the user to operate the clothespin.
These pins are crazy strong! I tied up a 5 pound weight in an old sock and tacked in on the clothesline with one of Kevin's Quality Clothespins. It hung there like a boss – no slipping or sliding. I didn't even attempt hanging the weight with the imported pins out of fear for the windows located right near the clothesline.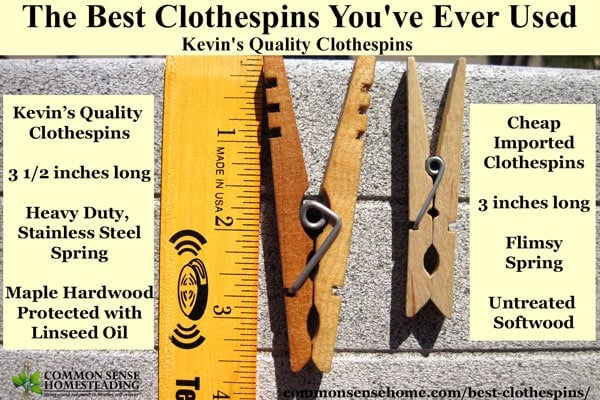 Clothespins That Last
I have a bin in my junk drawer dedicated to holding parts of dead clothespins. Every so often the boys go through and try to piece them back together. The thing is, once the springs have been stretched, they never work quite as well. Usually they end up right back in the junk bin after the next load of laundry. That is not going to happen with these pins.
As long as you take them off the line when you gather the laundry, Kevin's Quality Clothespins should be around to hand down to your children and grandchildren. They're made like things used to be made – to last. They are more expensive than imports, but less expensive than similar clothespins in a Mother Earth News article. (Those pins were also out of stock when I checked the website.) I think these clothespins would even make a nice gift item for those who appreciate practical gifts, especially if you paired them up with something like wool dryer balls or a Prairie Pin Pouch Handmade Clothespin Bag.
Buy Your Own Set of Heavy Duty Clothespins
You can buy your own set of Kevin's Quality Clothespins here.
*Update May 2021: Sadly, Kevin has passed away, and the clothespins are out of stock. They hope to figure out a way to get them into production again and have them available soon. The closest item I was able to find was these made in America hardwood pins.
I received no compensation for this review, only a set of clothespins, which I think are nice enough that I'm planning to buy myself some more.
Update: This review was originally posted in October 2014. It's now March 2017, and I've used these clothespins for over 2 years. They still work great, and not one has busted.
You may also find useful: