Building an Eco Home – part 8 of 8 – Eco-Friendly Flooring
At the Neverman Flooring Research Center (AKA our home), the boys have been doing their best to subject our eco-friendly flooring choices to a battery of tests sure to rival those in more high tech facilities. Mud, crayon, lotion, chocolate milk, hammers, ball bearings, firewood – no substance is too messy and no impact is too large. We evaluated durability, ability to conceal dirt, sound absorption and appearance. Here are the results.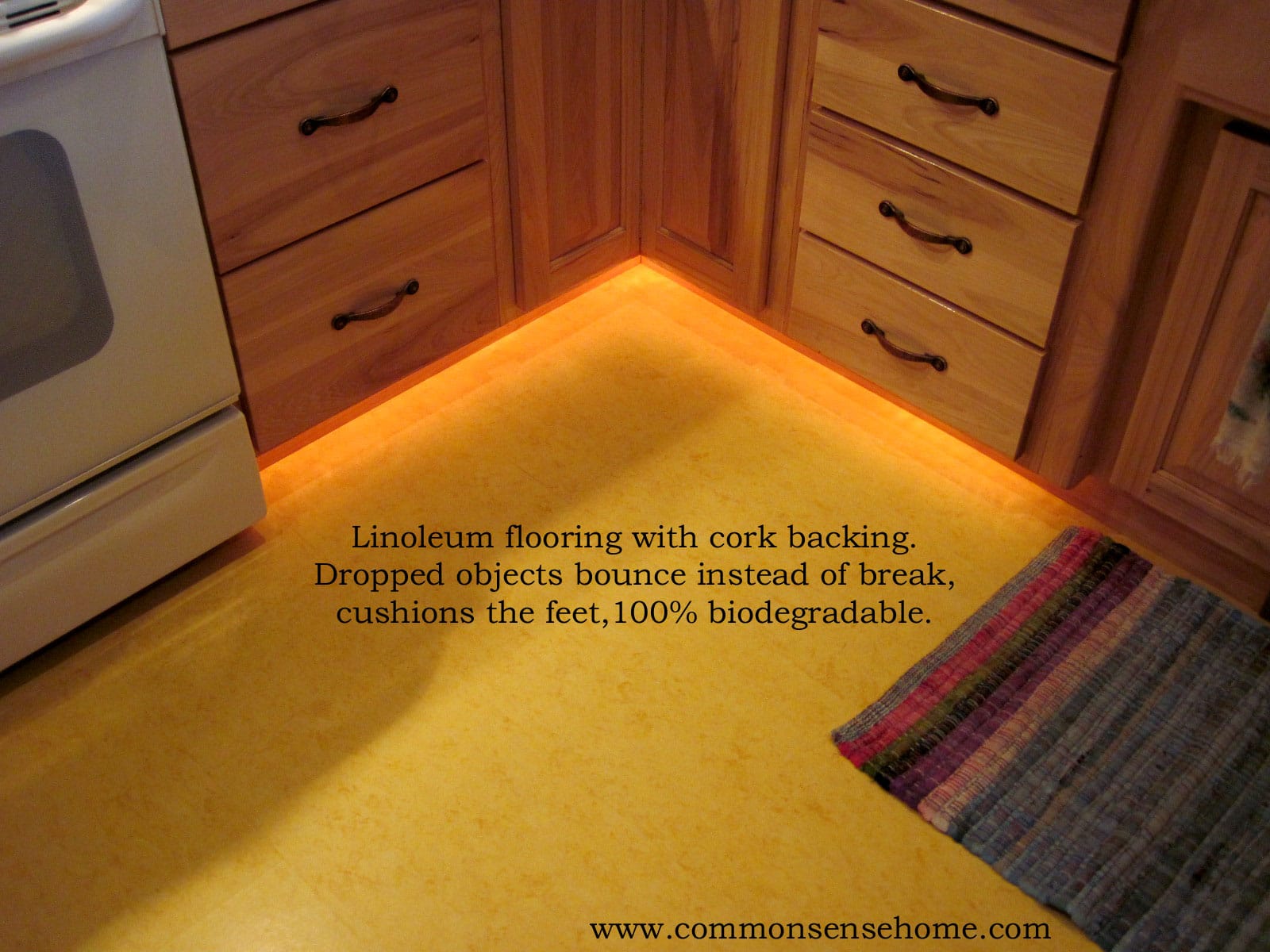 Hard Flooring for Accessibility and Fewer Allergens
Throughout the home, we used hard flooring. The only carpet is in the boys' loft. This makes it easier to get around with a walker or wheelchair and improves indoor air quality (carpet tends to trap dust and other allergens). Our primary source of flooring was Eco-Friendly Flooring in Madison. They have a great selection of environmentally friendly products, from sustainably harvested wood flooring to recycled metal flooring tiles and sinks and recycled glass wall tiles. Their flooring and shipping prices compared favorably with other suppliers, including volume discounts for orders over 500 square feet, and they offered products that we could not find at any other local dealer.
Linoleum
We chose to use their Sunflower linoleum in the kitchen and laundry room (photo above). The linoleum comes in 3′ x 1′ x 7/16″ click-lock tongue-groove flooring planks with built-in cork underlayment. Eco-Friendly Flooring carries a palette of over 20 colors, providing plenty of decorating options. It cleans up easily with the broom or vacuum. For deep cleaning, damp mopping with a vinegar and water solution is recommended (this is true for the cork as well). The dappled yellow of our Sunflower camouflages dirt quite well. It is also forgiving when things get dropped, unlike tile. The underlayment provides some cushion when you're standing for extended periods, and it muffles the sound of footsteps better than tile or hardwood.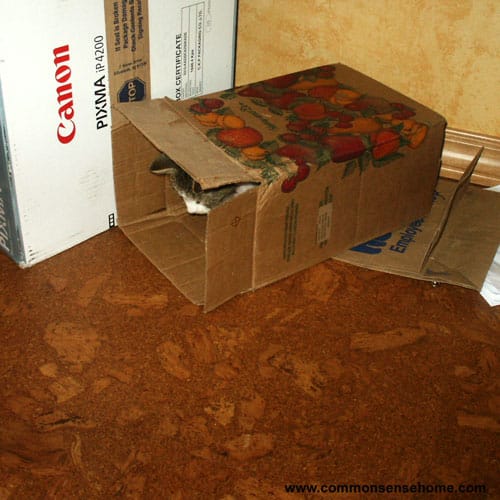 Cork
Eco-Friendly Flooring also provided us with Caramel Burl cork flooring for the computer room. We put down hardwood floor protector sheets under the computer chairs, but the boys still roll around quite a bit on unprotected floor. It has gotten some minor scratches, but the pattern of the cork makes them almost invisible. I had some concerns that it might absorb moisture (it looks porous), but when Duncan upended a large glass of chocolate milk over half the floor it wiped up quickly and cleanly. There has been no residual odor, which would have been expected if the milk had soaked into the floor. It is anti-static (as is the linoleum) making it a good choice around electronics. It also provides a high amount of noise reduction. The cork floor was also the site of the ground-in crayon application. With a clean, dry paper towel and a little elbow grease, it wiped right off.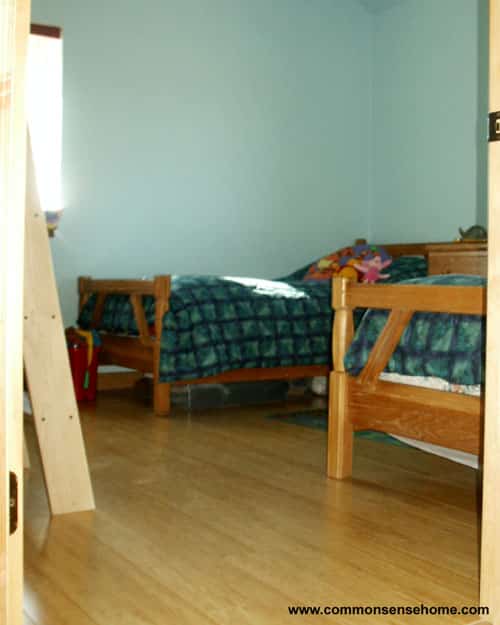 Bamboo
The final product we used from Eco-Friendly Flooring was Natural Fibrestand Woven Bamboo. We ordered bamboo samples from several different suppliers, but when we looked through the brochures we found that many of them did not recommended the use of horizontal or vertical bamboo over radiant flooring systems. Our flooring installer said that heat was not a problem, only changes in indoor humidity, but we weren't comfortable with his recommendation. We did some more research and found out that strand woven bamboo was approved for use with in floor heating. Both Eco-Friendly Flooring and our installer recommended a nail-down application rather than a floating floor over the radiant heating system.
So what's the difference between the different types of bamboo? All of them are laminates. In horizontal and vertical bamboo, which are the most commonly used, you can see the individual pieces of bamboo butted up against each other. Horizontal has the strips laid flat and consists of multiple layers; vertical places them on their sides in a single layer. Horizontal planks are generally tougher than vertical. Strand woven bamboo is constructed from shredded bamboo strips that are compressed into planks. It is harder than both horizontal or vertical bamboo planks and is suitable for commercial applications.
When we compared the samples we had ordered, we found that the strand woven was also about twice as heavy as the others. Because the bamboo is shredded and compressed, the floor also has a more "wood like" appearance. In addition to the different construction options, bamboo also comes in natural or carbonized colors. Natural is lighter in appearance, carbonized is darker. The carbonized is actually steam treated to produce the darker color, which weakens the plank as much as 20%.
I would heavily recommend getting samples before purchase. There are a lot of companies that have cropped up on the internet selling cheap bamboo, and in some cases you get what you pay for – or less. Our bamboo is holding up great and gives the bedroom floors a warm, welcoming glow.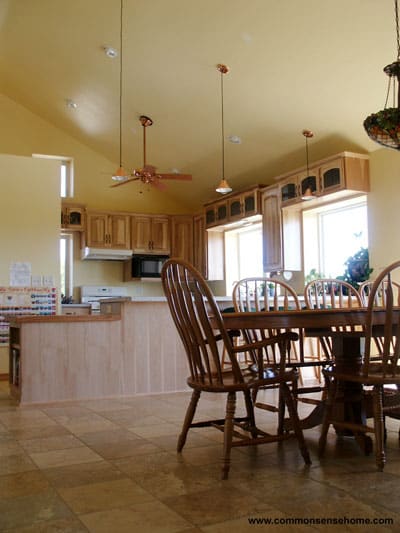 Porcelain Tile
The balance of the main floor dining area, living room, entry and main bathroom decor floor choice is porcelain tile. We chose tile because it transmits heat more readily than other types of flooring, is extremely durable and is virtually waterproof. The tile warms up more quickly from the sun above and from the radiant tubing below than the other flooring choices. The warm earth tones of the tile create a smooth neutral backdrop for the bright yellow walls. (The whole of the great room is a lovely sunshine yellow. As I've told August, "It's hard to feel gloomy in a room this color.")
On the practical side, the tile pattern and the light coffee colored grout hide dirt really well, too. The biggest tile negative is the increased noise level (the boys like to race each other on wheeled office chairs through the length of the house and you can hear every grout line). We've only shattered one item by dropping it on the tile (a Christmas bulb), so that hasn't been a problem. Porcelain tiles are more durable than non-porcelain tiles (porcelain tiles are a type of ceramic tile, but not all ceramic tiles are porcelain) and are less water absorbent, so they will continue to look good for many years to come. (Duncan verified the tile durability by tapping it repeatedly with a hammer to listen to the nice "ping" noise that it produced – until he was caught by his father.) For more information on tile, see The Tile Council of North America FAQs.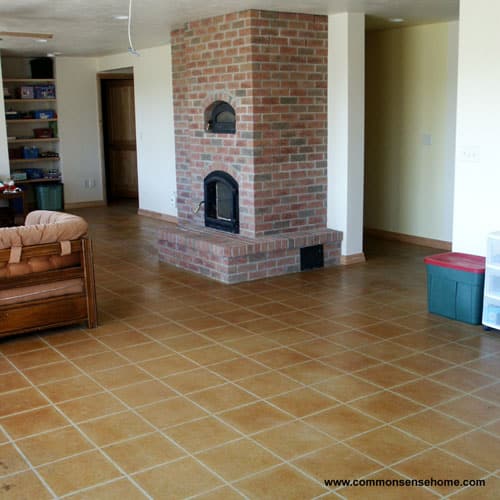 Acid Stained Concrete
In the finished area of the basement, we hired a concrete contractor (CTI – Concrete Technology Incorporated) to acid stain and seal the floor. Since we used the existing concrete floor, there is nothing to interfere with the heat transfer from the radiant tubing underneath. After the floor was cleaned but before the staining began, August and I drew out a compass rose on the floor at the base of the stairwell with indelible marker. The contractor used tape to mark out gridlines, providing a tile look without the tile price. Several layers of stain were applied, the tape was peeled off and the unstained strips look like grout lines. A couple layers of sealant were applied over the color and it was done. We are very happy with the results. The floor has really taken a beating this winter, as we regularly bring in yard carts full of firewood for the masonry stove right through the middle of the room. Snow, ice, mud – it all gets tracked in. Fortunately, it cleans up easily. All I regularly do is run a broom around, occasionally I vacuum and mop.
The down side is that the actual chemicals used to stain and seal the floor stink, so you can tell there are VOC's (volatile organic chemicals) involved. Fortunately, the fumes were short lived. There are some concrete coloring products that claim to be more environmentally friendly, like Kemiko's Rembrandt Polymer Stain. We didn't find anyone in our area that was using this product.
The Final Review of Our Eco-Friendly Flooring Choices
We are very happy with our flooring choices. They all hold up well to heavy wear, dirt, grime and little boys. Acid stained concrete, tile and bamboo are the toughest, but also the noisiest, cork and linoleum are not quite as tough but are quieter, anti-static and gentler on the feet. I highly recommend including any of these products in your new home or remodeling project, along with sustainably harvested hardwood floors.
The "Building an Eco Home" series is a set of articles that were originally published in The Healthy Independent while we were in the process of building our current home. I have made only minor edits to include links and format for the online publishing. I will be discussing green building and remodeling in more detail in upcoming posts, so if you want to know more about a topic, please make a request.
Eco Home Building 8 part Series