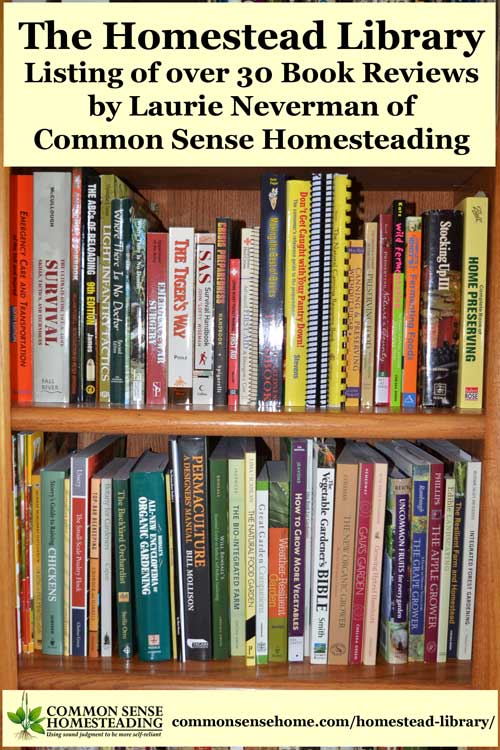 Recommended Reading for Your Homestead Library
This list of homesteading book reviews includes homesteading, cooking, preserving, wildcrafting, herbalism, preparedness and more. There are so many amazing books out there that you can add to your homestead library to help you on your journey. My plan was to post a review every other week, but frankly, they don't get much traffic. I'll be adding reviews here and there, sometimes grouped by topic, sometimes individually. 
Book Reviews Currently Available at Common Sense Homesteading
General Homesteading
The Encyclopedia of Country Living – Endless Homestead Inspiration
Backyard Farming on an Acre (More or Less)
How to Make Money Homesteading
My Favorite Backyard Chicken Books
Food and Food Preservation
The Complete Idiot's Guide to Fermenting Foods
The Natural Canning Resource Book
The Nourished Kitchen Cookbook
The Best Homemade Kids' Lunches on the Planet
Wildcrafting/Herbalism
Weekly Weeder #1 – Recommended Wildcrafting Reference Books
The Pocket Guide to Wild Mushrooms
Herbs Gone Wild! –  Beauty Gone Wild! – Hair Gone Wild!
Pawpaw – In Search of America's Forgotten Fruit
Gardening
Building Soils Naturally – Innovative Methods for Organic Gardeners
Working with Nature – Shifting Paradigms and The Essence of Organic Gardening
The Planet Whizbang Idea Book for Gardeners
The Market Gardener: A Successful Grower's Handbook for Small-Scale Organic Farming
The Greenhouse and Hoophouse Grower's Handbook – Change the Way You Grow
The Resilient Gardener – Grow Potatoes, Corn, Beans, Squash, and Eggs
The BackYard Orchardist – Learn to Grow Over 10 Different Fruits
Permaculture
4 reviews in one post – The Wild Wisdom of Weeds, Farming the Woods, Integrated Forest Gardening, Organic Mushroom Farming
Edible Landscaping with a Permaculture Twist
The Bio-Integrated Farm – Water Gardening Like You Never Imagined
Holzer Permaculture – A Lifetime of Food Growing Innovation
Restoration Agriculture:  Real World Permaculture for Farmers
Beyond the War on Invasive Species – A Permaculture Approach to Ecosystem Restoration
Mycorrhizal Planet – Nurturing Fungi to to Build Soil Fertility and Support Plant Health
Hybrid Hazelnuts – The Revolutionary Crop for Food, Fuel and Biomass
Preparedness
The Survival Doctor's Guides to Wounds and Burns
Living Ready Pocket Manual – First Aid Fundamentals for Survival
Honey, Mud, Maggots and Other Medical Marvels – The Science Behind Folk Remedies and Old Wives' Tales
Health and Nutrition
"Back in Control – A Surgeon's Roadmap Out of Chronic Pain"
Common Sense Health: Diet, Detox and Physical Activities
The Common Sense Home Remedies Series
Deep Nutrition: Why Your Genes Need Traditional Foods
Environmental Toxins
The photos at the top and bottom of this post are from my own personal bookshelves, so you can see I've got no shortage of reading material. 😉 If you see a book title in the top or bottom photos that you'd like to know more about, please ask, and I'll do my best to get a review up sooner rather than later.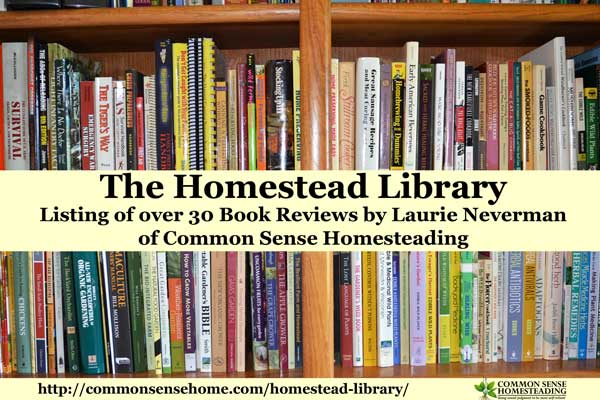 GET MORE SELF-RELIANT NOW!
Get Homesteading 101 FREE, plus weekly updates and Subscribers Only information delivered to your inbox.