Emergency Power Options for Your Home – Gas Generators and More
A natural or man made disaster (small or large) can take out the power grid. It does not take long before lack of electricity affects us, and it can take weeks to get the power back on.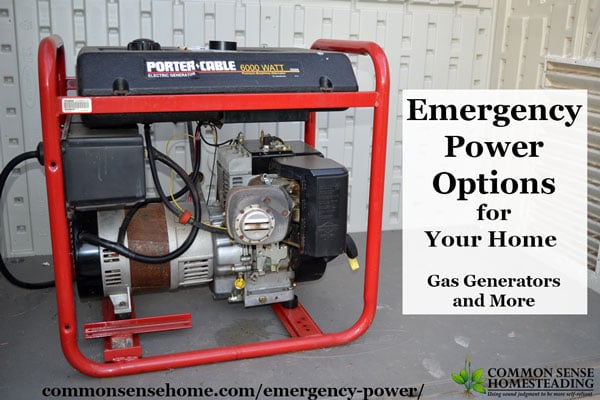 How do I keep the food cold and the house warm? When will the power come back on? How do I keep the phone charged so I can maintain contact with the outside world?
We discuss ways to provide power during a short or long power outage. Some are portable short term emergency power systems, some are permanently installed systems.
Sub Panel & Transfer Switch
A generator, solar panel or battery system doesn't need to back-up your entire house. Limit your load to vital items on a second smaller breaker panel or "sub panel" and you simplify what you need to provide power to.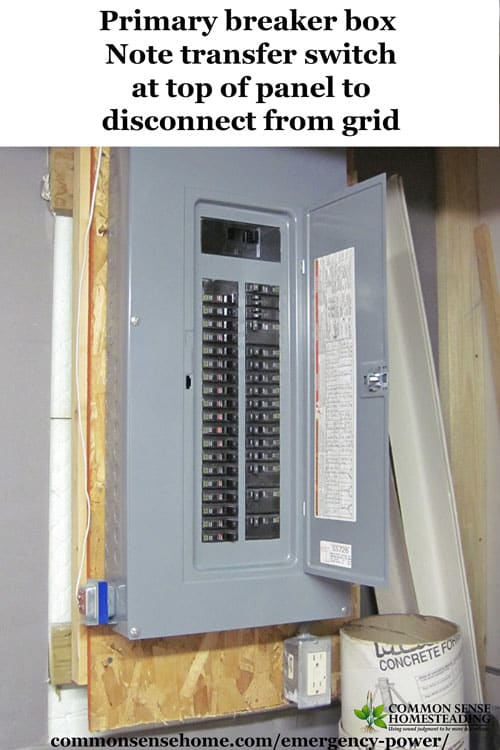 Above is a picture of our main breaker panel. It has a 200 amp feed. This panel can be manually isolated from the grid with the main 200amp breaker at the top.
Below is a picture of our sub panel or emergency 30amp panel. This panel has our freezers, refrigerator, well pump, sump pump and other critical circuits.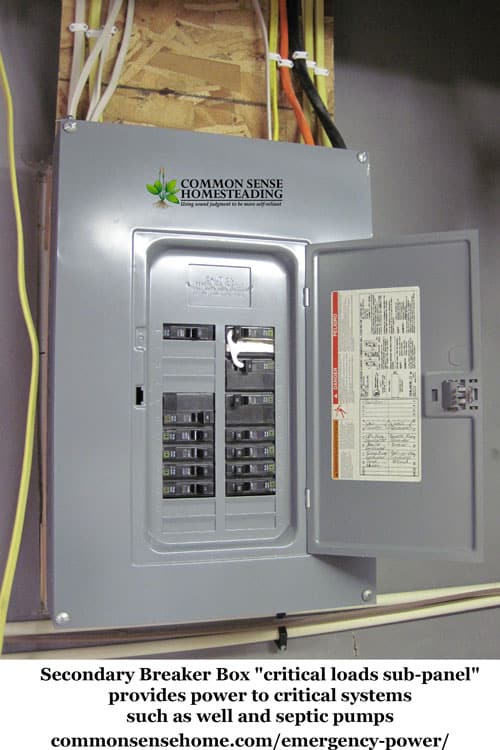 If you plan ahead, you can have a transfer switch installed next to your existing electrical panel. If you note above there is an odd breaker in the panel. That is a "double pull double throw" breaker. When we flip that the panel is disconnected from the grid and the power from the generator is enabled.
The transfer switch (or double pull double throw breaker) prevents you from back-feeding the utility grid (see "Solar Electric Basics" for more information on this danger) by isolating your generator from the main panel.
This stops power from backfeeding into the grid and electrocuting a lineman who is fixing the power outage. Some systems do this automatically, referred to as service disconnect.
Gas Generator
The simplest emergency power option is to get a gas generator and a couple cans of gasoline. Use long extension cords to vital items like your refrigerator, sump pump or freezer. Appliances are generally easy to power from a generator – they have cords attached.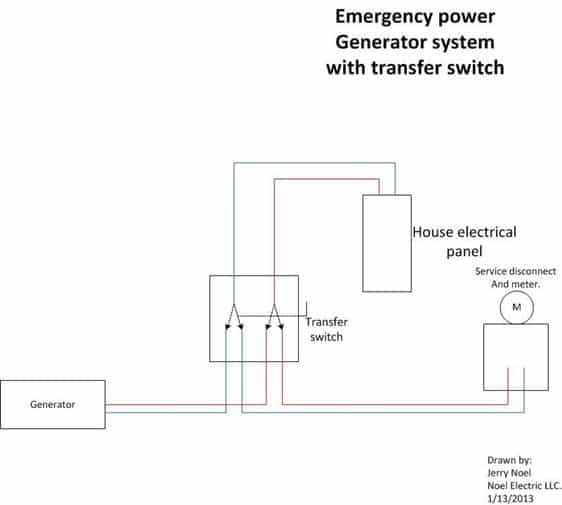 Powering larger loads like your furnace is more difficult. You would have to open the wiring junction box and splice in a cord end. This is easy for an electrician to "jerry-rig" it but not recommended for the average homeowner.
Editor's note: Top photo in the post is our generator "dog house", which is hard wired into our home power system. Photos below show primary and secondary breaker boxes in our home.
Gas Generator Pros:
Power when you need it
Portability
Relatively inexpensive
Gas Generator Cons:
Noisy
Needs refueling
Smelly exhaust
Requires regular maintenance
Fixed power capacity
A generator has a rated power output measured in watts or kilowatts. They can also produce small bursts of power needed for motors starting, but then go back to their rated amount. If you aren't using much power, the generator still is running, wasting energy. A small generator can cost a few hundred to over a thousand dollars.
The bad news, gasoline doesn't store well long term. You need to use STABIL if you want to store gasoline more than six months. Another way is to use your gas regularly in vehicles and then get fresh gas in your gas tanks.
Top Reviewed Gas Generators
Editor's note: We put our generator in a modified Suncast BMS4700 The Stow-Away Horizontal Storage Shed. We put vent louvers in the ends for air flow and cut a hole through on of the doors for the exhaust pipe.
Small holes were punched in back of the unit so the plugs could reach the tie in on the side of the garage. The unit is hard wired to jumper cables so we can use car batteries from inside the garage to start the generator.
Dual Fuel Generator
When our 20+ year old gasoline generator died in 2017 we researched. We still like the gasoline generators and wanted the flexibility of using gasoline. But we wanted more options. We started looking around and found dual fuel gasoline and LPG (propane) generators.
After researching even more we settled on the Champion Power Equipment 100165 7500 Watt Dual Fuel Portable Generator with Electric Start. The price on Amazon was high, so we hunted for a better price. You will probably want to search through Amazon or other sellers. We ended up finding it locally for a bit less.
The main advantage of the Dual Fuel unit, is that we already have propane, and were considering another large tank for backup anyway. It was not overly expensive so fit all our needs.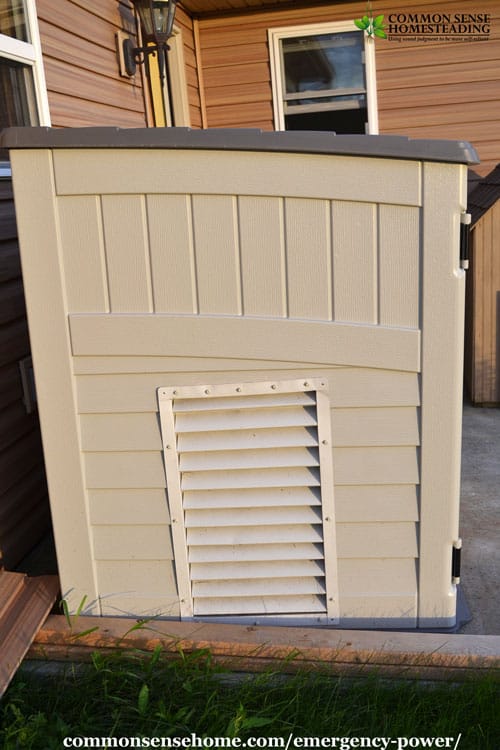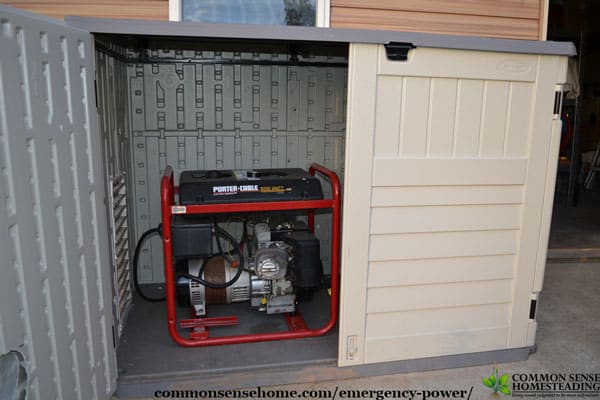 Whole House Battery Backup
Next option on the emergency electrical power food chain are Battery Backed-Up Systems. These are not car batteries, but deep cycle ones. They are heavier, more expensive, and designed differently.
Battery Backed-up systems have a battery bank that is connected to an inverter. The inverter changes the 12v or 24v DC voltage to a usable 120/240v AC voltage used in your house. Then the inverter is connected to the critical load panel through the transfer switch.
Some hybrid inverters already incorporate the transfer switch internally, connecting automatically – fast enough that your electronic items won't know that there is an outage.
Suggested Deep Cycle Batteries
Whole House Battery Backup System Pros:
Quiet operation
No gas exhaust
Cordless
No refilling a gas tank
Whole House Battery Backup System Cons:
Expensive
Cheaper batteries require maintenance
Limited amount of power available before they need to be recharged
Requires solar, wind, grid or a generator to recharge them during prolonged outages
Depending on the batteries and generator, one hour of generator run time can keep the batteries charged for hours. For short interruptions lasting only a couple hours, the batteries can keep things going and then recharge when the power returns.
Solar Power
Solar Panels provide DC power. To get AC power you need an inverter. Solar panels convert sunlight into direct current power (DC). Most homes run off AC (alternating current) so you need an inverter to convert DC to AC.
Solar panels last about 20 years. You can estimate costs at approximately $2000 to $2500 per kilowatt (but the prices are changing). Most people will need a professional installer to assist.
Most systems require permits, and some areas may have laws governing the use of solar. A 5kw system will cost $7,000 to $18,000. A 10kw system will cost $19k to $30k.
Solar Pros
You get power anytime the sun shines
Fairly maintenance free (other than cleaning snow or debris off the panels)
Lasts 20 years
Solar Cons
Requires an inverter
Requires battery or generator if you need power in the dark
Expensive
Needs physical space
See "Solar Electric Basics" for more information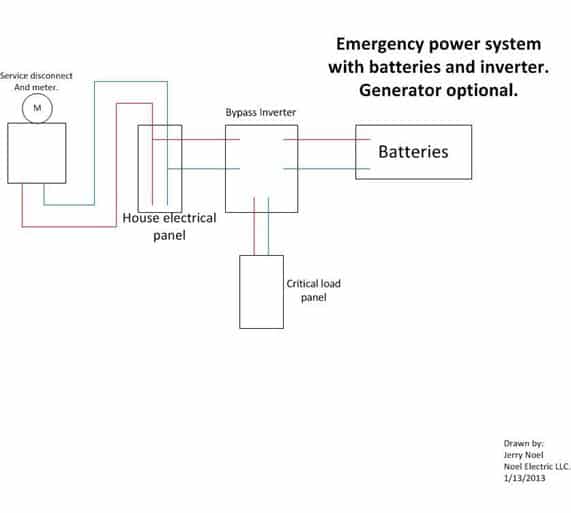 Other Portable Options
To provide lighting and power for small electric devices, consider solar or crank powered lamps and chargers. We've added a several solar and crank products to our emergency preparedness supplies, including:
A lantern with a solar panel and hand crank for charging that also has a USB charger built in for charging cell phones and other small electronics, LED Crank flashlights and Emergency radio with solar panel, crank power, flashlight and cellphone charger.
For short outages, having a little light and contact with the outside world can make the time fly much faster. The new LED products provide a lot more light at a fraction of the power requirements of older flashlights (see our Favorite Flashlight and our Brightest Flashlights).
Lamps often come with different lighting levels (like the one above), so you can set it bright enough for reading or turn it down to night light level to conserve power. These three options are all light and portable, and would also be handy for camping.
Biolite now offers products that provide power directly from a small camp stove, so you can do double (or triple) duty with one piece of equipment – cook or heat water, charge a phone, and provide lighting.
For heating consider an indoor safe, Mr. Heater with a small propane tank.
See Related Articles:
This is a guest post by Jerry Noel edited and updated by August & Laurie Neverman.
Jerry is a Wisconsin Master Electrician and a NABCEP Certified solar installer. NABCEP stands for North American Board of Certified Energy Practitioners. Currently, Jerry is the City of Madison Electrical Inspector. In the past, he has taught solar electric theory and installation for the IBEW, Midwest Renewable Energy Association, and Solar Energy International.
View other Solar Electric posts by Jerry Noel.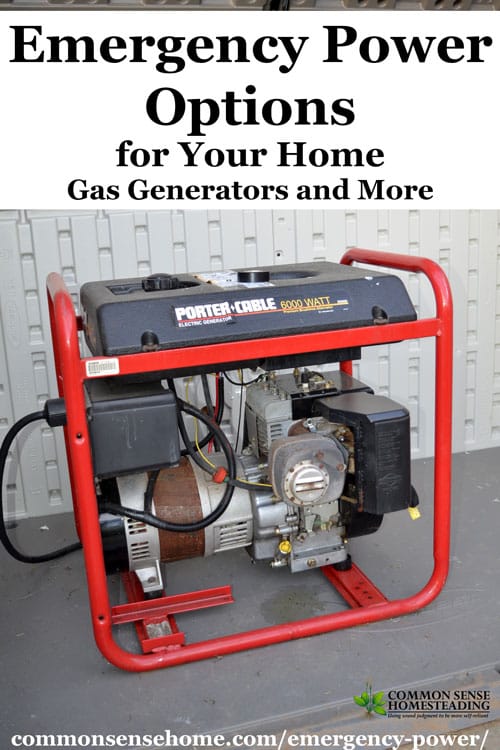 Originally published in 2013, updated in Jan 2022.