The Lost Ways Book – Does it Live Up to the Hype?
We saw "The Lost Ways" by Claude Davis being advertised widely and purchased a copy. It has a a few interesting items, and a lot of recipes. Overall we do not recommend it. We'll explain why, and share the books that we prefer.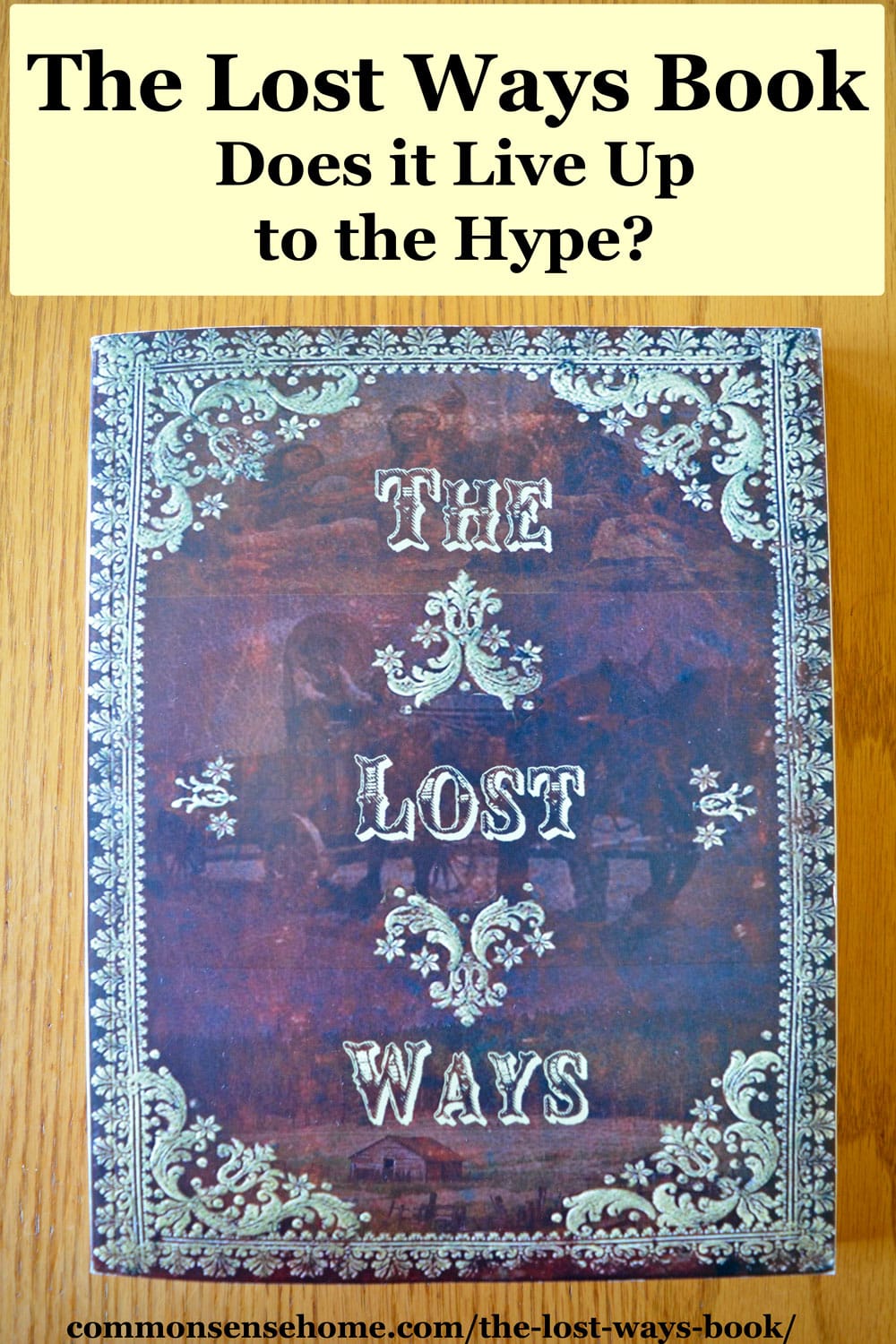 The Lost Ways Book Review
The Lost Ways books touts itself as a survival book, teaching you how to live like a pioneer or Native American. In reality, it reads more like a collection of blog posts, with modern technology sprinkled throughout.
It's incomplete, inconsistent, and definitely not off grid. (Immersion blenders do not belong in a book claiming to be teaching "the old ways".)
The Lost Ways book is not as as good as Carla Emery's The Encyclopedia of Country Living, and it's more expensive.
(Read our review of The Encyclopedia of Country Living here.)
We liked the information about the sheriffs, smokehouse and root cellar chart, but it needed about 40 more items like these to compete with Carla's book.
The Lost Ways is about twice the price of the Encyclopedia of Country Living, with less than half as many pages. The Encyclopedia of Country living is also a very dense book in comparison. (There is far more information on each page.)
For about the same price, you could get Emery's book AND another one and have far more value. (See The Best Homesteading Books list for more of our favorites.)
So although the Lost Ways book is okay, it is not on our recommended list. It needs more information on construction/building, skinning, and other traditional skills.
WARNING: If you choose to purchase the "Lost Ways" book, be careful with the checkout process. It is easy to accidentally order more than one copy or order bundles, or order the electronic version and not get the paper printed copy.
Also, since we published this review originally, we've had readers leave comments indicating that they paid for the book, but never received it. Purchase at your own risk.
See also "The Lost Book of Herbal Remedies Review – Is it Worth the Money?"
Our short list of preparedness books includes the following:
You can also access electronic copies of out of print or older books at books.google.com. Some of them are quite good, including:
More Homesteading Information
You can access our homesteading articles, all sorted by category, on the Common Sense Homesteading page.
We also have dozens of book reviews listed on the Homestead Library page.
Who is Claude Davis?
After this review was originally published, we took a closer look at "Claude Davis" and the team behind the Lost Ways series of books. It appears that Claude doesn't actually exist, and is simply a registered trademark. "The name(s), portrait(s), and/or signature(s) shown in the mark identifies Claudiu Giurgi, whose consent(s) to register is made of record."
On the about page of askaprepper dot com, it describes the supposed background of Mr. Davis, yet I can't seem to find him anywhere else on the internet. The about page is about a mindset, not an individual, aimed toward their target customer. There are no details, like education or places of employment. He doesn't teach or present, he only seems to sell books and prepper content.
If we look on the privacy policy page of Askaprepper dot com, we find that the site is owned by Global Brother SRL. Further digging reveals that Global Brother SRL is registered in Romania. We have no beef against international business, but we feel it is inappropriate to present yourself as being from the United States while working from Europe.
Some Notes on Recent Lost Ways Advertisements
One the reasons we wrote this review is the "over the top ads" the Lost Ways book team is putting out.
One of their ads features wild lettuce as a pain reliever. The instructions in the Lost Ways book for making wild lettuce extract are likely to produce a truly putrid brew.
If you want to learn more about how to identify and safely use wild lettuce, see, "Wild Lettuce – Sleep Aid and Pain Reliever – Weekly Weeder #24".
Another ad is for hardtack, where they tout it as a "superfood". Hardtack is flour, water, and salt, baked until it's bone dry.
The reason there was hardtack left from the Civil War is because, to quote Crocodile Dundee, "Well, you can live on it, but it taste like sh*t."
If you want to read some information about storing food that people want to eat, please see:
Best Non Perishable Foods (For Home Use or Donations)
Foods to Stock Up On (for Daily Use or Emergencies)
We also have over 100 post on gardening, listed by category on the Gardening Index Page, and and dozens of post on Home Food Preservation.
Originally published in 2020, updated in 2022.