Wildcrafting Books and Resources – Weekly Weeder #1
Welcome to the Weekly Weeder! This series covers all things "weed" related – foraging, identification, wildcrafting/uses (culinary, medicinal, companion plants aspects, habitat, etc.), wildcrafting books, tips and tools to get rid of them when they are problematic. Controls must be non-toxic and non-damaging to the environment. (NO ROUNDUP ALLOWED!)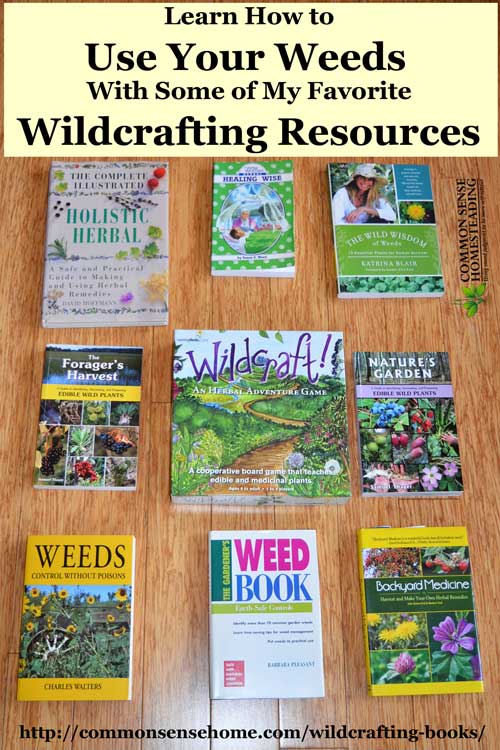 I feel like I'm a relative newcomer to the art of wildcrafting, but I was pleasantly surprised this morning when I wandered around my garden snapping photos and realized just how many "weeds" I could name and use. Daisy, white campion, red clover, white clover, bull thistle, Canadian thistle, yarrow, plantain, ragweed, yellow dock, burdock, Shepard's purse, wild carrot, pineapple weed, ground ivy, catnip, wild grapes, milkweed, wild raspberry, wild lettuce, goldenrod, dandelion, chicory, nettle, mullein, bird's-foot trefoil…and so many more. They are my gardening companions, and I know some of them as old friends. (And a few as bad neighbors – why are so blessed with ragweed?)
Best Wildcrafting Books and Resources
If you're just getting started with weed identification, I'd like to recommend a few resources. Some of the best wildcrafting books (and one game) I've found include:
Backyard Medicine – This was originally published in the UK and just recently released in the US. It's my new herbal wildcrafting favorite. Very nice photos – more than one per plant – with close ups and images of the plant where it's likely to grow. Historical uses, some recent research, and at least one simple recipe with instructions for use with each plant. A "must have" for every herbal wildcrafting library.
The Wild Wisdom of Weeds:  13 Essential Plants for Human Survival – A forager's guide to ultimate food security, including 100 nutrient dense recipes for food, medicine, and self-care by Katrina Blair features dandelion, mallow, purslane, plantain, thistle, amaranth, dock, mustard, grass, chickweed, clover, lambsquarter, and knotweed, with passing mentions of other weeds and related species. Do a quick search of the USDA noxious weed list, and you're likely to find most, if not all, of these plants listed in one area or another. 
The thing is, while we're waging war on these plants, all the plants are trying to do is heal the soil.  They all thrive in disturbed areas, and all are edible and medicinal. Instead of fighting them, why not put them to good use?  As Mark Shephard says in Restoration Agriculture", we need to "stop trying to grow things that don't want to grow and killing things that do want to grow".
Katrina has introduced me to many different ways to prepare these weeds that I didn't know. One of the best things about weeds is that they are ready to harvest in the spring garden when little else is. You can even gather seed heads in winter and use them to grow sprouts and wild microgreens. I love free food! Recipes are vegan and many are raw, but there's a wide variety of preparation approaches to appeal to any healthy eater. A great homestead library addition for those interested in foraging, herbalism and making your own personal care products.
The Complete Illustrated Holistic Herbal by David Hoffman. This book covers wildcrafted as well as cultivated plants. Each plant has an individual entry in the front of the book, while the back of the book is sorted by ailment/health issue that you may wish to address. There is a photo of every herb, which I really like. I find photos much easier to use for identification than drawings.
Healing Wise by Susun Weed. Susun has a very eclectic style that may be off-putting to some, but I found her descriptions to be intuitive and memorable. She focuses on working in harmony with nature, and listening to our bodies and our plant allies. In this book, she specifically discusses burdock, chickweed, dandelion, nettle, oatstraw, seaweeds and violets, but she also gives general recommendations and recipes.
The Forager's Harvest by Samuel Thayer. If you're looking for a hardcore lesson on how to "eat wild", look no further. Mr. Thayer presents his many years of experience in wildcrafting to help you identify what's safe to eat and exactly how to eat it. I'll be honest, the work involved in harvesting some of these plants make me think, "I'm not that hungry", but I'm glad to have a copy of it in my preparedness library. Lots of photos in this one. 
Nature's Garden: A Guide to Identifying, Harvesting, and Preparing Wild Edible Plants, also by Thayer, continues his forays into wild edibles, with 41 new plants.
The Gardener's Weed Book by Barbara Pleasant – The one is primarily focused on how to identify weeds and remove them from the garden most effectively. Instead of photos, it uses line drawings, which are very detailed, but I still find photos easier to use. Still, there's a LOT of information here, and her methods for controlling weeds are all earth-friendly.
Weeds – Control Without Poisons – Again, another book more focused on weed control, but with much information on the preferred habitat of each plant. If you've got too much of something, or want to know where to look for a particular plant, this is a good reference. The "control" the author refers to often includes correcting some soil deficiency that causes a particular weed to flourish. Illustrations are line drawings.
You can visit the Herbs and Wildcrafting page to see a list of all the posts in this series.
Need more inspiration to get acquainted with your weeds? Watch this video. 🙂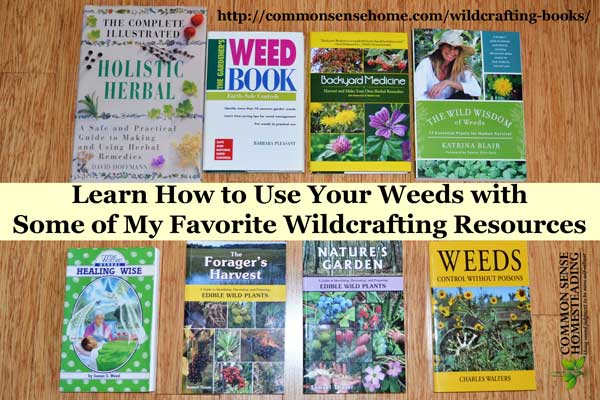 Originally posted July 2011, updated April 2016.