4 Great New Homesteading Books from Chelsea Green
I've slowed down my purchases of homesteading books in recent years, but when I spotted these new titles in the Chelsea Green newsletter, I had to take a closer look. I've wanted to learn more about permaculture and mushrooms for a while now, and weeds have been a favorite of mine for years. I decided to splurge and invest in all four titles.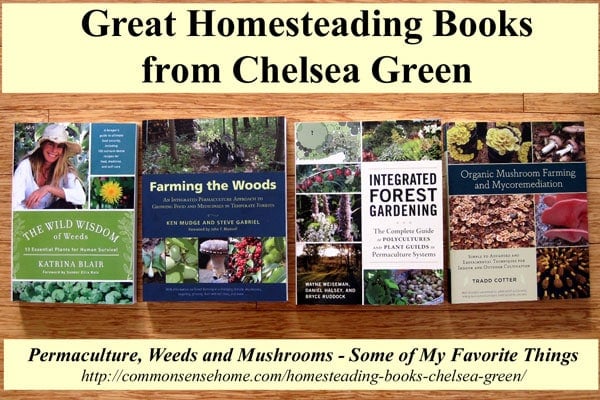 The day after I sent in my order, up pops an email in my inbox with an invitation to get a copy of the weed book to review. Since I had already purchased all four books, I asked if Chelsea Green would be willing to sponsor a giveaway for my readers. They said yes. So, without further ado, here's a review of these new and interesting homesteading books that you'll have a chance to win for your home library. Note: The giveaway wrapped up in December 2014. Congratulations to our winner!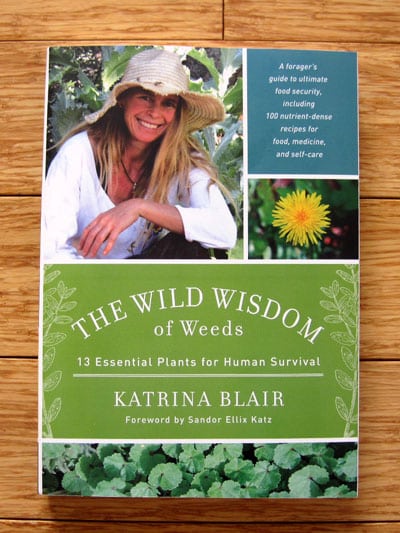 The Wild Wisdom of Weeds: 13 Essential Plants for Human Survival
The Wild Wisdom of Weeds by Katrina Blair was the first book to catch my attention. Long time readers know that I have a fondness for weeds, as evidenced by the many posts in the Weekly Weeder series.
Katrina's book features dandelion, mallow, purslane, plantain, thistle, amaranth, dock, mustard, grass, chickweed, clover, lambsquarter, and knotweed, with passing mentions of other weeds and related species. Do a quick search of the USDA noxious weed list, and you're likely to find most, if not all, of these plants listed in one area or another.
The thing is, while we're waging war on these plants, all the plants are trying to do is heal the soil. They all thrive in disturbed areas, and all are edible and medicinal. Instead of fighting them, why not put them to good use? As Mark Shephard says in Restoration Agriculture", we need to "stop trying to grow things that don't want to grow and killing things that do want to grow".
I can hardly wait until springtime to start experimenting with more of the recipes, as Katrina has introduced me to many different ways to prepare these weeds that I didn't know. One of the best things about weeds is that they are ready to harvest in the spring garden when little else is. You can even gather seed heads in winter and use them to grow sprouts and wild microgreens. I love free food! Recipes are vegan and many are raw, but there's a wide variety of preparation approaches to appeal to any healthy eater. A great homestead library addition for those interested in foraging, herbalism and making your own personal care products.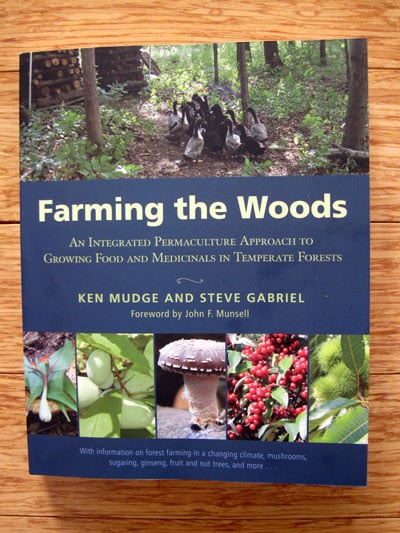 Farming the Woods: An Integrated Permaculture Approach to Growing Food and Medicinals in Temperate Forests
Farming the Woods by Ken Mudge and Steve Gabriel grabbed my attention because both my brother and I are looking for ways to optimize our land usage here in Wisconsin. Timber harvesting is great, but I can't eat wood. (Well, technically I can, because they put cellulose in shredded cheese packages to keep it from clumping, but I'd prefer not to eat it.) My brother has established wooded areas up north, and we're creating wooded areas here, so this type of educational material is key for creating a rich, productive polyculture. Near my area of northeast Wisconsin, we've been having some serious groundwater issues in conjunction with manure spreading because of thin top soil. I would love to see more permanent plantings that would produce a viable income for landowners.
Farming the Woods covers in detail how to cultivate, harvest, and market high-value non-timber forest crops such as American ginseng, shiitake mushrooms, ramps (wild leeks), maple syrup, fruit and nut trees, ornamentals, and more. Along with profiles of forest farmers from around the country, readers are also provided comprehensive information on:
historical perspectives of forest farming
mimicking the forest in a changing climate
cultivation of medicinal crops
cultivation of food crops
creating a forest nursery
harvesting and utilizing wood products
the role of animals in the forest farm
how to design your forest farm and manage it once it's established
If you have or want to create woodlands that produce regular income, this book would be a wonderful tool for your homesteading journey.
Integrated Forest Gardening: The Complete Guide to Polycultures and Plant Guilds in Permaculture Systems
Integrated Forest Gardening by Wayne Weiseman, Daniel Halsey and Bryce Ruddock provides 15 different detailed plant guild options that make it possible for the beginning permaculture enthusiast to create a sustainable polyculture without the worry of wondering if the plants you selected will have a functional symbiotic relationship. At the risk of over-simplifying, these plant guild planting charts act like permaculture "paint by numbers". Even if you have little gardening experience, you should be able to implement a variation of these designs.
Permaculture is not just a matter of sticking perennials of different heights in the dirt and watching them grow. You need to make sure you have the right mix of plants (and animals and fungi and the rest of the species) that support each other and are right for the soil and location. The authors break down the elements you need to identify or create as your framework for developing a sustainable system, the roles of plants in the guilds, how to select the right plants, implementation of your project and long term maintenance.
The 15 Permaculture Plant Guilds Outlined in the text are:
Fruit and Nut Guild
Pawpaw Delight Guild (I've wanted to grow pawpaws for years)
Four Vines Guild
Annual-Perennial Guild
Poisonous Plant Guild
Asian Pear Polyculture Guild
Ginseng/Sugar Maple Guild
Boreal Forest Berry Guild
Salsa Garden Guild (yes, backyard gardeners, this one's for you)
Dwarf Cherry Tree Polyculture Guild
Cider Guild
Pawpaw Patch guild
Persimmon Wood Guild
Wild Rice Pond Guild
Hedge Wall Guild
I love that the authors are from Wisconsin and Minnesota, so they understand the need for crops that thrive despite months of snow and ice each winter. They also include silviculture options, which integrate livestock into the permaculture system. Whether you're working with acreage or tucking plantings into a corner of the yard, the detailed plant and planting information in this guide offers something for nearly every homesteader.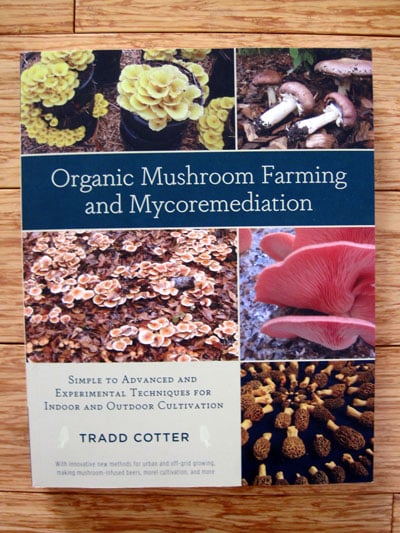 Organic Mushroom Farming and Mycoremediation: Simple to Advanced and Experimental Techniques for Indoor and Outdoor Cultivation
Organic Mushroom Farming and Mycoremediation by Tradd Cotter is filled with gorgeous photos and illustrations, offering so much more than the plastic wrapped boxes of bland button mushrooms in the grocery store. From the basics of mushroom cultivation to cutting edge growing techniques and mushroom uses, this book kept me turning pages and "ooing and ahhing" over the possibilities.
Over 20 different species of cultivated mushrooms are described in detail, with descriptions of the fungi, spawning and fruiting conditions, capturing wild varieties for cultivation, harvesting, nutritional, medicinal and mycoremediation uses, where appropriate. Tradd's years of experience shine through with instructions that are detailed enough for beginners and experts alike. I know this beautiful book would be much appreciated by a number of my mushroom loving friends.