The Natural Canning Resource Book – Can Safely, Adapt Recipes
In "The Natural Canning Resource Book: A guide to home canning with locally-grown, sustainably-produced and fair trade goods", Lisa Rayner answered nearly every canning question I've had since I started canning.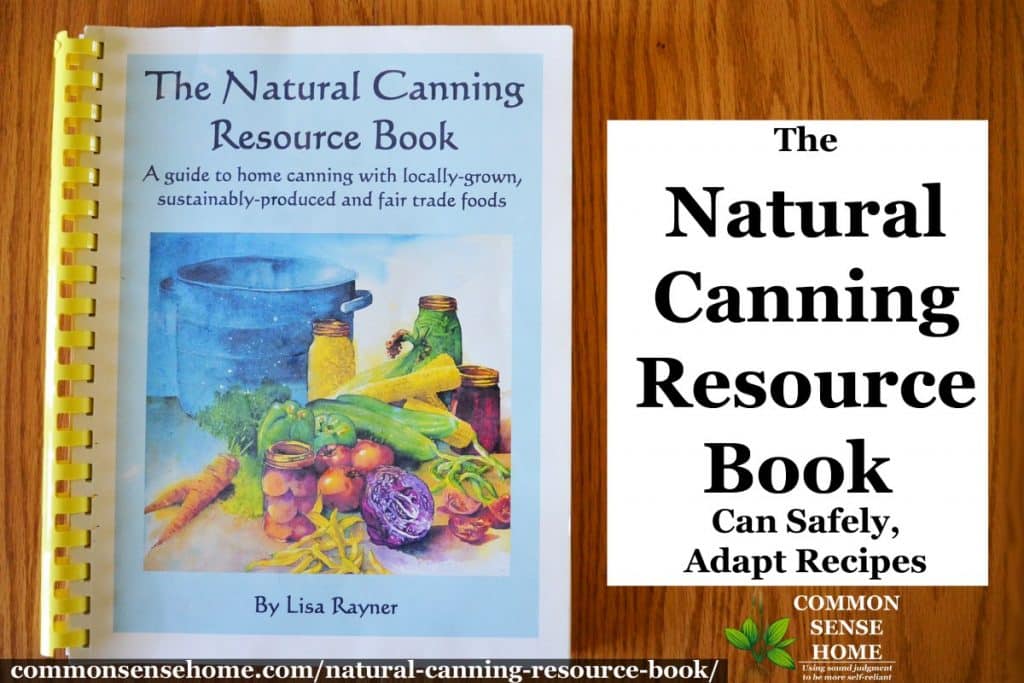 Canning Safety Questions
Is it safe to eat canned foods if some of the food is sticking out above the canning liquid? Probably, if it meets certain criteria.
Can I create my own canning recipes? Yes, as long as you follow specific guidelines. High acid foods are generally safe for the home canner to experiment with, low acid foods can be dangerous and even deadly without correct safety testing.
Is it safe to use older canning recipes? Lisa explains what to look for in a recipe to avoid food poisoning.
My (grandma, mother, aunt, cousin) always canned (x, y, z) food this way and never got sick. Why can't I use their recipes? Unfortunately, for a number of reasons, many new pathogenic bacteria and viruses have developed in recent years that canners didn't need to contend with in the past. We need to be aware of this and adjust recipes accordingly. This book explains how.
What about oven canning or steam canning? Are they safe? These methods are no longer recommended for safe canning, and this book gives clear examples of how each of them can lead to improperly preserved food.
Low Sugar Canning Recipes and Sugar Substitutes in Canning
Can you substitute other sweeteners for white sugar? Yes, but you may need to check the pH of the recipe. Be careful of using maple syrup. (Lisa explains why.)
Canning Terminology
What do I need to get started canning? The book includes definitions for just about any term used in canning, as well as charts and diagrams, such as the one below specifying parts of a pressure canner.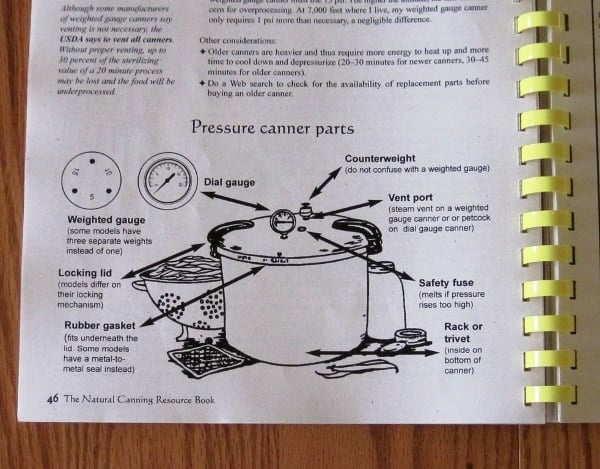 If you're into living green and walking a bit off the beaten path, this is a great resource. There are two pages dedicated to biocompatible cleaning and polishing recipes that are safe to use with greywater systems. Want to try making sugar from homegrown sugar beats? Lisa gives basic instructions on how to do it. Got lots of sunshine? Check out the section on solar canning.
What's in The Natural Canning Resource Book?
The Natural Canning Resource Book is divided into three parts: The Science and Economics of Canning, The Process of Canning, and Food and Canning. These sections are subdivided as follows:
The Science and Economics of Canning
Why can?
The history of canning and the USDA
The microbiology of canning
The Process of Canning
The canning kitchen
Canning jars and lids
Canning basics
High altitude canning
Solar canning
Community canning
Developing new recipe and selling your goods
Food and Canning
The modern forager
Sugar and canning
Fruit
Preserves
Acidified foods
Lactofermented foods
There is also a Canning Safety Checklist and a long list of resources in the Appendix. You can look inside this book at Amazon.com and preview quite a number of pages to get a better idea of the content.
What this Book is Not
This book is not a recipe book, although a few recipes are included. The author recommends using the book in conjunction with the USDA Complete Guide to Canning and Preserving and other publications.
Some of my favorite food preserving recipe books are:
This book does not go into detail about non-canning food preservation options. For more on those methods, check out:
Is there anything I didn't like about The Natural Canning Resource Book?
Yes. In the first section, the author goes on a bit about man-made global warming. While I firmly believe we need to be responsible stewards of the planet, I also believe the sun has much more to do with the temperature than we do. One has only to study history to see that the climate has varied significantly over time.
The author also discusses peak oil and fossil fuels. Again, while I agree that ending our dependence on foreign oil would be a very good thing, I do not believe that the term "fossil fuel" is completely accurate. We find so-called "fossil fuels" (hydrocarbons) on other heavenly bodies, such as Titan. Finally, the author expresses an interest in ramping down the level of technology used in society via the Transition Movement, which seems like yet another version of the Luddite movement. I'm for combining the best of old and new to use less energy when possible, but also produce more energy to bring up the standard of living around the world.
Who Should Read this Book?
This books is a great resource for everyone from beginners to experienced canners. As I said, it answered many questions that I had not seen answered in any other other source. Small batch canning, large batch canning, substitutions, community canning, selling your canned goods – it's all covered. If you truly want to understand exactly how canning preserves your food, this is the book for you.
I hope you've found this review useful. I know my copy will be sitting at the ready on my "go to" resource book shelf.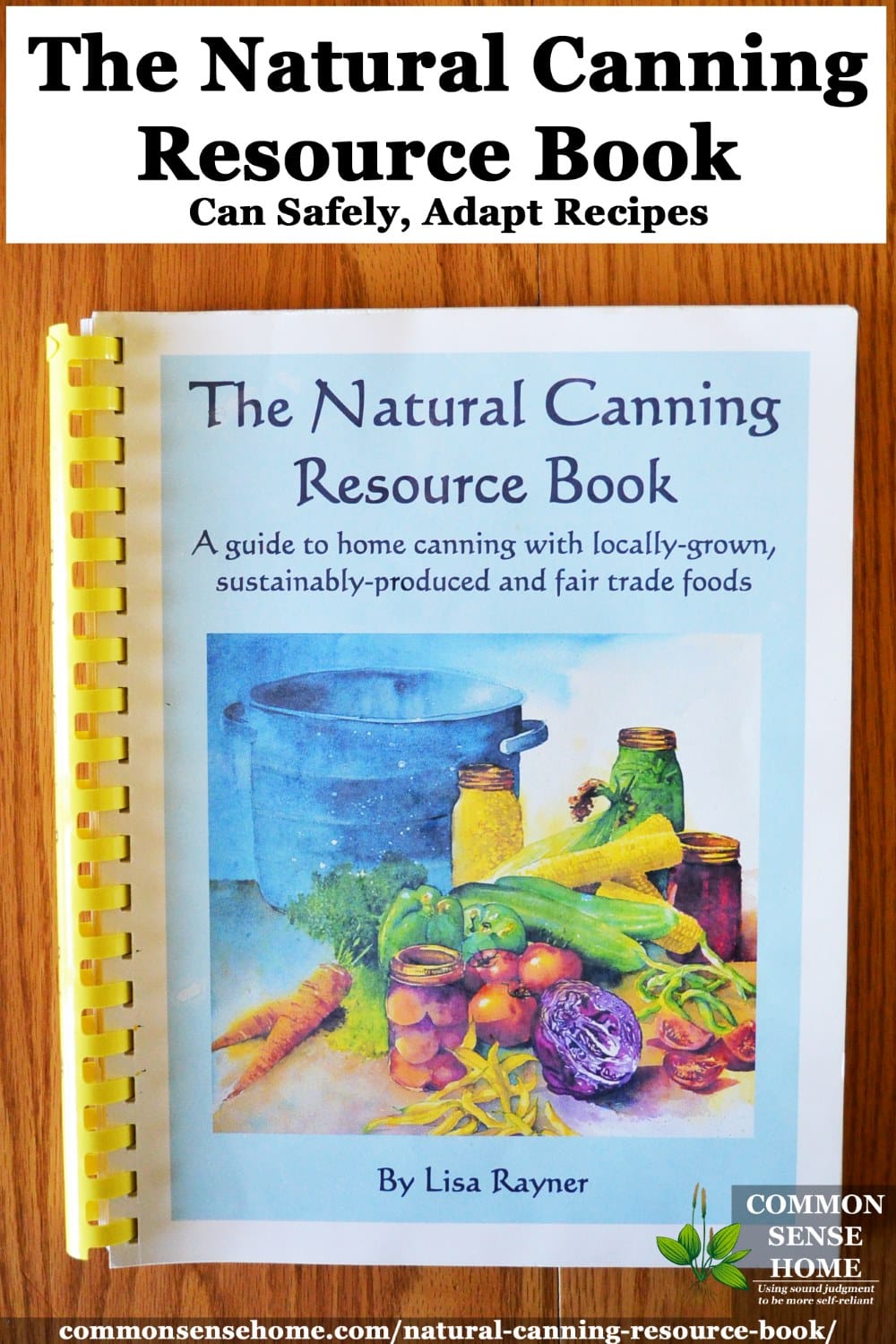 You may also find useful:
Originally posted in 2011, updated in 2017.