Best Gardening Books – Grow More Food, Get More Creative
As grocery prices continue to climb, more people are learning about growing their own food. From beginners to experienced gardeners, these are some of the best gardening books to help you grow more food, and better quality food.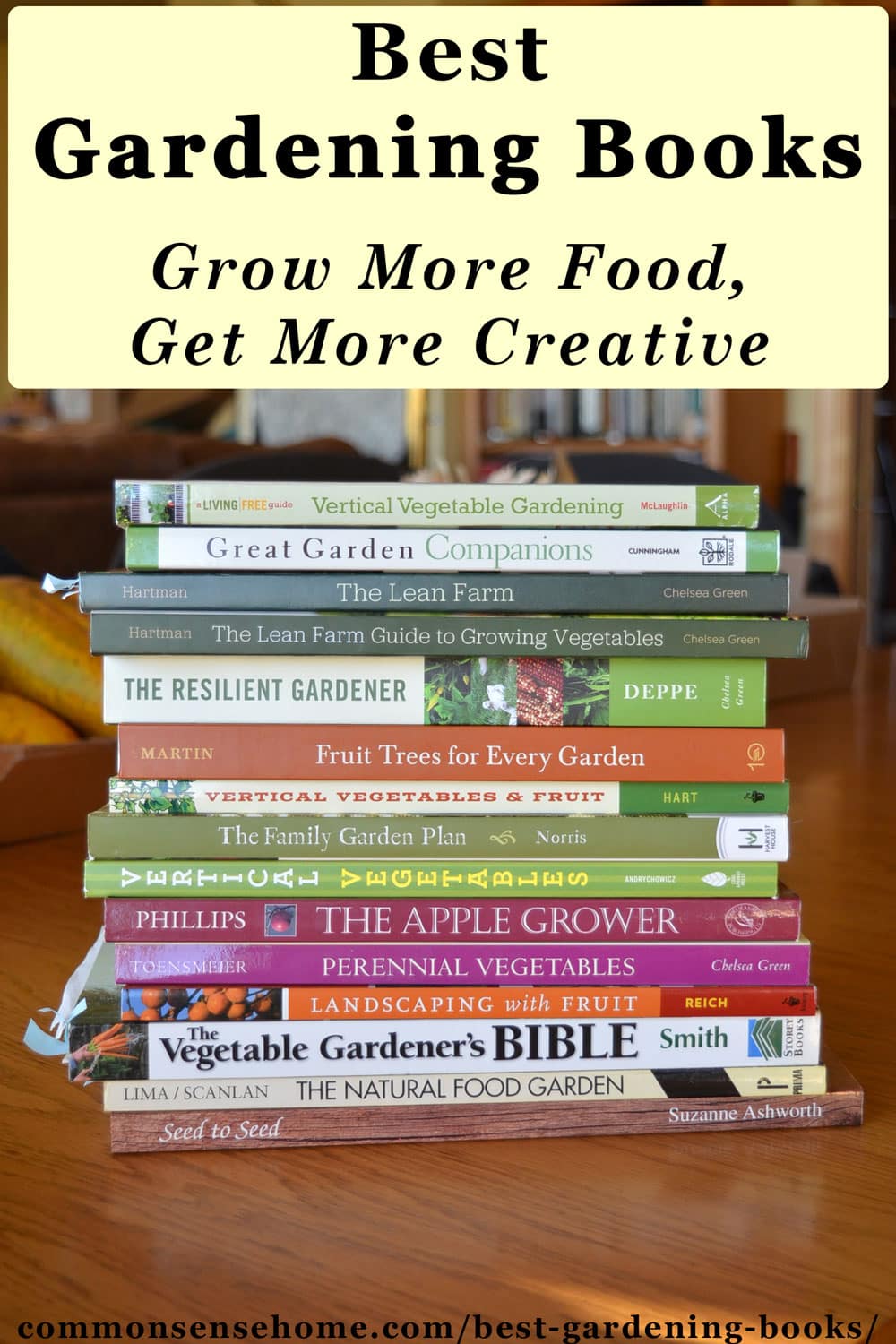 Some of these are classics, others are new, and most are in my homestead library. I do include a few well rated titles that are popular, but not a best fit for my personal style of gardening.
Best Gardening Books for Beginners
The Vegetable Gardener's Bible is a comprehensive guide for organic gardeners, from beginners to advanced. It's divided into three sections, including:
garden design
soil building
step by step guides for growing vegetables and herbs.
In The Family Garden Plan, Melissa Norris helps gardeners estimate how many plants to put in to meet your food needs.
Keep in mind that this is a starting point. I've been gardening for decades and never had two harvests exactly the same, even when I planted the same number of plants. Still, when you don't have experience to draw on, it's helpful to get a ballpark estimate.
Square Foot Gardening was first introduced in 1981, and has a loyal following. If you dream of a small, tidy garden with everything in its place, this is a good choice for you. The author uses raised beds with a grid system to layout your garden.
Vegetable Gardening for Beginners provides novice gardeners with information on raised beds and containers, plant profiles, and year round garden care.
Given how many inquiries I get about small space gardening, I decided to include Container Gardening for Beginners on this list. It has advice for using different types of containers to grow your own vegetables, herbs, fruits, and flowers. At the time of this writing, it's included with Kindle Unlimited.
Vertical Gardening
Vertical Vegetables: Simple Projects that Deliver More Yield in Less Space is all about building. There are beautiful full color photos of a fun assortment of vertical planters and trellis systems. It's my pick for best gardening book for vertical gardening.
Vertical Vegetables & Fruit focuses on annual vines and perennial fruit. The author includes variety suggestions for plants that provide high yields in small spaces.
Vertical Vegetable Gardening includes more general gardening information, such as plants to include in your flower gardens to attract pollinators. There are sections of vegetables, fruits, and herbs.
Companion Planting
Great Garden Companions is a fun romp through companion planting in garden "families" of related crops. I enjoy this book because it matches up with my natural tendency to mix together vegetables, flowers, and herbs.
Carrots Love Tomatoes is a classic book about companion planting – but it's not my personal favorite. While I appreciate the nostalgia factor, it's somewhat of an awkward read. It does have plant lists, so that's a plus.
Plant Partners: Science-Based Companion Planting Strategies for the Vegetable Garden is a recent text with a data based approach. Some of the advice is focused on large scale plantings, which is not the most helpful for home gardeners.
Best Gardening Books for the Orchard (Including Trees, Shrubs, Brambles, and Vines)
The Holistic Orchard: Tree Fruits and Berries the Biological Way is a very detailed book for a serious organic orchard. The Apple Grower, an earlier book by the same author, shares tips for growing apples organically.
Uncommon Fruits – Good book for information on less common fruits including: juneberry, mulberry, pawpaw, gooseberries, jostaberry, currant and hardy kiwi. Landscaping with Fruit is another helpful book by the same author.
Fruit Trees for Every Garden includes information on fruits that require warmer climates, like citrus and pomegranate. There's also information on pom fruit and and stone fruit.
Crop Storage Books
The Resilient Gardener will help you grow a garden filled with food that stores well with minimal processing. If you want to feed yourself or your family without a canner, freezer, or even a root cellar, this is a good choice for you. Read the full review of The Resilient Gardener here.
Root Cellaring: Natural Cold Storage of Fruits & Vegetables. This is an excellent old school guide on root cellar storage, and building a root cellar. Southern growers, this is not a best fit for you.
Seed Saving Books
The Seed Garden: The Art and Practice of Seed Saving was created by Seed Savers Exchange and the Organic Seed Alliance. With full color photos and instructions for more than 75 vegetables and herbs, this book will draw you in.
Seed to Seed: Seed Saving and Growing Techniques for Vegetable Gardeners is a must have for seed savers. There are detailed instructions for growing, harvesting, and cleaning. Section II focuses on plant families, including common garden crops. Section III covers some more unique varieties.
Seed Sowing and Saving is more for beginners, and includes vegetables, flowers, and herbs. It includes over 300 illustrations and charts for handy reference.
Books for Market Gardeners
The Lean Farm: How to Minimize Waste, Increase Efficiency, and Maximize Value and Profits with Less Work. This book covers the "why" you need to organize your market garden for maximum efficiency. Read the full review of The Lean Farm.
The Lean Farm Guide to Growing Vegetables More In-Depth Lean Techniques for Efficient Organic Production. In this follow up to The Lean Farm, the author provides detailed, expert advice on the "how" to make money market gardening. Read the full review here.
The Market Gardener: A Successful Grower's Handbook for Small-Scale Organic Farming by Jean-Martin Fortier demonstrates that it is possible to earn a good living on a small piece of land, and provides the reader with the tools they need to do it. Read the full review here.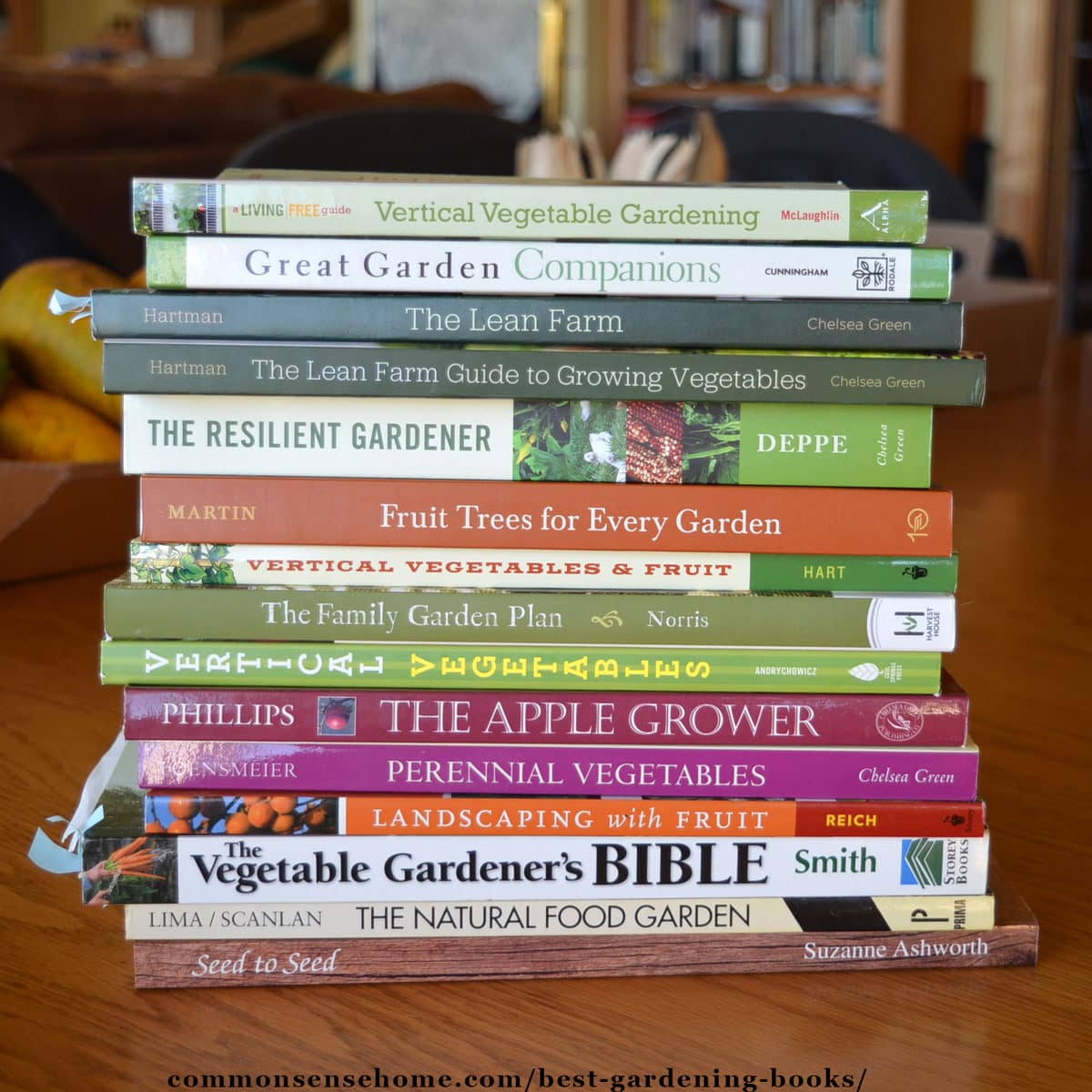 More Gardening Book Reviews
You can visit the Homestead Library index page for a full list of gardening book reviews on the site, including:
Fresh Food from Small Spaces – Grow Fresh Food in the City or Suburbs
Mycorrhizal Planet – Nurturing Fungi to to Build Soil Fertility and Support Plant Health
The New Organic Grower – Techniques for the Home and Market Gardener
There are also books about food preservation, preparedness, homesteading, and more. You can also check out our list of Best Homesteading Books.