The BackYard Orchardist – Learn to Grow Over 10 Different Fruits
The BackYard Orchardist by Stella Otto is a nice overview of all things backyard orchard. Originally written in 1995, the second edition has been updated and expanded, featuring over 300 pages of Stella's fruit growing knowledge. It's an encouragement for the backyard grower to experiment with fruit varieties not readily available via the industrial food system. A word of warning – once you've enjoyed a perfectly ripe fruit, freshly picked from your own tree, you'll be hooked for life on growing your own.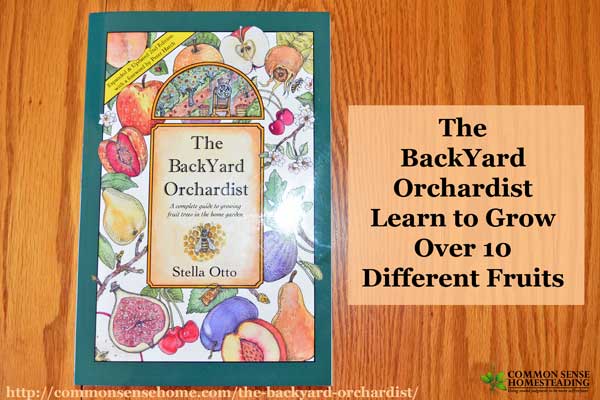 The BackYard Orchardist
The BackYard Orchardist is divided into six sections:
Getting Started with Fruit Trees

Fruit trees in the landscape
Selecting the Right Site
Planting & Early Care

Fruit Fundamentals – Growth Habits of Specific Fruit, including:

Apples
Domestic Pears
Asian Pears
Quince
Medlar
Sweet Cherries
Tart Cherries
Apricots, Apriums & Pluots
Plums
Peaches & Nectarines
Container plantings
Figs

Caring for Your Fruit Trees

Flowering, Fruiting & Thinning
Nutrition & Fertilizers
Pruning Basics

Pest & Diseases

Insect Pests
Disease Identification
Insect & Disease Control Strategies
Wildlife Pests

Harvest & Storage
Appendix, Including Seasonal Almanac
There are over 100 illustrations, tables and charts to help you find the right variety for your yard or garden, identify pests and estimate yields so you know how many trees to plant. There are also "Rules of Thumb" inserted here and there in the text to highlight important points, such as "Asian pears are best ripened on the tree, then picked. A change in skin color from greenish to light brown or yellowish-green signals approaching ripening." This contrasts with Domestic Pears, which are typically best picked green and fully ripened off of the tree.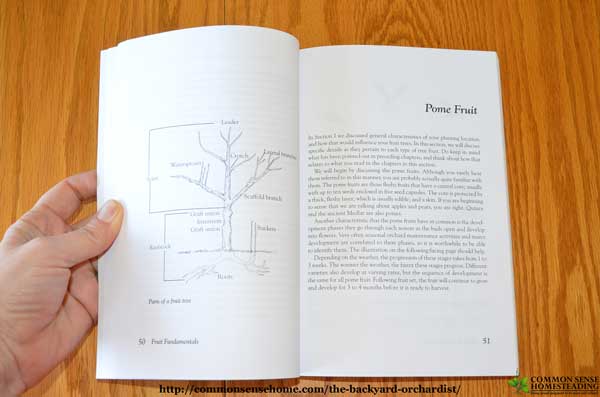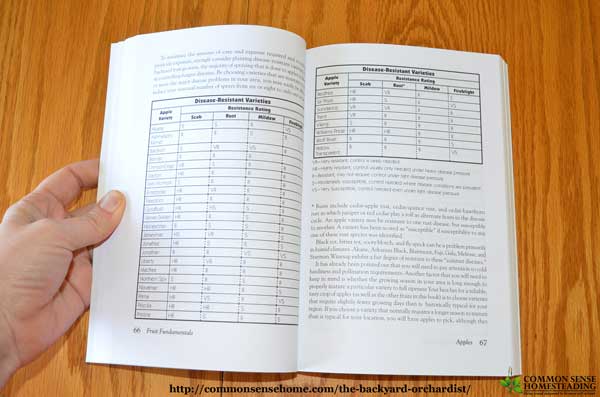 I also enjoyed the Q&A "What's ailing your tree?" section in the appendix, which provides answers for many questions that are likely to be encountered by the beginning orchardist. The vision of fruit trees in every yard presented in the opening was also very compelling. Wouldn't it be a wonderful thing to have every neighborhood growing fresh, local fruit?
I felt that the detailed information on rootstocks was beyond most backyard growers, since many catalogs don't offer a choice of rootstocks beyond "standard, dwarf and semi-dwarf". That said, the information would be useful for a more advanced grower. I would also have liked to seen some permaculture information included, since that's the direction my own plant growing has taken in recent years.
Take the Backyard Fruit Challenge
There's no better time to start experimenting with your own backyard orchard, blueberries, raspberries or other fruit. Once established, most plantings take minimal time for maintenance – it's not that much different from keeping your lawn mowed, except you can't usually eat your lawn. (Unless you grow edible weeds, but that's another post.) Fruit trees are a great way to reconnect with our food supply – and they're beautiful from spring's first blossoms to the flush of fruit and winter's stark scaffolding. With container gardening, dwarf root stocks and self-fertile varieties, even the smallest yard can find room for a fruit tree.
Win a copy of The Backyard Orchardist: A Complete Guide to Growing Fruit Trees in the Home Garden
Stella Otto, author of The Backyard Orchardist is offering a signed copy of her book to one lucky reader of Common Sense Home. Enter to win by going to the Backyard Fruit Gardner web site and signing up to receive occasional fruit growing tips at the bottom of the home page.
Then come back here. Tell me, via a comment, what you'd most like to learn about fruit growing and confirm that you registered for Stella's growing tips. If you really don't dig social media or registering to get gardening tips, just let me know.
Fine print: One entry per person; additional entries will be disqualified. Open to U.S. residents only, due to shipping costs. The winner will receive one author-signed copy of The Backyard Orchardist. Contest is open until midnight EST, April 6, 2016. Winner will be notified by email and have 48 hours to respond and claim their prize or another winner will be chosen.
How to purchase if you were not the lucky winner…
If you were not the lucky winner, but would still like to dig into a copy of The Backyard Orchardist and enjoy your own fruitful harvest, copies are available on Stella's website (www.stellaotto.com). By ordering directly, you will receive a signed copy. You will also contribute to keeping a small, independent business thriving and able to provide the latest in fruit growing information. If none of that matters to you, unsigned copies are also available at booksellers nationwide and on Amazon. Fruitful gardening!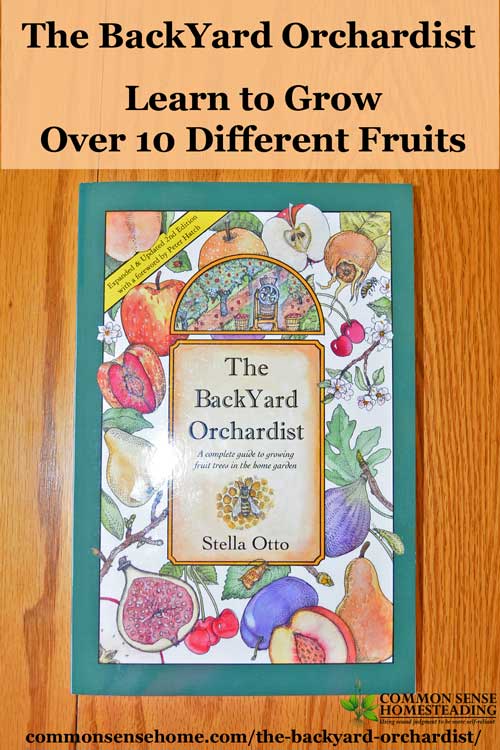 You may also enjoy: