Common Sense Health E-book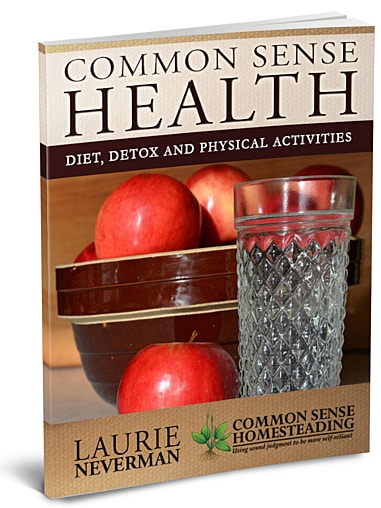 Common Sense Health: Diet, Detox and Physical Activities
"Common Sense Health:Diet, Detox and Physical Activities" is a hype free, "back to basics" toolbox to give you ideas to help you improve your health. No big investment or complicated format, just start where you are with what you have.
Topics include:
Detox: Things you can do to remove toxins from your life. It's tough to heal when your body is full of garbage.
Diet: Healthy eating choices, focusing on nutrient dense food. You are what you eat – make it count!
Physical Activities: Go beyond exercise to activities that have been used by holistic practitioners, such as oil pulling and barefoot therapy.
Our modern medical system is amazing for repairing trauma and many other health issues. But let's face it – you're not likely to see ads on TV promoting things like homemade chicken soup, and there's not a lot of money to be made in treating healthy people. We're largely on our own.
If you're looking for a simple, common sense approach to taking better care of yourself and your family, it's time for Common Sense Health.
Still not sure? You can download a free chapter here and take a peek. You can read more about the story behind the book here.
Ready to purchase?
Click Here to purchase the book in Amazon kindle format.
Click Here to purchase in pdf format with Paypal.
Life being what it is, I've been through some ups and downs since I wrote this book (I may have overdone it on the kombucha and thrown my system out of whack). I've ended up modifying my eating habits a little bit more extremely, but the book still stands as a great place to get started with healthier eating habits. I still keep the recommended detox options and activities as part of my regular routine.