The Pocket Guide to Wild Mushrooms Review
The Pocket Guide to Wild Mushrooms by Pella Holmberg and Hans Marklund is a great resource for any wild food forager.
While no book can take the place of an experienced guide, this pocket guide should provide you with the information you need to forage safely for mushroom varieties that are new to you.
Fall is typically prime season for many mushroom varieties, so I am looking forward to taking this book out with me more later this year. I shared it with my neighbor last week, and if the weather cooperates this fall (you need rain for mushrooms, and it's been a dry summer), we're going to go investigating in their woods to see what we can find.
How The Pocket Guide to Wild Mushrooms is Organized
The book begins with an introduction and discussion of what exactly mushrooms are and where they are likely to be found. It then continues with a thorough explanation of proper picking, cleaning and preparation.
The authors also note that mushrooms contain fiber, important minerals, antioxidants and vitamins B and D in significant amounts. Not bad for a "free" food. This book focuses on varieties that are suitable for cooking (edible varieties), but also gives mention to potentially inedible look-alikes, if any.
Given that the authors hail from northern Europe, so too are the mushroom varieties featured in the book generally found in northern forests.
Each mushroom is categorized from 1 to 4, with 1 being the easiest to identify with only edible mushrooms that look similar, to 4 being those that are edible but could be confused with poisonous lookalikes.
You can stick with the #1 mushrooms (or beginner mushrooms) when you are just starting out and nervous about your identification skills.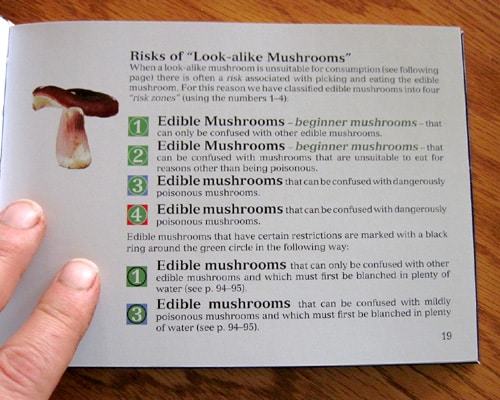 In the interest of thoroughness, the authors also offer a detailed description of the potential symptoms of mushrooms poisoning. Stay safe, folks.
The bulk of the book is filled with two page spreads of52 edible mushrooms featuring detailed photos of the mushrooms in studio conditions, including cross sections, and photos of the mushroom in its natural habitat.
Each entry provides a description with distinguishing features, a guide to preparing and preserving, and a description and photo of look-alike mushrooms.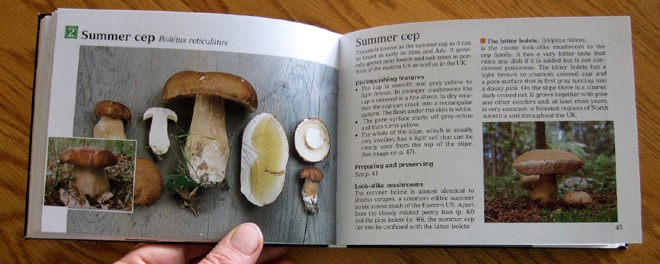 I particularly appreciate the extremely detailed photography with horizontal and vertical cross sections of the mushrooms. As anyone who has done any amount of foraging can tell you, good photos make or break a guide book. These qualify as good photos.
The Pocket Guide to Wild Mushrooms is a useful addition to the library of any northern wild food forager, and the photos are beautiful enough that it would make a good "coffee table book" as well.
This post originally included a giveaway, which has now ended.