Backyard Farming on an Acre (More or Less) – Living Big in Small Spaces
Backyard Farming on an Acre (More or Less) by Angela England is a homesteading guide written with the enthusiasm of a beginner and the experience of several years of homesteading with limited space. It's a great pep talk for those new to the idea of self-sufficiency who are wondering if they can raise more of their own food without moving to the country.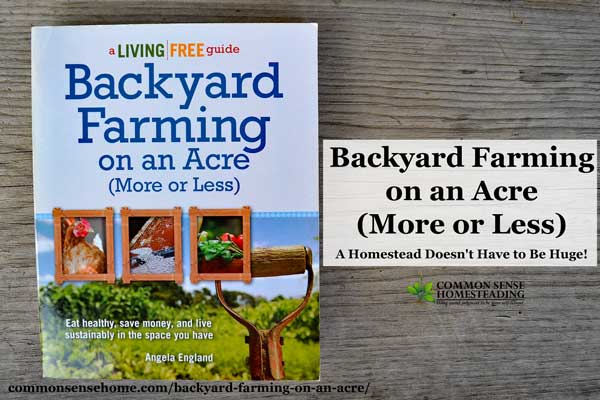 How Backyard Farming on an Acre (More or Less) is Organized
Backyard Farming on an Acre is divided into five parts:
Living Large on a Small Scale
Gardening on a Backyard Farm
Animals for a Backyard Farm
Enjoying the Bounty
Crafting from the Backyard Farm
Each of these parts is divided into subsections.
Living Large on a Small Scale includes: the Backyard Farm Adventure; Finding Land; and Building on Land Your Already Own
Gardening on a Backyard Farm includes: What and How Much do You Want to Grow?; Tools and Skills for the Backyard Gardener; Gardening Smart from the Start; Get the Most from Your Garden; Vegetables for the Backyard Farm, Kitchen Herb Gardens; Fruits, Berries and More; Heirloom Plants and Saving Seeds
Animals for a Backyard Farm includes: Keeping Chickens on a Small Scale; Rabbits on a Backyard Farm; Sheep and Goats: Backyard Multi-taskers; and Beekeeping in the Backyard
Enjoying the Bounty includes: A Seasonal Guide to Managing Your Harvest; Canning and Freezing Produce and Meat; Dehydrating and Smoking; Root Cellars and Basements; and Preserving Garden Herbs
Crafting from the Backyard Farm includes: Making Butter, Yogurt and Cheese; Fibers: From Sheep to Sweater; Home Brewing Cider and Wine; Goat's Milk Soap Making and Other Ways to Use Your Harvest
There are also appendices featuring Simple Plans for the Backyard Farm, Gardening Journal Pages and Resources.
Things I Like About Backyard Farming on an Acre (More or Less)
Angela features a taste of a *lot* of different topics, so there's something in this book for nearly every interest level. She's got some nice drawings in the beginning of the book to give the reader ideas about how much can be worked into a typical suburban back yard.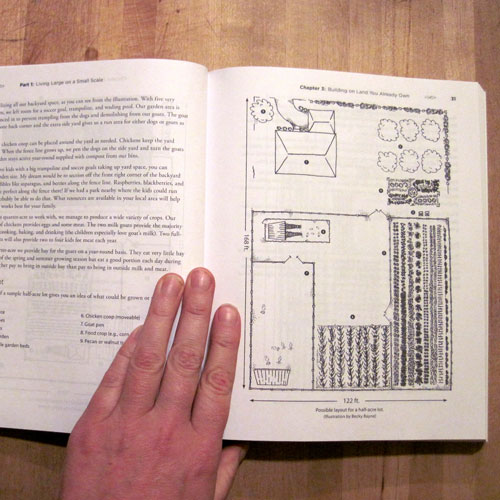 With a supportive spouse, Angela tackles fence building, gardening, food preservation and many other tasks that can help you provide your family with fresh food no matter how small your space is. There are a few seasonal recipes to get your thinking about eating from your garden instead of from the grocery store.
She moves beyond the basic chickens discussed in many small scale homesteading books to an assortment of backyard animals. There's a nice tutorial included from Baker Creek Heirloom Seeds on how to properly save tomato seeds. (They need fermenting to remove the outer seed covering.) She defines basic terms in many of the sections so that those unfamiliar with the topic will be better able to understand the discussion. I was glad to see that she included medicinal herbs as well as culinary herbs, as these are also left out of many garden planning books.
Things I Didn't Like About Backyard Farming on an Acre (More or Less)
Even though the book contained a lot of information, there were many areas that could have used deeper explanations, recipes or at the very least relevant online links. For instance, there were multiple photos of how to make a lavender wand, and only one photo of how to butcher a chicken. Granted, most of us would find the wand far more pleasant, but if you need to butcher a chicken, you'd better have a different book or some other source of information.
I would have loved to see some color photos, and more photos in general, or more line drawings. In the tool section, for instance, a side by side shot of the different tools would have been a great addition to the descriptions. There were so many garden photos that simply didn't capture how beautiful I know these plants should be with only a gray image. (Color photos significantly increase printing costs, so I understand the need for grayscale.)
I'm also pretty sure my old neighbors in the suburbs would have had kittens if I had tried to transform my yard as she suggests. Some of them had panic attacks just because we had a garden and an assortment of fruiting plants. Critters would have sent them off the deep end. Hopefully your neighbors will be more understanding.
A Homestead Doesn't Have to Be Huge
No matter how much or how little land you have, this book will help inspire you to look at your space in new ways. You don't have to do everything – you can pick and choose what fits for you and your family. I think Angela did a nice job creating a beautiful book to help inspire a new generation of homesteaders.
You may also enjoy other book reviews featured in our Homestead Library, such as: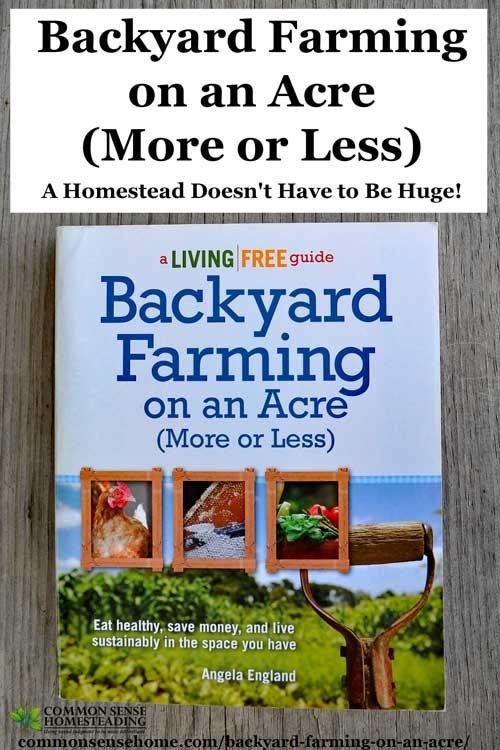 Originally posted in 2013, updated in 2017.