Rebuild from Depression – Review
In Rebuild from Depression: A Nutrient Guide including Depression in Pregnancy and Postpartum, Amanda Rose shares the story of her battle with depression and how she found healing through nutrition, detox and alternative therapies. I can't help but think that if more people read this book and followed the suggestions, we wouldn't have one in ten people in the United States on anti-depressant medications. We are nutrient deficient in a land of plenty.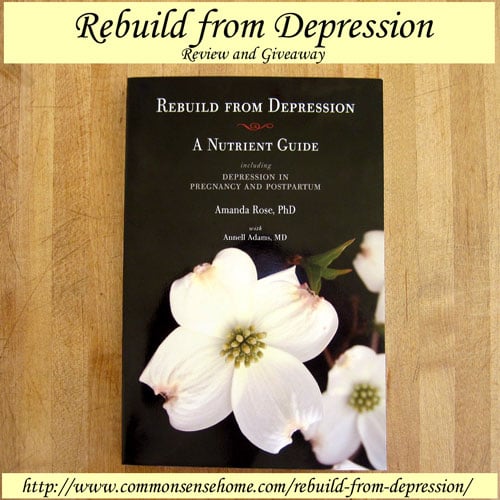 The "Mommy Blues" – Battling Depression During Pregnancy and Postpartum
Rebuild from Depression opens with Amanda's story of her depression during pregnancy and postpartum, and her journey to recovery. Amanda was hit hard with depression during pregnancy, even though she was "eating healthy" according to mainstream diet trends. Reluctant to resort to medication while pregnant, she started researching alternatives. This led her to find out that there was a family history of depression associated with pregnancy, and that her mother had found relief from her depression by accident while changing her diet to address other symptoms.
I wish I had read this book after I had my first son, because I crashed pretty hard. My eldest was colicky and ate voraciously, and I was perpetually exhausted. Maybe if I had known about nutrients my body was likely to be lacking at that time (this was back before I ditched processed foods and raised much of my own food), I could have changed my diet and helped both of us to get through that time a little easier. It was very brave of Amanda to share her story in all the gory details, right down to the OCD behavior, self-doubt and obsession with death. I faced some of those dark moments myself. If my son had had serious health complications (like Amanda's did), I don't know how I would have coped. Note: When I read at the end of the book that she had had a second (unplanned) successful pregnancy depression free at the end of the book, I want to cheer out loud. Healing is possible!
We need more books like this. We need to talk to each other and support each other, so moms don't think they're suffering alone.
Healing Depression Without Drugs
Later in the book, Amanda introduces a step by step strategy for overcoming depression, including identifying and removing potential toxins, introducing targeted supplements and eating with depression-busting nutrients in mind. She found that she was allergic to corn, facing a yeast overgrowth and poisoned from heavy metals.
Think it can't happen to you? Corn is in nearly 4,000 items in a typical grocery store, and most of our corn is GMO. With our reliance on antibiotics and processed foods (as a society), most of us have gut bacteria that is out of whack. Heavy metals are found in many ground water supplies. Mercury is still used in amalgam fillings and vaccines. Lead paint can still be found in some buildings, as can lead contaminated soil from paint or contamination in heavy traffic areas from before lead was removed from gasoline.
With counseling and amino acids, she found relief from many of her symptoms, but not all of them. Diet was the final key. In the final chapters of the book, Amanda outlines the top depression busting nutrients and the best food sources for each of them. She is very understanding of vegan and vegetarian lifestyles, since she was a vegetarian through much of her life. That said, she currently eats as an omnivore since it is an easier way to get the needed nutrients.
Some of the key players for fighting depression are:
Omega 3 fatty acids
B vitamins
Zinc
Magnesium
Iron
Of course, no one vitamin or mineral acts in isolation, so please don't just go out and buy a bunch of supplements and start popping pills. If you're not sure you want to invest in the book right away, you can take a look at the Rebuild from Depression blog to give you some ideas of where to get started. In the book, Amanda outlines which food groups to look for and how to properly prepare them to maximize nutrition. If you've never heard of soaking and fermenting and the benefits of wild game and grass fed meats, this section will be a real eye opener. For those who are familiar with the Weston A. Price Foundation/Nourishing Traditions recommendations or Deep Nutrition, some of this will be familiar territory.
Rebuild from Depression offers hope and guidance in an easily readable format. Small steps can make a big difference in your health.
Win a Copy of Rebuild from Depression
Amanda has generously offered to give one lucky Common Sense Home reader a free copy of Rebuild from Depression. To enter, simply use the Rafflecopter widget below (email subscribers please head through to the site). For your first entry, leave a blog post comment telling us why you'd like to win. Facebook and Twitter users can earn additional entries.
No purchase necessary to win. Open to residents of the US and Canada ages 18 and older. This is not a paid promotion. Amanda provided a book for review and I agreed to share my opinion of it with you. This giveaway is now over.