The Weekend Homesteader Review
The Weekend Homesteader: A Twelve-Month Guide to Self-Sufficiency by Anna Hess is an inexpensive guide to get you started with homesteading. Loaded with color photos, this book would make a good "coffee table" book, conversation starter or idea brewer.
How the Weekend Homesteader is Organized
The Weekend Homesteader is organized by month, starting with April and wrapping back around to March. (Alternate months are suggested for those living in Australia.) 
Each month includes four "projects' – one for each weekend – presenting you with activities that would be appropriate for that time of year. For instance, April projects include:
Find room to homestead
Survey your site
Plan you summer garden
Kill mulch
Many of the activities could be completed in an afternoon or weekend. Others will require an ongoing time investment.
For instance, you can roast a chicken in one afternoon (November), but Building a chicken coop or tractor and raising chickens (August-September) will be an ongoing task.
Things I Like About the Weekend Homesteader
Anna is obviously passionate about what she does, and is not afraid to share her mistakes. The photos and charts get you thinking and provide handy references.
Here's an excerpt from the Chicken Coop or Tractor Section: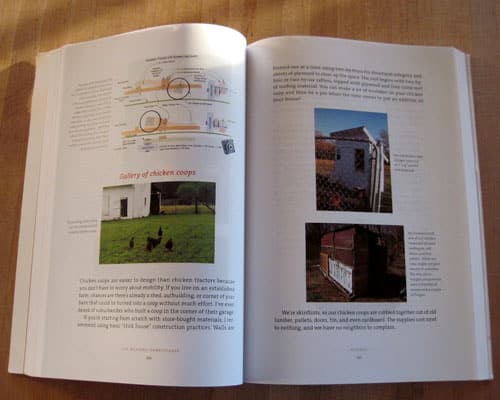 And here's another examples from the Survey Your Site section: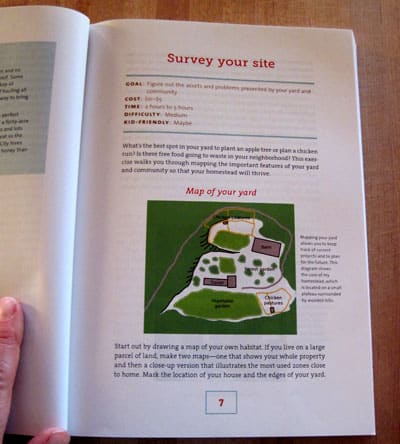 The print is large and easy to read, the overall quality of the photos and book is very good.
One of most functional parts of the book was where she discussed diversifying your income, and broke down the real hourly wages that are likely to be earned from various common "homestead" options, such as selling eggs, selling honey, running a CSA, selling grapes and an online microbusiness.
When you run the numbers, according to her calculations (and I think she's spot on with this) – standard homestead activities for profit typically net a very low hourly wage.
You can save yourself a fair amount of money doing things for yourself, but most of us would be unable to pay the bills with only "standard" homestead income.
This is a critical concept to understand for those who dream about "living the simple life" – it doesn't pay very well (monetarily).
Set realistic goals, make steady progress, try new things – that's what the book is about.
Things I Didn't Like About the Weekend Homesteader
I was rather surprised to find out that the "Weekend Homesteader" book was written by a full time homesteader.
I was even more surprised when I read, "When you live on a farm, there is an endless array of chores and projects right at your fingertips, and it's tough to stop until you keel over from exhaustion. If my husband hadn't held firm by requiring weekends off and regular quitting times each day, I'm pretty sure I would have burnt out by now."  Maybe another title would have been better?
In the canning section, she recommends boiling your canning lids – big no-no. If you want to can safely, check out the Ball Blue Book. I can't say I've ever seen a freezer with everything stacked in cylinders of deli tubs like she showed, either. I don't think this is realistic for most people.
As a northern gardener, many of the garden activities were not timed correctly for my location. I don't do anything in the garden in January and February – because it's frozen solid. Up here they don't generally recommend most tree planting in fall, either.
Her primary suggested crops don't really match too well with mine, either. I don't know anyone personally who would grow okra as one of their main crops, and most of my gardening friends grow cucumbers, which she seems to have problems with. Just a different climate and different preferences.
Overall, this was a good book to get ideas brewing and help set project timelines for more southern gardeners.
Check out other book reviews and suggestions in the Homestead Library, such as: