Building Soils Naturally: Innovative Methods for Organic Gardeners – Review
Building Soils Naturally: Innovative Methods for Organic Gardeners by Phil Nauta (AKA The Smiling Gardener) is all about helping you to grow the best quality food possible, starting from the ground up. It all starts with healthy soil. With living, balanced soil, plants are healthier, more pest and disease resistant, there are less weed problems, and your garden better accommodates moisture fluctuations.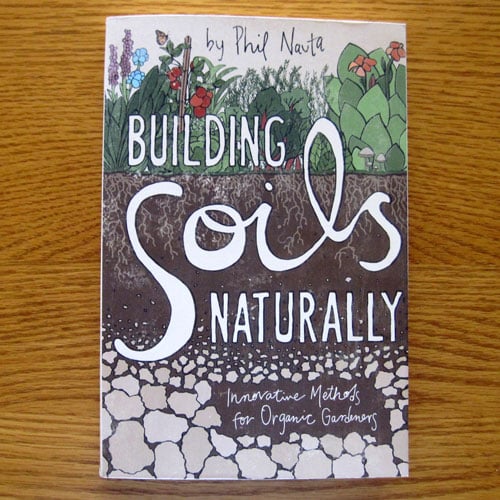 Begin with Soil Testing
Phil advocates starting out with a good quality soil test to establish a baseline for your soil and identify any glaring problems up front. If your budget allows, annual tests or tests every few years are great, but not essential, although they will allow you to tailor your soil amending for best results. If your budget is really tight, Phil also offers tips for visual identification of soil problems, such as looking at color and texture and plant growth. Certain weeds will also proliferate in soils that are deficient in certain minerals. Balance the soil, and the weeds disappear.
Create Healthy Soil in Six Steps
Building Soils Naturally breaks down the hows and whys of soil building into six steps/components that are needed for optimal soil health. They are:
Water
Organic Matter
Microbial Innoculants
Supplemental Nutrients
Biostimulants & Micronutrients
Energy
Water: You'll find out why drip irrigation can stress plants. See how rainwater produces the best results in your garden, and how mulch and cover crops influence water in the soil.
Organic Matter: Find out why mulch and cover crops build soil, making it more tolerant of drought and excess rains, which are best to use and which should be avoided. Get tips for indoor and outdoor composting.
Microbial Innoculants: Give your soil a "jump start" with specific microbial innoculants that help build a healthy soil web in a hurry. Some plants needs soil that is heavy on bacteria, others prefer soil that is more balanced towards fungi. Both are necessary. Learn about compost tea brewing, Effective Microorganisms and culturing your own microorganisms.
Supplemental Nutrients: You'll learn which supplements are worth buying and which should be avoided (there's a lot of GMO contamination in products that used to be recommended to organic gardeners). Too many nutrients, or too much of a particular nutrient, can cause just as many or more problems as too few nutrients.
Biostimulants & Micronutrients: You'll be provided with in depth, detailed information about the microbial life and chemical balance that is essential for healthy soil, and ways to create this life and balance in your garden. Your soil can be loaded with nutrients, but if it's low in microbial life, or out of balance, the plants may not be able to absorb and use the nutrients. Biostimulants such as sea minerals, molasses and humates boost friendly microorganism populations. Micronutrients can sometimes be the key that's needed to unlock maximum nutrient potential in our food.
Energy: Like all living things, plants have their own energy patterns, which are influenced by their environment, and in turn affect how they are used by our bodies. I know this may sound "out there" to many, but to me, it's logical. Most of us know that listening to music can relax you (or excite you), and that certain noises are extremely irritating (nails on chalkboard, jackhammers, etc). Evidence suggests that stray voltage can cause significant health problems for animals and for people, why not plants? I think I'm going to be doing some experimenting in the coming years with some plant music out in the garden.
Building Soils Naturally – Any downsides to this book?
There is a *LOT* of information in this book. The beginning gardener or someone with very little technical background might feel overwhelmed at times. For those on a very tight budget, some of the tests, supplements and soil amendments recommended may be too expensive. That said, reading this book gave me a ton of ideas for improvising "homebrew/homegrown" options (which Phil hopes to expand on as well in future publications).
Change the Way you Garden with Building Soils Naturally
I think Building Soils Naturally has the potential to fundamentally change the way you look at your garden. You can use weeds and pests as diagnostic tools (and watch how they disappear over time with proper management). If you want to get fancy, you can get a refractometer and measure the Brix readings of your produce, which should also improve over time. (You could also measure store produce, and see how it comes up lacking.)
I know that in the past two weeks as I've been reading the book, I've made changes and started brainstorming about things I want to do this season and into the future. I like books that get me thinking, and I firmly believe that improving the health of our soils will improve the health of our plants, and in turn improve our health.
Leave a comment below if you've got a question for Phil about specific content in the book, or gardening questions you could use some help troubleshooting.