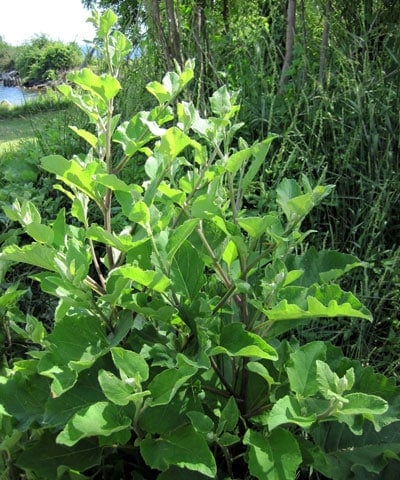 Today's featured plant is Common Burdock, Arctium minus.
Burdock is also known as gobo, bardana, Love's leaves, beggar's buttons, cockle buttons, thorny burr, burr seed, clotbur, cocklebur, grass burdock, stickers, stick tight, burs, burrseed, cuckcoo button, cloth burr, clorbur, fox's clote hardock, hareburr, hurrburr, turkey burrseed, turkey burr, personata, bat weed, wooly dock, happy major, prosopium, philanthropium, and many other names around the world.
Arctium lappa is Great Burdock, which is a related species. The two have similar medicinal properties. Arctium minus is more widespread.
Range and Identification of Common Burdock
Common Burdock is native to Asia and Europe, but has naturalized around the world. It can be found throughout most of North America, except Florida and the extreme northern parts of the continent (see map).
The plant is commonly found in moderately disturbed areas such as barnyards, field edges, fence rows, railroad tracks, roadsides, along paths and sometimes along the edges of woodlands or streams. The seed are carried by animals in their fur or feathers, so the plants are common where there are critters. As a biennial, the plant takes two years to complete its growth cycle, which means that it must be relatively undisturbed during this time. Thus, the growth along edges of fields and crop lands, etc.
During the first year of growth, the plant forms a basal rosette with 2-5 large, wedge shaped leaves up to 28 inches (70 cm) long and 14 inches (36 cm) wide. They resemble rhubarb at a glance, but rhubarb leaves are glossy while burdock leaves are matte and somewhat fuzzy on the underside.
During the second year of growth, a plant produces a large flower stalk, reaching up to 6  1/2 feet (2 m) tall. (These plants tend to be very easy to spot.)  Mine usually stand about 4-5 feet tall.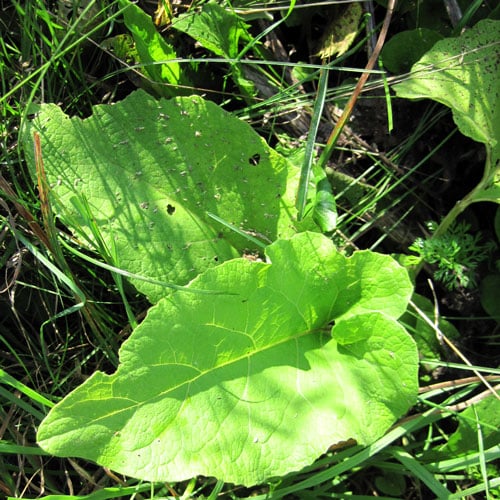 Flowers are small and emerge from the tops of green, prickly balls. They are quite sweetly scented, if you can get close enough to take a whiff. They are pink in color, and resemble the flowers of bull thistles. These flower heads dry into little brown prickly balls that stick to everything, and inspired the invention of velcro.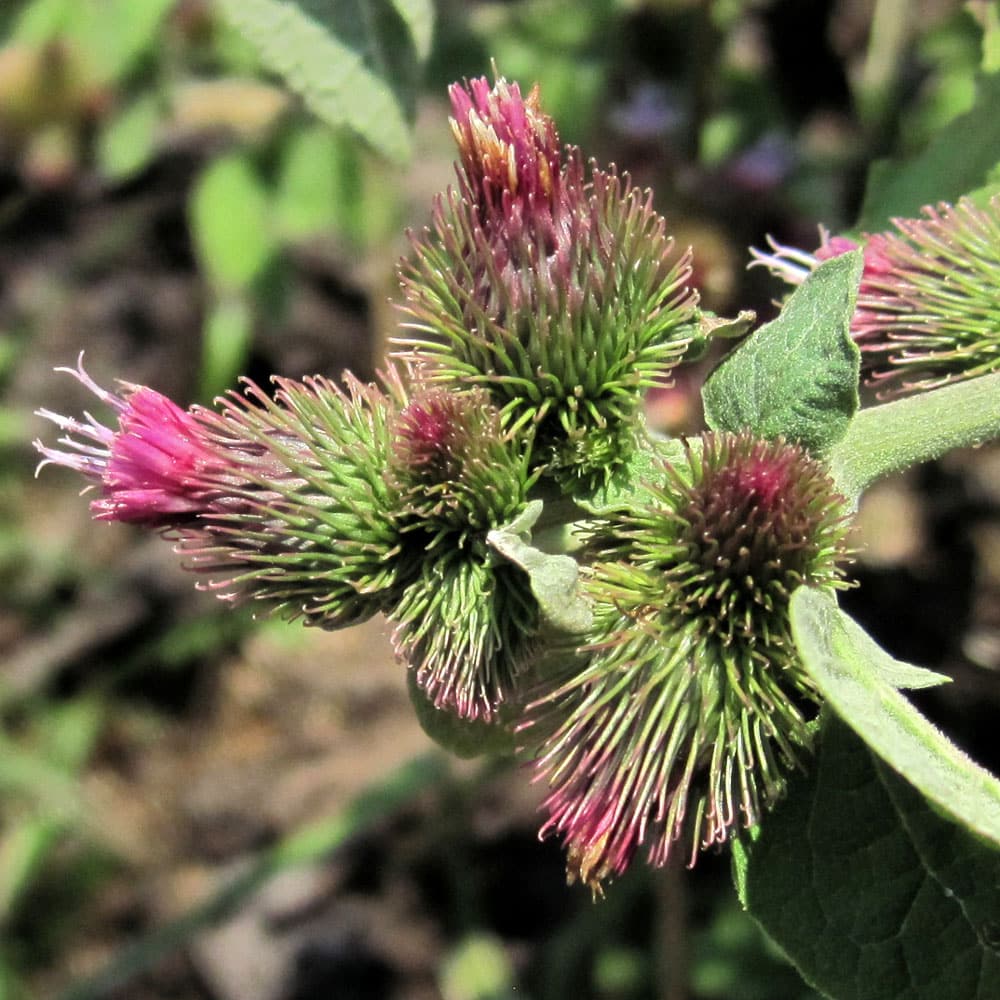 Wildlife Uses
Illinois Wildflowers lists the animal uses of burdock (faunal associations):
The flowers are pollinated primarily by long-tongued bees, including bumblebees, honeybees, Miner bees, and Leaf-Cutting bees, which suck nectar and collect pollen. Other visitors include bee flies, butterflies, and skippers, which seek nectar and are also effective at pollination.

The caterpillars of several Papaipema spp. (Borer Moths) bore through the pith of the stems, including Papaipema cataphracta (Burdock Borer Moth), Papaipema arctivorens (Northern Burdock Borer Moth), and Papaipema rigida (Rigid Sunflower Borer Moth). The foliage of Common Burdock is one of the food sources for the caterpillars of the butterfly Vanessa cardui (Painted Lady). The Ring-Necked Pheasant eats the seeds to a limited extent.

Because the foliage is bitter-tasting, Common Burdock is not a preferred food plant for mammalian herbivores, although livestock and deer will browse on it if nothing else is available. There is some evidence that the foliage may be toxic to rabbits. The seeds are distributed far and wide by animals and humans because the burs cling readily to fur and clothing. They are quite difficult to remove.
What does burdock taste like?
If you've ever handled a burdock plant and then eaten anything afterwards without washing your hands (for instance, weeding in the garden and then sampling a fresh tomato, you know the plant is covered with a very bitter coating. In The Forager's Harvest, Samuel Thayer states (with respect to eating the leaves after cooking them in several changes of water), "Perhaps there is some semantic loophole by which such horrific greens can be admitted to the edible classification…"
Stalks
That said, once you get past the bitter coating, the petioles (leaf stems), flower stalks and roots are all edible. The petioles and stalks can have their outer coverings removed and be cooked.
Samuel Thayer says cooked burdock stalks are superb. "When steamed or boiled for a long time they become very soft like new potatoes; they are starchy and not at all fibrous like the roots or petioles. I like to serve them alone as a vegetable dish, and their mild, slightly sweet flavor can't go wrong in soup or stir fry. When burdock stalks are in season (late spring to early summer, when the shoot are 1-3 feet tall and not yet stiff), they are a truly fine vegetable."
I had the best of intentions to try a flower stalk this year, and even let a plant grow in my blueberry patch for just that purpose, but I missed the correct harvest time. With the extra hot summer, the plant went to flower faster than I had bargained.
Roots
The roots, in the other hand, I have tried. They are good in stir fry, and taste fairly mild raw – crisp and a bit sweet. They can be collected any time from mid summer to late fall, or in spring before the plants begin to grow. (Once a biennial starts the second year of growth, energy stored in the root goes to produce the flowers, and the roots get tough and tasteless.)
If you really want to try "gobo" root, you may want to plant some seeds in deeply cultivated, well mulched soil. Digging roots in the patch by the fenceline was a major undertaking – they grow really deep.
Burdock Medicine
Susun Weed loves burdock, and goes on at length about it in Healing Wise. She recommends all parts of the burdock – roots, seeds and leaves. She suggest using burdock:
root as a nourishing tonic, a skin clearer, a super cooler, a slick trick in the guts, and a guardian of your inner flows.
seeds as a loving friend to your urinary system and as a smooth touch (for skin and hair).
leaf as a knuckle-buster fixer, and a cooler.
Web MD puts the medicinal uses in more formal terms:
People take burdock to increase urine flow, kill germs, reduce fever, and "purify" their blood. It is also used to treat colds, cancer, anorexia nervosa, gastrointestinal (GI) complaints, joint pain (rheumatism), gout, bladder infections, complications of syphilis, and skin conditions including acne and psoriasis. Burdock is also used for high blood pressure, "hardening of the arteries" (arteriosclerosis), and liver disease. Some people use burdock to increase sex drive.
Healing Wise gives full instructions for harvesting and storing the plant parts, and using them medicinally, as well as a number of recipes including "Chicken Fried Burdock Stalks" and "Japanese Sweet and Sour Gobo".
David Hoffman sings the praises of burdock in The Holistic Herbal, too, noting that its constituents include "Flavonoid glycosides, bitter glycosides, alkaloids, anti-microbial substances and inulin".
This post is for general information only, and is not intended to treat or diagnose specific illness. Always exercise caution when using any wild plants and make sure you have positively identified the plant. For additional information, check out my favorite wildcrafting books.
More Ways to Use Wild Plants
This post is #30 in the Weekly Weeder series, which is all about wild plants – how to identify and use them, where they grow, and how to get rid of them, if needed.
Other posts in the series include:
Recommended Wildcrafting Reference Books – Weekly Weeder #1
Chicory – Prebiotic Coffee Substitute, Health Tonic – Weekly Weeder #5
Stinging Nettle – One of Most Useful Wild Plants – Weekly Weeder #16
Benefits of Dandelion Plus How to Use Greens, Seeds, Roots & Flowers – Weekly Weeder #17
Please Like, Pin, Stumble or otherwise share this post if you enjoy learning about wild plants. It only takes a moment and I really appreciate your help.