Catnip – Uses for People and Cats – Weekly Weeder #19
Cats love catnip, but did you know humans can use it too? We'll share catnip identification, uses and benefits, plus tips on safe and fun use for kitty.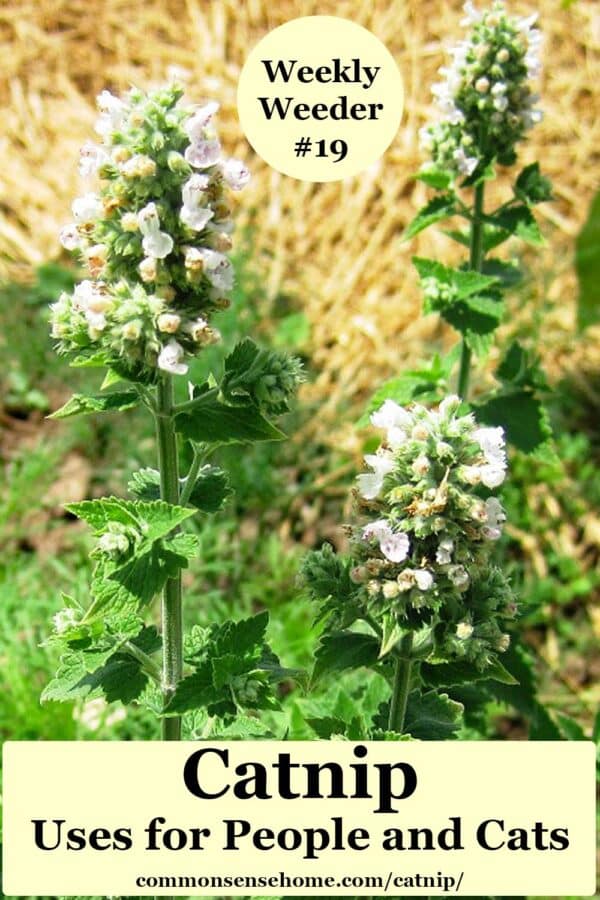 What is catnip?
Catnip (Nepeta cataria) is also known as catnep, catmint*, catrup, catswort. It's a perennial herb that's a member of the mint family. Many people know it from dried packets or cat toys at the pet store, but it's easy to grow in your garden.
*Catnip (Nepata cataria) shouldn't be confused with the related species of catmint, Nepeta mussinii. Catmint has lavender flowers, a neater appearance, and is less attractive to cats.
Where It Grows Wild
Catnip grows in wide variety of soils, in sun or shade, and in dry conditions. Like many weeds, it pops up in fields, gardens, along roadsides, and in public parks.
Although native to Asia and likely brought over from Europe, catnip is now naturalized in much of the world. It's found throughout the United States and Canada. (map source)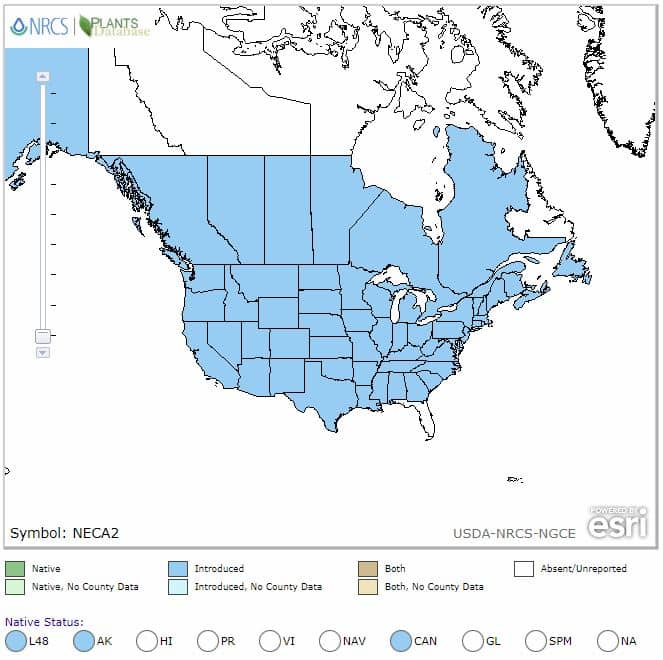 Plant Identification – Leaves, Stems and Flowers
Catnip leaves grow opposite on the stalk, with toothed edges and an arrowhead shape. Leaves are 1-3 inches long and covered with white, downy hairs. When you crush the leaves, they release a strong, minty smell.
The plant grows from 1 to 3 feet tall, with square stems (a mint family trait).
Nepeta cataria flowers are white with a slight hint of purple, and are tubular in shape. They grow in clusters near the top of the plant. If you don't want it to spread too quickly, make sure to deadhead before the flowers set seed.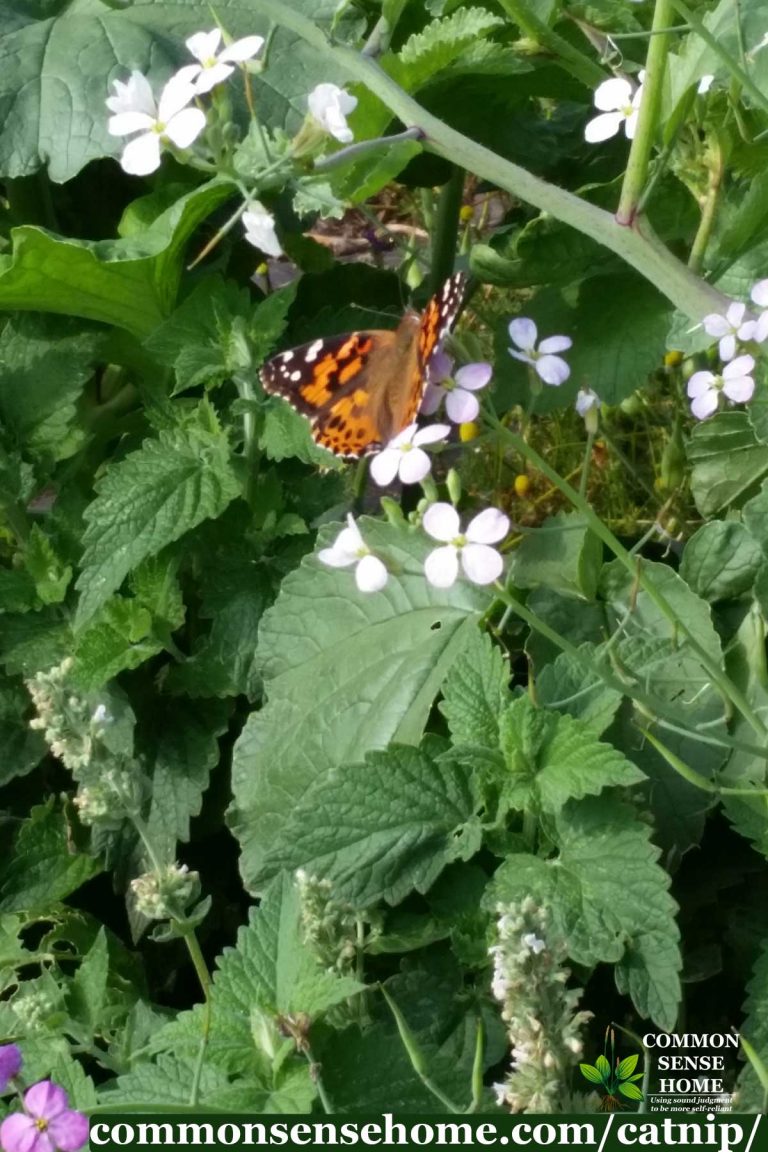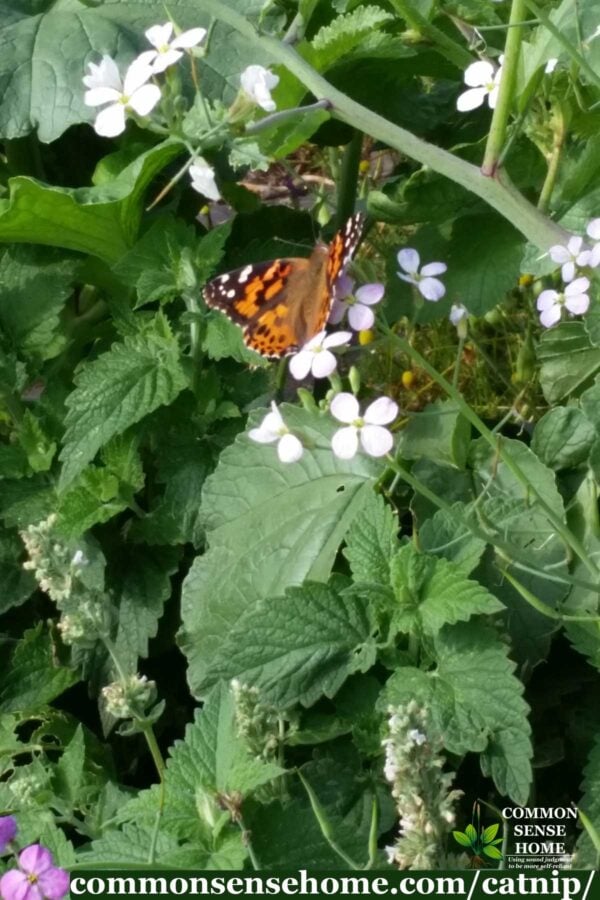 Bees and butterflies love the flowers, and seed eating songbirds like finches enjoy the seed heads. Our honeybees LOVE catnip, and catnip honey is absolutely delicious.
In the video below you can get a better look at one of our catnip plants, with some help in identification from our cats, Ronnie and Miss Kitty.
Uses and Benefits
Although most commonly grown for cats' enjoyment, catnip has a long history of medicinal use. The tea is soothing, cooling and relaxing. The leaves are safe to eat, but strong in flavor. Large amounts may induce vomiting.
To make catnip tea, place about a tablespoon of fresh or dried leaves in a cup and cover with hot water. Steep (covered is best) for 10-20 minutes for medicinal use.
Edible & Medicinal Wild Plants of Minnesota & Wisconsin notes the following medicinal uses of catnip:
Calms tension headaches
Relieves indigestion induced by nervousness
Sleep inducer
Sleep extender
Fever reducer
Decongestant
Eases menstrual cramps
Promotes menstrual flow
Eases Tremors/convulsions
Infant colic and diarrhea
Relieves bull hives
Calms restless, agitated kids
Soothes teething pain and nightmares
Do not use Nepeta cataria during pregnancy. For infant use, all particles must be carefully screened out of the tea with a coffee filter or similar filter. Always consult your health provider if you are on any medications or for specific medical conditions.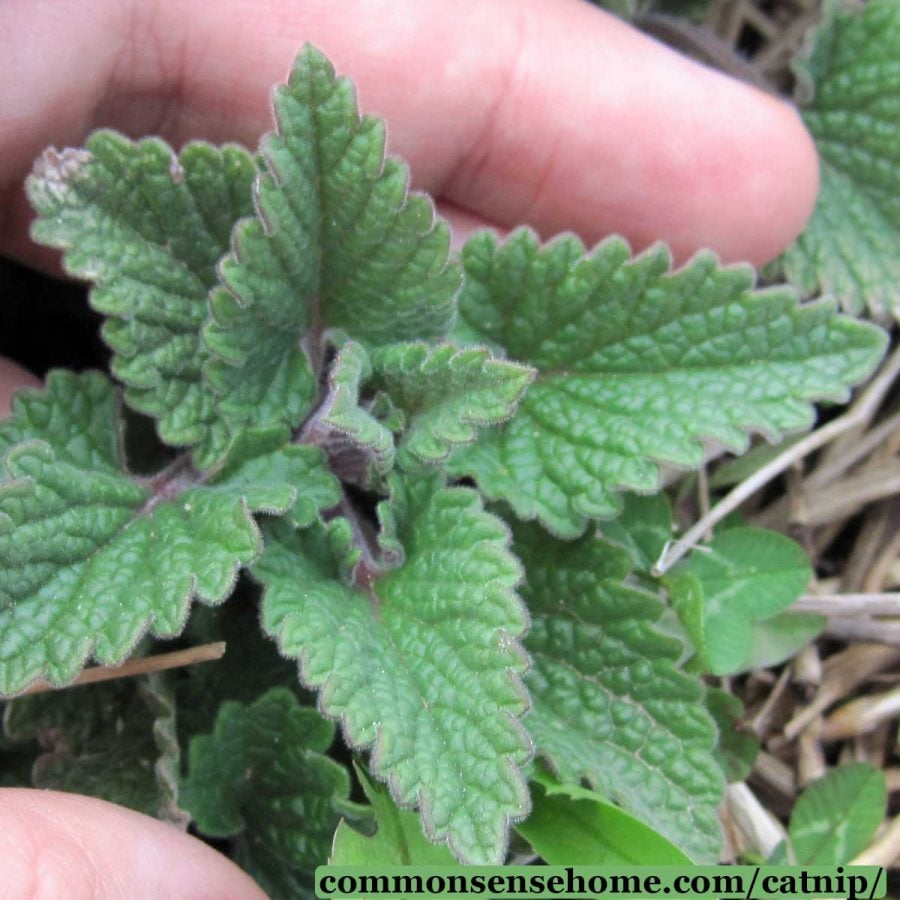 Catnip as a Pest Repellent
Catnip acts an insect repellent, due primarily to the nepetalactone content of the essential oil. Historically, it's also been planted around building to deter rats and mice.
See "Catnip: Its Raison d'Etre" for more information on Nepeta cataria pest control use.
Lab tests have shown nepetalactone to be stronger than DEET as a mosquito repellent. To repel fleas from carpets or the fur of animals, try a strong infusion of catnip tea.
When I'm out in the garden and the mosquitoes are moving in, I grab a handful of catnip and rub it all over myself. It helps significantly. If I'm a little slow and get bit up before I get it on, I use plantain to soothe the bites.
Since herbivores don't eat catnip, I use this to my advantage to protect my seedlings from wild bunnies.
What does catnip do to dogs?
Catnip relaxes dogs, similar to the way it relaxes humans.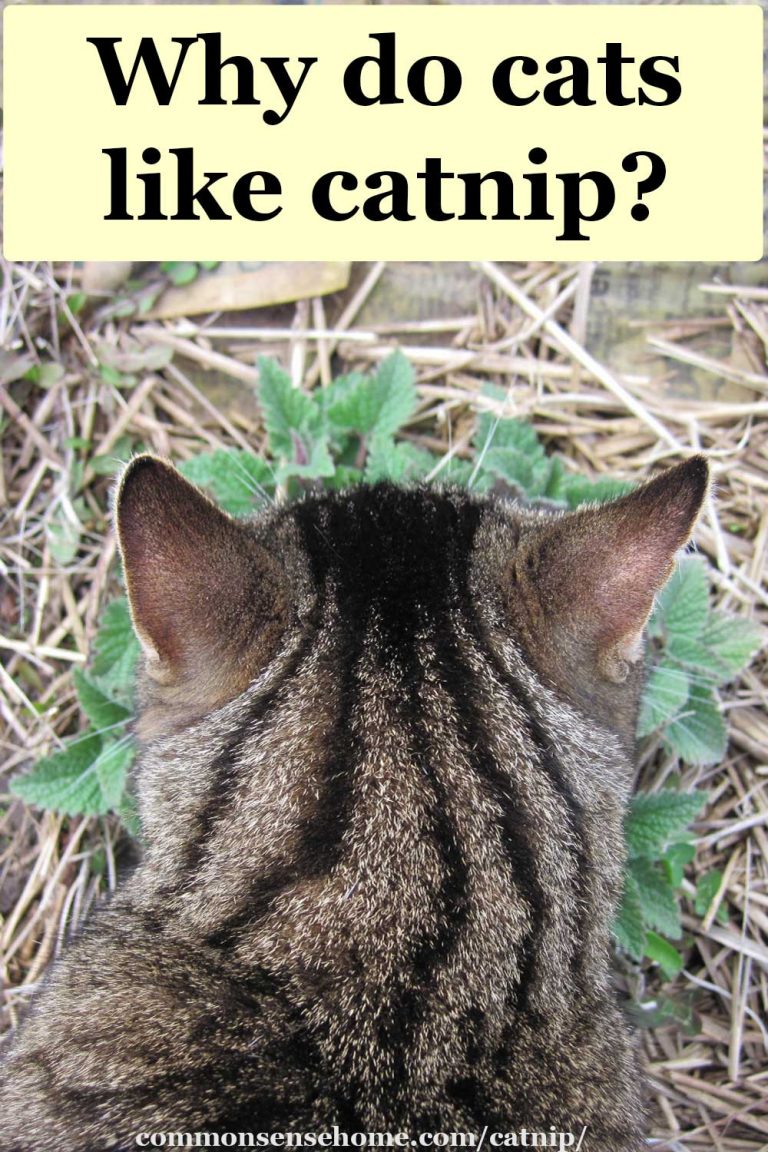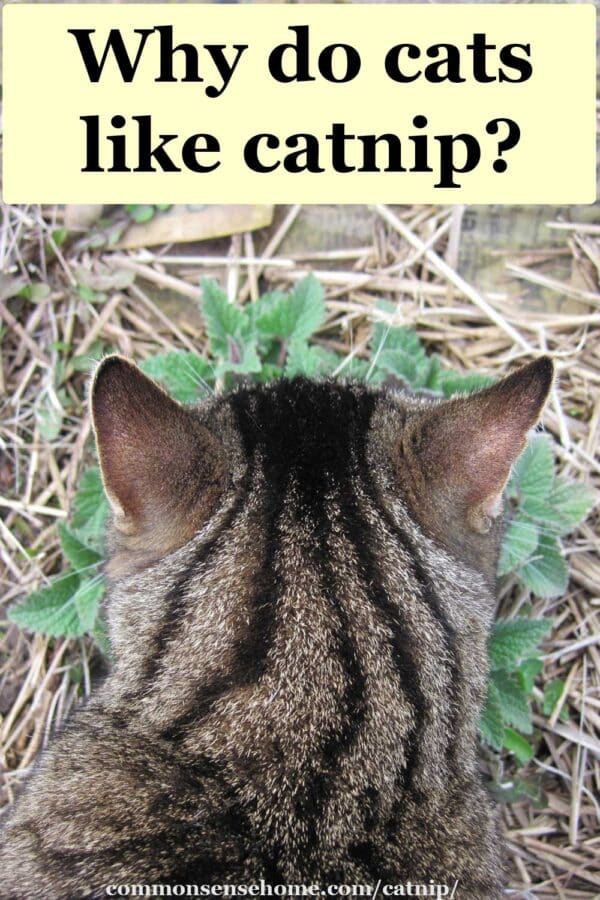 Why do cats like catnip?
The same nepetalactone that helps deter pests triggers a reaction in the cat's olfactory bulb that then affects the rest of the body.
The response is similar to a pheromone trigger, and affects cats of all sizes, from house cats to lions and tigers. (If you have large wild cats in the area, you may want to be cautious with planting catnip in the garden.)
Do cats really get high on catnip?
Different cats react in different ways to catnip. Some get excited – rubbing, chewing, kicking and acting a little crazy. Others become lethargic. (More of a "Whoa… dude" type of reaction.) It's a little like kitty marijuana.
The short video clip below shows our kitties, Zoro and Big Fluffy, with fresh nip and a nip toy.
Cats react for about 10 minutes, and then become immune for about half an hour.
About 70-80 percent of cats are affected by catnip, and kittens don't react until they become sexually mature at around 6 months. (Don't waste money on catnip treats for kittens.)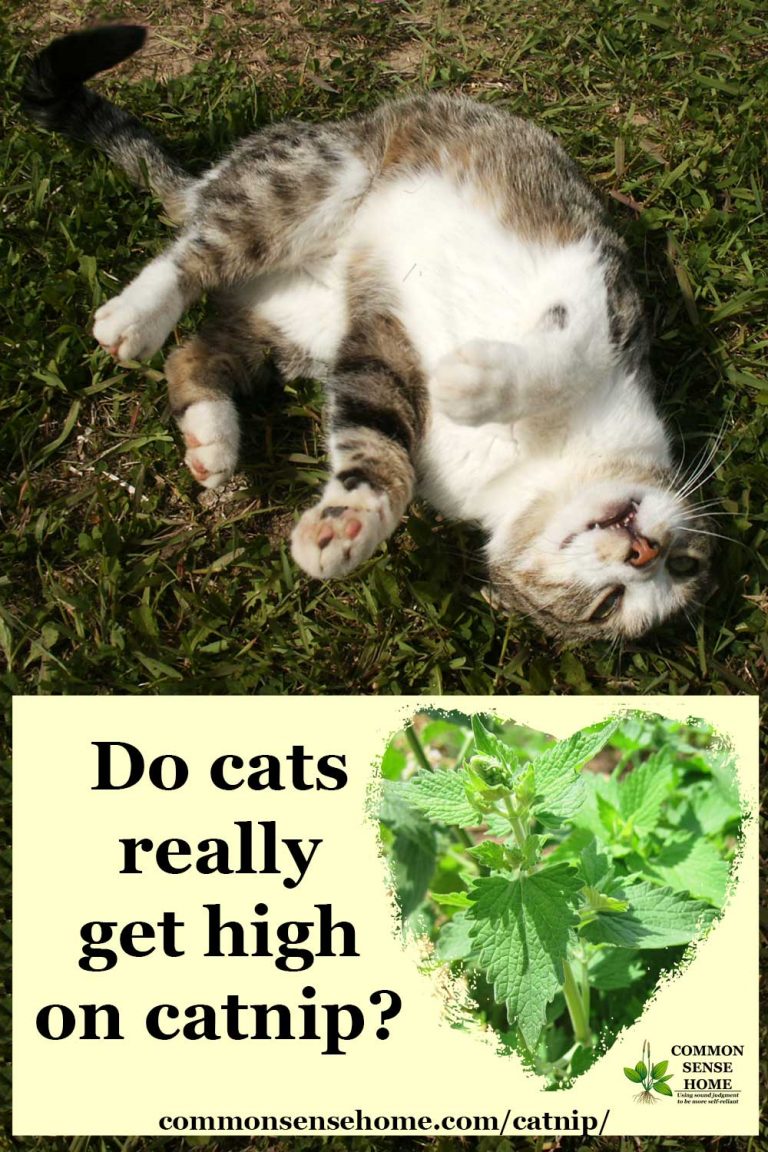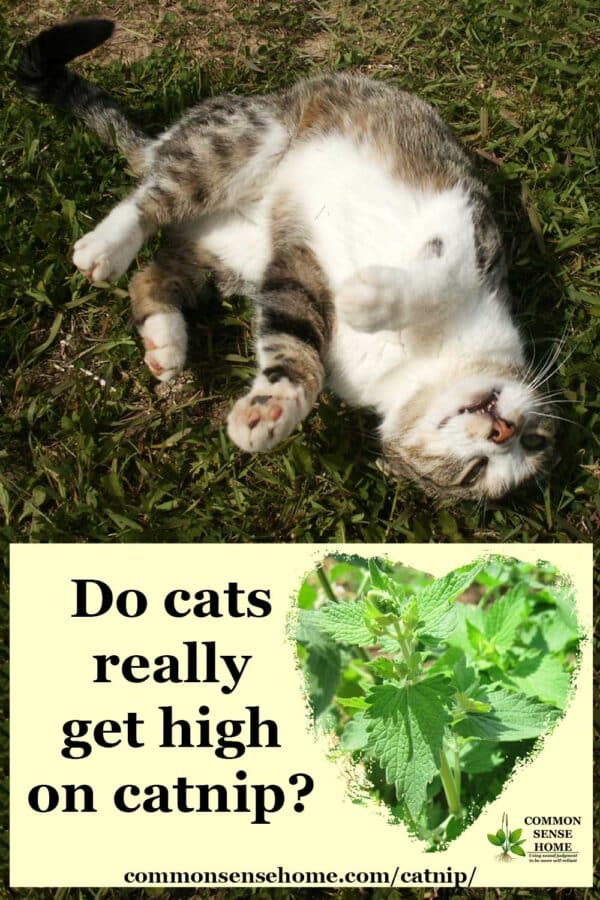 Is catnip poisonous to cats?
The ASPCA will tell you that catnip is toxic to cats, and other sites will tell you to wash out your cat's mouth if they eat it.
On behalf of my cats, and many other cats, I'd like to say these folks are nuts.
Yes, it can cause vomiting and diarrhea in large doses – but most cats will not overdose.
We have large amounts of catnip all over our yard and garden. Our cats and visiting barn cats from next door visit and enjoy the plants every year.
We've easily had over 20 cats through the garden in the last 14 years, and never once have I seen a cat get sick from catnip. Happy, sleepy, excited, and/or a little crazy – yes – but not sick, unless your cat has no self-control.
To be extra safe, test a small amount of nip and see how your cat reacts. Don't give them a huge tub of dried catnip the first time around, or slip it into their food.
Easy Homemade Catnip Toy
As a special treat, we make simple homemade catnip toys for the kitties to have inside. We used to give them loose catnip, fresh or dried, but it made big mess.
Now, we take old socks and stuff them with fresh or dried nip. Ta-da! The nip socksicle! Zoro loves his special toy.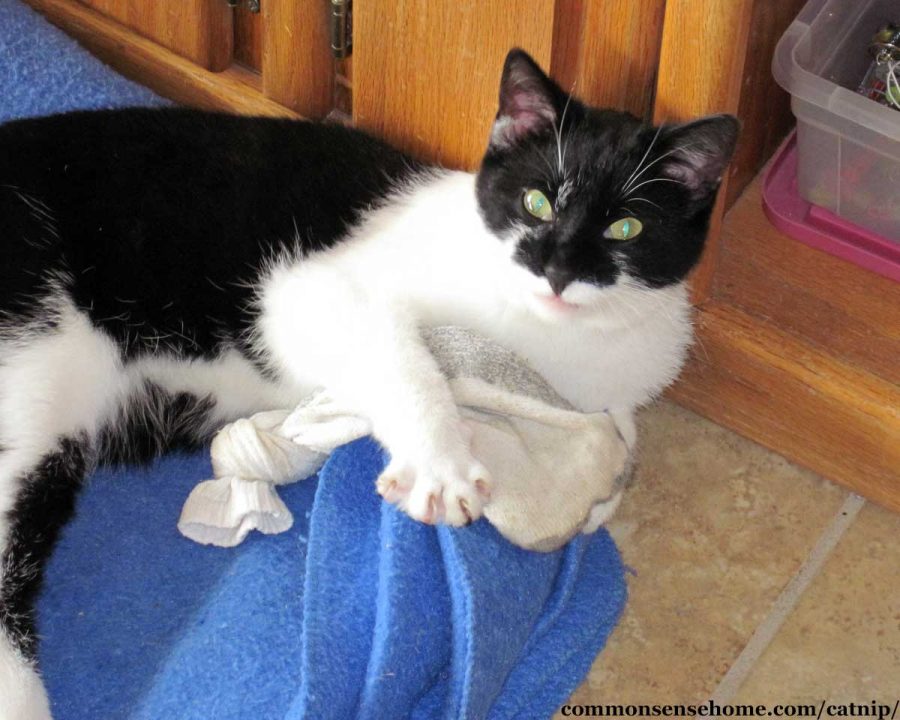 More Information on Cat Care
More Ways to Use Wild Plants
This post is #19 in the Weekly Weeder series, which is all about wild plants – how to identify and use them, where they grow, and how to get rid of them, if needed.
Other posts in the series include:
Please Like, Pin, Stumble or otherwise share this post if you enjoy learning about wild plants. It only takes a moment and I really appreciate your help.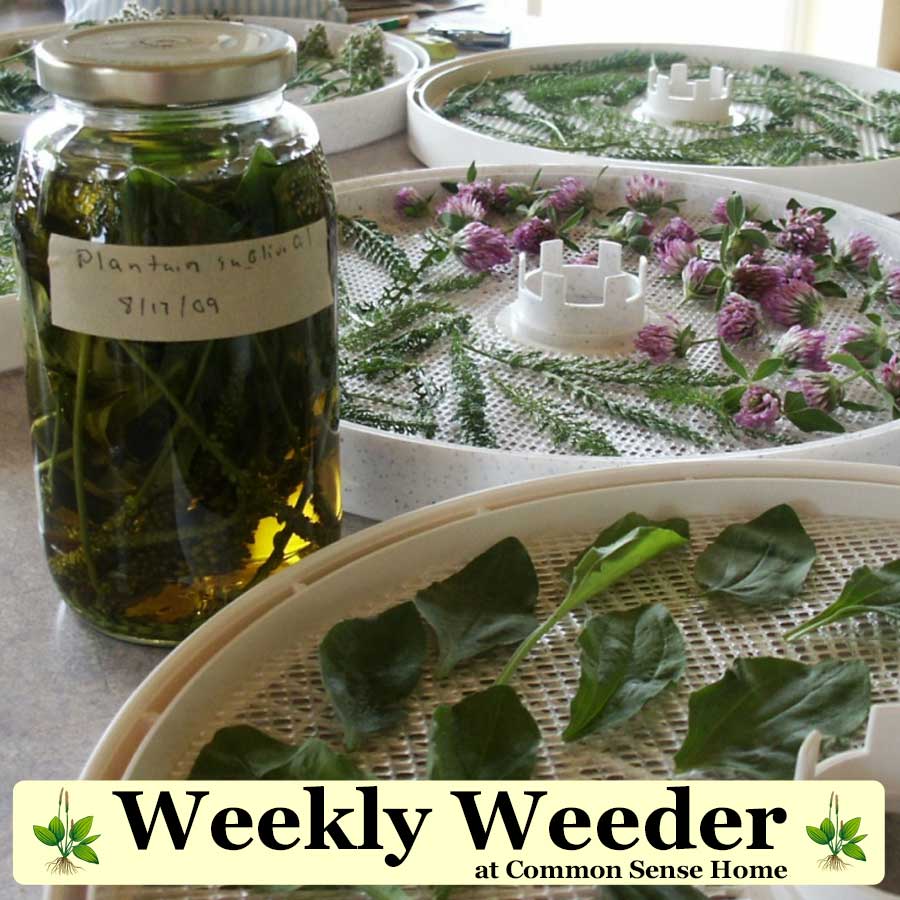 Originally published in 2012, last updated in 2019.