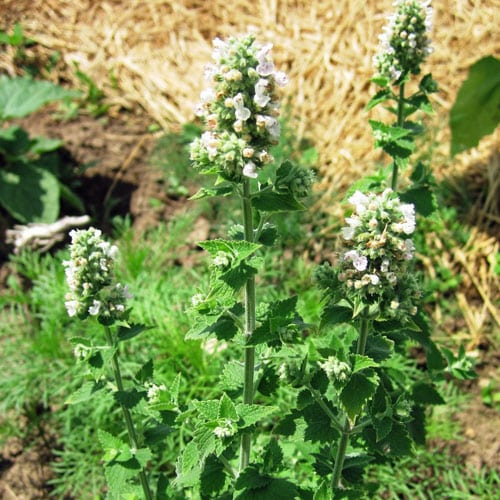 Today's featured plant is Catnip, Nepeta cataria.
Catnip is also known as catnip, catnep, catmint, catrup, catswort.
Range and Identification of Catnip
Although native to Asia and likely brought over from Europe, catnip is now naturalized in much of the world. It can be found throughout the United States and Canada (see map).
It can grow in wide variety of soils, in sun or shade, in dry conditions. Like many weeds, it pops up in fields, gardens, along roadsides, and in public parks. I noticed some lovely clumps of it outside near the museum last week.
The plant grows from 1 to 3 feet tall. leaves are placed opposite on the stalk, and are coarsely toothed and shaped like arrowheads. Leaves are 1-3 inches long, and are covered with white, downy hairs. When you crush them, they release a strong, minty smell. (It is in the mint family.)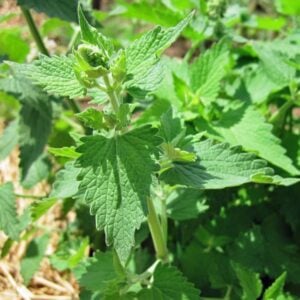 The flowers are white with a slight hint of purple, and are tubular in shape. They grow in clusters near the top of the plant. The plant is a perennial, so it will come back year after year. If you don't want it to spread too quickly, make sure to deadhead before the flowers set seed.
Catnip as food for wildlife
Illinois Wildflowers states:
The nectar of the flowers attracts long-tongued bees primarily, including honeybees, bumblebees, cuckoo bees (Epeolus spp., Triepeolus spp.), digger bees (Melissodes spp.), and leaf-cutting bees (Megachile spp.). Other visitors that occasionally visit the flowers include Halictid bees, wasps, flies, butterflies, and skippers. The foliage is one of the food sources for the caterpillars of such moths as Sphinx eremitus (Hermit Sphinx) and the polyphagous Xanthotype urticaria (False Crocus Geometer). A Eurasia aphid that is rarely observed in North America, Aphis nepetae, also feeds on Catnip. The pungent foliage is shunned by mammalian herbivores as a food source. One animal that is strongly attracted to Catnip, however, is the domesticated house cat. Apparently, a chemical in the foliage produces a pleasant intoxicating effect in cats, somewhat akin to the effect of marijuana on humans. As a result, plants in residential areas may display signs of damage from cats rolling in the foliage.
Yes – catnip is like kitty marijuana. Wildflowers of Wisconsin says this effect applies from lions and cougars to domestic cats, so if you've got large wild cats in the area, you may want to be cautious with your catnip plantings. I know my kitties love it.
As a special treat, we make catnip "socksicles" for the kitties to have inside. We used to give them loose catnip, fresh or dried, but it made big mess. Now, we take old socks (for instance, with damaged elastic) and stuff them with fresh or dried catnip. Ta-da! The Socksicle! Zorro loves to wrestle with and lick his socksicle.
You'll note the the above description indicates that wild mammals don't eat catnip (although many birds, such as finches, will eat the seeds). I use this to my advantage to protect my seedlings from wild bunnies.
Catnip oil also contains a compound that lab tests have shown to be stronger than DEET for deterring mosquitoes. When I'm out in the garden and the mosquitoes are moving in, I grab a handful of catnip and rub it all over myself. It helps significantly. If I'm a little slow and get bit up before I get it on, I use plantain to soothe the bites.
Medicinal Uses of Catnip
Altnature states:
Catnip has a long history of use in alternative medicine, being employed especially in treating disorders of the digestive system and, as it stimulates sweating, it is useful in reducing fevers. The fresh juice is used as an emmenagogue (to promote menstruation). Mild catnip tea is used to relieve colic in babies, restlessness and nervousness, and is very useful as a mild nervine for children. Stronger tea relieves fevers due to colds and flu as well as calming the stomach and preventing nausea and diarrhea.

The fresh young shoots are good in spring salads and rubbed into meat for flavor. Applied externally or added to bath it is good for skin irritations. Catnip oil is great for aroma therapy. A strong infusion can be used to repel fleas from carpets or the fur of animals. An extract from the leaves (called nepetalactone) has herbicidal and insect repellant properties.
To make catnip tea, steep two teaspoons of dried leaves in a cup of boiling water for 10 minutes. Cover cup while brewing to contain volatile oils. Strain and serve.
In the video below you can get a better look at one of our catnip plants, with some help in identification from our cats, Ronnie and Miss Kitty.
As always, any medical information is for informational purposes only. Always exercise caution when using any wild plants.
Mountain Rose Herbs stocks many of the herbs and plants featured in the Weekly Weeder series. They also carry an assortment of bottles, droppers and other supplies.
Please consider "liking", pinning, or otherwise sharing this post to let others know about the socksickle, or that whole mosquito repellent thing, or how catnip keep bunnies at bay. 😉