Gardening Gifts – 15 Great Gift Ideas (Fun and Useful!)
Many of the gardening gift guides aren't a great fit for me, so I decided to put together a list for those who like some functional mixed in with their fun.
Here are 15 gift ideas for the gardener in your life, to take them from planting to harvest, and brighten their holidays.
Gardening Gifts for Planting and Working in the Garden
Every garden starts with planting, so we will, too.
1. Seed Assortments
I love trying out new seed varieties in the garden each year. My friends and I often swap so we can each try something new. This Survival Essentials Seed Bank features 100 different varieties of vegetables, fruits and herbs.
Some other interesting options on Amazon include:
Holiday Party Tip – If you're having a holiday gathering with gardening friends, buy a seed assortment to divide among the guests. When you get together next year, you can compare notes on how each variety did.

Tweet
2. Grow Lights
Almost every seed starting set up benefits from extra light, especially when you're trying to get a jump start on the gardening season by starting seedlings indoors.
You can take a peek at the custom grow bench with lights my husband built here, but for those who need to sneak in a small amount of growing space, these flexible grow lights could be a perfect fit.
3. Self- Watering Planters
If the gardener in your life enjoys fresh herbs, self watering planters take the work out of growing herbs indoors. These 4 inch self watering pots can stand alone in a sunny window, or pair up with LED grow lights.
The Ultimate GreenStalk Vertical Planter Gift Bundle Includes:
5 Tier Original GreenStalk Vertical Planter (in your choice of color) – 5 Planters, 4 Grey Disks, 1 Top Water Reservoir, Instructions
GreenStalk Mover – Mover Base, 3 Non-Locking Wheels, 3 Locking Wheels, Drain Hose, Cap, Instructions
3lb Organic Worm Castings Fertilizer
Paint-Your-Own Wooden Plant Marker Kit – 12 Plain Wooden Plant Markers (2 Snails, 2 Frogs, 2 Houses, 2 Butterflies, 2 Flowers, 2 Caterpillars), 4 Coloring Pages, Colorful Gift Box, 2 Packs of Colorful Non-Toxic Paint, 2 Quality Paintbrushes
20 Of Our Favorite Seeds – (Cherry Falls Tomato, Lemon Drop Marigold, Jalafuego Pepper, Organic Bloomsdale Spinach, Sweet Bell Pepper Blend, Jewel Blend Nasturtium, Chef's Choice Lettuce, Rainbow Blend Coleus, Royal Burgundy Bean, Red Pride Tomato, Cube of Butter Squash, Premier Blend Kale, Organic Moss Curled Parsley, Organic Long Standing Cilantro, Garlic Chives, Easter Egg Blend Radish, Organic Common Oregano, Calliope Blend Carrot, Organic Italian Genovese Basil, Organic Marketmore Cucumber
GreenStalk Plant-able Herb Paper Ornament 
Sample Of Organic Worm Casting Fertilizer
Free Shipping Anywhere in the Lower 48
Use code "commonsense10" to get $10 off of your GreenStalk purchase.
4. Gardening Gloves
The right pair of gloves can be a gardener's best friend. I use a variety of gardening gloves, depending on the task at hand.
For light duty work, a simple jersey glove will do. This set comes in bright colors, making them easy to spot if you set them down in the garden.
For heavier work, I opt for leather. These gloves have a leather palm with Velcro wrist closure, so they stay put on your hand and you're less likely to get debris down the top of your glove.
5. Hard Lotion Bars
For those who garden gloveless, set them up with some hard lotion bars. These smell great and work wonders on dry skin.
6. Gardening Aprons
I've used my Roo Gardening Apron for fruit picking, harvesting green beans, broccoli and even tomatoes. (Just don't fill it too full!)
It's durable, washable, and has adjustable straps that evenly distribute the weight of the harvest. You can read my full review in the post 5 Ways a Roo Gardening Apron Makes Gardening Easier.
7. Maine Garden Hod
A sturdy basket like this Maine garden hod is another good option for gathering fruits and veggies. It's made in Maine and built with a combination of wood and vinyl coated metal mesh.
8. Mushroom Kits
If you have someone on your gift list who love fresh mushrooms, you can't get any fresher than those your grow on your own. Mushroom kits also make a unique gift, because no two ever grow quite the same. Amazon carries an assortment of mushroom growing kits, including:
Reishi Mushroom Kit
Oyster Mushroom Growing Kit
Lion's Mane Mushrooms Kit
9. Gardening Books
Books make a great gardening gift for the long winter months while the garden is asleep. No matter how many I read, I always find some new inspiration.
My friends Amber, Melissa and Ann authored some lovely books this year that are sure to make great gifts for gardening friends, home cooks and nature lovers.
Beekeeping for Beginners by Amber Bradshaw covers all the basics of beekeeping. Bees are a wonderful addition to your garden, improving pollination to boost yields.
The Family Garden Plan by Melissa K. Norris shows you how to raise a year's worth of produce at home. She'll walk you through maximizing the space you have, improving the soil, troubleshooting common problems, and more. (Releases Jan 2020, but available for pre-order.)
The Farm Girl's Guide to Preserving the Harvest by Ann Accetta-Scott shares how to preserve your garden goodies to enjoy year round. Ann covers canning, freezing, dehydrating and fermenting.
Visit the Homestead Library page Gardening section to see a list of the gardening book reviews available on the site.
If you think your green thumb loved one would like to learn about using wild plants for food and medicine, check out "Wildcrafting Books and Resources".
Gardening Gifts to Dress Up the Garden
10. Stepping Stones
For the pet people – marked paths help keep pooches from walking through the middle of your garden beds.
This Spoontiques Dog Crossing Stepping Stone is a cute way to dress them up. (I still highly recommend working with your dog to establish "yes" and "no" areas for digging.)
This mosaic leaf stepping stone kit makes a thoughtful gift and a beautiful addition to the garden. It includes recycled stained glass pieces and letter stamps for customization.
11. Garden Spinners
Flower Power Solar Spinner – Solar panels and LED color changing lights combine in this unique garden spinner. A very groovy gardening gift. 🙂
Another "twist" on the garden spinner is this kinetic sculpture with bronze leaves. We have copper and bronze accents around our home, and I love the warmth of the coloring. Another plus on the spinners is that they may help annoy the deer enough to deter them from nibbling the garden.
12. Rain Chains
Another copper item that caught my eye was this pure copper bamboo style rain chain. I liked the look of some of the leaf style rain chains,too, but the reviewers said that this design works better at channeling the water down and away from the home with less splashing.
13. Fairy Garden Accessories
This Fairy Garden Accessory kit is super cute, and would be a great way to get kids involved in gardening.
Continuing with the fairy theme, this Fairy Garden Mushroom Cottage is the perfect centerpiece to your fairy garden collection.
14. Wind Chimes
My husband said I also need to add wind chimes. These were his picks:
Woodstock 27 Inch Pluto Wind Chime – this chime is tuned to a pentatonic scale with 6 durable anodized aluminum tubes and an ash striker, hanger and wind catcher.
Woodstock Inspirational Amazing Grace Chime – Amazing Grace is one of my father-in-law's favorite songs, and one of my favorite's, too. It always lifts my spirits.
Finally, the Woodstock World Music, Chimes of Olympos. These chimes play a low, soothing tone. One reviewer refers to them as "haunting, soothing, blending…"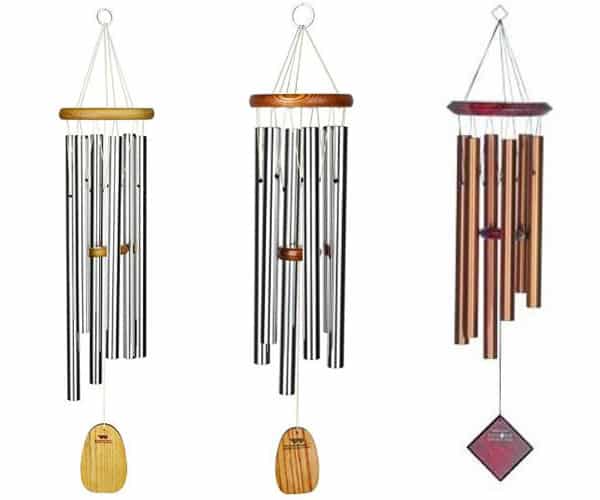 15. Gardening Themed Christmas Ornaments
Finally, some Christmas tree ornaments for your gardening friends.
I love the look of the Old World Christmas Gifts Blown Glass Ornaments. They have gardening gloves, garlic, flowers, butterflies, a watering can, a mushroom, a tomato and a bee skep. We picked up several of them for our tree.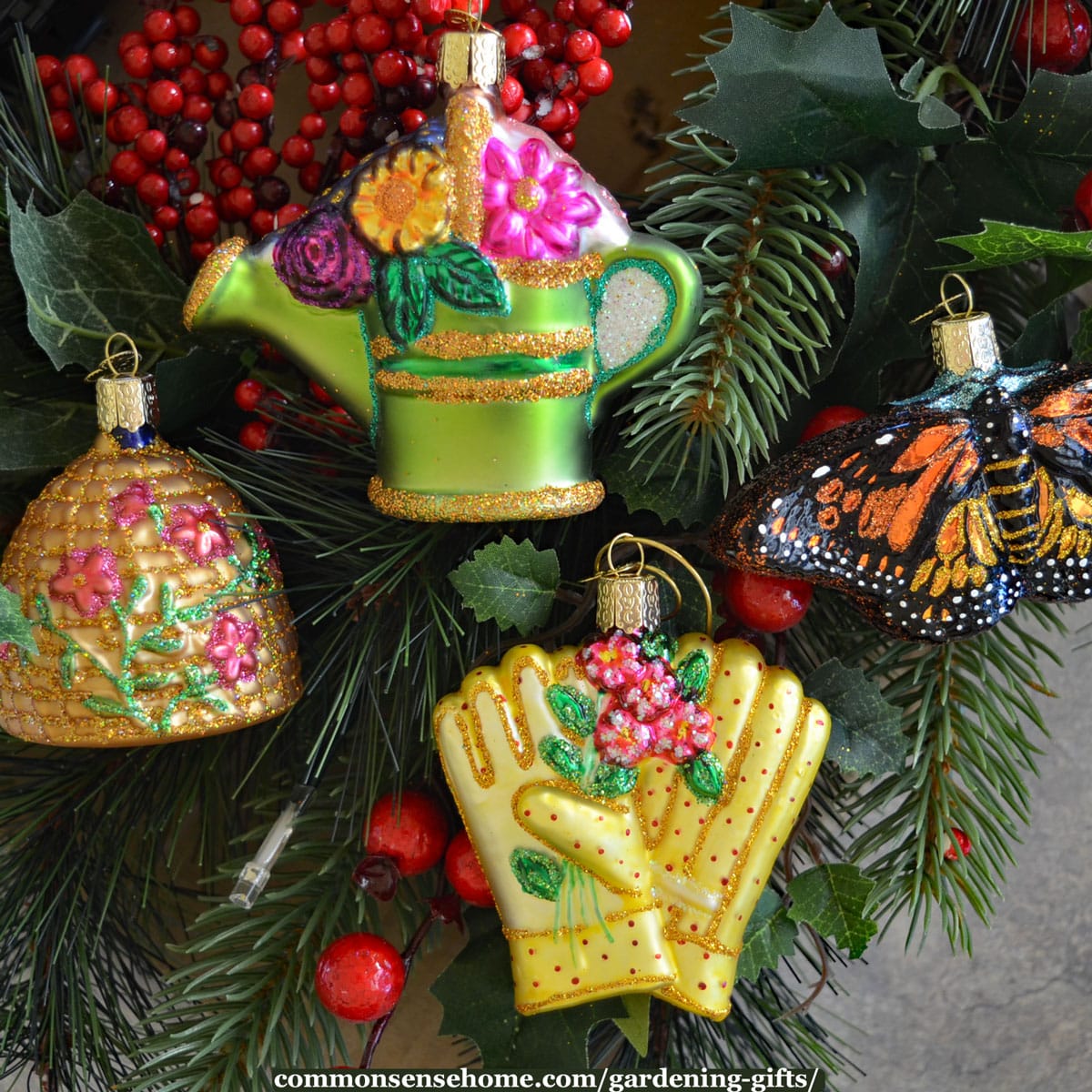 For the gardeners out there, what's a gardening gift that you would like to receive to make gardening easier or more enjoyable, or preserve the harvest? Leave a comment and let me know.
For more gift ideas and help with wrapping, see:
The post "The Best Garden Tools Help Make Gardening Easier" features my favorite tools for seed starting and in the garden, along with a list of garden book reviews featured on the website.
Originally posted in 2016, updated in 2020.