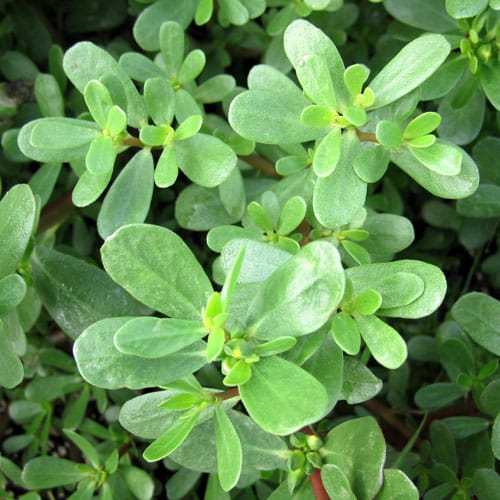 Today's featured plant is Purslane, Portulaca oleracea.
Common Purslane is also known as Verdolaga, Pigweed, Little Hogweed, Pusley, Rigla, Pourpier, pussly, ma chi xian (Chinese) and "rose moss or moss roses" (Bortolaiga or Porcelana). (source) Note: Purslane is related to the moss rose, Portulaca grandiflora, which has narrow leaves and a similar growth habit, but larger, more colorful flowers.
Range and Identification of Purslane
Purslane is native to India and the Middle East, but has naturalized around the world. It is found throughout North America up to the extreme north (see map). It is found in gardens and disturbed areas. Calcium and phosphate levels are always low in purslane territory. (Source: Building Soils Naturally
Building Soils Naturally.)
Purslane is an annual, and can produce seeds in only 40 days (up to 200,000 per plant). It is a succulent, with thick, red stems and broad, flat round leaves. When eaten, the plant is mucilaginous, like okra, giving it a somewhat slimy texture when cooked.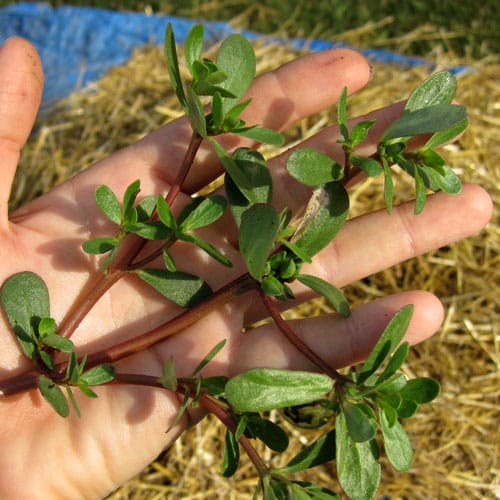 It grows low to the ground, forming a living mat of groundcover. Individual plants may spread up to two feet across in a radiating pattern. The seeds need warm temperatures to germinate, which makes them more of a summer weed.
I'm trying a little experiment in my garden this year, allowing it to grow as a groundcover in the cucumber patch, after reading "Weeds: Guardians of the Soil". The author talked about how the corn was growing better where the purslane was thick than where there was no purslane. Theoretically, even I let it seed out, once the soil improves, it shouldn't try to take over. I may live to regret this, but it's easy to pull, if needed, and tastes pretty good, not bitter like most edible weeds.
The flowers are yellow, about 1/2 inch across, and appear at the juncture of the stems. Leaves are about the size of a fingertip or smaller. These buds are almost ready to open. Purslane will stay alive after being pulled, and may continue to ripen seeds, so if you'd like to get rid of it, pull it before it gets to seed stage. It's best eaten when young, too, as the stems toughen with age.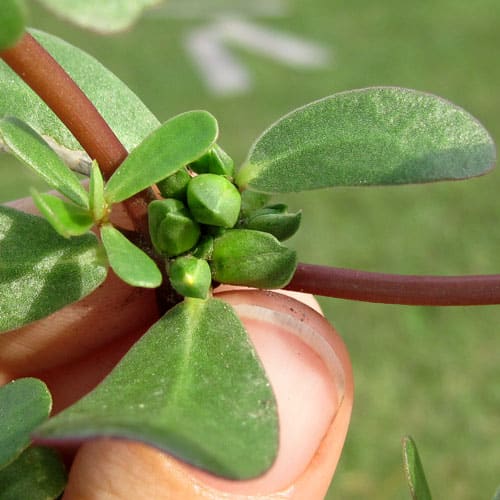 Purslane for Food and Medicine
A variety of wildlife enjoy purslane. Illinois Wildflowers (one of my favorite "weed" sites) states:
The flowers attract flower flies, small bees, and beetles. The seeds are a minor source of food to sparrows and closely related songbirds at various times of the year, including Spizella passerina (Chipping Sparrow), Pooecetes gramineus (Vesper Sparrow), and Calcarius lapponicus (Lapland Longspur). Purslane species are an important food source for wildlife in the Western states, but less important in the Eastern states because of the greater availability of other kinds of plants.
Purslane can be eaten by livestock, such as chickens, but should not be fed exclusively, as a "purslane only" diet can be toxic due to the oxalic acid content. (Apparently someone tried to raise goats on purslane only and killed them. You can have too much of a good thing.)
Purslane can be eaten by people raw or cooked, as a salad green or a potherb. It's very high in vitamins A, C and E. It's also high in omega 3 fatty acids, with 300-400 mg per cup, and has more beta carotene than carrots (seven times more). Purslane is "rich in magnesium, calcium, iron, riboflavin, potassium, phosphorous and manganese". (source – Mercola) It does have fairly high levels of oxalic acid, so it's best not to consume in very large quantities daily.
Prairieland CSA has an assortment of purslane recipes, including this cucumber-purslane- yogurt salad.
Cucumber-purslane-yogurt salad
5 large Cucumber, peeled, seeded and cut into quarter-round slices
1/4 pound Purslane, large stems removed, washed and drained well
2 tablespoons each, Fresh chopped mint, cilantro and chervil
4 cups Whole milk yogurt
1/4 cup Virgin olive oil
3 cloves Garlic, puréed with the blade of a knife
2 teaspoon ground Coriander
kosher Salt and ground Black Pepper
Place the cucumber, purslane and herbs into a large bowl. In another bowl, stir together the yogurt, olive oil and garlic, coriander and season to taste with salt. Add the yogurt mixture to the vegetables and mix well. Add a pinch of ground black pepper. Taste the dressed cucumber-purslane salad for seasoning, adding a little more salt if needed. Serve chilled.
Health Guidance.com suggests the following medicinal uses of purslane:
Purslane is used in various parts of the world to treat burns, headaches, stomach, intestinal and liver ailments, cough, shortness of breath and arthritis.
Purslane herb has also been used as a purgative, cardiac tonic, emollient, muscle relaxant, and in anti-inflammatory and diuretic treatments.
Purslane appears among a list of herbs considered to help benefit conditions such as osteoporosis and psoriasis.
Healing Wise (Wise Woman Herbal Series)
Susun Weed is a purslane lover, too, and shares her thoughts on it in "The Joy of Purslane". She's even got a recipe for pickled purslane. 🙂
Drugs.com states that no contraindications have been identified. As always, any medical information is for informational purposes only. Always exercise caution when using any wild plants and make sure you have positively identified the plant.
Please Like, Pin or otherwise share this post if you would like the Weekly Weeder series to continue.

Mountain Rose Herbs stocks many of the herbs and plants featured in the Weekly Weeder series. They also carry an assortment of bottles, droppers and other supplies, plus some really soft organic cotton t-shirts.