Purslane – One of the Most Nutritious Plants in the Garden
Did you know that a "weed" may be one of the most nutritious and useful plants in your garden? We'll share the health benefits of purslane for food and medicine, plus how to use is as a companion plant in the garden.
Common purslane (Portulaca oleracea) is also known as Verdolaga, Pigweed, Little Hogweed, Pusley, Rigla, Pourpier, pussly, and "rose moss or moss roses".
Note: Portulaca oleracea bears a slight resemblance to hairy stemmed spurge (Euphorbia vermiculata), which is poisonous. Spurge stems are hairy, not smooth, and it has white sap.
Where to Find Purslane
Native to India and the Middle East, purslane now grows around the world, including the United States.
Purslane grows in gardens and disturbed areas in soils deficient in calcium and phosphate. (Source: Building Soils Naturally.) If you can't find it in your yard, you can order seeds online or try your local farmers market.
It needs heat to germinate, so summer is the season for growth. As a succulent, it prefers full sun and also tolerates drought.
Leaves and Stems
The leaves are paddle shaped, broad and flat, with thick red stems. They are about the size of a fingertip or smaller.
It grows low to the ground, forming a living mat of groundcover. Individual plants may spread up to two feet across.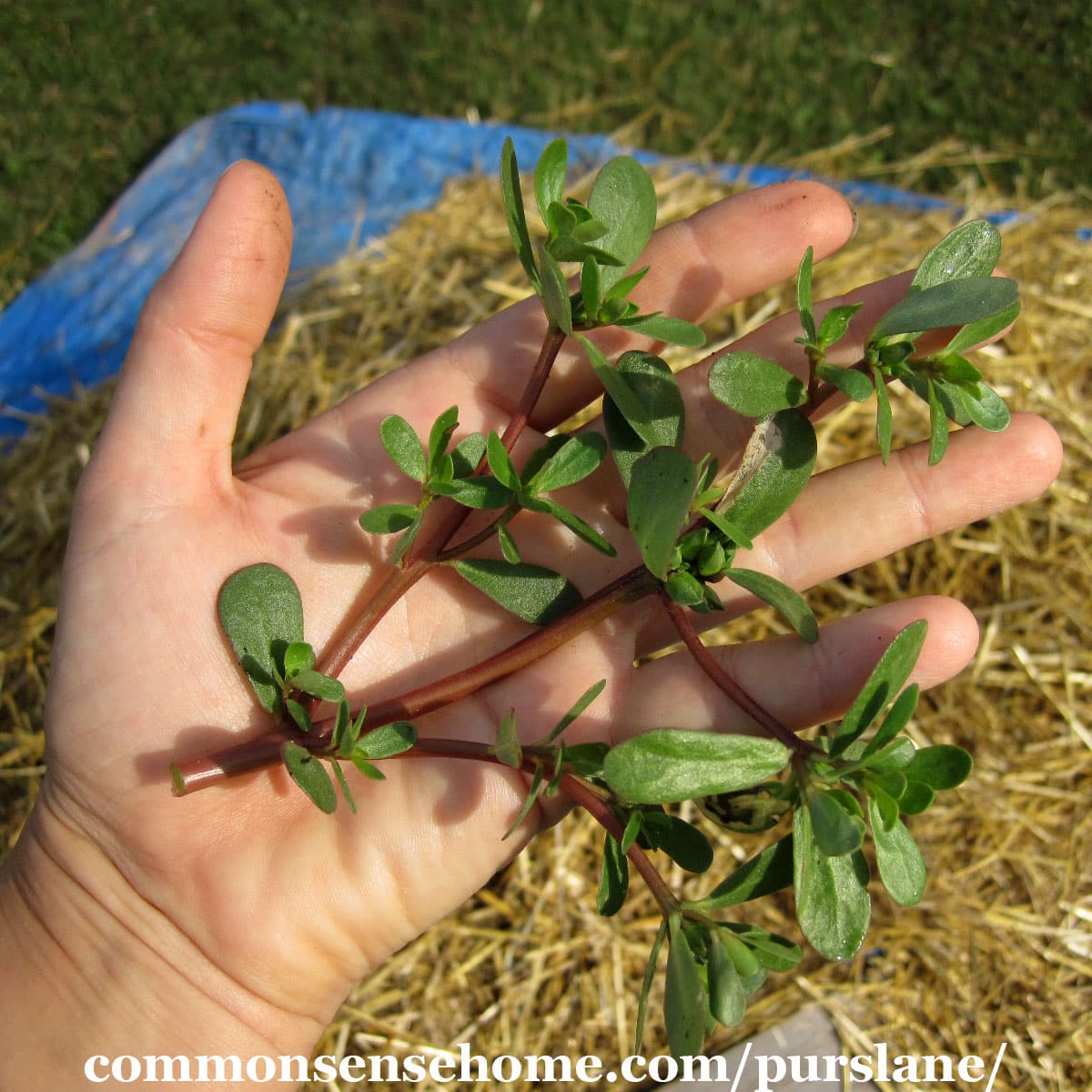 Flowers
The yellow flowers of purslane occur singly at leaf axils or stem tips. They have five petals, and open only on sunny mornings.
Seeds
Portulaca oleracea is an annual, and produces up to 200,000 seeds per plant in as little as 40 days. The tiny, black seeds are scattered throughout the plant in small capsules that resemble flower buds.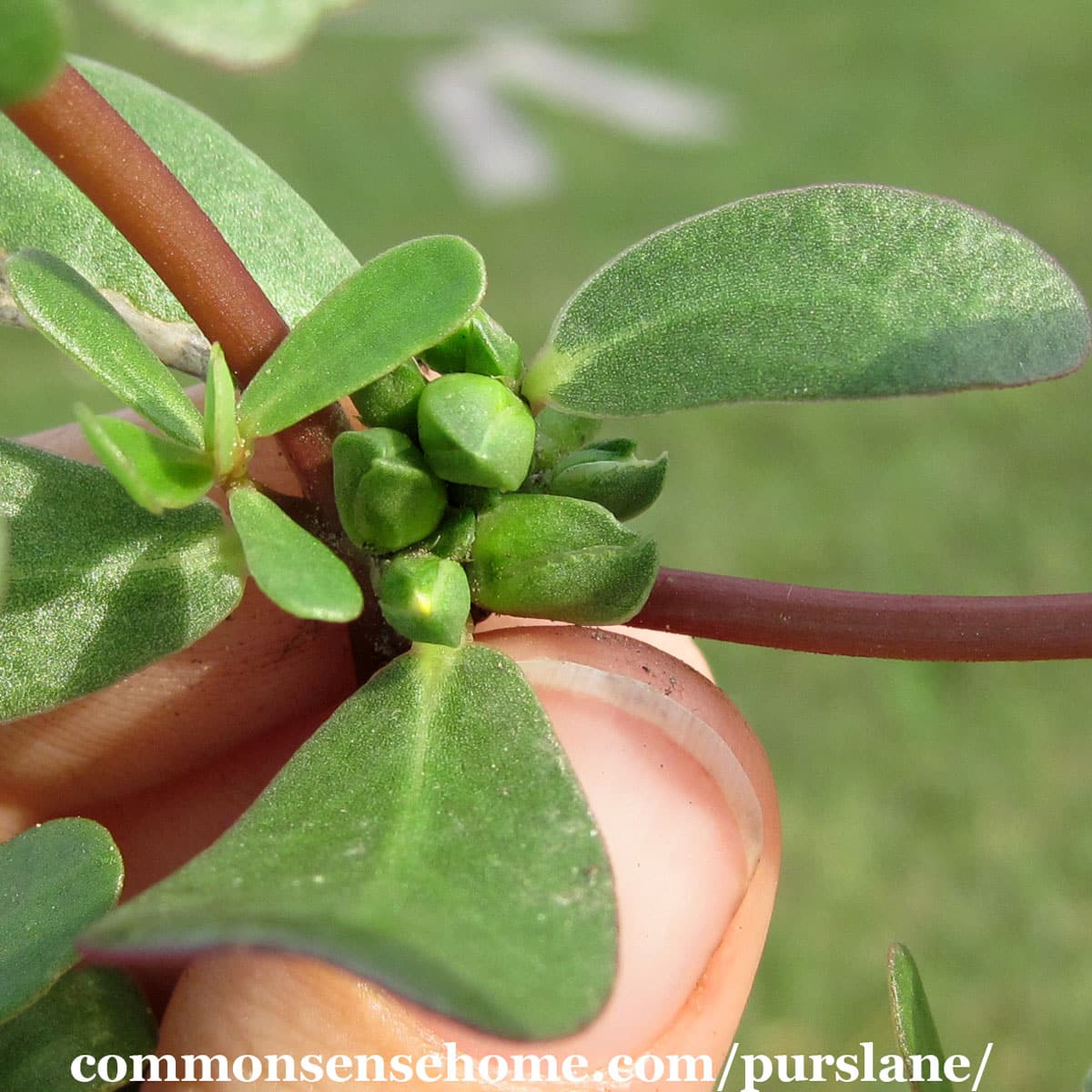 What Part of Purslane is Edible?
Purslane leaves, flowers, stems and seeds are edible. Eat it when young, as the stems toughen with age. It has a mild sour and salty taste that blends well in most salads.
Cooked purslane is mucilaginous, like okra. Don't overcook, or it may get a slimy texture. Purslane seeds can be ground into flour or boiled and made into porridge.
Try the young leaves and stems in juice blends, salads, stir fries, soups and regional dishes.
Nutrition
Purslane is a rich source of magnesium, calcium, iron, riboflavin, potassium, phosphorous and manganese. (See USDA food data)
It's very high in vitamins A, C and E. It's also a source of omega-3 fatty acids, with 300-400 mg per cup, and has more beta carotene than carrots (seven times more).
It does have fairly high levels of oxalic acid, so it's best not to consume in large quantities daily.
Always exercise caution when using any wild plants and make sure you have positively identified the plant.
This cucumber purslane yogurt salad plays with the flavors of tzatziki. The yogurt reduces the amount of oxylates, improving digestion.
Cucumber Purslane Yogurt salad
5 large cucumber, peeled, seeded and cut into quarter-round slices
1/4 pound purslane, large stems removed, washed and drained well
2 tablespoons each, fresh chopped mint, cilantro and chervil
4 cups whole milk yogurt
1/4 cup virgin olive oil
3 cloves garlic, finely chopped
2 teaspoon ground coriander
kosher salt and ground black pepper, to taste
Place the cucumber, purslane and herbs into a large bowl. In another bowl, stir together the yogurt, olive oil and garlic, coriander, and season to taste with salt.
Add the yogurt mixture to the vegetables and mix well. Add a pinch of ground black pepper. Taste the dressed salad for seasoning, adding a little more salt if needed. Serve chilled.
Food for Animals
A variety of wildlife enjoy purslane. Pollinators visit the flowers, birds and rodents eat the seeds, and herbivores munch on the leaves.
It's is safe for livestock, such as chickens, as part of a mixed diet. A "purslane only" diet can be toxic due to the oxalic acid content.
Someone tried to raise goats exclusively on purslane and killed them. You can have too much of a good thing.
Health Benefits of Purslane
The study: "Purslane Weed (Portulaca oleracea): A Prospective Plant Source of Nutrition, Omega-3 Fatty Acid, and Antioxidant Attributes" notes that purslane:
may offer protection against heart disease, cancers, and a number of chronic diseases and conditions throughout the human life.
is a very good source of alpha-linolenic acid – 5 times more than spinach. Alpha-linolenic is an omega-3 fatty acid which plays an important role in human growth and development and in preventing diseases.
is rich in vitamin A, which is a natural antioxidant. It can play role in vision healthy mucus membranes and to protect from lung and oral cavity cancer. Purslane contains the highest content of vitamin A among green leafy vegetables.
Drugs.com states that no contraindications have been identified.
This site is for general informational only, and it not meant to replace the advice of a healthcare provider.
Purslane as a Companion Plant
In the book, "Weeds: Guardians of the Soil", the author talked about how the corn grew better where the purslane and poorly where there was no purslane.
This led me to try it as a regular companion plant in the garden. When it volunteers, I let it spread between garden plants to protect the soil.
Vine crops like cucumbers crawl over the top of it. Taller crops like corn or peppers eventually shade it out. It's easy to trim or pull as needed.
Once you pull a plant, seeds continue to ripen. Plant segments may also grow new roots. If you want to get rid of it, pull it before it gets to seed stage.
How to Get Rid of Purslane
It's been brought to my attention that not everyone appreciates purslane as much as we do. Specifically, some folks are upset about purslane taking over the garden.
In our garden, we used to have purslane all over, which prompted me to use it as a companion plant. Now, I only get a few plants here and there.
What changed?
The garden is still in the same location, and the seeds can hang out for years in the soil waiting to grow.
The difference is in the soil.
In the book, "Weeds: Control Without Poisons", the author notes that, "Calcium and phosphate levels are always low in purslane territory."
He gets into further discussion about cation balance, and an excess of potassium and magnesium. Purslane like dry soils, too, and recent years have been wet. Finally, compacted soils can also increase the problem.
Add some gypsum to your garden for calcium, and rock phosphate for phosphate. Use compost and other organic materials to build the soil. Over time, your purslane problems will disappear.
Learn to Use Your Weeds
This post is #28 in the Weekly Weeder series, which is devoted to helping you use and manage wild plants.
Other posts in the series include:
Recommended Wildcrafting Reference Books – Weekly Weeder #1
Stinging Nettle – One of Most Useful Wild Plants – Weekly Weeder #16
Marvelous Milkweed – Answers to 21 Common Questions About this Useful Plant – Weekly Weeder #10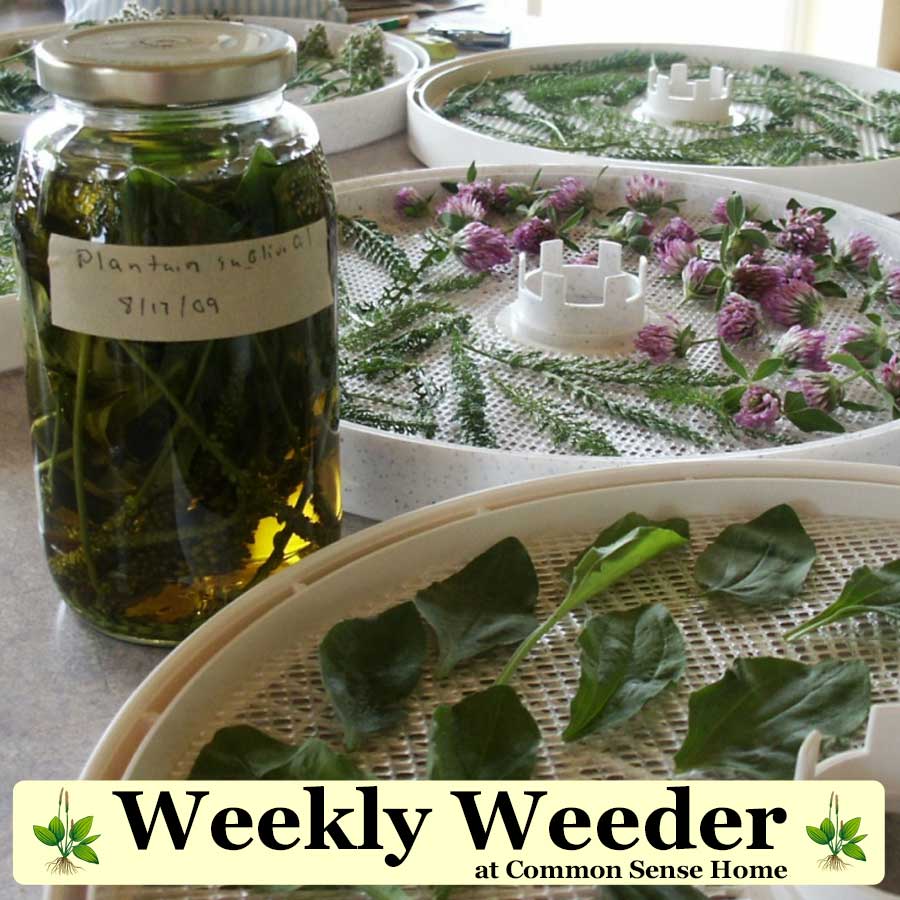 Originally published in 2012, last updated in 2020.