Curly Dock – Weekly Weeder #32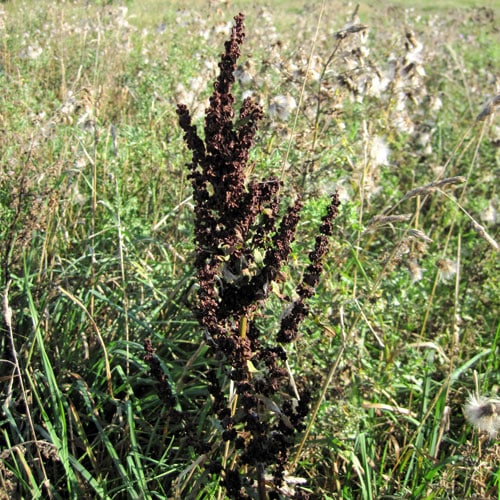 Today's featured plant is Curly Dock, Rumex crispus.
Curly dock is also known as yellow dock, narrowleaf dock, sour dock, yaller dock, curled dock, Bitter Dock, Bloodwort, Coffee-weed, Garden-patience, Narrowdock, Out-sting and Winter Dock. (source) It is a member of the buckwheat family, Polygonaceae. (source)
Range and Identification of Curly Dock
Curly dock is native to Europe and Western Asia. It can now be found throughout most of North America and most of the temperate world, well into the arctic regions (see map).
I have seen the plant identified as both a perennial and a biennial, but have observed that in my area it acts as a biennial, taking two years to set seed. During the first year, it forms a basal rosette of dark green, long, wavy leaves and large tap root. In the second year, it shoots up the distinctive flower stalk (top photo).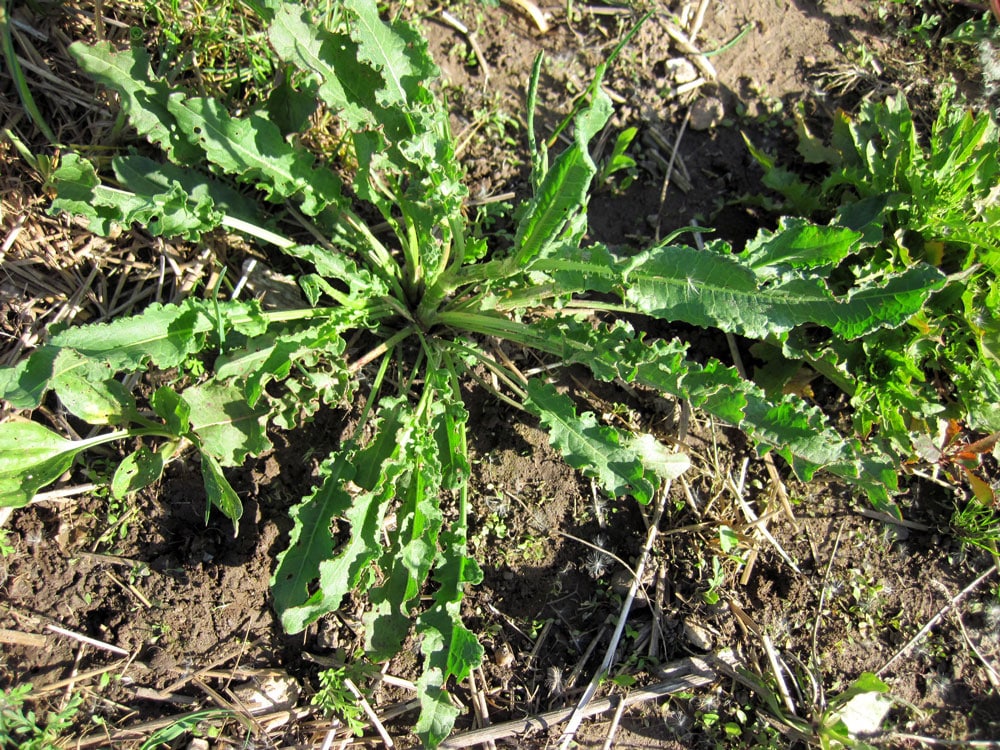 The plant itself ranges from 1′-5′ at maturity, depending on growing conditions (most I've seen have been under three feet). It prefers disturbed soils in full sun, tolerating a range of moisture levels and conditions from dry to moist, clay to gravel, and just about anything in between. I had some beautiful roots two years ago in a new garden bed that was low lying and had been sitting wet for much of the season. The potatoes rotted, but the dock loved it. You'll find curly dock in gardens, fields, along roadsides and stream beds, railroad tracks, vacant lots – pretty much anywhere "weedy".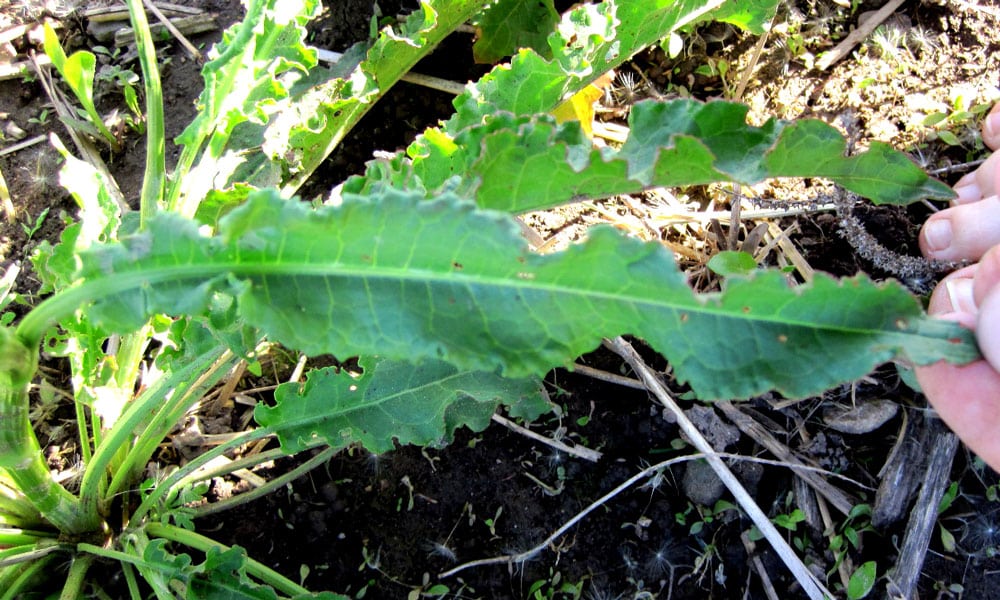 The leaves of the curly dock are indeed curly, and tend to be long and narrow, although in rich, moist soil I have seen them shorter and wider. They can grow up to 2 feet long and 3 1/2 inches across, but most are smaller. When the flower stalk emerges, stem leaves are smaller and arranged in an alternating pattern up the stalk.
Curly dock flower stalks emerge in late spring and form spirals of blooms at the top of the plant. They are mostly green and don't smell like flowers, just "planty". When mature, they turn brown and are covered with papery sheathes that are triangular or heart shaped. Each plant may produce as many as 40,000 seeds, which stay viable in the soil for decades. (Don't let this seed out in the garden.) The plant typically reproduces via these abundant seeds, which are often transported by animals as their papery husks will stick in fur, but can regrow from the roots.
Curly Dock for Food and Medicine
Illinois Wildflowers shares how animals use curly dock:
Few insects visit the flowers because they are wind-pollinated. The foliage and other parts of Rumex spp. (Docks) are eaten by the caterpillars of Lycaena spp. (Copper Butterflies) and various species of moths (see Moth Table). In particular, the caterpillars of Lycaena phlaeas americana (American Copper) occasionally feed on the foliage of Curly Dock, although they prefer Rumex acetosella (Sheep Sorrel). Various upland gamebirds and granivorous songbirds eat the seeds of Docks, particularly during the winter (see Bird Table). Meadow Voles eat the foliage, while White-Footed Mice eat the seeds. Other mammalian herbivores, however, tend to shun the foliage of Docks because of its bitter taste and mild toxicity. The foliage can be high in nitrates and oxalates.
Voyageurcountry.com states that curly dock is good as human food, too:
The primary human use of this plant is for food. The leaves, stalk, and even seeds are edible. The leaves have a slightly sour flavor and are collected in the early spring. Leaves are served as a raw vegetable in salads, a cooked vegetable or added to soups. Baking the leaves isn't recommended because they turn gooey. Be sure to wash the very young leaves before eating them because they contain chrysophanic acid that can irritate and numb your tongue. The leaves become bitter by mid-spring which is when the flower stalk is collected. Peel off the tough outer layer and then eat the stalk raw or boil it for a few minutes to soften. The seeds are collected when they are dry to the touch and then ground to create flour, which has a flavor similar to buckwheat.

Curly dock is surprisingly nutritious and can easily compete with known vegetables in terms of nutrition.
"Curled dock is high in fiber and has more vitamin A in its leaves than an equal amount of carrots: 12,900 I.U. of Vitamin A for a 100 gram portion. This portion contains 2 grams of protein, 119 milligrams of vitamin C, and only 28 calories (Plantworks page 79)."

When compared to spinach, curly dock has "… 1/3 more protein, iron, calcium, potassium, beta carotene and phosphorus." Plus, it has "… more than double the vitamin C (Steve Brill book p238)." The roots provide the consumer with potassium, manganese, and a lot of iron.

Sources: Peterson Wildflower guide, Plantworks, Wildman Steve Brill's Edible book, History and Folklore of N.A. Wildflowers.
They also mention that the seeds were once roasted an used as a coffee substitute. The leaves are high in oxalic acid and nitrates, so it's probably best to eat this one in moderation.
The root is most commonly used medicinally, and it is harvested in late summer or fall from plants that have not produced a flower stalk. The root should be cleaned and split before drying. It contains anthroquinone glycosides and tannins as the active constituents (Holistic Herbal). It has been used for many ailments, including skin conditions such as psoriasis, constipation, venereal disease, emphysema, jaundice due to gall bladder problems and much more. It's such a popular remedy, you can even find it sold in capsule form.
As always, any medical information is for informational purposes only. Always exercise caution when using any wild plants and make sure you have positively identified the plant.
Please Like, Pin or otherwise share this post if you would like the Weekly Weeder series to continue.