Blue Eyed Grass – Sisyrinchium montanum – Weekly Weeder #48
Blue eyed grass is a perennial wildflower that looks like grass, but is actually a member of the iris family. We'll share where to find it in the wild, growing tips for your garden, and historical uses.
Blue-Eyed Grass, Sisyrinchium montanum
There are over 40 species of blue-eyed grass in North America, and they look somewhat similar to each other. Sisyrinchium montanum is also known as common, strict, mountain, little, little common, alpine, and northern blue eyed grass, or star grass.
This "grass" is not really a grass at all, but a type of beautiful, delicate iris. Some of the Sisyrinchium species are endangered, but these lovelies are not. Sisyrinchium angustifolium is another widespread species.
Blue-Eyed Grass Native Range
The Sisyrinchium species are native to the Americas. Strict blue-eyed grass grows throughout most of Canada and the northern half of the United States, down through the central part of the U.S. into Texas.
They prefer moist, well drained soil (but will tolerate drought), with full sun, part shade, or full shade. You can find blue-eyed grass along roadsides, and in meadows and prairies. Or you can cultivate them yourself, with the right growing conditions.
Identification
The plants themselves are small, and their fine leaves easily pass for lawn grass. You can see a little bit of darker brown color at the base of the plant in this photo. The flower stems rise up above the foliage – when they don't get run over by the mower.
S. montanum plants can reach 4-20 inches (10-50 cm) tall, like the gorgeous plant featured at the top of the article. My friend, Tami, graciously shared that photo from her flower garden, where she is cultivating a number of native plants.
The delicate, blue star shaped flowers of blue-eyed grass are only 1/2″ (1 cm) across. Each of the six petals on the flower comes to a point at the tip. (There are three true petals, and 3 sepals.) Their bright yellow centers present a striking contrast the the blue petals.
After spring and summer blooms, they set small, round seed pods, which attract birds and other wildlife.
Is Blue Eyed Grass a Perennial?
Yes! As perennials, once established, these plants spread by rhizomes and will come back year after year. They are slow spreading, and tend to grow in clumps. You can divide the plant in late winter or early spring. They also spread via seed.
How to Grow Blue Eyed Grass in the Garden
As a prairie native, this wildflower tolerates a wide range of growing conditions. It's perfect for cottage gardens, wildflower plantings, along pathways, or even in rock gardens with moderately fertile soil.
Flowers are most abundant if the plant is growing in full sun, with abundant spring and early summer moisture. If soil is too rich, the plants get tall and lanky. Divide the plants every 2-3 years to keep them growing vigorously.
To prevent self-sowing, clip off the flower heads, but allow the grassy foliage to grow to put energy back into the roots. If you want to start plants from seed, sow them in fall for natural stratification.
Alternatively, you can moist stratify them in the refrigerator for 6 weeks and sow under cool conditions (50-60℉). They should germinate in 1-2 weeks.
Blue eyed grass attracts birds (with the seed heads), and pollinators such as bees and butterflies. Pair the plants with other native prairie plants, such as butterfly weed (Asclepias tuberosa), prairie smoke (Geum triflorum) and blazing star (Liatris spp.).
Medicinal Uses
Edible & Medicinal Wild Plants of Minnesota & Wisconsin notes that Sisyrinchium species have a long history of medicinal use. They're an Appalachian folk medicine for fever and chills, and were used by Native American tribes for a wide variety of ailments, including:
Easing Hayfever
Encouraging regular bowel movements
Quelling Diarrhea
Treating intestinal worms and stomach ache
Montana Plant Life indicates that blue eyed grass leaves are edible when cooked.
This article is for general information only. Always exercise caution when using any wild plants and make sure you have positively identified the plant. Although rare, sometimes allergic reactions can happen, as will any food item or new substance you encounter.
Please Like, Pin or otherwise share this post if you would like the Weekly Weeder series to continue.
You may also enjoy other posts in the Weekly Weeder series.
More Herbal Resources
This post is #48 in the Weekly Weeder series. Other posts in the series include:
For more in depth plant studies, consider The Herbal Academy. The Herbarium is a great place for research, plus they have online courses from beginner to advanced.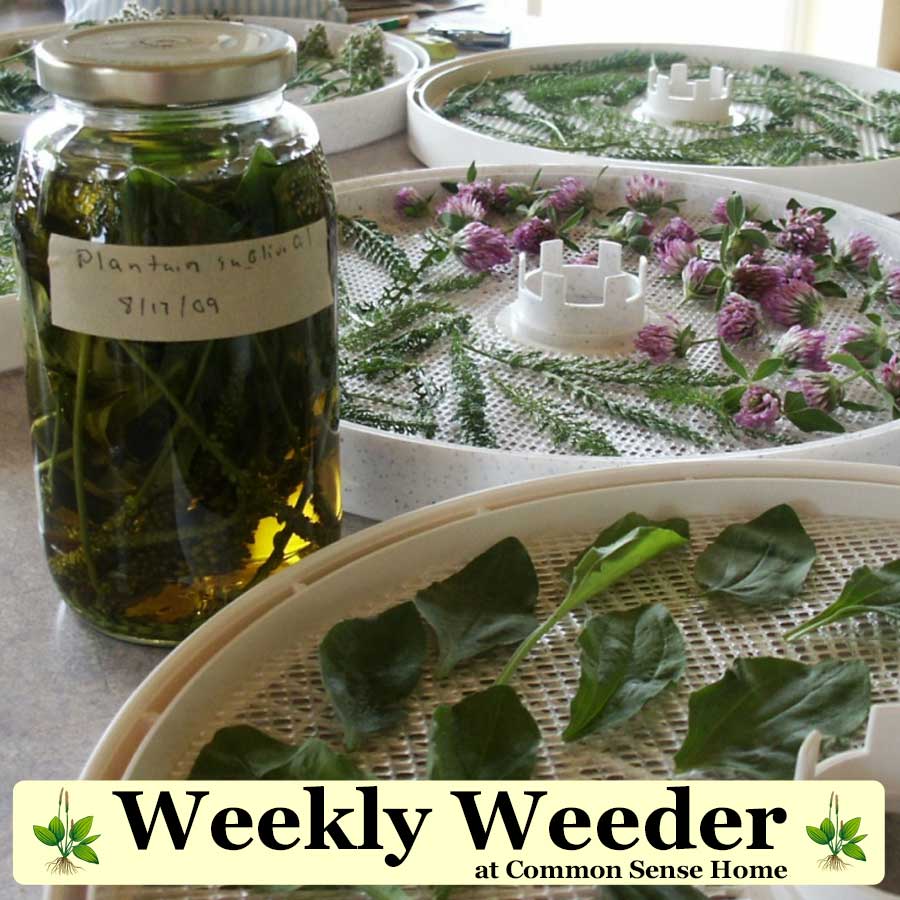 Originally posted in 2014, last updated in 2021.