5 Tips to Grow Big Broccoli Heads
After sharing some photos of my broccoli harvest on Facebook, I received the following request. "An article with tips to get big broccoli would be most appreciated! I have big beautiful plants and itty bitty broccoli." After growing broccoli for many years, I've probably made every broccoli growing mistake in the book, so I may now qualify for Broccoli Growing Expert Status. 😉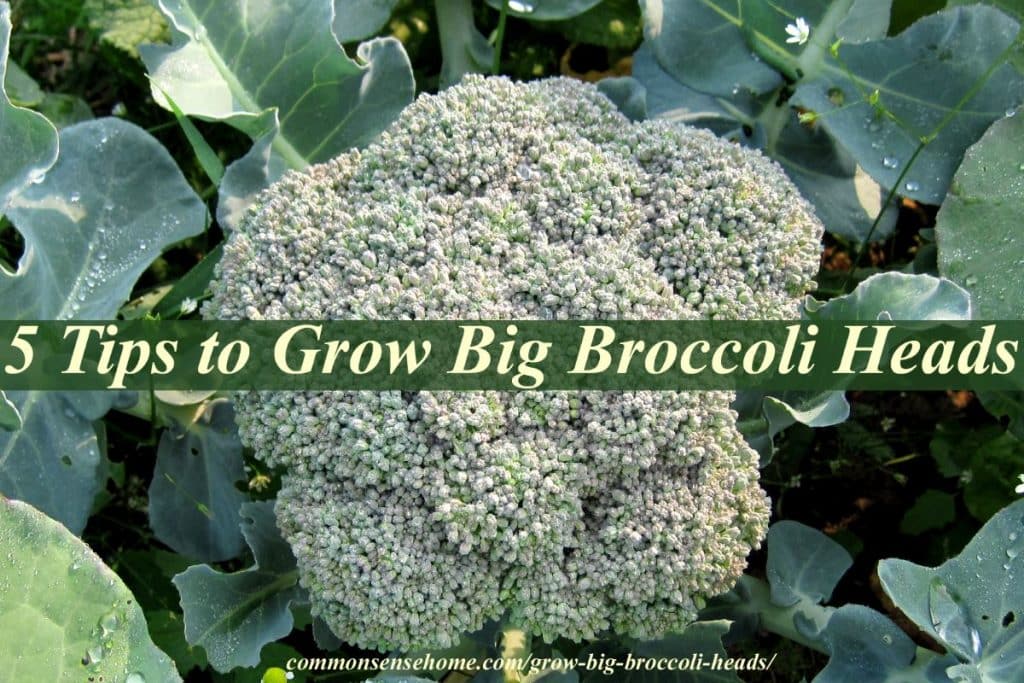 We'll start off with some broccoli growing basics, share some tips to get nice, big broccoli heads, and finally wrap up with troubleshooting tips for misbehaving broccoli.
How to Grow Broccoli
When to Plant Broccoli
Broccoli likes cool weather, but not really cold weather (we'll get to that in a bit). As noted on my printable seed starting calendar, seedlings should be started inside 4-6 weeks before the last spring frost. Broccoli growers in hot weather climates may have better luck with a fall crop sown inside between mid August to mid September.
Transplant when seedlings are about 3 inches (7.5 cm) tall, roughly one inch (2.5 cm) deeper than they grew in the pots.
Which Broccoli Variety to Grow
This may take some experimenting on your part to find the best broccoli for your area. Mother Earth News describes the four different broccoli types:
Large-headed varieties produce the familiar domed heads that are composed of numerous clustered florets. Many large-headed varieties produce smaller side shoots after the primary head is harvested.

Sprouting varieties grow into bushier plants that produce numerous small heads. These varieties are at their best when grown from fall to spring in mild winter climates.

Romanesco varieties produce elegantly swirled heads composed of symmetrically pointed spirals. These large plants need plenty of space, excellent soil and good growing conditions to do well.

Broccoli raab is grown for its immature flower buds, which have a stronger flavor than regular broccoli. Broccoli raab (closely related to turnips) is popular in Asian and Italian cooking.
If you're buying seedlings from a nursery, you will likely get something labels "broccoli" that will hopefully be a good variety for your area. If you're making your own selections from a seed catalog, note Days to Maturity and growing habits. Most listings will state whether the variety is known for producing a large head, abundant sprouts or both.
My favorite variety to date for here in the upper Midwest is Nutribud, which features a large center head and abundant side sprouts. Most years, I can keep picking from midsummer to frost off of one planting, although often as the season goes on I start allowing some plants to flower, because they are one of the few flowers available for the bees after hard frost.
Growing Requirements of Broccoli
Broccoli prefers a neutral pH – 6.5 to 7.5 preferred, down to 6.0 okay – Add some garden lime or crushed oyster shells to boost pH if your soil is acidic
Soil temperature should be 60-65F (16-18C) (You can check your soil temperature with a soil thermometer.)
Broccoli Requires Rich Soil! I think it may be impossible to overfeed broccoli, especially when it comes to nitrogen.
Space Plants Roughly 18 inches (40 cm) Apart – I prefer to plant in wide rows with a staggered pattern – 2 plants, 1 plant, 2 plants, 1 plant, and so on, and then leave a 12 inch (30 cm) space between the wide rows.
In the photo below I have part of my broccoli, cauliflower and cabbage bed. The black "X"s mark the grid of the cauliflower plants. The broccoli is to the left at the edge of the photo. In between the broccoli and cauliflower I pop in companion plants like calendula and alyssum. Along the edge of the cauliflower there is also a row of onions. It's a little weedy and wild here, but still productive.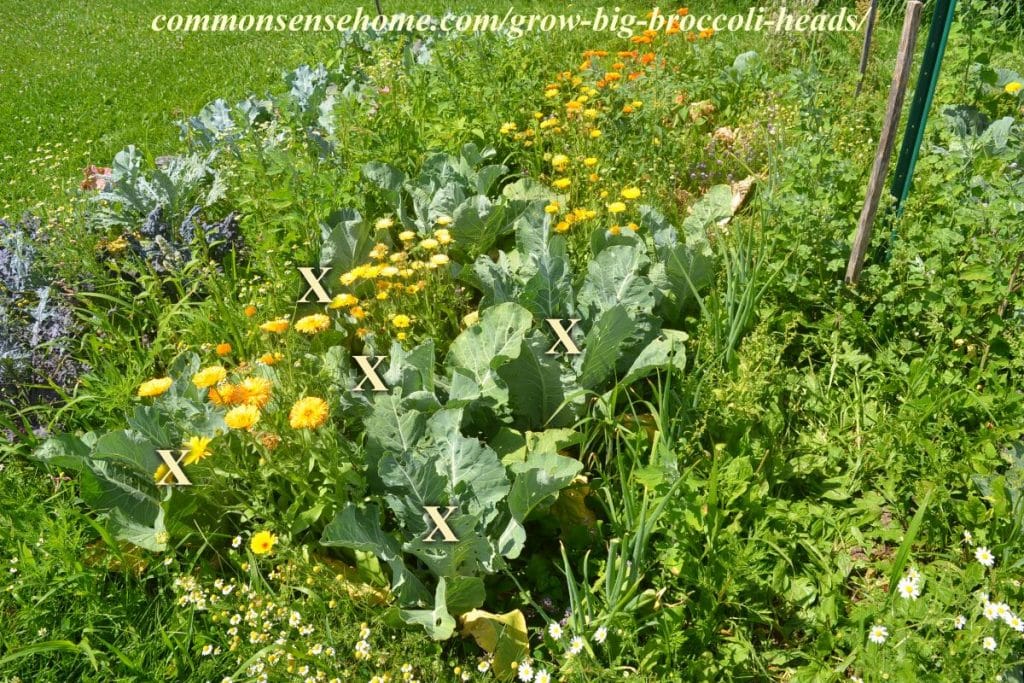 Full sun is preferred for best yield, although the plants will tolerate partial shade, especially in warmer climates.
Good Companion Plants for Broccoli: Bush bean, beet, carrot, celery, chard, cucumber, dill*, lettuce, mint*, nasturtium, onion family*, oregano, potato, rosemary, sage, spinach, tomato
*Note: Strong scented herbs such as dill may deter cabbage butterflies, reducing the incidence of green cabbage worms on your broccoli.
Bad Companion Plants for Broccoli: Pole and snap beans, strawberry
5 Tips to Grow Big Broccoli Heads
1. Fertilize, Fertilize, Fertilize
Work plenty of rotten manure, some blood meal or cottonseed meal into the soil before planting, and consider watering with fish emulsion or other organic fertilizers every three to four weeks during the growing season.
2. Make Sure Your Broccoli Gets Enough Water
Rainwater is best, but if rains fail, your broccoli needs 1 to 1.5 inches of water each week. In my garden this year we are roughly 5 inches short on rain for the season. Although I have watered some, I can tell the difference in the smaller broccoli head size.
3. Mulch Your Broccoli Well
2-3 inches of organic mulch such as grass clippings, finely ground leaves or straw helps to keep the soil from overheating, which is important because heat will cause broccoli to bolt (send up flower stalks).
*Note that in cool areas with a lot of moisture, the opposite treatment may be needed. Excessive moisture can lead to booming slug populations. When we are waterlogged, I skip the mulch and spread the area under the plants with crushed eggshells to keep the slugs in check. In very cool areas, black plastic or black landscape fabric under the plants may be helpful to bring the soil up to temp.
4. Consider Adding Boron
Cole crops such as broccoli, cabbage, cauliflower, kale and kohlrabi benefit from significant amounts of boron. If your soil is very acid or alkaline, boron is less bio-available plants.
Gardening Know How notes:
The first signs of boron deficiency in plants shows in the new growth. Leaves will yellow and growing tips will wither.

…

If you suspect a boron deficiency problem with your plants, a dose of boric acid (1/4 cup to 2 gallons of water) used as a foliar spray will do the job. Be careful as you use boron on plants. Again, heavy boron soil concentrations are toxic.
Boric acid is another name for the common household cleaner Borax, which you may be able to find in the laundry aisle.
5. Pick the Right Variety of Broccoli
As I mentioned above, broccoli can be found with different types of growth habits. You need to find the right variety for your area are production preferences.
I've stopped attempting to grow Romanesco types, because they require a very long season of mid-range temperatures. I tried growing them for three years, and only one year out of the three did I get decent sized heads. The plants are also ginourmous. I'd rather grow a monster head of cabbage than a huge mass of leaves with a modest head of broccoli in roughly the same space.
I also avoid broccoli raab, because we have a high sulfur content in our soil and even normally "mild" cole family crops tend to be quite pungent. Given that raab is already known for its strong flavor, I suspect it'd be nearly inedible grown here.
Some of the broccoli varieties recommended for large heads on the gardenwebs forums include:
Green Goliath
Superdome
Everest
Galleon
Early Dividend
Blue Wind
Southern Comet
Packman
Belstar
Arcadia
Green Magic
Broccoli Troubleshooting Tips
"My broccoli plants are tiny, but they're already forming heads. What happened?"
Broccoli plants like it cool but not cold. According to Bonnie Plants, "If transplants sit exposed to cold below 40 degrees for a week or two, the chilling injury triggers heads to form way too early."
If your small broccoli plant is already making a head of broccoli, you're not likely to ever get a large head of broccoli from that plant. Consider it a learning year and try again.
"My broccoli plants were big and healthy, but they never formed a head of broccoli."
Your broccoli may have gone blind. Seriously – as strange as it sounds, broccoli blindness is a real thing. If the growing tip of the broccoli is injured via rough handling, insects or weather, a head may not form.
"My broccoli has small yellow flowers. When will the heads form?"
Alas, the broccoli head ship has sailed. Once you see flowers, your broccoli head, even if it was very tiny, is already going to seed. You can still eat the broccoli once it is starting to flower, but the flavor and texture of the broccoli are better when the buds are nice and tight. A head of broccoli is just a big old cluster of tightly packed flower buds, and that broccoli plant wants to flower and produce seeds if you give it a chance.
Hot weather is likely the cause of your broccoli flowers. Once it gets above 80 F (26.7C), plants can bolt very quickly. Pick all heads and side shoots promptly, even if they are small.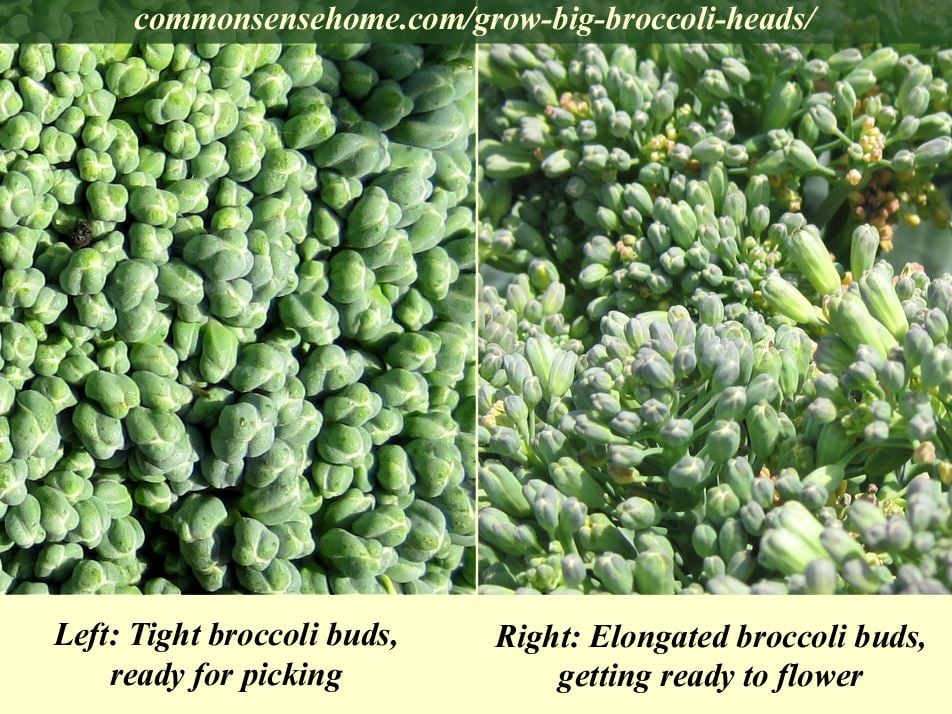 "My broccoli stalks are hollow, so they collected water when it rained and started rotting. What can I do?"
Remember earlier where I mentioned boron? Hollow stalks mean your soil is lacking in boron. It's too late for the rotting plants, but if you have some broccoli plants that haven't been harvested, you can treat them and it may help prevent more rotten broccoli stems.
"My broccoli is covered in small green worms? How do I get rid of them?"
You have been visited by the infamous cabbage butterfly, whose larva are now devouring your broccoli. As I mentioned in the companion plant section, strong scented herbs may help keep them at bay, but they are not 100% full-proof.
The only sure way to keep cabbage worms off your plants is to isolate the plants under a floating row cover or mesh cages that surround the broccoli plants. We have too much wind for row covers, and my planting area is never the same size twice, so I haven't used these methods, but a friend of mine with a crafty husband has some beautiful custom built broccoli cages covered in window screening. Cages would also work great if you had uniform sized raised beds.
My tactic to minimize cabbage worm damage is to simply fertilize the beejeezus out of the plants and give them lots of TLC so they grow vigorously enough that the worms don't bother them much. There are cabbage butterflies all around, and the larva do nibble some, but I've only had severe infestations in years where the plants were exceptionally stressed due to drought or poor soil conditions, like the year we first broke ground here at our current home.
Some beneficial insects such as wasps will eat the cabbage worms. We also place sticks for bird perches and a bird bath around our cole plants, and have noticed the birds hunting down around the broccoli, cauliflower and cabbage.
Once you've harvested your broccoli, you can use this simple method my mom showed me to remove the worms before serving or preserving, if desired. Read, "The Easiest Way to Get Worms Out of Broccoli". The worms are edible, but I'm not that hungry.
Once you have your broccoli cleaned and ready to use, you may enjoy the following recipes:
I hope this post helps you grow the best broccoli to ever grace your garden. If you have comments or other gardening questions, please share them below and I'll do my best to answer here or in a future post.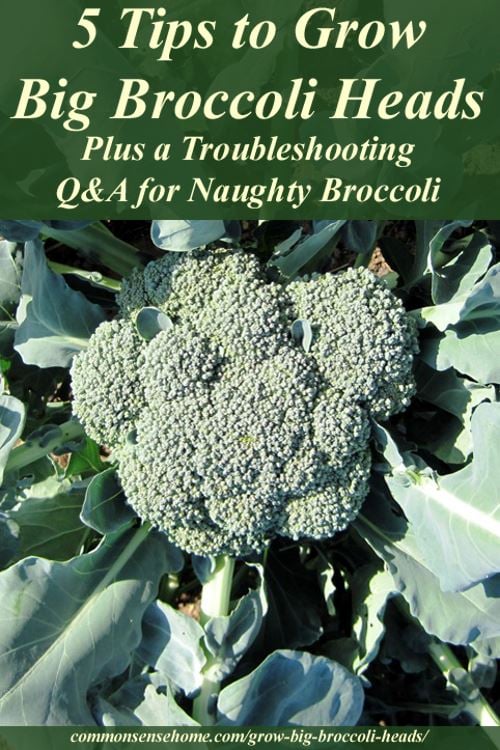 Thanks so much for visiting! Shares and Pins are always appreciated.