Homestead Permaculture Project – Site Overview
Our homestead permaculture project officially began this spring. I've been nibbling at the edges of the idea for some some now, primarily since reading Restoration Agriculture: Real World Permaculture for Farmers.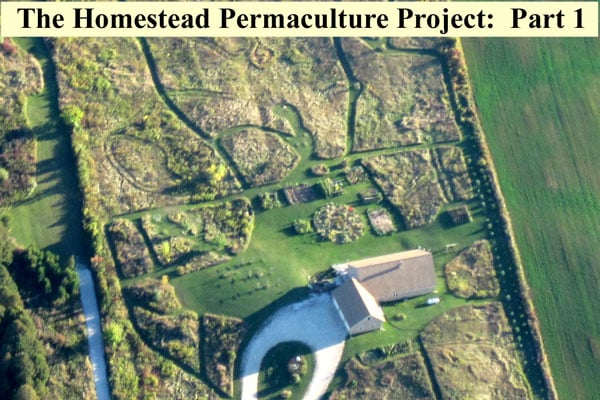 I've always liked the idea of working with nature instead of battling against it, and Mark Shephard's comment (in Restoration Agriculture) that we really need to "stop trying to grow things that don't want to grow and killing things that do want to grow" really struck a cord with me. When we were stuck in limbo not knowing if we were going to have to sell this place or not because August couldn't get a job closer to home (more on that on the About page), it didn't make sense to invest in long term plantings.
Last year he finally got a new job back in the area, but the spring and summer were filled with moving, selling the condo where he'd been living, and adjusting to the new job. This year we're more settled, and the new job looks pretty stable, so it was time. We started pouring through the books and online reference materials, walking our land and looking at site overviews, and drew up a plan for the first series of earth moving and planting this spring. The plan will evolve over the coming years, but like any long term project, establishing a framework to build on is critical to success.
Top Goals of Our Homestead Permaculture Project
First off, for those who aren't familiar with permaculture, I'll give a quick explanation of what permaculture is, courtesy of Bill Mollison, one of the original architect's of the term:
Permaculture is a philosophy of working with, rather than against nature; of protracted and thoughtful observation rather than protracted and thoughtless labor; and of looking at plants and animals in all their functions, rather than treating any area as a single product system.
Now that we've lived on our land for a while, we've gotten a much better feel for what works here and what doesn't, and our movement patterns around the home and homestead. We used the observations to help set up our goals.
Create a series of windbreaks to develop protected microclimates.
Plant or encourage the growth of crops that can be harvested for food, fodder, medicine and other uses.
Develop habitat for pollinators and other wildlife.
Promote soil building, general environmental health and water conservation.
Work to extend the growing season.
Add small livestock to work in combination with the plantings.
Expand the variety of ecosystems by adding a pond.
Permaculture Site Overview
We have 35 acres out in the country, but 25 acres are rented to a neighboring organic farmer. Our home sits in an old abandoned pasture. Below is a topographic map of the area, with the 10 acres the homestead sits in to the right of the image.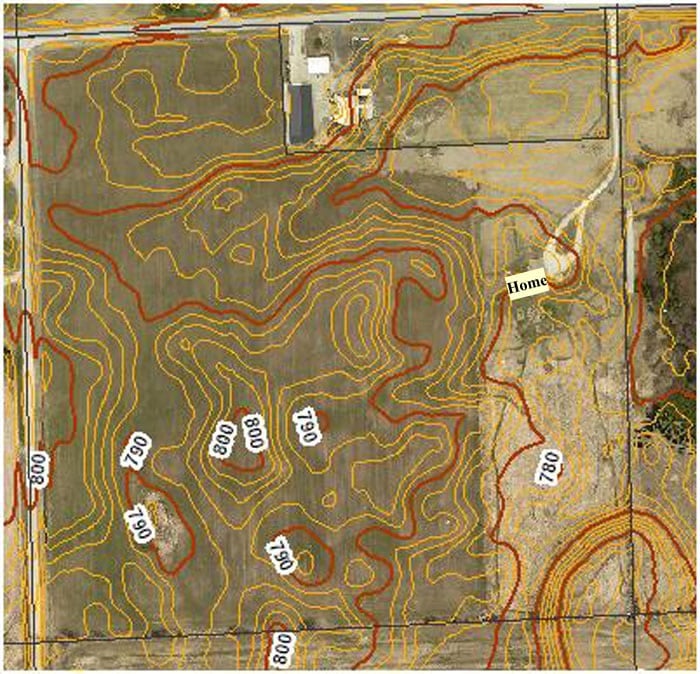 Looking at the site from a permaculture perspective, we divide it roughly into different zones depending of use. These zones are summarized in The Resilient Farm and Homestead:
00 – The human being, physical, mental, and spiritual: body, mind, self. This is the space you occupy every day.

0 – The home shelter; house and kitchen area especially. These are the space you occupy many times each day. In a well-designed homestead, this includes outdoor living space near dwelling.

1 – The most often used landscape areas: vegetable garden, barn, parking areas.

2 – Lesser-used areas that are frequented once to twice a day or so; typically, some staple annual crops such as potatoes; perennials, such as fruit trees and berries; grazing areas; mushroom yards.

3 – Areas frequented a few times a week: typically, grazing paddocks, most orchards, mushroom yards, and nutteries.

4 – The least frequented areas under management: woodlots, some grazing areas, some forest garden zones.

5 – Unmanaged land: "wild". land that is left for observation alone – one visits but does not cut, harvest, or forage in any significant way. Not all or even most sites have a true zone 5.
The north and west winds can be very strong, so the first thing we planted when we moved out here ten years ago was a windbreak of evergreen trees to the north and west. This year we added additional shrubs (Siberian peashrubs and elderberries) to double up protection to the northwest of the house and add protection to the east of the existing treeline where the land is lower and can be a bit wet at times.
We have annually cultivated garden beds to the north and south of the house, and are in the process of putting up a greenhouse to the west of the main garden area to provide season extension and additional wind protection. There are additional patches of brambles, trees and shrubs for food production stretching out from the home. The whole system is knitted together by a series of mowed paths to make it easier to get from point A to point B.
In the image below, I highlight some of the main features of the homestead landscape. This photo was taken last year when grandpa took the boys flying for their birthdays, so it's not up to date, but was the best overview I had available. (Grandpa used to be a pilot.)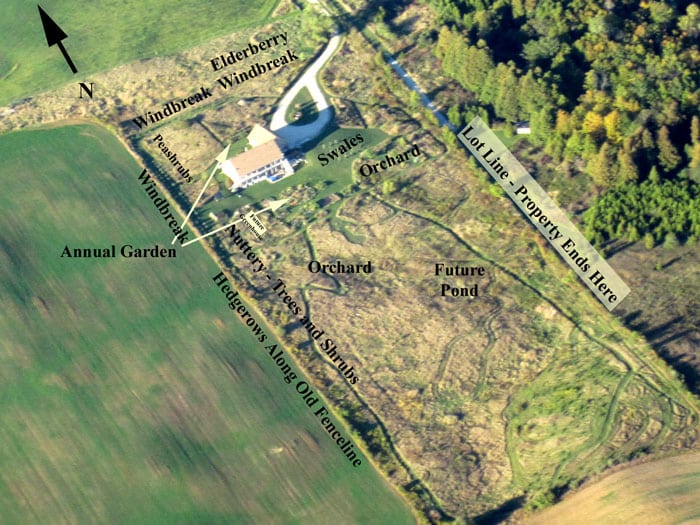 This year we've added over 70 trees and shrubs, including fruits, nuts and nitrogen fixers. I've also been excited to learn that many of the weeds in The Weekly Weeder series also work to improve the soil and act as a very useful parts of a healthy permaculture system. Double bonus for me. 🙂
If you have specific questions about permaculture or our plans, I'd love to hear from you.
You may also enjoy: