No More Broccoli Worms – The Easiest Way to Get Worms Out of Broccoli
Many years ago, when I had my first broccoli harvest from my very own garden, I was talking to my mom about the pesky green broccoli worms hiding in the nooks and crannies. She told me about the simple kitchen trick that she used that might just be the easiest way to get worms out of broccoli. Of course, you can eat the worms. My sister ate one last year on cooked broccoli and said it tasted like broccoli. 🙂 I'm just not that hungry – most of the time. I did fry up some one morning for breakfast with my eggs and broccoli.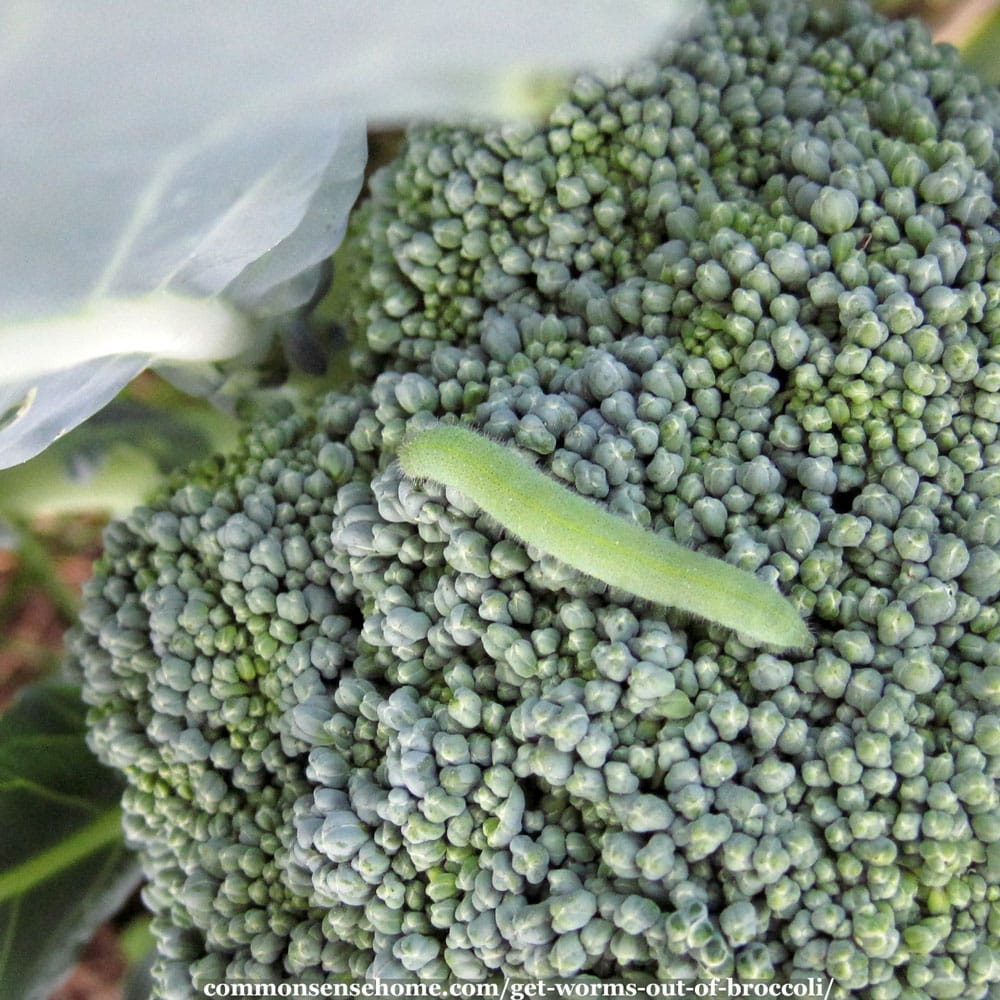 The Easiest Way to Get Worms Out of Broccoli
Here's mom's tip to get worms out of broccoli: Simply fill a basin with hot salt water and dump the broccoli florets in. Let sit around 20 minutes, swishing vigorously with your hand every so often to dislodge the more stubborn unwelcome guests. I don't measure exactly, I just throw about a handful of canning or table salt in my Rubbermaid dish pan. (BTW, this dish pan is really handy for toting dish water and rinse water out to water my flowers. Salt water like this gets dumped on the gravel to kill unwanted weeds.)
Why warm water? When hit with cold temperatures, the natural react is to contract – or potentially hold on tighter. Warm water is relaxing, like a nice little broccoli worm hot tub. They relax, let go, and the salt does its job.
After soaking, drain in a colander and rinse with cold water. Use right away, refrigerate in a sealed container so it doesn't get limp, or process for storage.
My friend, Chris, at Joybilee Farms uses a similar method to get rid of broccoli worms, but she uses cold salt water and adds 2 tablespoons of vinegar.
Soaking the broccoli. The pink canning jars are a batch of pickled beets I just finished.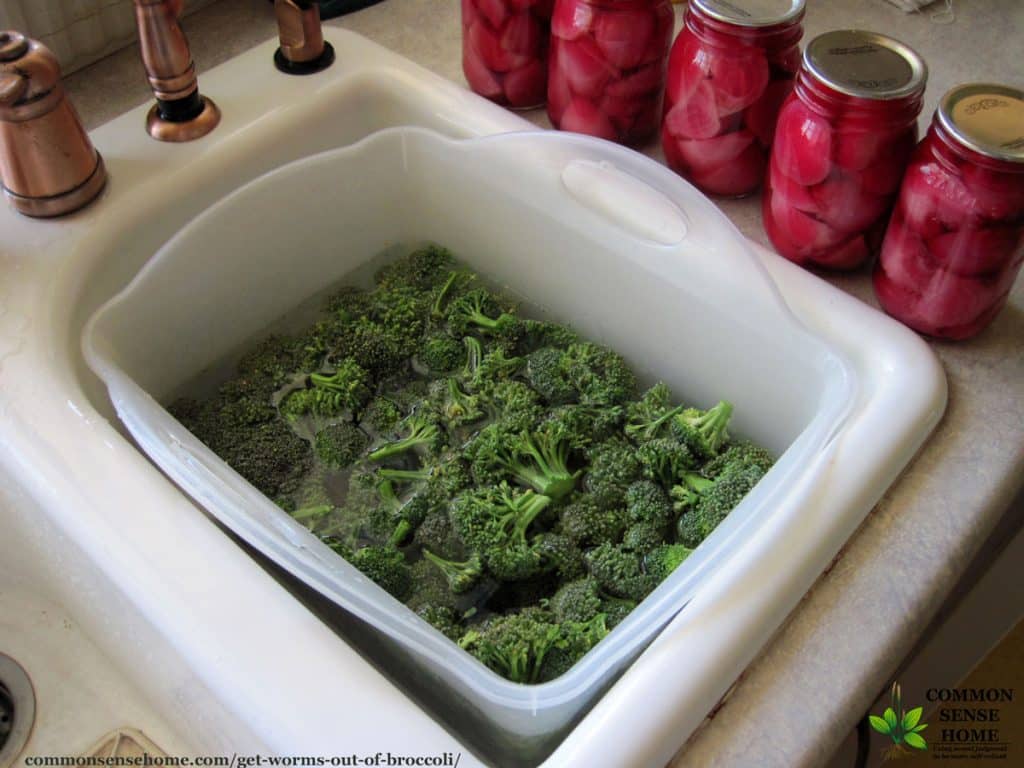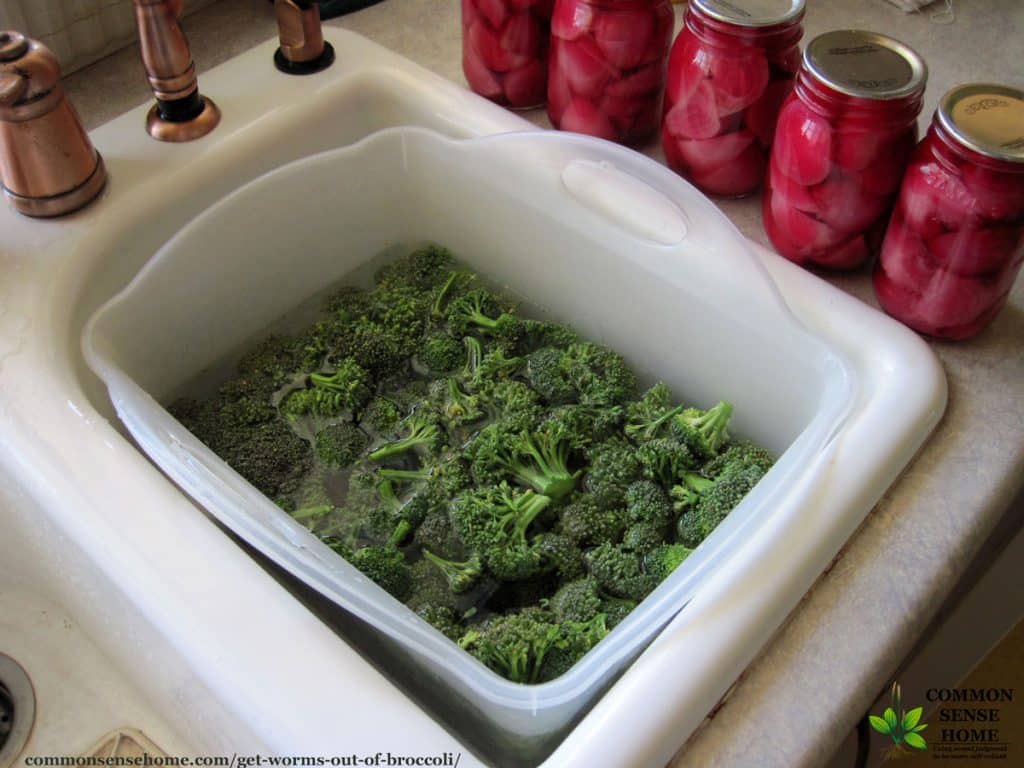 Draining the broccoli in my over the sink strainer.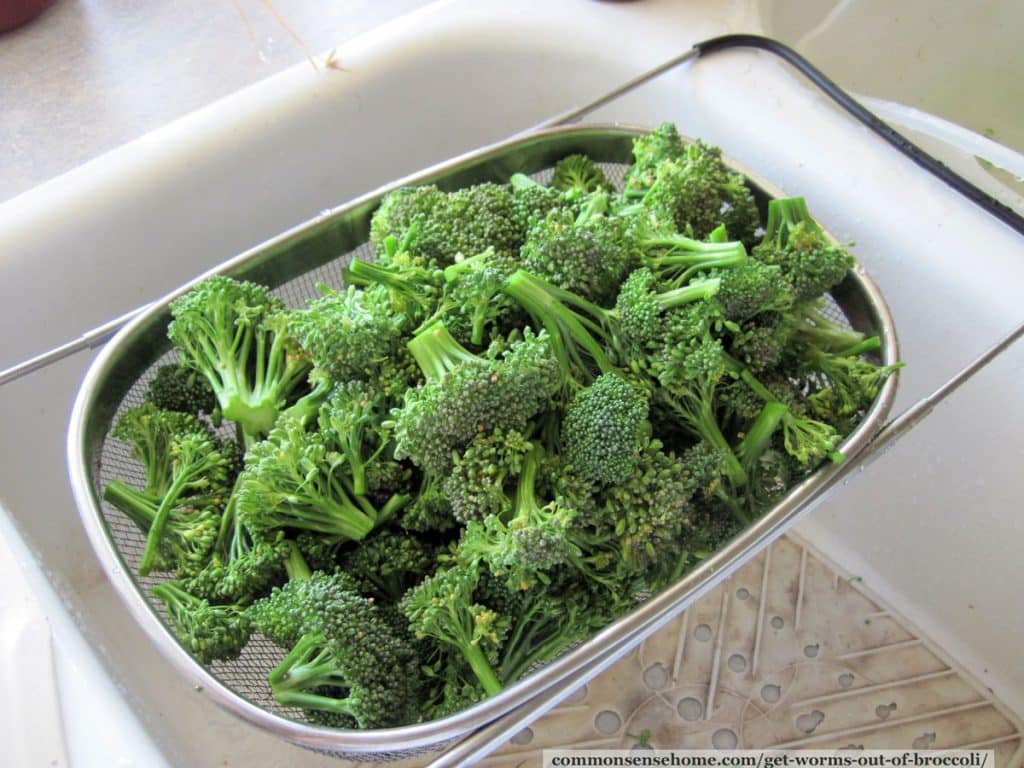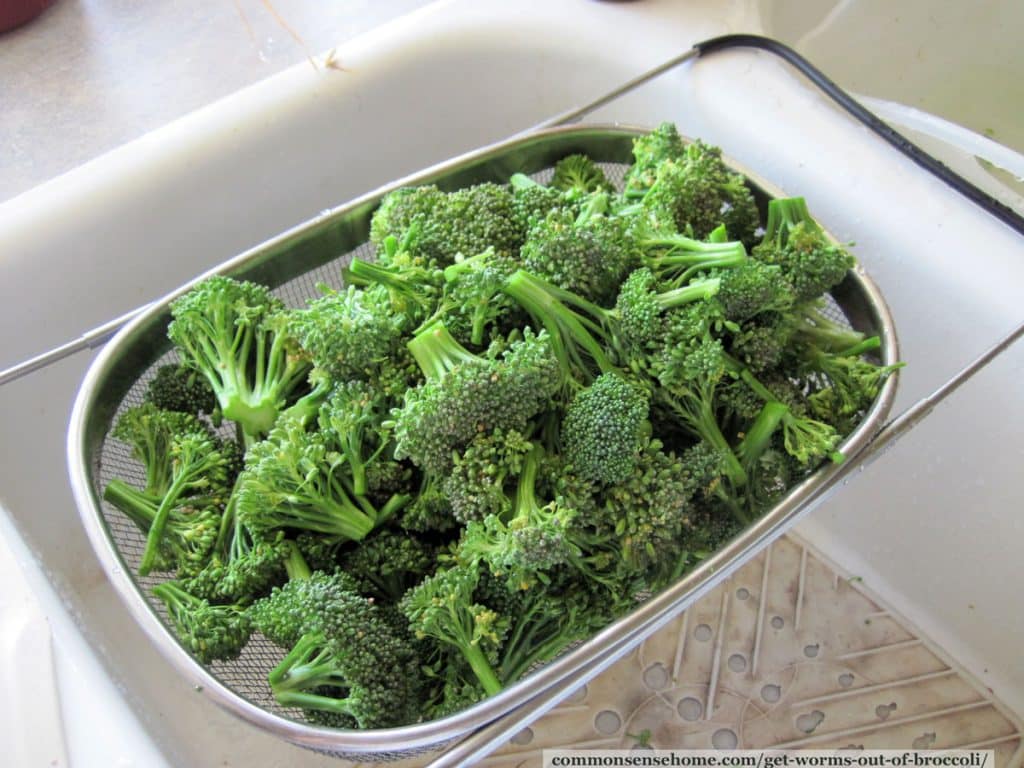 All the worms that used to be hiding in a sink full of broccoli.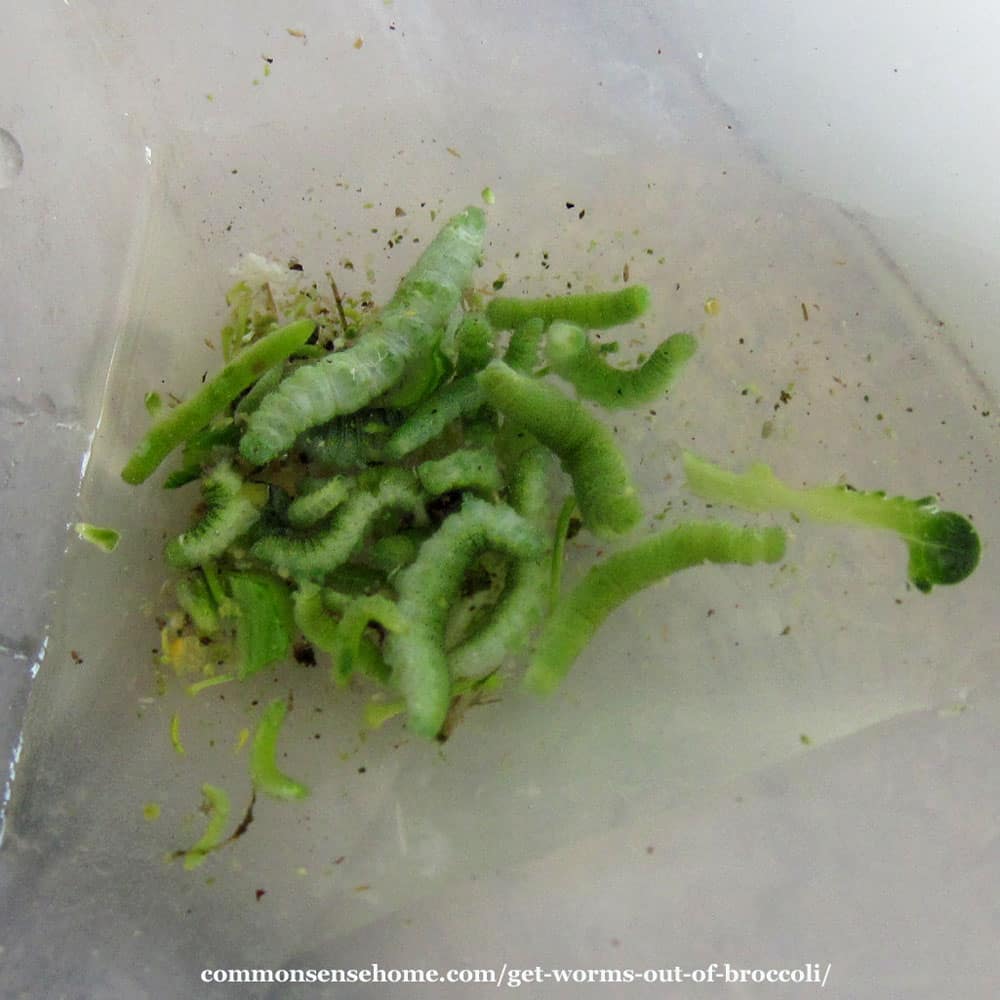 Broccoli Worms in the Garden
I have used Bt (Bacillus thuringiensis) spray in the past to keep the broccoli worms in check in the garden, but reconsidered after researching more about what effects Bt may have on healthy gut bacteria. (You can read more about this in the post, "Would You Feed Your Kids Pesticide Chips?") You can also use a light dusting of diatomaceous earth.
Right now, my worm control tactic is simply to make sure my broccoli and other related crops are in very rich soil with lots of nitrogen and ample water. (You can read more at 5 Tips to Grow Big Broccoli Heads.) Healthy crops are naturally more pest resistant. They get attacked less and can grow fast enough to overcome any damage. Companion plants such as strongly scented flowers (like chamomile) and herbs such as sage and dill can help ward off cabbage butterflies.
I also encourage birds, frogs, toads and beneficial insects in the garden to help with broccoli worm control. I've seen all of these critters hunting in the garden. Below is a yellowjacket removing a cabbage worm from a Red Russian kale plant. You can read more about how to encourage beneficial insects in the the post "The Ulitmate Guide to Natural Pest Control in the Garden".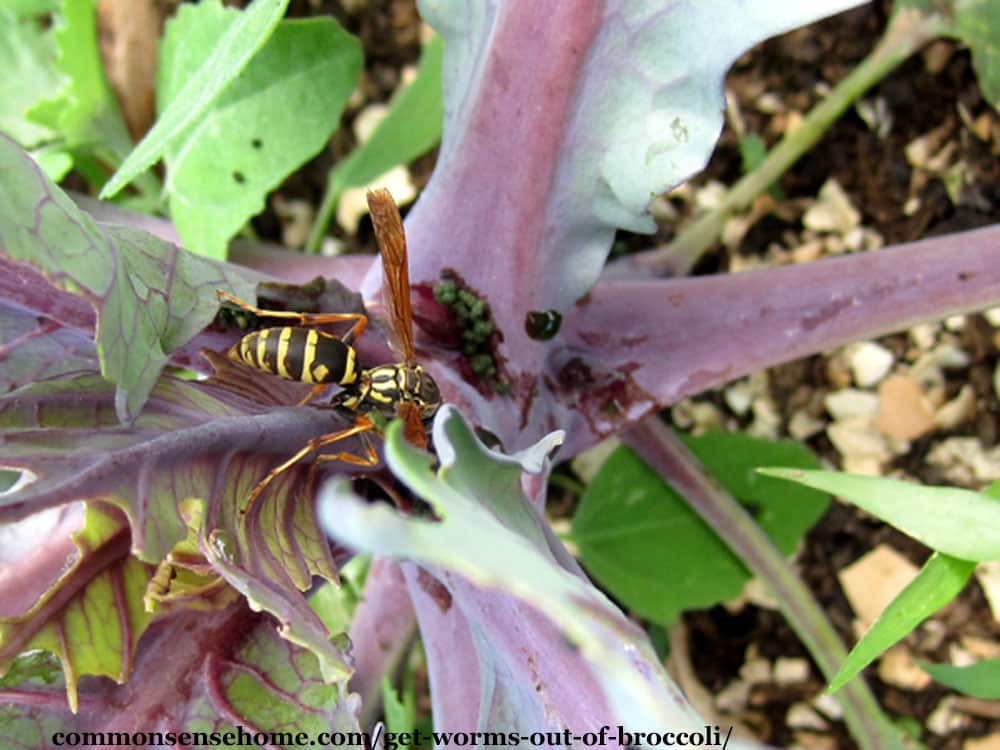 Broccoli Recipes
Once you have your broccoli clean, you may enjoy these recipes:
For more gardening and kitchen tips, sign up for the Common Sense Home Good News Letter on the Subsciption page.
P.S. In the time honored tradition of "crazy things I do as a blogger", to get a good photo of the broccoli and the worm, I grabbed this critter out from where he was hiding underneath and had him strike a pose on the broccoli. If they all hung out on top like this, it would be much easier to get worms out of broccoli. 😉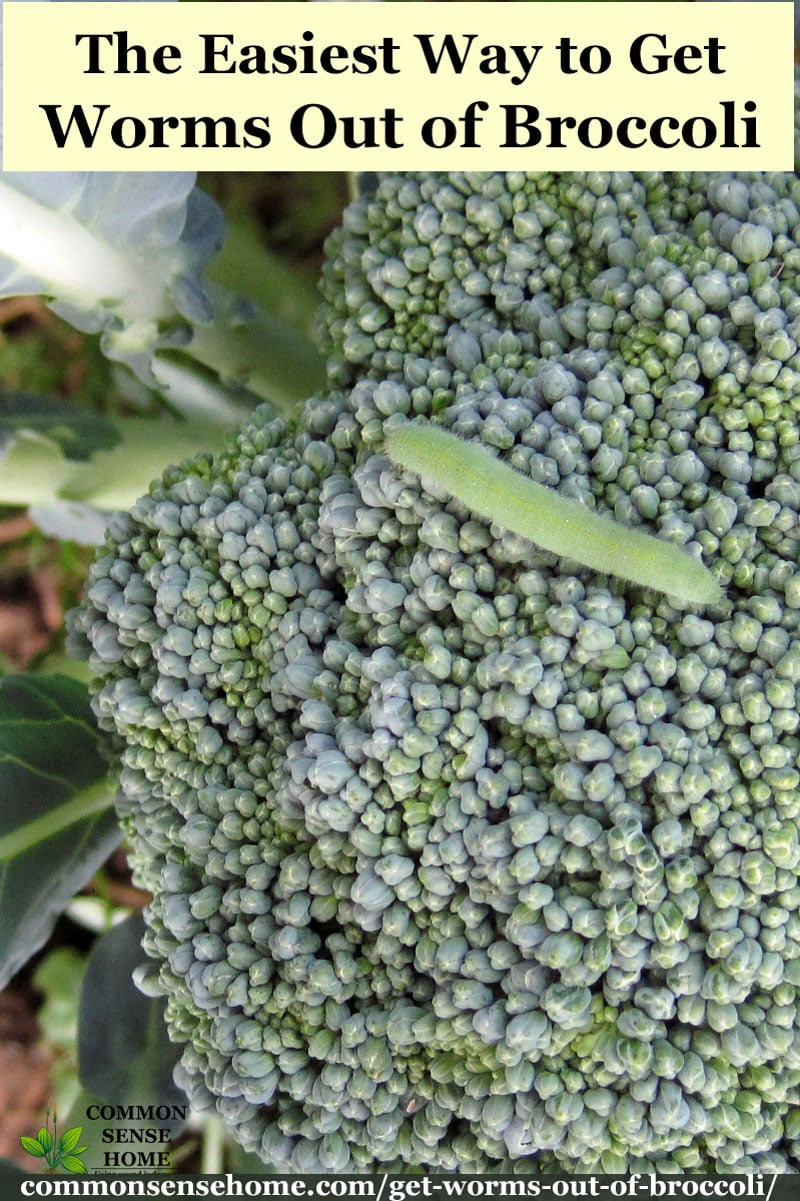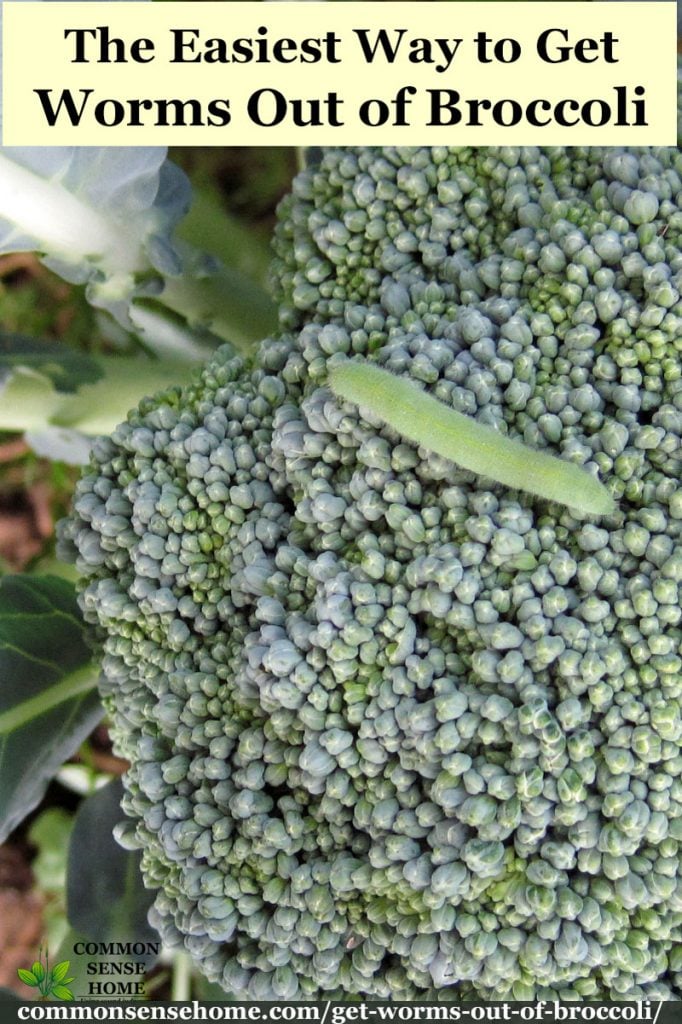 Get More Household Tips!
Originally published in 2014, updated in 2018.