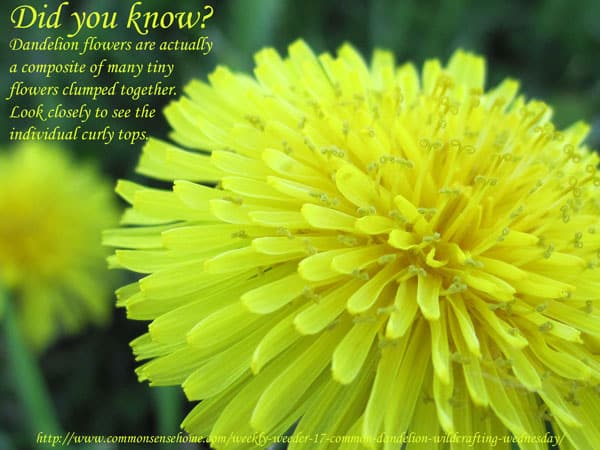 Today's featured plant is the Common Dandelion, Taraxacum officinale.
The common dandelion is also known as Piss-in-bed, lion's tooth, blow ball, fortune teller, red-seeded dandelion, arctic dandelion, doonheadclock, tell-time, clock flower, bitterwort, yellow gowan, swine snort, Irish daisy, wet-a-bed, priest's crown, cankerwort, puffball and wild endive. (I think "swine snort" is my favorite.)
Range and Identification of Common Dandelion
Is there anyone who doesn't know what a dandelion looks like? Their bright yellow flowers are some of the first to show in spring, as many a mother can testify, having been presented with dandelion bouquets. Interestingly enough, according to Wildflowers of Wisconsin, the "flower" head is a composite of many tiny flowers clustered together.
The leaves form a basal rosette, and are deeply loped with pronounced teeth. Plants range from a few inches to over a foot tall, depending on growing conditions. the stems are hollow and produce a milk-like, sticky sap. At maturity, the flower heads turn to a white puff ball, and release seeds that resemble tiny parachutes.
Dandelions can be found nearly worldwide, and have even been used to study genetic diversity because "dandelions have an extremely wide ecological amplitude, growing almost worldwide from sea-level to alpine biomes, and from the tropics to north-temperate habitats."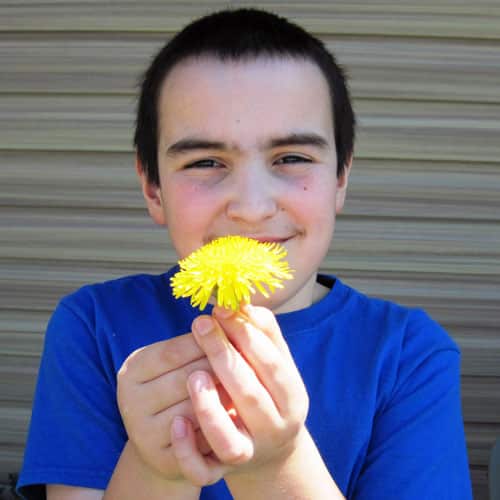 Common Dandelion as food for wildlife and humans
Dandelion flowers, leaves and seeds are relished by an assortment of wildlife. As an early nectar source, the flowers are vital to bees and other pollinators. The greens are relished by cute and fuzzy bunnies, as well as farm animals such as goats, pigs and horses.
Many of us have heard of eating dandelion greens. They are best in spring, before the flowers bloom. As the season progresses, the leaves become more bitter. You can use them as a salad green, or in cooking as you would spinach. The book Dandelion Medicine gives directions for dandelion biscuits, dandelion leaf pesto, dandelion green stir-fry and a host of other recipes. Healing Wise dandelion recipes include soups, dip and beer. Dandelion "coffee" can be made from the roasted roots.
The seeds are edible, too. They can be nibbled off the white puffy parachute tops, or pinched off and gathering in quality to be made into a seed milk.
You can even make "noodles" from the stems. (Tried this – *not a yummy*. maybe I did something wrong?) I have made dandelion wine and cookies, and eaten the greens cooked and raw (and for breakfast this morning). My goal this season is to try at least three new dandelion recipes, and make another batch of wine. (Read more about harvesting and using dandelion roots.)
Medicinal Uses of Common Dandelion
Gardens Ablaze gives a very nice summary of the many health benefits of the common dandelion:
The humble little Dandelion has remarkable nutritional value, being very high in vitamins A and C, with more beta carotene than carrots and more potassium than broccoli or spinach, not to mention healthy doses of iron and copper for good measure. Medicinally, Dandelions are considered very safe and effective as a general tonic that helps strengthen the liver, gallbladder, pancreas, spleen, stomach, and intestines, improving bile flow and reducing inflammation in cases of hepatitis and cirrhosis. Dandelions also help to dissipate gallstones and are believed to improve kidney function, thereby improving overall health and clearing skin problems.

Dandelion tea is the perfect choice for those with the above problems or those who lead relatively sedentary lifestyles and who experience discomfort associated with this, such as constipation, digestive disorders, indigestion, and general sluggishness and fatigue. Just one cup per day will yield noticeable results within the first few months. Tea may also be of benefit for many of the problems associated with diabetes and low blood sugar.

Externally, the white sap from the stems or roots can be applied directly to ease the pain of sores and bee stings, and is useful in the elimination of warts, acne, and calluses.
To me, the greens always taste somewhat bitter, so I'm hoping that they'll be more palatable in some of the recipes I'm planning to try. The wine is lovely – more like a very good brandy. The roots are less bitter, but fibrous. They are best harvested in fall when they are at their fullest.
Although dandelion is generally considered safe, like any food/herb it may cause reactions in some individuals. The University of Maryland Medical Center offers a more detailed explanation of medicinal uses of dandelion, along with potential drug interactions.
Get Homesteading 101 FREE, plus weekly updates and Subscribers Only information delivered to your inbox.