Joe Pye Weed – Weekly Weeder #35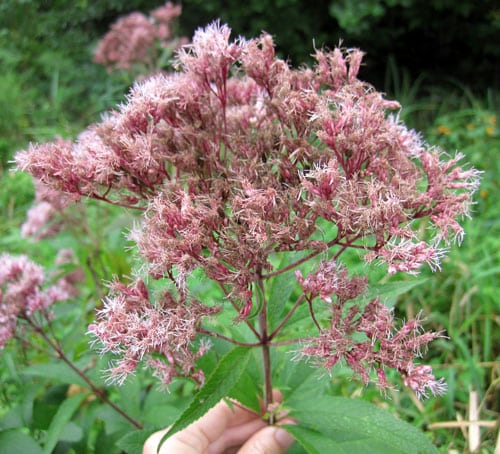 Today's featured plant is Joe Pye weed, Eupatorium maculatum.
Joe Pye weed is also known as Spotted Joe Pye Weed, spotted trumpet weed and Eupatoriadelphus maculatus var. maculatus . It is one of several species of Joe Pye weed found in Wisconsin, which take their names from a medicine man named Joe Pye who used it to cure typhus in New England in 1818.
Range and Identification of Joe Pye Weed
Joe Pye Weed is native to northeastern North America (see map). It prefers moist conditions with plenty of sun in meadows, along streams and in ditches (similar to elderberry – jewelweed also likes the same conditions). It can also tolerate "wet feet" (sometimes being in standing water). That said, mine is surviving pretty well in my flower bed that tends to be way too dry.
Joe Pye weed plants grow up to 2-12 feet (60-300 cm) tall. (When we were elderberry hunting, sometimes the Joe Pye weed plants looked rather like elderberries.) Leaves are attached in whorls of 3-5 leaves surrounding the stem, and are 3-9 inches long. The leave are coarsely toothed and lance shaped. The plant is a perennial.
Joe Pye weed blooms during late summer into autumn, until hard frost, which is great because they provide nectar when many other plants have already finished blooming. The pinkish-purple flower heads grow in large clusters on the top of the plant (like elderberries), 5-10″ (12.5-25 cm) across. These clusters contain hundreds of individual flowers, 1/4″ (0.6 cm) wide. (See Wildflowers Of Wisconsin for more information.)
Joe Pye Weed as Animal Habitat
The abundant flowers of Joe Pye weed are attractive to many species of butterflies (which is why I planted it in the garden). Just so you know, when you see those big, flat flower heads with lots of small blossoms on any plant, odds are that it's attractive to butterflies (like milkweed, for instance). Illinois Wildflowers lists the faunal associations of Joe Pye weed:
The nectar of the flowers attracts honey bees, bumblebees, digger bees (Melissodes spp.), leaf-cutting bees (Megachile spp.), bee flies, butterflies, skippers, and moths. Some bees may also collect pollen. The following leaf beetles have been observed to feed on Spotted Joe-Pye Weed: Exema dispar, Ophraella notata, and Sumitrosis inaequalis (Clark et al., 2004). An uncommon aphid, Aphis vernoniae, sucks the plant juices. The caterpillars of some moth species feed on various parts of Eupatoriadelphus spp. (Joe-Pye Weed species). They include Schinia trifascia (Three-Lined Flower Moth; feeds on florets), Carmenta bassiformis (Eupatorium Borer Moth; bores through roots), Phragmatobia fuliginosa (Ruby Tiger Moth; feeds on foliage), and Eupithecia miserulata (Common Pug; feeds on florets). The seeds of Joe-Pye Weed species are a minor source of food to the Swamp Sparrow. The foliage is not preferred as a food source for mammalian herbivores, although it may be browsed upon occasion by deer, rabbits, or livestock.
Food and Medicinal Use of Joe Pye Weed
Edible Wild Food states that a related species, Empatorium purpureum, is entirely edible. "The leaves and stems can be harvested in the summer before the flower buds open and can be dried and stored for later use. The roots are harvested in the autumn. Fresh flowers can be used to make an herbal tea." The University of Vermont also suggests, "Joe Pye weed, when dried, has a vanilla odor and makes a pleasant tea."
Crazy for Tea gives the following instructions for making Joe Pye Weed tea:
Tea can be prepared using the root or using the dried flowers.

To prepare Joe Pye Weed root tea, steep 1 ounce dried and crushed root in 1 pint of boiling water for 30 minutes and drink ½ cup at a time.

Joe Pye Weed flower tea is prepared by steeping 1 teaspoon dried flower in 8 ounces of boiling water for 10 minutes.
They also mention that the crushed leaves can be used as a fly repellent – maybe because of the scent?
Plants for a Future lists medicinal uses of Eupatorium maculatum. Most other sources list Eupatorium purpureum (Sweet Joe Pye Weed). One of the sources I came across said they should be similar, and indeed, if you compare, this seems to be the case, but I wanted to be sure to specifically reference the correct species.
A tea made from the whole herb is diuretic[222]. It is used in the treatment of kidney complaints, painful urination, rheumatism etc[61, 222]. The leaves and stems are harvested in the summer before the flower buds open, and are dried for later use[238]. A tea made from the roots is used in the treatment of fevers, colds, kidney and liver complaints, rheumatism etc[222, 257]. It is said to have a tonic effect upon pregnant women[257] and is also said to induce sweating[222]. Externally, a decoction of the roots is used as a wash on rheumatic joints[257]. The roots are harvested in the autumn and dried for later use[238].
Please visit their site for addition information and reference details.
Crazy for Tea mentions in their post that "Casual or excessive use of Joe Pye Weed is considered toxic and can cause liver damage. The use of Joe Pye Weed is discouraged during pregnancy and breastfeeding."  Just in case, I'd probably keep this one for medicinal use, not as an everyday herbal tea (even if it does taste like vanilla).
As always, this post is for informational purposes only. Always exercise caution when using any wild plants and make sure you have positively identified the plant.
Please Like, Pin or otherwise share this post if you would like the Weekly Weeder series to continue.