8 Herbal Coffee Alternatives, Including 2 You Can Grow
When I mentioned I was writing a post on herbal coffee alternatives, my eldest quipped, "Isn't that called, 'tea'?" Not being a coffee drinker, the boy simply doesn't understand the finer aspects of coffee drinking. There's just something about that rich, earthy brew that calls to me on cold winter mornings. I drink plenty of regular and herbal tea, but coffee is an altogether different beverage category.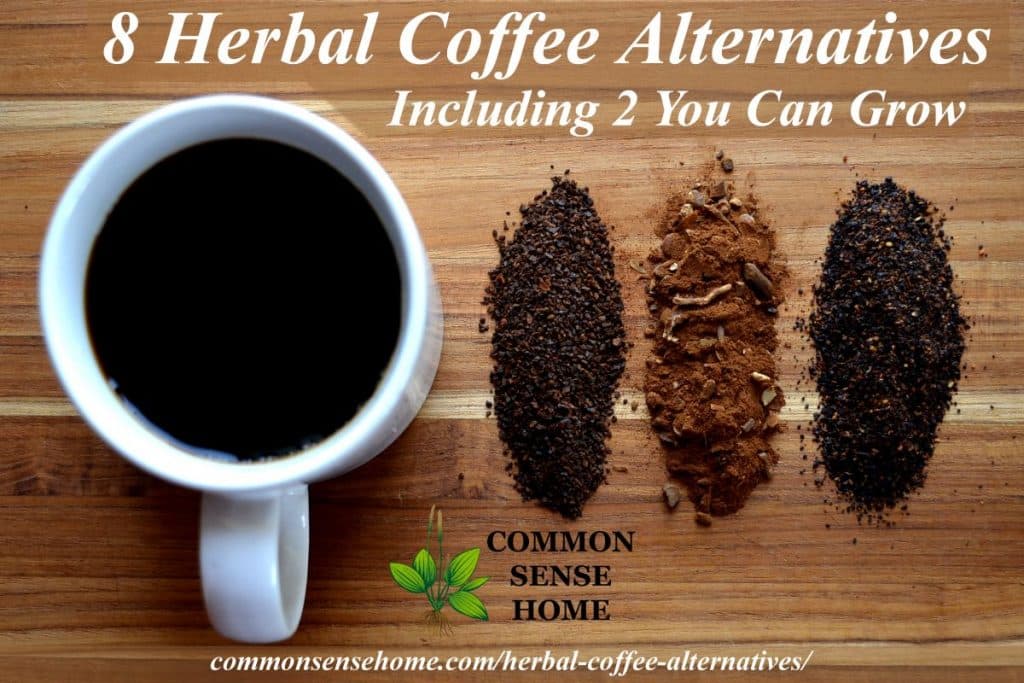 In the interest of being a little kinder to my liver and adrenal glands, I've been experimenting with a variety of herbal coffee substitutes without caffeine. Do any of them taste exactly like America's favorite morning caffeine hit? Nope. Are they reasonably tasty? You bet! Plus if you're so inclined, they are a great way to help ween yourself off of your coffee habit. Just start with mostly coffee and a small amount of herbal coffee, and gradually increase the amount of herbal coffee while decreasing the amount of regular coffee each day until you're switched over to herbal.
How do I brew herbal coffee alternatives? Can I use my regular coffee maker?
It depends on which herbal coffee you choose. Some are ready to go right into your drip coffeemaker or French press, others are cooked on the stove top, some just mix right into hot or cold liquid.
8 Herbal Coffee Alternatives, Including 2 You Can Grow
1. Teeccino Herbal Coffee Alternative
I discovered Teeccino when it was on sale through one of the natural buying clubs I belong to. When I opened the bag, the aroma was wonderful! The flavor is rich and mellow, with many different notes. The hazelnut blend tastes like coffee with hazelnut creamer, except it's made with real hazelnuts. As a caffeine alternative, Teeccino provides a slow release of nutrients including potassium for hearth health. It also contains the prebiotic inulin from chicory root, which improves gut health. Although it includes barley, the brewed "coffee" has been tested and found to be gluten free. It comes in over 20 different flavors, including mocha and hazelnut and barley-free dandelion flavors. Ingredients include carob, barley, chicory root, almonds and dates and figs for sweetness. Can be brewed just like regular coffee.
2. Chicory Root Coffee
Made with simple roasted chicory root, which contains the prebiotic inulin. Chicory root has long been cultivated in Europe as a coffee substitute, and has made it's way around the rest of the world, including the United States. Chicory coffee enjoys a high degree of popularity in some areas such as New Orleans. This is an herbal coffee alternative that you can grow yourself or harvest from the wild. To learn more about identifying wild chicory, visit Weekly Weeder #5 – Chicory. For drying and roasting instructions, check out "How to Harvest Dandelion Root". Chicory can be processed in a similar manner. Roasted ground chicory can be brewed like regular coffee.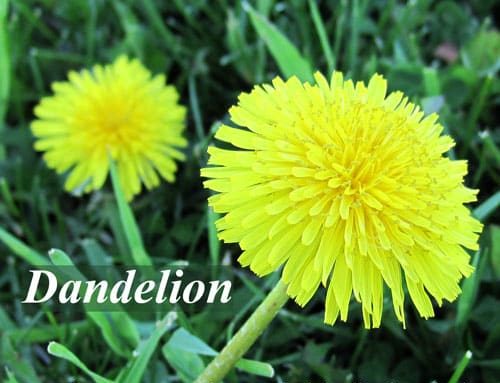 3. Dandelion Root Coffee
Like chicory, dandelion roots also have been used as a coffee alternative or way to stretch coffee during tough economic times. They can be harvested from your garden or yard (make sure to avoid areas that have been sprayed with chemicals or visited by pooper trouper pups). Roots are sweetest in early spring before the plants leaf out, but can be harvested anytime from fall to early spring. Visit Weekly Weeder #17 – Dandelion for identification information and Harvesting and Drying Dandelion Roots for drying and roasting instructions. May be brewed like regular coffee. I confess, I used the dandelion roots I harvested last fall to make a tincture and purchased roasted dandelion root and roasted chicory root from Frontier. Sometimes it's easier to let someone else do the work. I like blending the two together to create a more well rounded flavor profile. The dandelion is more earthy, and the chicory is more bittersweet, so the two together help balance each other out.
4. Dandy Blend Instant Herbal Beverage
Dandy Blend contains extracts of roasted barley, rye, chicory root, dandelion root and sugar beet. One rounded teaspoon per eight ounces of liquid produces a "rich, full bodied" coffee alternative. It is an instant drink mix, so you just stir it into your hot or cold liquid of choice. You can mix it with water for a basic coffee flavor, or milk for "Dandy Cafe Lattes". The package gives recipes for several different drink ideas. Because it is made from grain extracts, not the grains themselves, the gluten is left behind during the manufacturing process. The mix is prone to hardening into a lump if left out in the original packaging at room temperature, so if you buy a larger package you probably want to reseal it in an airtight container and store in the fridge or freezer.
5. Pero Instant Beverage
Pero is made with barley, malted barley, chicory and rye. Like Dandy Blend, it is an instant mix. It's suggested that Pero be mixed into hot water or warm milk as a caffeine free coffee alternative. Like all the the other herbal coffees listed here, it is non-acidic, so it doesn't cause stomach upset like regular coffee can.
6. Cafix Instant Beverage
Cafix is another "mix and go" option made from roasted barley, chicory, malt, figs and red beet concentrate. Many reviewers on Amazon.com compare the flavor to Postum, and say that it's a toss up between Pero and Cafix as to which they like best.
7. Ayurvedic Roast Organic Caffeine-free Coffee Substitute
Ayurvedic Roast Coffee Substitute ingredients include roasted barley, roasted rye, roasted chicory; plus the Ayurvedic herbs Ashwagandha, Shatavari, and Brahmi. Can be brewed just like regular coffee. From the manufacturer, more information on each of the herbs in the blend:
Ashwagandha: Known as the the "ginseng of India", this incredible herb promotes strength and stability in the physiology, and is also an anti-oxidant. It builds immunity and strength, and calms the mind and body.
Shatavari: Possessing many of the benefits of Ashwagandha, it counterbalances its somewhat heating quality with its cooling effect, and augments their mutually beneficial effects on the body.
Brahmi: Commonly used in Ayurveda to lessen mental strain and worry*, it also helps increase intelligence and clarity*. In combination with the other 2 herbs, it has a soothing effect on the mind, while maintaining alertness.
8. Delicious Obsessions Herbal Coffee
My friend, Jessica from Delicious Obsessions, has recently introduced her own DIY Herbal Coffee Guide.
Jessica shares proprietary formulas for her most popular herbal coffee blends (Clean Living and Happy Liver), plus THREE never before released blends! You'll also get amazing coffee shop style recipes that include: Vanilla Almond Latte, Frozen Peppermint Mocha, Salted Caramel Macchiato, S'mores Latte, Buttered Maple Cream…and MANY more!
If you've been thinking about ditching your coffee habit or just cutting back, you can see that there are a great assortment of herbal options to try. Depending on which one you choose, they may also provide you with prebiotics and herbs that enhance your health.
Have you tried any of these "almost coffees"? What did you think of the flavor?
You may also find useful:
How to Harvest and Dry Dandelion Roots