Encouraging Beneficial Insects and Animals for Natural Pest Control
I plant a variety of host plants for beneficial insects around the yard (or allow them to grow on their own), such as yarrow, cosmos, catnip, dill, dandelion, Queen Anne's lace, butterfly weed, sweet alyssum, parsley, lemon balm and zinnias. Beneficial insects will often use host plants during their larval stage before they begin hunting other insects. See the Weekly Weeder series for more information on wild plants and their role in the ecosystem, as well as their uses for food and medicine.
I encourage birds, toads, snakes and frogs in the garden by:
Providing water in a raised bath and at ground level
Using mulch
Providing perches (the wooden marker posts and trellises around my garden do double duty)
Stacking piles of rocks and other "hiding spots" for toads, snakes and frogs
We have beautiful little northern red belly snakes in our area that are about the size of a pencil, and they gobble up crickets and slugs. I've seen several different types of tree frogs (they are so cute).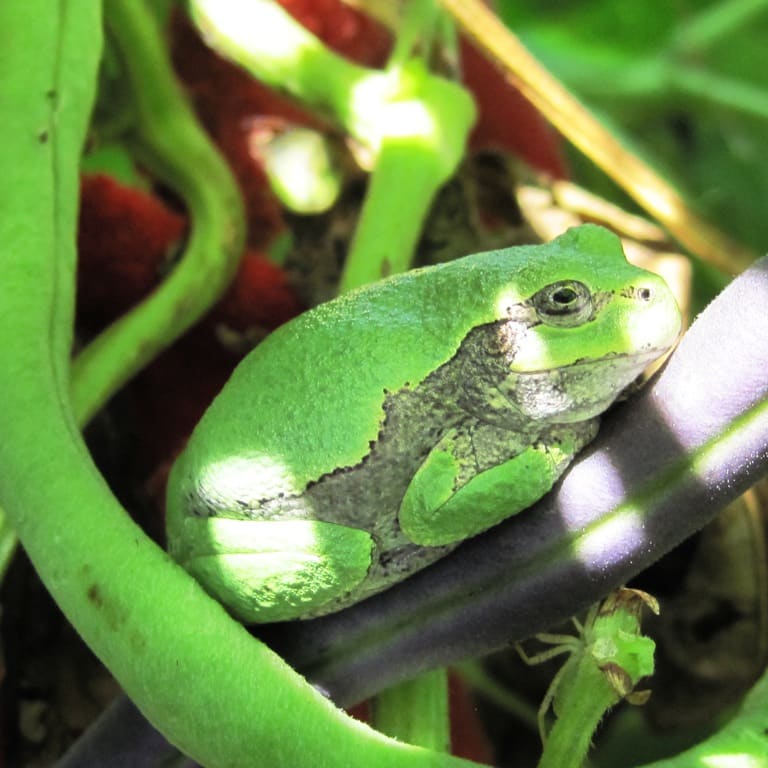 The photo above is a tree frog we found in the bean patch.
Common Beneficial Insects
Some common beneficial insects (and other small critters) include:
Lady beetles
Green lacewings
Syrphid flies
Ground beetles
Mantids
Hunting wasps
Predatory mites
Tachinid flies
Braconid and Ichneumonid Wasps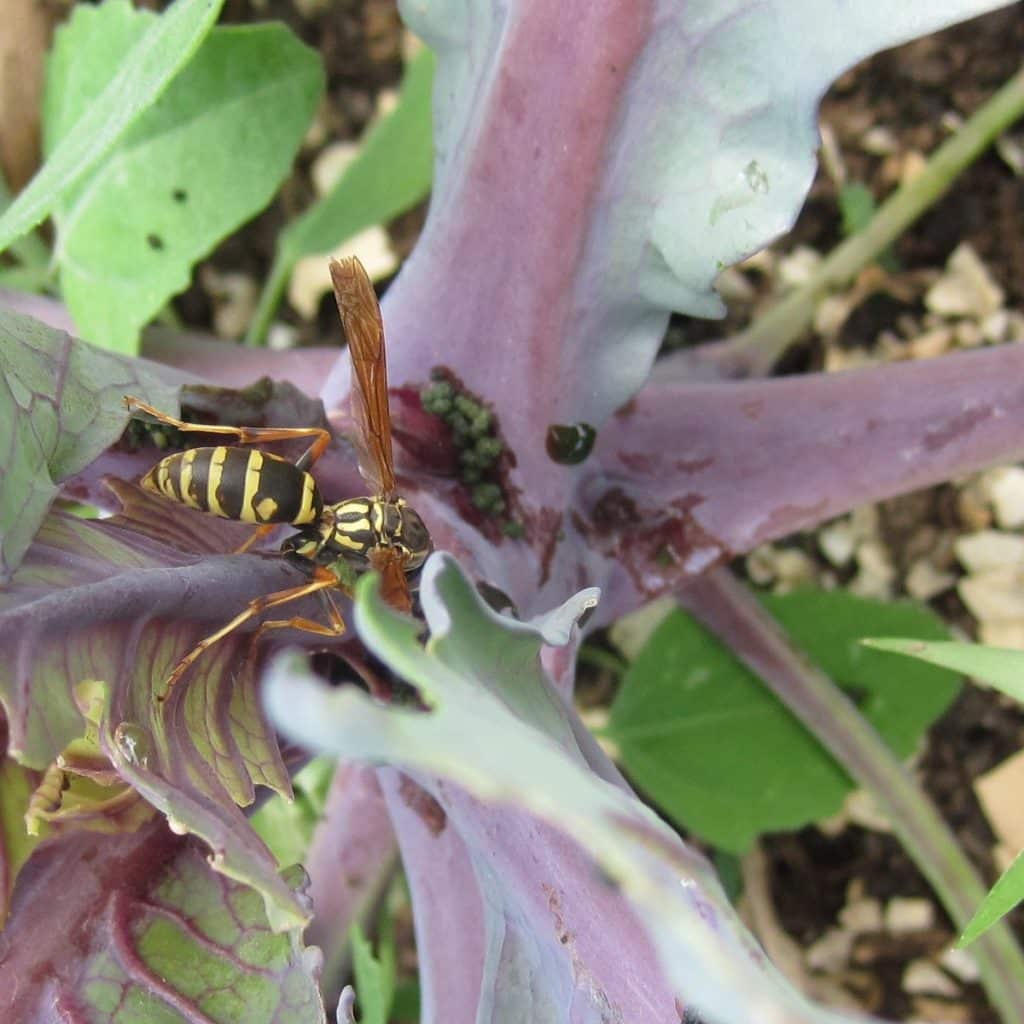 I've watched wasps carry off cabbage worms, and seen little wrens working over the broccoli. The natural cycle is quite amazing.
*Note – If you read the comments below, you can see that a reader has pointed out that yellowjackets are responsible for most of the "bee sting" deaths in the US. While I have never been stung in my garden, others have not been as fortunate. Please exercise caution when working around anything with a stinger.
I use companion planting, too, but I'm rather haphazard about it for the most part. Every bed gets some flowers and herbs along with the veggies and fruits. I roughly follow the guidelines in the book "Great Garden Companions". You can learn more about companion planting in the post Vegetable Companion Planting.
These are my primary methods of natural pest control in the garden. One could write a book on the topic (indeed, many people have). I've linked to a few of my favorites below.
What are your best methods of pest control? Do you have a garden pest that you can't get rid of? Leave a comment and let me know, and don't forget to hit "Like" or otherwise share this post if you find it useful. 🙂
Related posts you may also find helpful:
Originally posted in 2012, updated in 2015, 2017.