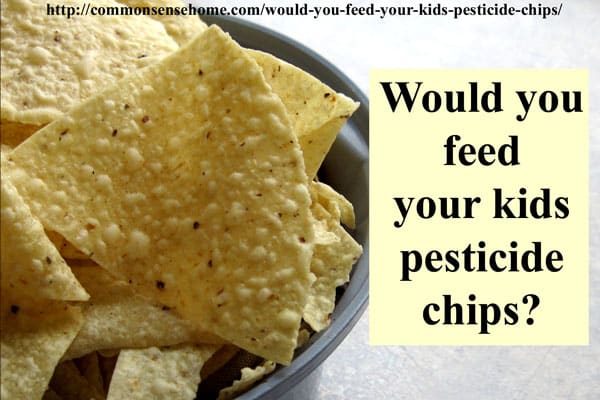 I did purchase pesticide chips for my kids, but I won't be buying any more. Corn chips are just one of thousands of products on our store shelves made from crops that are legally classified as pesticides, not food, but still sold as food.
Pesticides in Food – How Much are We Eating?
Let me explain. I read A LOT about food. I'm reasonably sure that some would classify me as OCD about the whole thing. I've made a lot of positive changes in our family's diet. Still, there were a few old "favorites" that we hadn't given up, the above chips being one of them. After all, we've been told that pesticides either (a) wash off or (b) don't stay intact during processing.
Then I read this information from an article in India Today:
Fresh doubts have arisen about the safety of genetically modified crops, with a new study reporting presence of Bt toxin, used widely in GM crops, in human blood for the first time.

Genetically modified crops include genes extracted from bacteria to make them resistant to pest attacks.

These genes make crops toxic to pests but are claimed to pose no danger to the environment and human health. Genetically modified brinjal, whose commercial release was stopped a year ago, has a toxin derived from a soil bacterium called Bacillus thuringiensis (Bt).

Till now, scientists and multinational corporations promoting GM crops have maintained that Bt toxin poses no danger to human health as the protein breaks down in the human gut. But the presence of this toxin in human blood shows that this does not happen.

Scientists from the University of Sherbrooke, Canada, have detected the insecticidal protein, Cry1Ab, circulating in the blood of pregnant as well as non-pregnant women.

They have also detected the toxin in fetal blood, implying it could pass on to the next generation. The research paper has been peer-reviewed and accepted for publication in the journal Reproductive Toxicology. The study covered 30 pregnant women and 39 women who had come for tubectomy at the Centre Hospitalier Universitaire de Sherbrooke (CHUS) in Quebec.

None of them had worked or lived with a spouse working in contact with pesticides.

They were all consuming typical Canadian diet that included GM foods such as soybeans, corn and potatoes. Blood samples were taken before delivery for pregnant women and at tubal ligation for non-pregnant women. Umbilical cord blood sampling was done after birth.

Cry1Ab toxin was detected in 93 per cent and 80 per cent of maternal and fetal blood samples, respectively and in 69 per cent of tested blood samples from non-pregnant women. Earlier studies had found trace amounts of the Cry1Ab toxin in gastrointestinal contents of livestock fed on GM corn. This gave rise to fears that the toxins may not be effectively eliminated in humans and there may be a high risk of exposure through consumption of contaminated meat.
I've suspected that this might be the case for some time (that the pesticides persist in the GI tract) but I didn't really want to acknowledge it. It's a lot easier to just eat what you like. Those chips are whole grain and gluten free, right? They must be good for you.
The thing is, even the government and agro-industry acknowledges that these crops are not food.
The Pesticides Action Network explains:
Is Bt a food or a pesticide?

The regulatory authorities in the US have classified Bt crops as pesticides, thus placing responsibility with the Environmental Protection Agency (EPA) rather than the Food and Drugs Administration (FDA) which is responsible for genetically engineered organisms. However, Bt crops are not any old pesticide. The Bt poison is not an application like a chemical pesticide but a poison that is produced throughout the life of the plant. In practice, neither the existing pesticide nor the genetically engineered organism legislation is up to the task. The latest consequence of this shortcoming is an undignified row between the EPA and the FDA now that the first Bt potatoes are in US supermarkets. The FDA is responsible for labeling genetically engineered food but refuses to label the potatoes because they are classified as a pesticide. The EPA says that it cannot label the potatoes because they are being sold as a food. This is no doubt good news for Monsanto but hardly helpful to consumers who might understandably object to eating a pesticide when they thought they were buying a food.
Update: Bt potatoes are no longer being sold in supermarkets. The Non-GMO project states:
Genetically modified NewLeaf potatoes were introduced by Monsanto in 1996. Due to consumer rejection several fast-food chains and chip makers, the product was never successful and was discontinued in the spring of 2001. There are no genetically engineered potatoes in commercial production, and potatoes are considered "low-risk" by the Non-GMO Project Standard.
Which Foods are Genetically Modified?
In the same post linked above, Non-GMO Project identifies the top risk agricultural products:
High-Risk Crops (in commercial production; ingredients derived from these must be tested every time prior to use in Non-GMO Project Verified products (as of December 2011):

Alfalfa (first planting 2011)
Canola (approx. 90% of U.S. crop)
Corn (approx. 88% of U.S. crop in 2011)
Cotton (approx. 90% of U.S. crop in 2011)
Papaya (most of Hawaiian crop; approximately 988 acres)
Soy (approx. 94% of U.S. crop in 2011)
Sugar Beets (approx. 95% of U.S. crop in 2010)
Zucchini and Yellow Summer Squash (approx. 25,000 acres)

ALSO high-risk: animal products (milk, meat, eggs, honey, etc.) because of contamination in feed.
This regulation system that classifies Bt crops as pesticides rather than food crops has been used in court to force municipalities to allow the growing of Bt crops within their jurisdiction. They can ban food crops, but they can't ban the use of pesticides. Pesticide use is controlled by the EPA, and the EPA says Bt crops are fine. Well, they're not food, but otherwise they're fine.
I remember reading about how the pollen from Bt corn kills monarch butterflies, and there is evidence that it's contributing to colony collapse in bees. When I started digging a little more, I found out that Bt crops have been killing larger animals, too:
In India, animals graze on cotton plants after harvest. But when shepherds let sheep graze on Bt cotton plants, thousands died. Post mortems showed severe irritation and black patches in both intestines and liver (as well as enlarged bile ducts). Investigators said preliminary evidence "strongly suggests that the sheep mortality was due to a toxin … most probably Bt-toxin." In a small follow-up feeding study by the Deccan Development Society, all sheep fed Bt cotton plants died within 30 days; those that grazed on natural cotton plants remained healthy.

In a small village in Andhra Pradesh, buffalo grazed on cotton plants for eight years without incident. On January 3rd, 2008, the buffalo grazed on Bt cotton plants for the first time. All 13 were sick the next day; all died within 3 days. Bt corn was also implicated in the deaths of cows in Germany, and horses, water buffaloes, and chickens in the Philippines.

In lab studies, twice the number of chickens fed Liberty Link corn died; 7 of 20 rats fed a GM tomato developed bleeding stomachs; another 7 of 40 died within two weeks. Monsanto's own study showed evidence of poisoning in major organs of rats fed Bt corn, according to top French toxicologist G. E. Seralini.
How likely is it that you've eaten Bt pesticide corn?
About 65% of the corn grown in the United States is genetically modified to include Bt (Bt hybrids). The South Dakota Corn folks give some estimates of how much corn we eat:
According to the Corn Refiners Association, nearly 4,000 food items in a typical grocery store contain corn ingredients. And that number doesn't include all the products—milk, eggs, meat, poultry—that come from corn-fed animals. Or the sweet, whole-kernel corn that comes in cans and freezer bags, and on the cob.
Corn sugar, corn syrup, high fructose corn syrup, corn starch, and thousands of other products – corn is king in the modern grocery store. This link gives a LONG list of potential corn allergens.
This is why we buy organic corn products, as well as organic versions of the other high risks crops (when we buy them at all). I'm not a fan of soy or canola, and when I buy sugar I stick to cane sugar since that's not genetically modified yet. Going grain free is another option, but I appreciate the long storage life of grains and still use them in moderation.
Did you know about these hidden pesticides in our food? Does it impact your shopping choices?