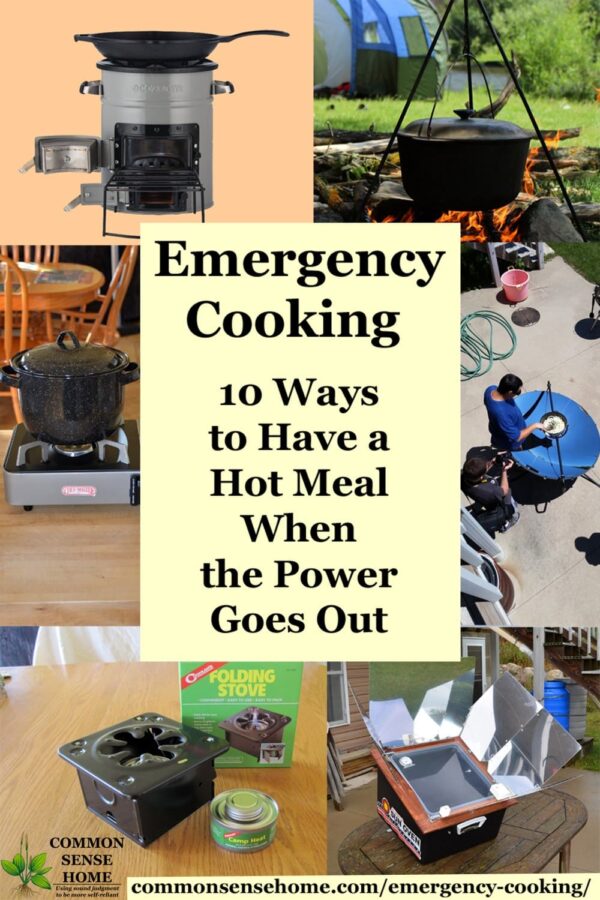 There are a number of different options for emergency cooking. In this post we'll cover everything from simple heating to large scale cooking for emergency situations.
Before we get started:  For those who are new to preparedness, using an emergency generator to power an electric stove or microwave is not a good allocation of resources. Stoves and microwaves use a lot of power in a short amount of time. It's much more practical to use other means to heat/cook your food.
Always be careful to use options inside or outside as appropriate. Don't end up asphyxiated from cooking fuel fumes or burn your house down while trying to make a hot meal.
Make sure you have cooking equipment suitable for your heating option of choice.
Practice with your method(s) of choice until you can reliably produce a meal. Don't use it for the first time in an emergency (except for the "heat themselves" food items).
See also:
What to Get Ready for a Hurricane – Printable Hurricane Prep Checklist
20 Things I Wish I Had Before the Flash Flood Emergency
Hot Meal Option #1 – Meals that Heat Themselves/Portable Cooking Bags
One of the simplest methods of heating food without power is food packaging with built in heating elements. A twist, snap or shake triggers a chemical reaction in some portion of the packaging (for instance, twisting the bottom of a soup container). This chemical reaction produces enough heat to warm the contents of the container. Some MREs (Meals Ready to Eat) include  this option in their packaging. To the best of my knowledge, no natural/organic options at this time. Another variation on this theme is the Portable Camping Cooking Bag, which allows you to heat the food of your choice in a chemically heated pouch. The Magic Cup heating unit will heat a beverage or soup in a cup sized container. Safe inside or out.
Hot Meal Option #2 – Mini Folding Camp Stove with Canned Fuel
These tiny folding stoves fold flat for storage, and are basically designed to give you a larger, flatter surface to cook on that fits over the top of a small, round fuel container (Sterno or liquid canned fuel). Heating output is limited, so this option is better for warming or reheating than cooking an entire meal from scratch. Safe inside or out, as long as there is some ventilation. Sterno cans are used for hours on buffets. These tiny stoves are fold up very small, so they would be good for an emergency pack or bug out bag.
Buy a Coghlan folding stove here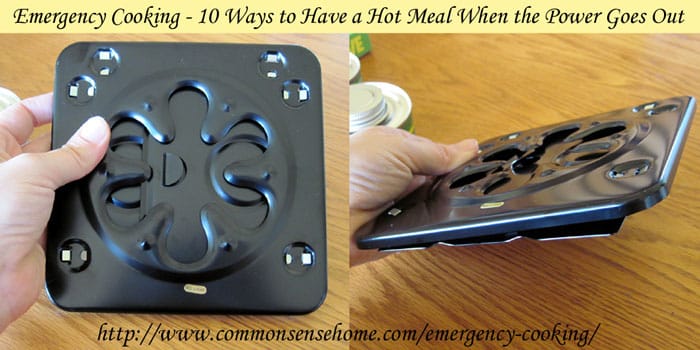 Hot Meal Option #3 – Portable Butane Stove that Operates off of Butane Cylinders – *Personal Favorite
Similar is size to a larger laptop (but thicker), these portable butane stoves can go just about anywhere. They generate enough heat to do "real" cooking, but the butane canisters are fairly expensive and hold a limited amount of fuel. Better for short term emergency cooking inside for those with limited space. I first read about these in the book Apocalypse Chow:  How to Eat Well When the Power Goes Out. We used our butane stove while we waited for a replacement stove to be hooked up in our kitchen. it worked very well for stove top cooking, including boiling water. For a small stove it puts out a surprising amount of heat. I demonstrate how to use it in the video below.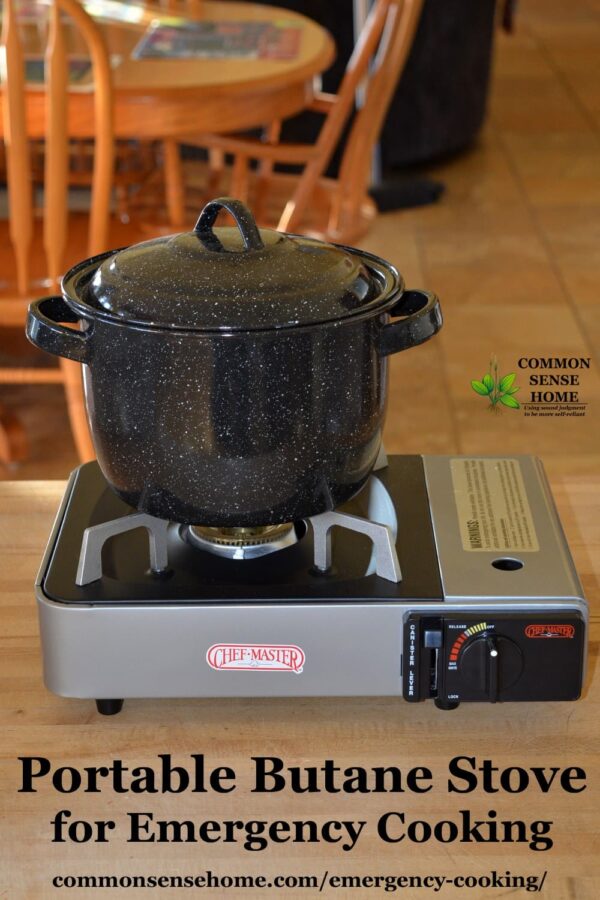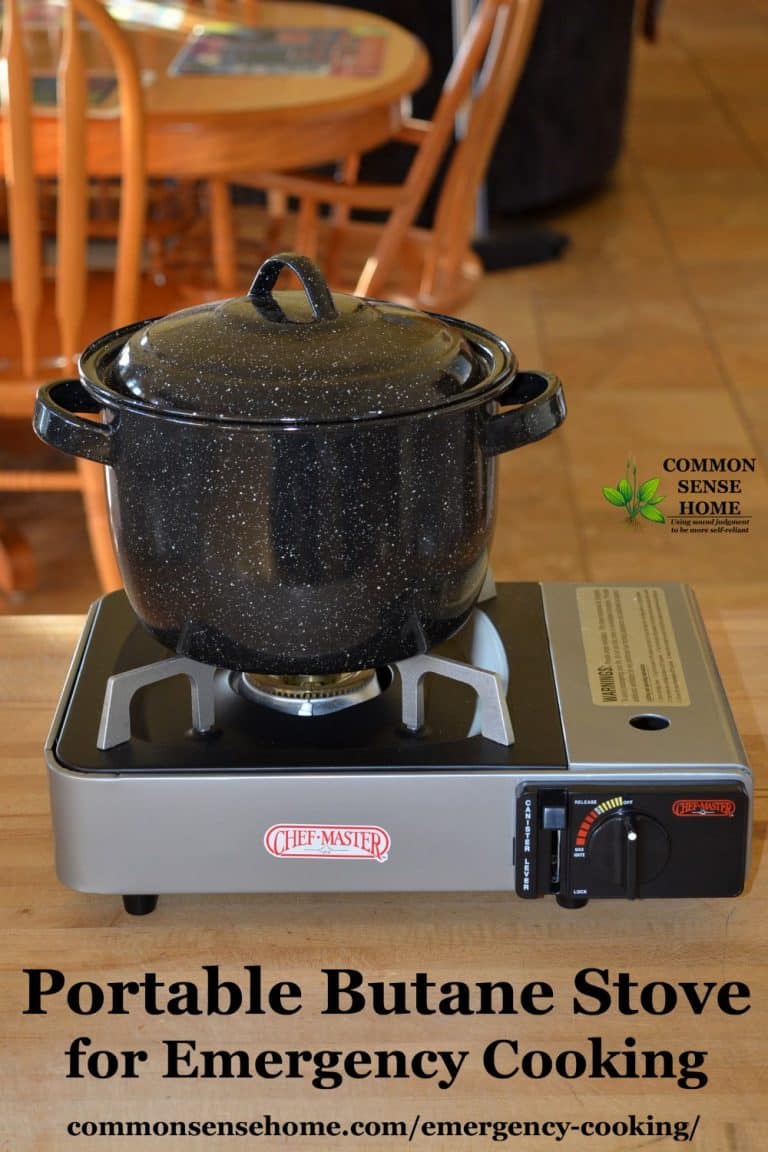 Hot Meal Option #4 – Propane Grill – For Exterior Use Only
Your standard propane grill can do double duty as a summer party mainstay and an emergency backup stove. The positive on this one is that many people already have these stoves and know how to use them. The down side is that they are not safe to use indoors and can be quite unpleasant, if not impossible, to sue during really nasty weather, such as blizzards or hurricanes. Keep a spare propane container on hand.
Note:  Always store your propane cylinder outside and upright in a protected location – not inside a house or garage or near combustible materials. Avoid conditions where it will rust, potentially causing cylinder failure. See Storing Propane Cylinders for more information. Propane will store indefinitely, as long as the seals and the storage take remain intact.
Hot Meal Option #5 – Charcoal Grill – For Exterior Use Only
Less common than they used to be, charcoal grills are still used by some – including yours truly. They have the same limitations as propane grills, and may be even less practical for small amounts of cooking or long. slow cooking. If you have one, do invest in a cylindrical chimney starter to get your briquettes lit without starter fluid. Much less expensive, plus you skip the extra dose of chemicals. Plan for extra time (20-3o minutes) for the grill to get up to temp for cooking.
Hot Meal Option #6 – Open Fire – For Exterior Use Only
If you've ever watched a "survival" show with average people, or a cooking show competition where they forced people to cook over open flames, or better yet, you've done it yourself, you know there is some skill involved with open fire cooking. There's no knob to turn or button to push to adjust the temperature. It's quite easy to burn food on the outside and/or leave them cold in the center. If you plan to cook over an open fire during emergencies (or even if you don't), it's a good idea to practice with this technique in a low stress situation, like camping or screwing around in your backyard. You need fireproof cookware (or aluminum foil or large leaves, depending on your technique).
For more info, see Cooking With Cast Iron—How And Why To Get Started.
Hot Meal Option #7 – Combination Stove like the Volcano Portable Stove – For Exterior Use Only
There are new products on the market that can be used with several different fuels, such as the Volcano Portable Stove, which works with charcoal, propane or wood. Fairly small and portable (Weight = 19lbs, Footprint when open. 19.5″ diameter circle), this would be a nice option to have on hand to take advantage of whatever fuel you have available.
Another interesting option that I just spotted on Amazon.com is the EcoZoom Stove, which can use wood, biomass, or charcoal. You can check out my review here – Ecozoom Rocket Stove Review – Portable Cooking with Multiple Fuels.
Hot Meal Option #8 – Large Propane Burner/Deep Fryer  – For Exterior Use Only
These big, high powered burners can crank out a lot of heat. In addition to the more common used such as deep frying turkeys, fish boils and making enormous pots of soup (known as booyah in our area), they can also be used to heat water for laundry or bathing. Some people also use them for outdoor canning, but it should be noted that the intense, point source heat may warp the bottom of your canner. Can also be used to heat water for scalding chickens for processing.
Hot Meal Option #9 – Solar Cooker  – For Exterior Use Only (unless perhaps you're in a very sunny area…)
A better option in warmer, sunnier climates, solar cookers can be used to make everything from baked goods to main dishes. Designs range from a tire tube with a piece of plexiglass over the top to heavy duty commercial cookers and solar distillers. Solar heat can also be used to dry foods. Check out "What's the Best Solar Cooker?", "Getting Started with Solar Cooking" and "Getting Started with Home Food Drying" for more information.
Hot Meal Option #10 – Wood Cook Stove or Masonry Stove with Bake Oven
My grandmothers used wood cook stoves and some of my homesteading friends still do. Look for these beauties where off-the-grid folks such as Amish and Mennonites shop, either online or in person if you are lucky enough to have a community nearby. Like any wood burning appliance, these stove require proper ventilation and safety precautions, but they have served many people faithfully for years. Some also come equipped with water reservoirs for heating water.
The built in oven in my masonry stove has been a little more difficult to master, as you can't burn more wood to adjust the temperature because the oven is part of the combustion chamber. While the oven does give tasty smoky goodness to the things I cooked in it, I would not want to rely on it for frequent cooking.
General Emergency Cooking Tips
Think "Heat" Instead of "Cook"
Whichever option you choose for emergency food preparation, keep in mind that fully cooked foods that just need to be reheated will be much easier to "heat and eat" than whole, non-cooked foods.  For instance, canned beans would be much easier to use than dried beans, because they don't require additional water, soaking time or extended cooking time.
Stock Manual Kitchen Tools
Make sure you have people powered tools instead of electric tools for cooking.  Electric can openers do not work when the power is out. To be honest, for many kitchen tasks I prefer using hand tools all the time because they are quieter and more compact.
Use the Right Pots and Pans
Make sure you have pots and utensils that can be used with your cooking option of choice.  Fires and grills can be much hotter than your average stove burner. (No plastic spatulas, please.)  Long handles and hot pads or ove-gloves, or at least a folded rag to grab hot handles are a must. Cast iron cookware is a workhorse.
Know How to Use Your Emergency Cooking Option
Practice, practice, practice with your cooking option of choice.  At the very least, practice making the quick to fix foods that would be emergency fare. If you are truly inexperienced in the kitchen, just practice cooking – any cooking. Like any skill, food preparation gets easier the more you do it.
Know How to Cook Without Frills
Practice cooking with only minimal equipment.  Go camping, have backyard cookouts – cook a meal on the beach. Anything you can do to mimic cooking without your stove and all your regular "stuff" will make things so much easier if you end up without power. Repetition builds muscle memory so that even in difficult times, your body will remember when your brain may be distracted.
I hope you found this post useful and much appreciate your Likes, Shares, Stumbles and Pins. Feel free to comment and share your favorite off grid cooking option or any questions you may have and I'll do my best to help.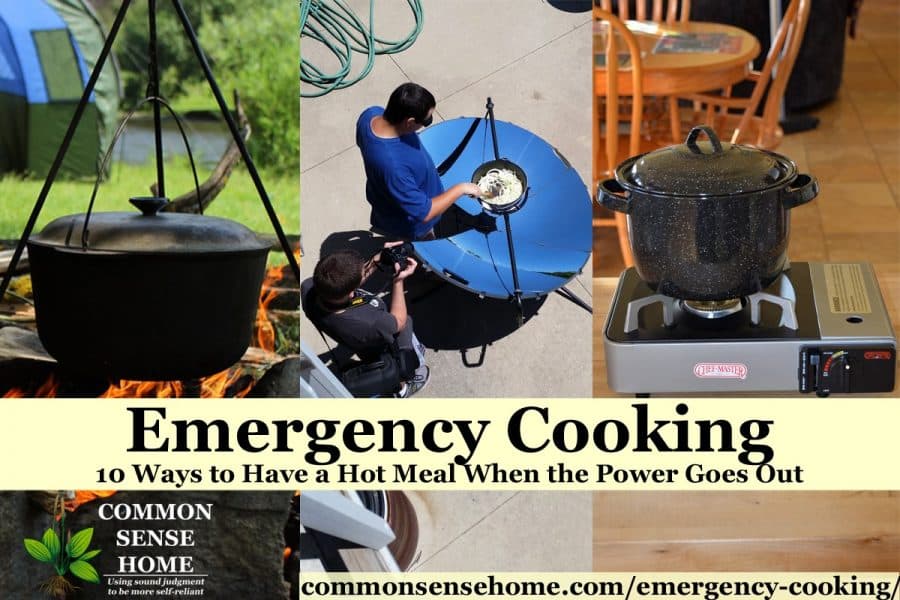 You may also enjoy our other Preparedness posts, including:

Don't forget to check out our other Preparedness posts.
Originally posted in 2013, updated 2017.