Thrunite TN12 Flashlight Review and Usage Tips
The Thrunite TN12 was a great 18650 flashlight for camping or night work. You'll notice it in a pocket, but it's still small enough for an EDC flashlight. When we have to search around the yard in the dark, this is the flashlight we grab.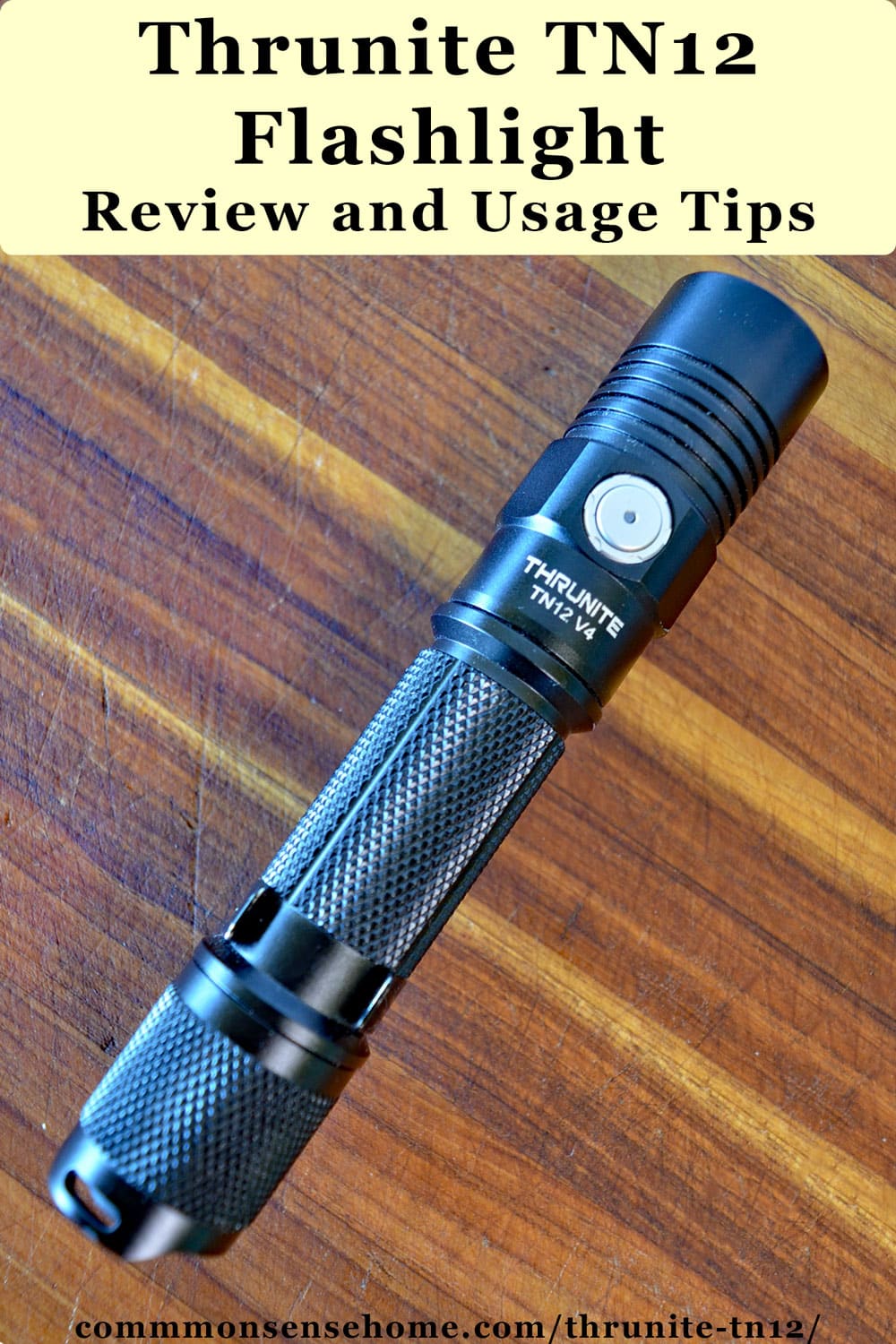 There are two models of this tactical flashlight, with two Kelvin (light hue) options. The Thrunite TN12 neutral white keeps colors most natural. The Thrunite TN12 Cool White will give a slight blue tinge but is normally perceived as brighter.
We recommend Neutral White for any first aid use and Cool White for general use, tactical, storms etc. You have to choose which model, it cannot switch between the hues.
It has six modes, including firefly (very low), and it remembers the brightness mode when you turn it off. The TN12 flashlight is just a bit bigger than an 18650 battery.
This 1100 lumen flashlight runs one one 1860 battery or two CR123a batteries. It uses the CREE XP-L V6 LED and has a maximum runtime of 49 days (on firefly, the very low light mode).
The flashlight is "tail standing" which means that it's stable when set upright, allowing it to provide hands free room illumination. This is great for emergency lighting, working in tight spaces, or camping.
Make/Model: Thrunite TN12
Battery: a single 18650 battery or two CR123A batteries (no batteries included)
On/Off/Modes: Side Button and Tail Switch
Light type (Kelvin): Cool White or Neutral White
Size: 140mm x 25.4mm (5.5in long by 1 inch diameter)
Turbo Mode: 1100 lumen for 2.2 hours
High Mode: 472 lumen for 3.4 hours
Med Mode: 200 lumen for 8.7 hours
Low: 21 lumen for 2.5 days
Firefly: .5 lumen for 49 days
Strobe: 1100 lumen for 3.6hours
Max Throw (Range): 240 meters (787 feet)
Impact Resistant: 1 meter (3.2 feet)
Weight without 18650 battery: 3oz (87g)
Est Weight with 18650 battery: 4.4oz (133g)
Waterproof: IPX8 (2 meters underwater, 6.5ft)
How to change modes for TN12?
Use the tailcap #1 to turn the light on and off. Press the side switch (button #2) to cycle through the 5 modes: Turbo, High, Medium, Low and Firefly. The light will remember the one you had on when you turn off using the tail switch (switch on the end of the light)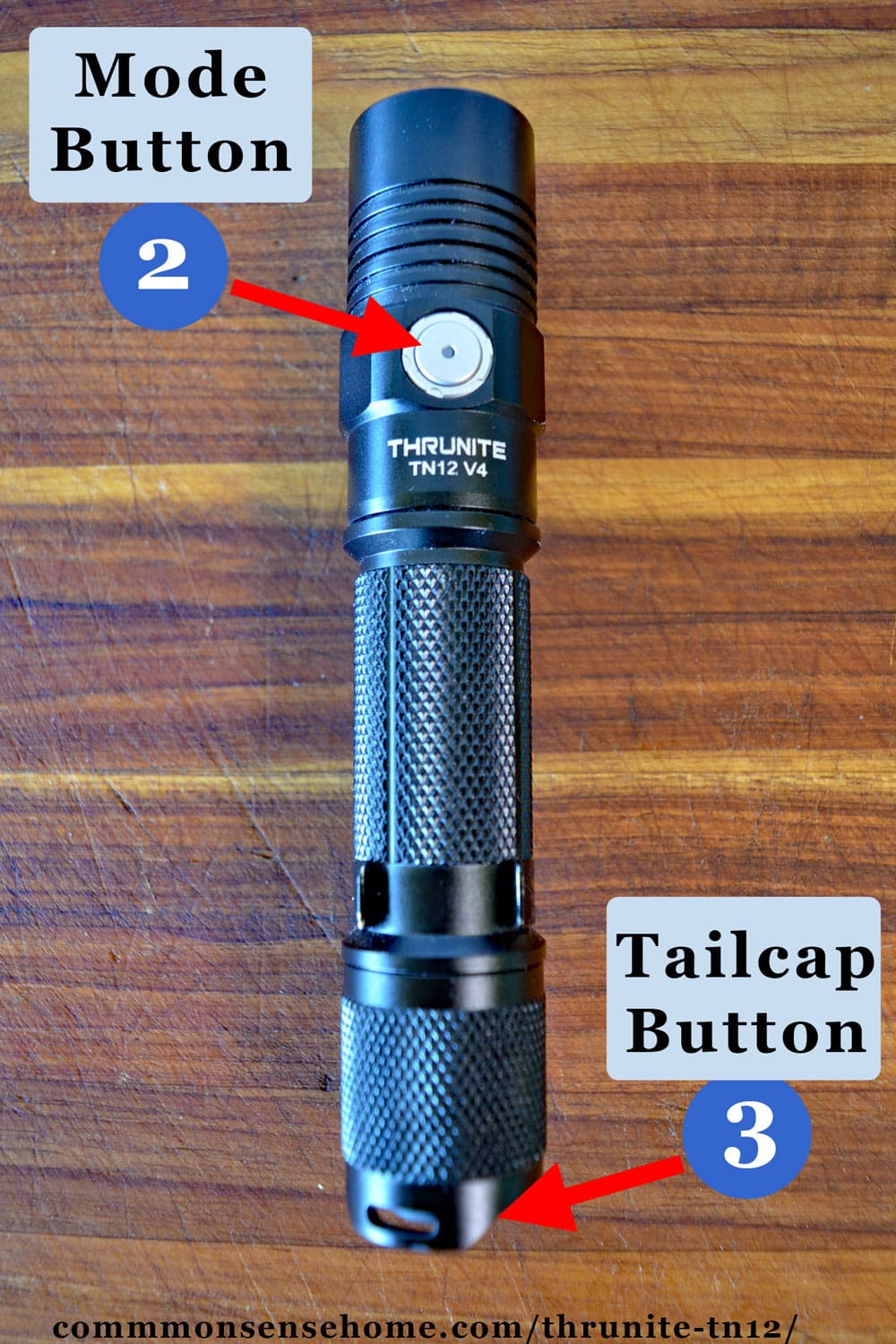 To enable STROBE, turn on the light with the tail switch. Then HOLD the side switch (button #2) for 1 second to switch to Strobe mode. Prese it again to turn off the strobe mode.
ThruNite TN12 Usage Review
The 1100 Lumen ThruNite TN12 is our favorite 18650 LED flashlight. It meets a balance of brightness, features and cost.
It's tough enough that it will survive medium duty, and cheap enough you won't be completely irritated if you lose one. The lower brightness modes are nice for walking around the house during a power outage. Even though it has an anti reflective coated glass lens, we have not broken one in years of daily use.
Using the modes is fairly straightforward. It does get HOT on high because it is so bright, but so far we have not run it long enough to be a problem. If you leave it on Turbo you will notice the heat.
It can also use two regular CR123A batteries, but we stick to the 18650s. We like the Nitecore UM4 charger for the 18650 rechargeable batteries that do not have a built in micro USB or USB-C.
Because it is made of aircraft grade aluminum, it's lightweight and durable. It has an IPX8 rating, so it can be submerged up to 2 meters under water.
It's built to withstand dust, dirt, and water which makes this tactical flashlight perfect for outdoor activities. You can theoretically drop it up to 1 meter without damaging it.
Our TN12 flashlights has survived random weekly use for a number of years. All the various 18650 batteries we have put in it have worked well.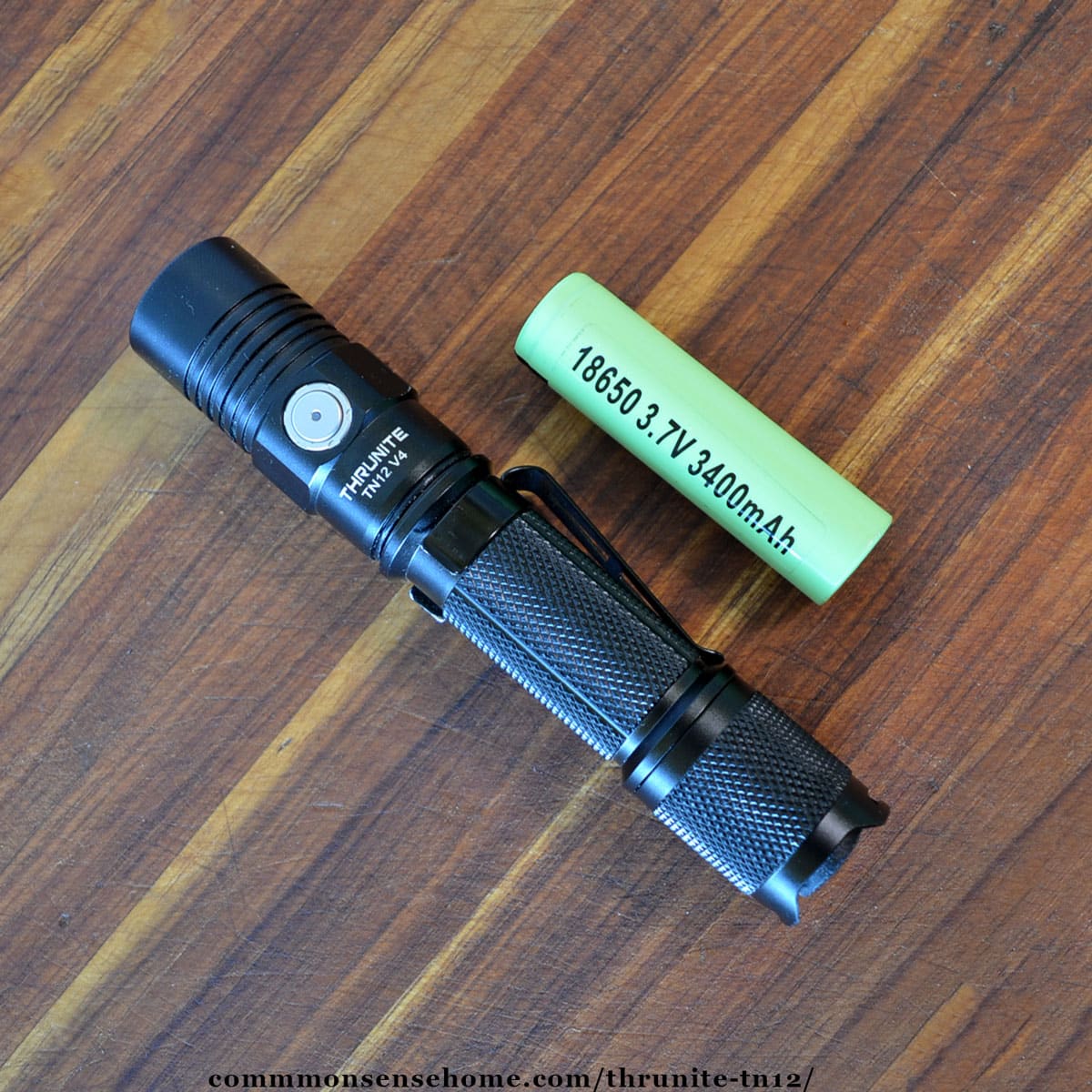 Alternatives to Nitecore TN12
The alternates are the most expensive top of the line Nitecore 4000 lumen P20xi or the moderately expensive ThruNite TC15 v3 2403 lumen flashlight. We think the TC15 is a great alternative. The best keychain one is the Nitecore TIP2.
Conclusion
We have multiple of the ThruNite models. Multiple TN12 in cars, first aid kits and around the house. None have died yet and they are the favorite choice of the family. Easy to use, reliable and bright. We recommend them.
Other Preparedness and Product Reviews
We have dozens of preparedness posts and product reviews on the site to help you get ready for everyday emergencies. They include: