Biolite Solar Home 620 Solar Light Kit (Emergency or Off Grid)
We were asked to review the Biolite Solar Home 620 solar light kit for Preparedness Month. Between the wild weather and other goings on, we're running a little late, but we still want to give you an overview of this handy option for camping, emergencies or off grid lighting.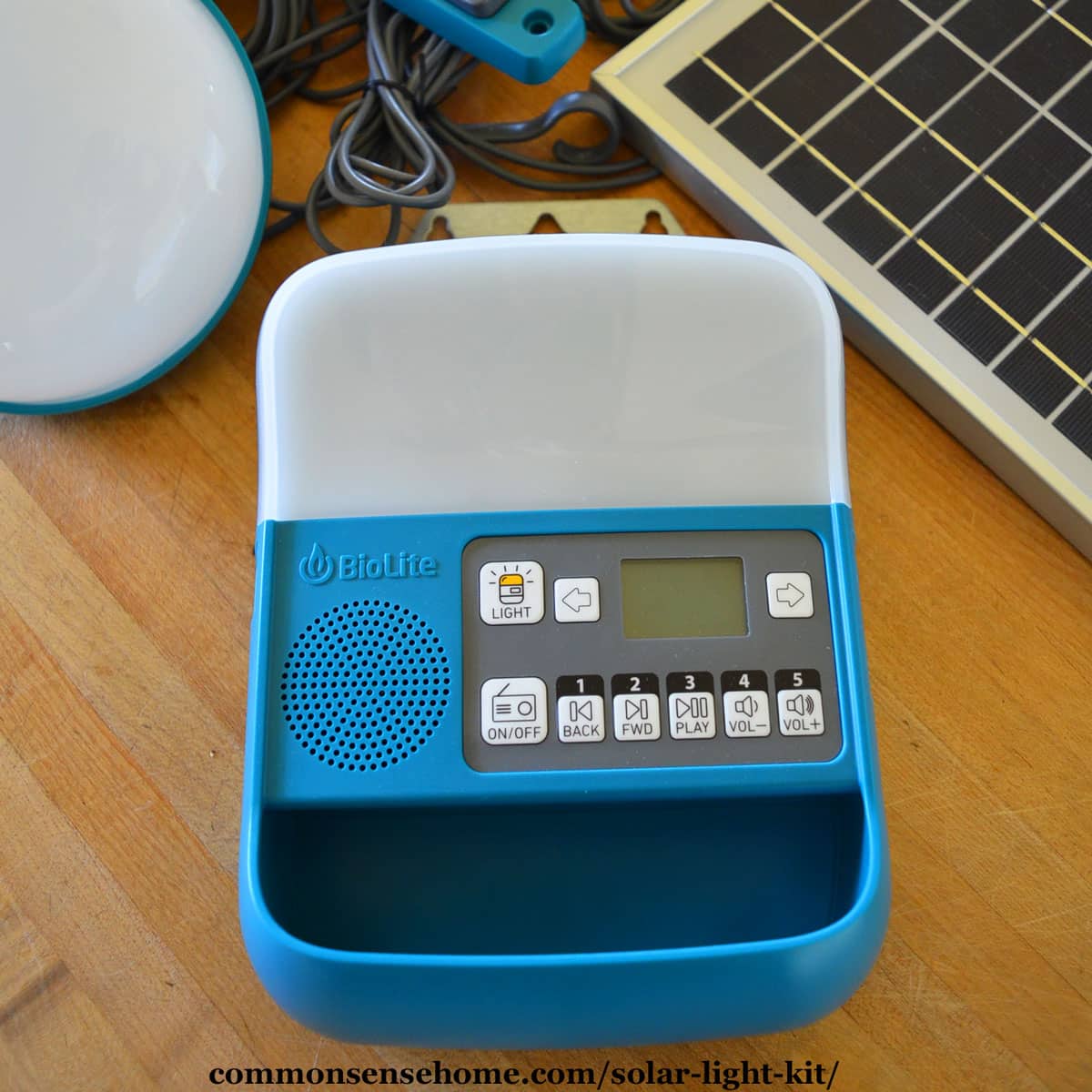 What is the Biolite Solar Home 620?
The BioLite 620 is a lightweight, portable solar light kit that provides lighting, radio and USB charging for a cell phone or other devices.
It can be used for:
Emergency lighting system for a power outage
Temporary or permanent indoor/outdoor lighting for a camp or RV
Permanent lighting for a shed, outbuilding, tiny home or camp
With a couple units it could even light up a small to mid-sized off grid home
Pros and Cons
Pros: Inexpensive. Easy to set up. Portable and Lightweight.
Cons: We would prefer a beefier system with higher lumens per LED light bulb, larger solar panel, bigger battery and heavier cords. The speaker is basic, but functions as an emergency radio. The radio doesn't include NOAA or shortwave. The wattage/voltage of the USB charging ports is not identified (it is 5v at 0.5w).
Order the Biolite Solar Home 620 Solar Light Kit Here
What's included in the Biolite Solar Home 620 Solar Light Kit
The kit includes a base station with a light, a solar panel, 3 lights and the necessary cabling.
Base Station
The base station is the brains of the system. It is 7.9 x 6.1 x 2.9 inches (200 x 154 x 68 mm). There's a built in light, a radio, various ports and a battery pack, plus an SD card for your music. There is an option for an expansion battery.
There are a few ports on the base station.
2 USB ports at 5v .5amp when the sun is shining or the battery is fully charged
1 DIN Port (Expansion Battery)
3 Light Junctions ports (Light Extensions)
The base station LiFEPO4 battery is rechargeable and stores 3300 mAh 20Wh (6 Watts, 20 Watt Hours.)
The base station has a radio. It works, the antenna cable is a bit short. The speaker is basic but it does work and the radio will pick up signals if you get the antenna in the right spot. It does not include emergency bands or short wave frequencies.
Solar Panel
The solar power panel is small and connects directly to the charge station. This panel is 11.4 x 7.5 x 0.6 inches (290 x 190 x 16 mm), with a cable that is 21 feet (6.5 meters).
You'll probably want to protect the solar panel power cable for extended outdoor use, as it is not real tough. The cable runs from the solar panel to the base station to charge the battery.
Lights
The kit includes four lights with LED bulbs. Each light is 100 lumens. For comparison, a 60 watt light bulb gives about 400 lumens. There are three separate hanging lights and one light on the base station.
Runtime: The 4 lights will run for 4 hours at maximum wattage when there is no sunlight at all.
Each hanging light has its own power cable and switch. The lights are 5.9 x 5.5 x 3.2 inches (150 x 140 x 82 mm). The power cable for each light is 18 ft (5.5m). Cables can be daisy chained to allow you to place them in different areas.
The switch on each light increases brightness or turns off the individual light. One light has a motion sensor and is referred to as a "security light".
You can mount the switches to a wall to function as a light switch for a more permanent wall light installation.
Size & Weight of the Biolite Solar Home 620 Solar Light Kit
Control Box: 550g (1.21 lbs) 7.9 x 6.1 x 2.9 inches or 200 x 154 x 68 mm
Hanging Lights (each): 300g (0.66 lbs) 5.9 x 5.5 x 3.2 inches or 150 x 140 x 82 mm.
Solar Panel: 720g (1.59 lbs) 11.4 x 7.5 x 0.6 inches or 290 x 190 x 16 mm
The small instruction kit is simple and straightforward, but misses a few things.
The battery pack charges in about 9 hours in full sun (when we tested it).
The system lights, radio and USB charger can be used while the system is charging, but it will slow the charge rate.
The USB charger provides standard 5v at 0.5amps.
Tips & Suggestions
Hook it all up on the ground before you mount anything to make sure it is all working. Do this as soon after you receive it as possible.
Don't charge through a window inside a building. Many windows have films that are not visible, but block solar gain for a solar panel.
Buy directly from BioLite website or Amazon BioLite to get the full warranty. If you find a super cheap solar light kit, there's probably a reason it's cheap.
If you live up north, ensure the solar panel is not covered in snow. Mounting the panel at roughly 40 degrees optimizes solar gain summer and winter.
If the unit isn't responding, press 1 and 5 to reset
Make sure you have full sunlight.
If this is a permanent installation, use a small conduit or outdoor protective tape to protect the charging cable. Use appropriate sealant on any roof or wall penetrations.
Check connections and make sure the cables are intact if the system won't charge. If it still isn't charging, reset the unit. For any additional issues, contact BioLite technical support.
Order the Biolite Solar Home 620 Solar Light Kit Here
Biolite Solar Home 620 Solar Light Kit Warranty Information
The Biolite full warranty policy is available online. If you buy the system through amazon.com, you can email amazon@bioliteenergy.com to get help.
Related Information