Lumintop EDC01 Review – Perfect for Every Day Carry
The Lumintop EDC01 is a great flashlight – tiny and tough. We have them in all our first aid kits, and on keychains.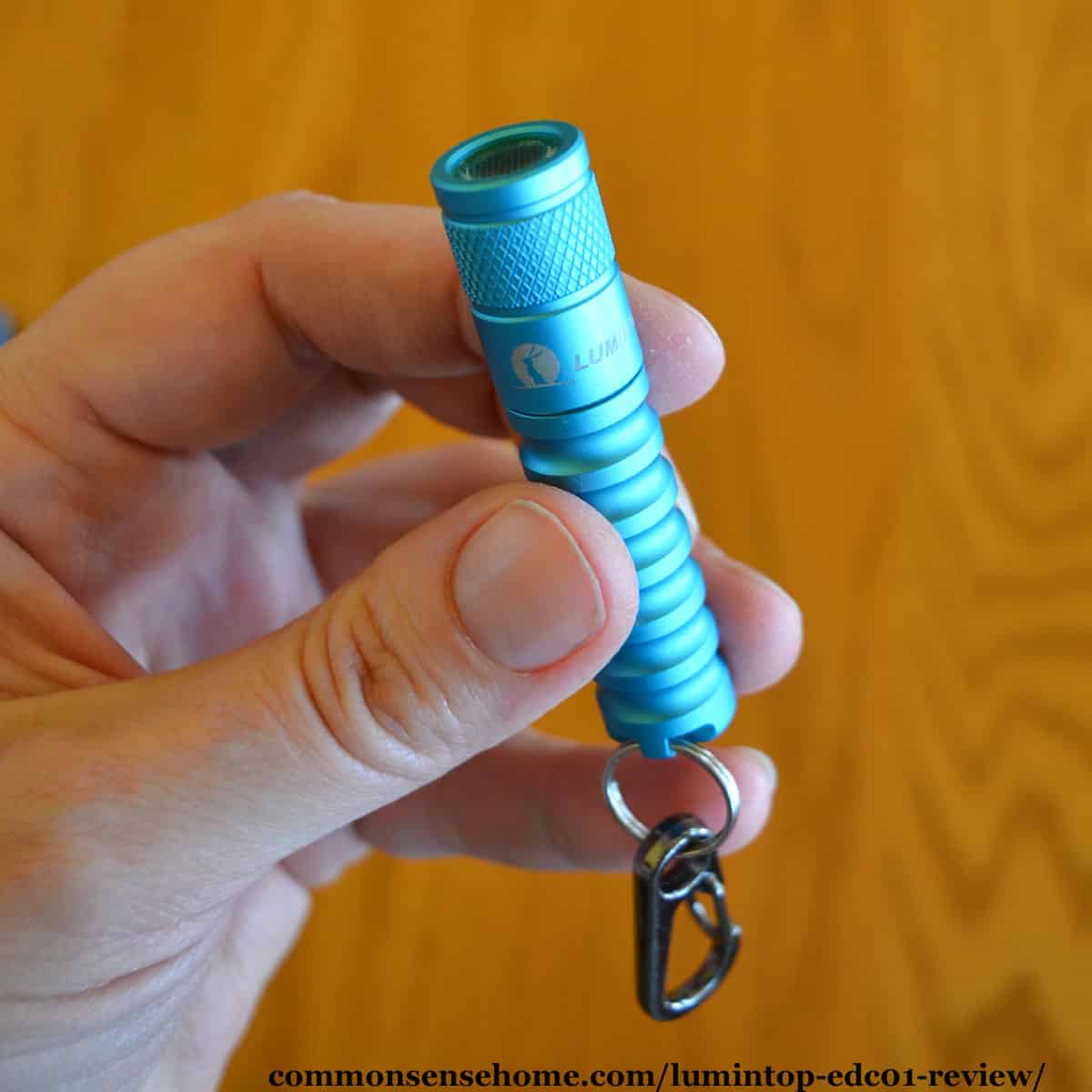 The EDC01 lives up to its name. It is just a bit bigger than a AAA battery, so it's perfect for EDC (every day carry). You can slip it in a pocket and forget it's there.
This little 120 lumen flashlight runs one one AAA battery, either alkaline or Ni-Mh rechargeable battery. It uses the Cree XP G3 R5 LED, and has a maximum runtime of 36 hours. (Note: Do not use a 10440 battery in the Lumintop EDC01.)
The flashlights come in Black, Blue, Golden, Purple and Pink. (Amazon may not have all the colors available all the time.) Basic black is the least expensive, but other colors cost only slightly more.
The kit includes a keyring latch, the manual, a diffuser and two spare O-rings. The diffuser fits over the end of the flashlight, and is handy when you're using it for ambient lighting. For instance, as a light for camping. The diffuser glows in the dark, too, so you can find the flashlight in the dark.

The "tail standing" ability means that it's stable when set upright, allowing it to provide hands free room illumination. This is great for emergency lighting, working in tight spaces, or camping.
Lumintop EDC01 Usage Review
The 120 Lumen LED LUMINTOP EDC01 is our favorite small AAA LED flashlight.
It has three modes – low, medium, and high. To switch between modes, you twist the end (twisty switch operation). Each time you turn it off and back on, it switches modes. It was a little odd the first time we used it, but you get used to it quickly.
It does get warm on high because it is so bright, but so far we have not run it long enough to be a problem.
Made of aircraft grade aluminum, it's lightweight and durable. With IP68 rated protection, it's built to withstand dust, dirt, and water. You can drop it in water up to 2 meters deep without damage.
It survived daily use on my keychain for over a year until I switched to the NiteCore TINI2. The Nitecore is a little smaller, and USB rechargeable.
The Lumintop EDC01 is the brightest AAA flashlight we have tested. They are excellent and not too expensive.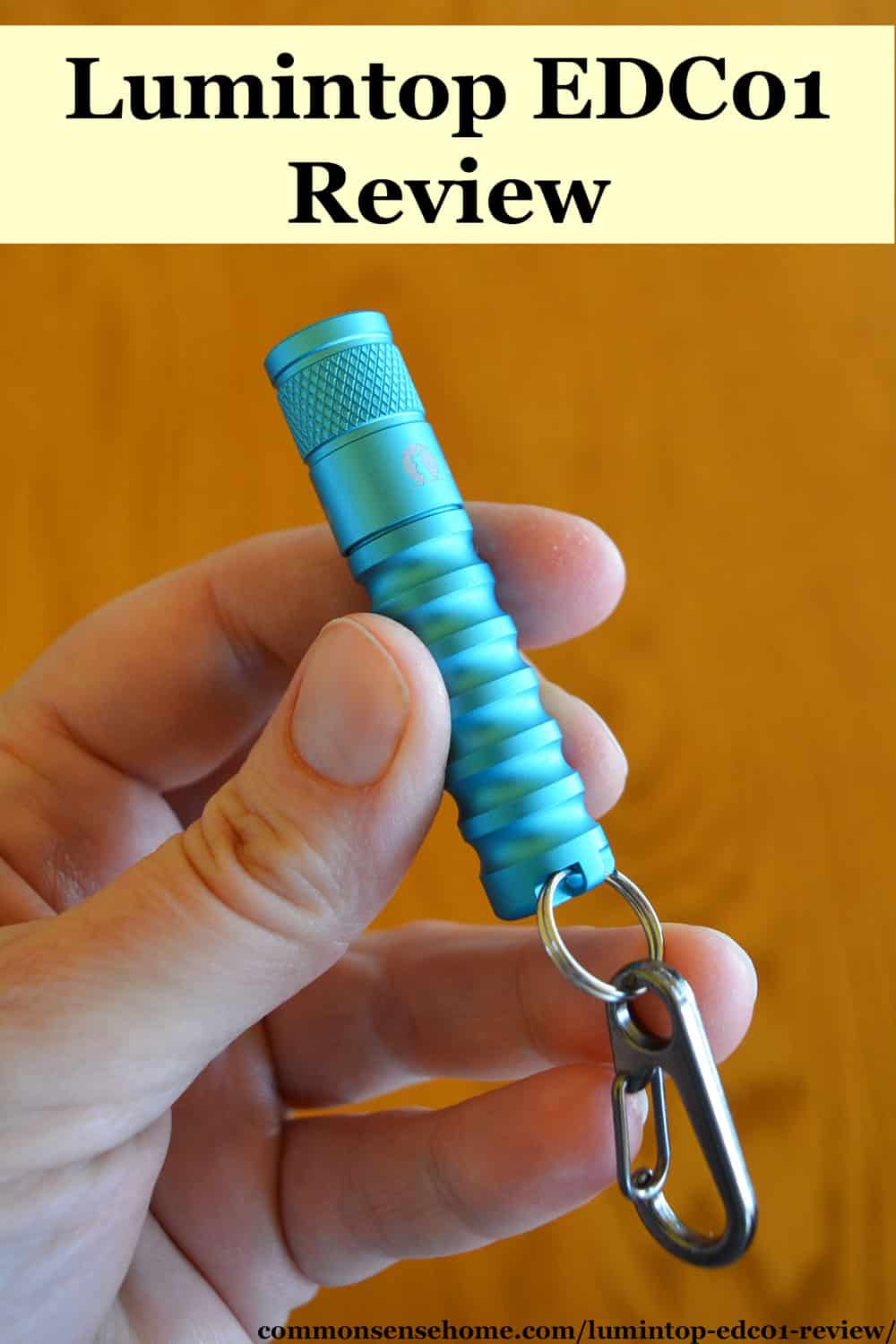 Make/Model: Lumintop EDC01
Battery: a single alkaline AAA or single Ni-Mh rechargeable AAA
On/Off/Modes: Twist
Size: 2.36 inches (6cm) by .57in (1.44cm)
High Mode: 120 lumen for 30 minutes
Med Mode: 32 lumen for 4 hours
Low: 5 lumen for 36 hours
Impact Resistant: 1.5 meters (5ft)
Weight without AAA battery: 0.42oz (11.9g)
Waterproof: IPX68
Preparedness and Product Reviews
We have dozens of preparedness posts and product reviews on the site to help you get ready for everyday emergencies.
You can find the posts organized by category on the Preparedness index page. They include: