The Best Cheap Flashlight (Under $4 each and Crazy Bright)
As part of our effort to be prepared for everyday emergencies, we went on a hunt for the best cheap flashlight. Our target was a durable, inexpensive high lumen flashlight that we could give out freely and not worry if it was lost. It needed to be a flashlight bright enough for a light source during power outages and lighting around the yard at night.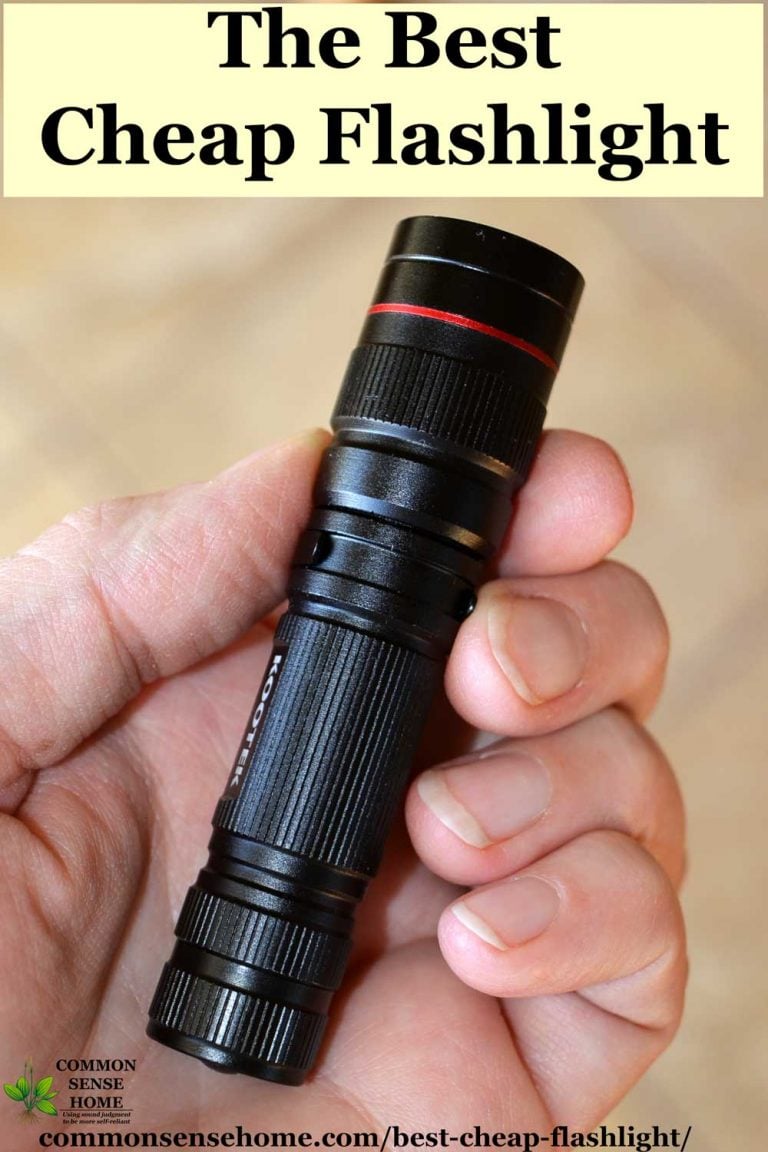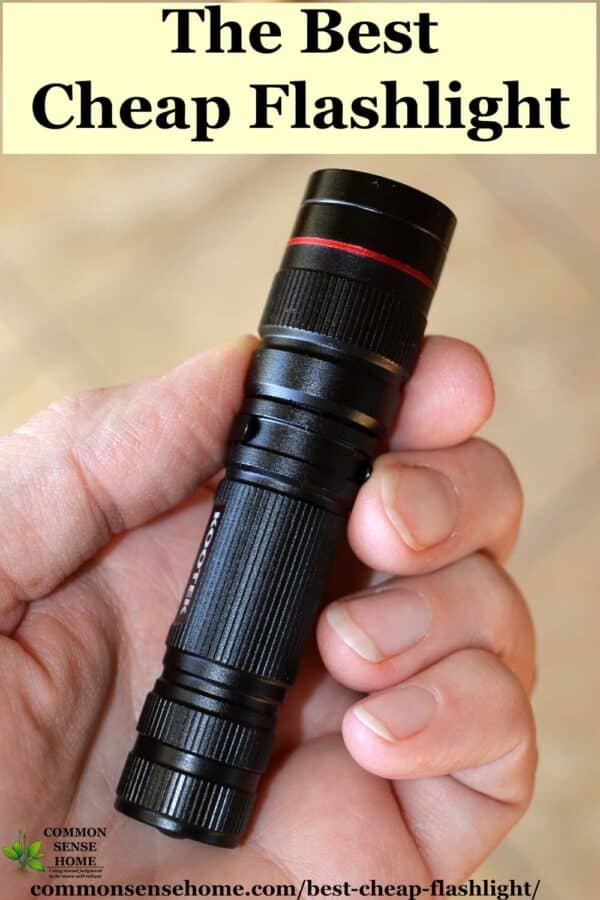 There are a LOT of cheap flashlights available, and many crazy expensive ones. Some flashlights need specialty batteries that increase the cost. After comparing and testing a bunch of cheap flashlights, this is our recommendation for the "best flashlight for the money". It is small, durable, bright, inexpensive and multipurpose.
If you have this flashlight, leave a comment about your experiences with it.
Our Pick for the Best Cheap Flashlight? The KOOTEK XPE-Q5 LED
Summary: We recommend the Kootek XPE-Q5 LED flashlight. It is a low cost, super bright LED light. It uses one AA battery or one 14500 battery which is not included. This zoomable, compact flashlight is water resistant (IPX6 compliant) but it is not waterproof. It is listed at 700 lumens but is more like 300 lumens. It is much brighter using a 14500 4.7v battery.
The case is aircraft grade aluminum with a belt clip and a manual focus. The flashlights are about 3.7 inches (90mm) long x 0.83 inches (20mm) wide and weighs about 2.1 ounces (without the battery). It has 3 light modes – bright, dim, and strobe. We suggest you buy one five pack and test them out, and get more later. This is our choice if you need cheap flashlights in bulk. A 5 pack is only about $4 each and they use the common AA battery and alternately the less common 14500.
Pros: 
Inexpensive and works reliably
Good flashlight if kids lose your flashlights.
It is the right price to leave them stashed around the house, in the car, tool boxes and emergency kits. Combine with a super inexpensive radioshack alkaline aa and you wont break the bank losing it.
Small, lightweight and powerful flashlight.
Cons:
The flashlight doesn't remember the last mode.
It doesn't have a seal ring.
The adjustable focus goes from wide (where the LEDs are not visible) to a narrow beam of light (where the individual LEDs are visible). This is a pro and con as narrowing the focus increases the "throw" of the flashlight to at least 300ft (about 100 meters) but the visible LEDs may bother some people.
This is a not good flashlight for extended HIGH use (too hot). Like other LED lights it gets hot with a disposable or rechargeable AA. When using a 14500 battery it is super bright, but gets dangerously hot if the flashlight is left on "high mode" too long.
Be aware, the inner diameter of the flashlights varies a bit. We had trouble fitting Amazon High Capacity 2400mAh AA and XTAR 1.5v Li-ION 3300mwh rechargeable batteries into SOME of these flashlights. A normal 14500 or disposable AA fit in all Kootek flashlights
Note, we had one bad flashlight out of 50+ purchased (we give them away as presents)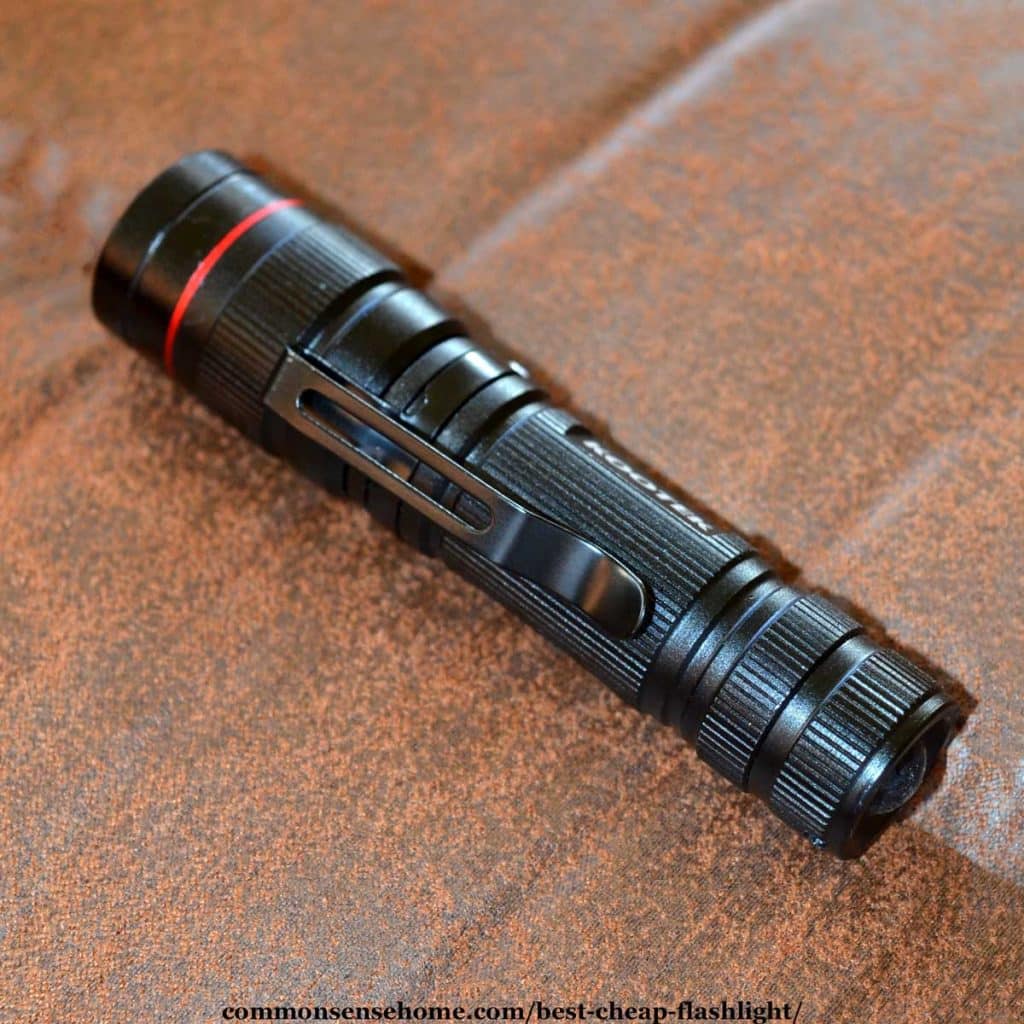 Best Uses
Put these cheap flashlights in bedrooms, kitchen drawers and tool kits. Also, put a budget flashlight in each emergency kit, 72 hour kit, first aid kit, get home kit and bug out bag. If you or the kids lose one, you aren't losing an expensive flashlight. Remember to store the battery separate from the flashlight if you aren't using it regularly.
I recommend three flashlights for every vehicle. I was on the way home and came across a deer accident. In clearing the road, vehicles were not slowing down. I put one flashlight facing traffic in each direction with strobe on. The strobe slowed traffic down more than normal hazard lights.
Light Quality
The Kootek is about 200 lumens, so it is very bright with a fully charged AA and even brighter with a 14500 3.7 volt battery. The beam color or hue is a fairly clean white and varies toward blue (known as "cool white"). Given the variance in production each flashlight might have slightly different color hues. You can see all the individual LEDs when it is not diffuse, as noted in the CONS above.
Range
The Kootek flashlight has a decent range (throw) of about 300ft (100 meters) fully focused. Although the LEDs are visible in the narrow focus, the brightness is just right for close tasks like pulling a sliver. It is not a functional spotlight but will light up a room well, or provide enough light to pull a sliver.
The wide focus works better for a night-time tire change or lighting up a room. The strobe is disturbingly bright and is a good alternate to a road flare. The lower intensity is good for enough light to see your way around the house in the dark.
Details
When we first ordered a 5 pack of the Kootek, we wondered if such a cheap flashlight would be any good. When we got it we were pleasantly surprised. The case feels solid. The three modes are toggled using the thumb button (tail cap) on the back.
Some advertisements say that they are 700 lumens (brightness). In testing it is actually about 200 to 400 lumens (depending on the AA vs 14500 and focus). The smaller barrel of the light is not the standard size for a tactical mount.
Our Experience
We have had these OVER 10 YEARS and absolutely recommend them for simple use. We purchased over 20 of these so far. Everyone who received them as gifts liked them.
The brightness is just right for close tasks like pulling a sliver. They're scattered around in the cars, kitchen, bathrooms, bedrooms and utility area.
We used 8 of them to do battery testing, with dozens of cycles for each flashlight. All continued to work. We did find one was slightly dimmer than the others and another drawing more power than all the others consistently. So there is variance unit to unit.
WARNING: it can burn your hand if left on high.
Previous winner was the 7w Q5 Mini Cree 300lumen LED. Our favorite version of the Cree LED Q5 was the Ultrafire. That unit is also inexpensive, but dim compared to the Kootek.

The video below shows a comparison of the Cree and the Kootek. (If video doesn't load, make sure adblockers are turned off.)
Conclusion
Common sense home rating: Inexpensive, functional and recommended.
This is a good, affordable flashlight (other than the heat, size and bad unit issue). We recommend you combine the Kootek with rechargeable AA batteries or 14500 batteries and a good Nitecore ci4 charger.
Rechargeable batteries and a good charger can easily pay for themselves in a few years, and save you a lot over time. Swap out your rechargeable batteries during daylight savings, spring and fall of each year.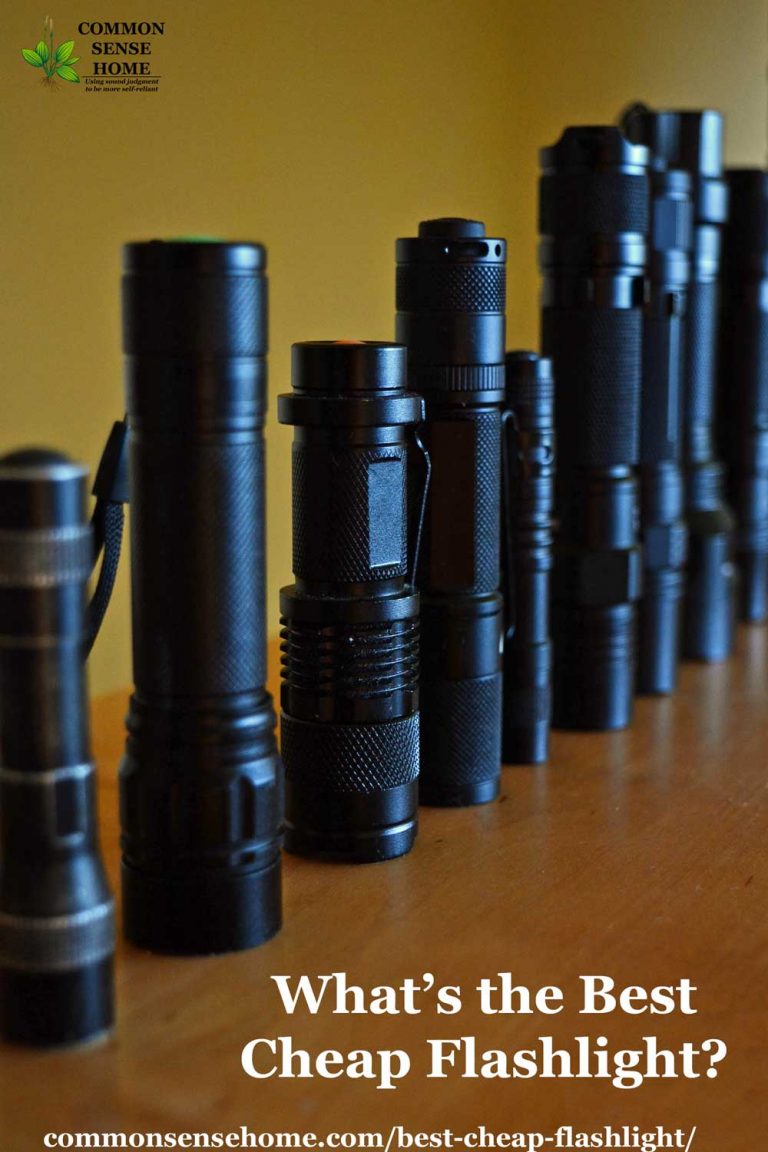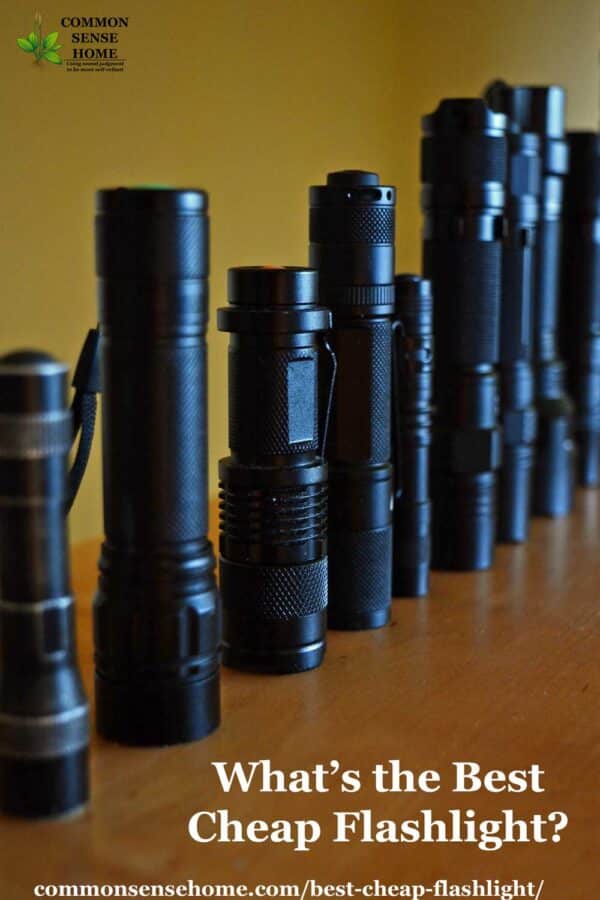 Alternate EDC Flashlights
More References
For information on rechargeable batteries and battery chargers for your cheap flashlight, check out "Best Battery Chargers and Batteries" post. The post "Brightest Flashlight – AAA, AA, Tactical, Keychain and Spotlight" features more info on the brightest flashlights in several different categories.
See also: "Electromagnetic Pulse (EMP) – What You Need to Know" for info to protect your LED flashlights from EMPs.
You may also find other posts on General Preparedness, First Aid and Food Storage useful, including:
Originally published in 2014, updated at least annually. Last update: April 2023