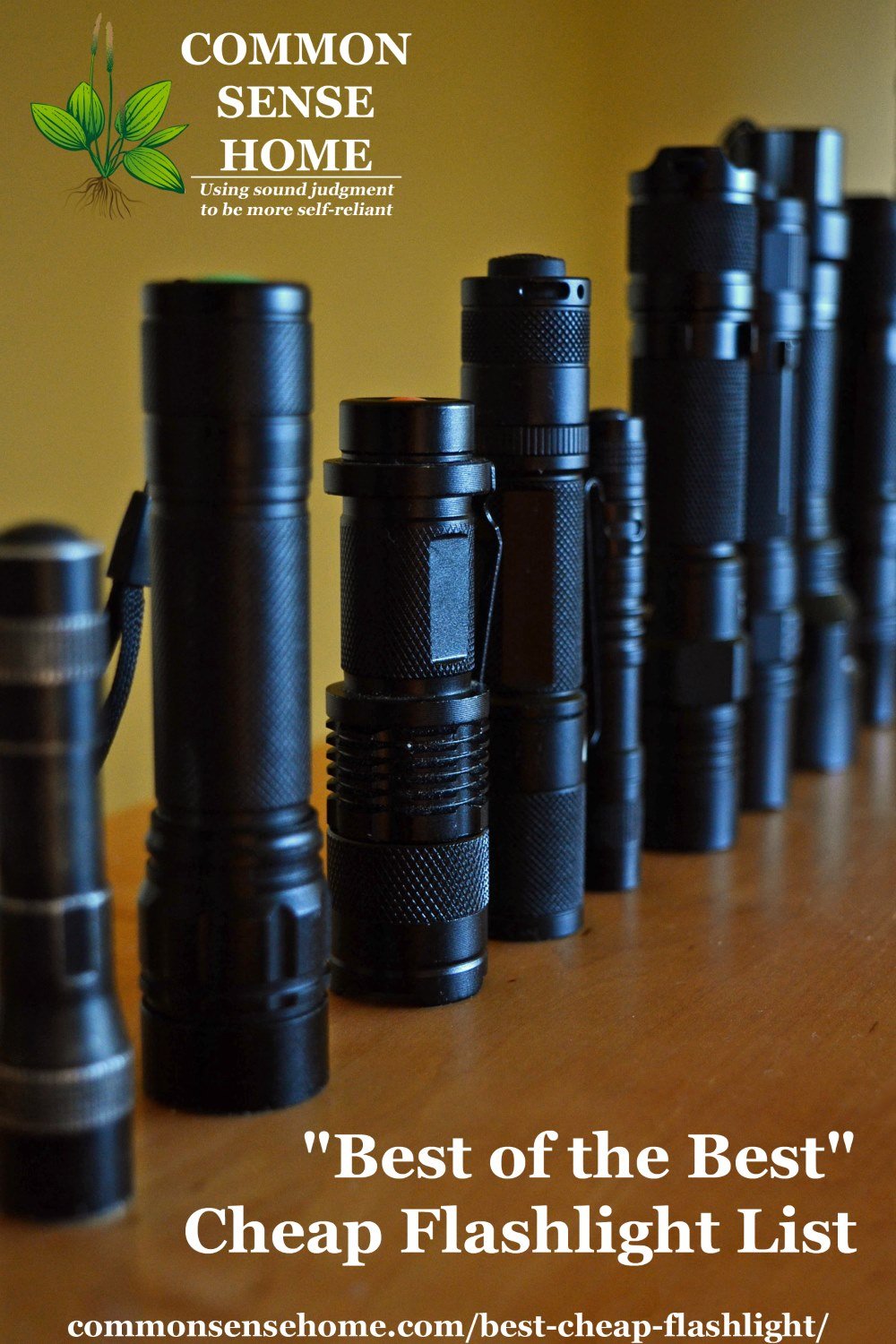 As part of our effort to be prepared for everyday emergencies we went on a hunt for the best cheap flashlights. Our target was a durable inexpensive high lumen flashlight that we could give to children and not worry if it was lost. It needed to be a flashlight bright enough for power outages and lighting the back of the van at night. 
There are a LOTS of cheap flashlights available, and many crazy expensive ones. Many flashlights require specialty batteries, which bumps up the cost. And if your special batteries go dead, the light is useless. It is't practical to spend big bucks on bright LED flashlights that were likely to spend most of their time in nightstands, emergency bags and glove compartments. My husband, August, made it his personal mission to check out an assortment of budget flashlights, and this is his recommendation for the "best flashlight for the money". It needed to be small, durable, inexpensive, and multipurpose. We tested each of the flashlights, batteries and chargers reviewed.
2018 Update: Readers report inconsistent lumen and quality in the mini Q5 Cree 7w flashlights. If you can find a consistent provider they're good, but the knockoffs are nowhere near as bright. Also note the lumen rating is over-estimated on nearly all Q5, C8 and T6 flashlights, only the more expensive name brands have reliable lumen info. 
"Best of the Best" Cheap Flashlights
7w Mini Cree Q5 300lumen LED AA Battery – (Low / High / Strobe) – Six flashlights – about 90 to 100 lumens
Mini Perman LED AAA Battery – (single mode) – about 80 lumen
LUMINTOP Mini Worm our favorite small AAA LED flashlight (3 mode – low med high) – about 110 lumen (this one costs more)
Brightest key-chain light Nitecore TIP 360 Lumen USB Rechargeable Keychain Flashlight (it really is 360 lumens but its more $)
Best Bright 18650 Atactical A1S 1150 lumen Neutral White LED 5 mode (Low/Medium/High/Turbo/Strobe SOS) true 1150 lumen
"Best of the Best" Accessories
AA & AAA Rechargeable batteries Tenergy affordable mixed order of AA and AAA Batteries providing good shelf life and good mAh
Best overall inexpensive USB charger is the XTAR VC4 Battery Charger supports multiple battery types
Lacrosse BC-1000 Best battery charger that refreshes older rechargeable AA and AAA batteries (but not 18650)
Orbtronic 3500mah 18650 Rechargeable batteries best 18650 rechargeable battery this a good fit for the aTactical A1 flashlight
Nitcore i4 Charger can charge 18650, AA and AAA rechargeable batteries (but cannot "refresh").
For more information on rechargeable batteries and battery chargers "Best Battery Chargers and Batteries" post.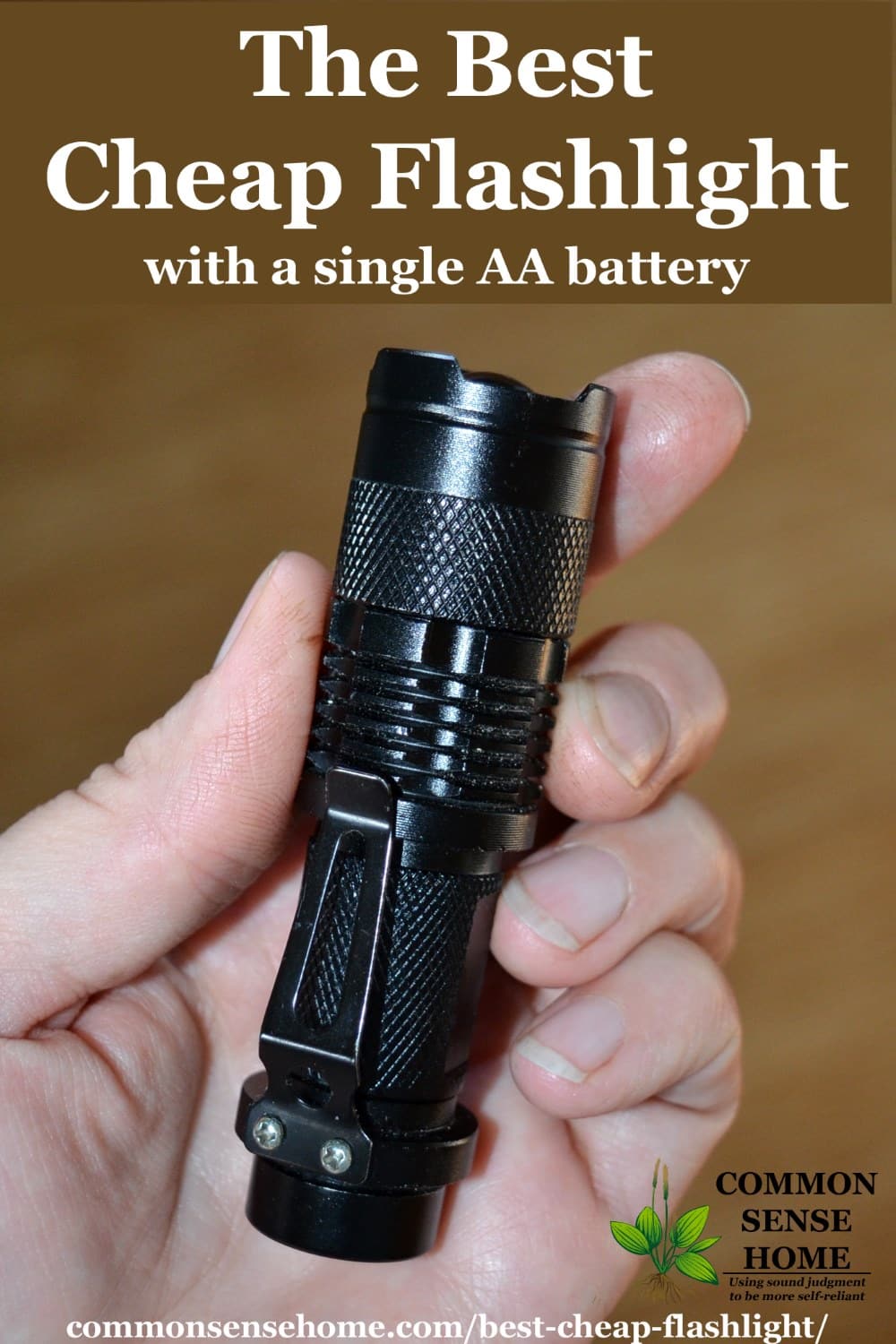 The Best Cheap Flashlight – 3 mode 7W 300LM* Q5 mini Cree LED Flashlight
Technical Summary of Q5 mini Cree 3 mode LED flashlight
We recommend the 6pack Q5 mini Cree 3 mode LED flashlight or the 10 pack Mikafen Mini Cree Q5 LED Flashlight Torch 300lm. The are cheap flashlights. Both use a standard AA battery or an 14500 3.6v battery. Both these are basically identical and both are more in the 100 lumen range, not 300 lumen. They have a sturdy aluminum case with a belt clip and a manual focus. The 14500 battery will make the flashlight brighter assuming its a true XR-E "Q5". See below for info on the various CREE LED types. Before you buy large amounts of similar Q5 flashlights, buy one set to test. Readers are reporting inconsistent quality.
There are generally two types of Q5's, the single mode and the three mode with High, Low and Strobe.  The flashlights are about 25mm (just under an inch) wide and 92mm (3.6 inches) long, weighing about .143 pounds/65 grams/2.3oz. The flashlights tend to cost much more individually which is why we recommend you purchase multi-packs.
WARNING: Watch out for the high rated LED flashlights that might have false reviews -look for lots of short reviews in a short time period with grammatical errors (that indicates they are fake reviews). Also watch out for high shipping cost flashlights.
Pros
It is bright, inexpensive and reasonably durable. It is water resistant (but not waterproof) and has no IPX rating. A remote pressure switch is available for weapon mounts (but we don't recommend it for that use). Note the unit in the pictures is the Ultrafire, but is the same "build".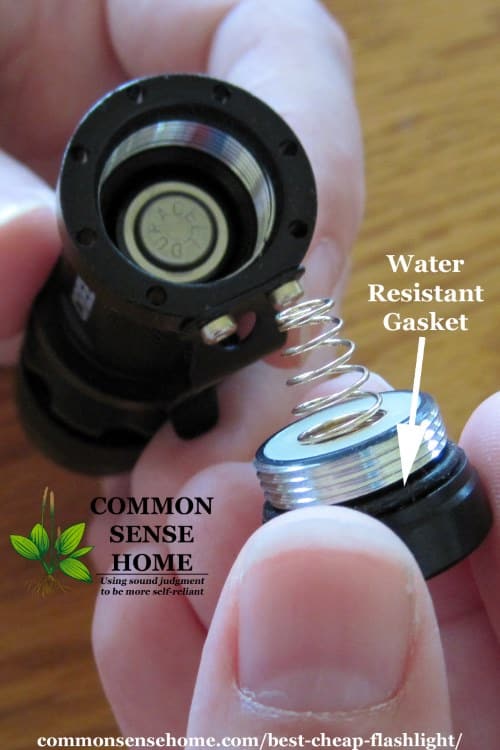 Cons
The Q5 is heavy for an EDC (Every Day Carry) flashlight in a purse or pocket. If the unit is left on "high mode" it gets hot. The individual LEDs are visible as a series of rectangles when the flashlight is fully focused, which may bother some people. We have heard of people having trouble with the switch, and units being bad to start and complaints of bait and switch with advertising listing the three mode and delivering single mode instead. As noted, quality and lumens vary especially with the constant changes in brands.
Best Uses
Stashed in a car or truck, one in the glove compartment and two in the trunk/toolkit. Good for nightstands, bathroom and kitchen drawers. Put one in an emergency kit, 72 kit, first aid kit, get home kit and a bug out bag. If you or the kids lose one you aren't losing an expensive flashlight.
We recommend three for every vehicle. August was on the way home and came across a deer accident. In clearing the road, vehicles were not slowing down. He put one facing traffic in each direction with strobe on which did slow down traffic more than normal hazard lights.
Details
When we first ordered this cheap flashlight we were suspicious that a $3 to $7 flashlight could be any good. It took a couple of weeks to arrive from China. When we got it we were pleasantly surprised. This is a great little affordable flashlight. The case feels a bit overbuilt and industrial. The three modes are toggled using the large orange thumb button (tail cap) on the back. The flashlight doesn't remember the last mode.
The advertisements say that they are 300 or 400 lumens (brightness). In testing the mini Q5 Cree flashlight is actually about 80 to 100 lumens (depending on the model and focus) – there are numerous name brands such as Ultrafire, Thorfire, Trusfire and Sipik, all of which appear to be the same flashlight.
Our Experience
We have purchased over 100 of these. August gave them as parting gifts to his team at his previous employer, and we have given them as Christmas presents. Out of the 100+ we have had a few duds, but given the price and general quality for the ones that work it is a great deal, and they won't break the bank if you lose them.
Even though the mini Q5 Cree flashlight is about 80 to 100 lumens, it is still very bright with a fully charged AA.
With a 14500 battery they are slightly brighter. However, we want to standardize on the AA batteries as much as possible. The light color or hue is not too "red or blue". It is a fairly clean white and varies toward blue (known as "cool white"), however, given the wide variance in production it is possible your flashlight could have different color hues.
The Q5 Cree flashlight has a decent range (light throw) for a small inexpensive single AA LED flashlight – about 30 feet to 75+ feet, depending on flood vs. narrow focus beam. Although the LEDs are visible in the narrow focus, the brightness is just right for close tasks like pulling a sliver. The wide focus works better for a night-time tire change or lighting up a room. The strobe is disturbingly bright and would be a good alternate to a road flare to warn drivers, and it did work for August. The lower intensity is good for enough light to see your way around the house in the dark.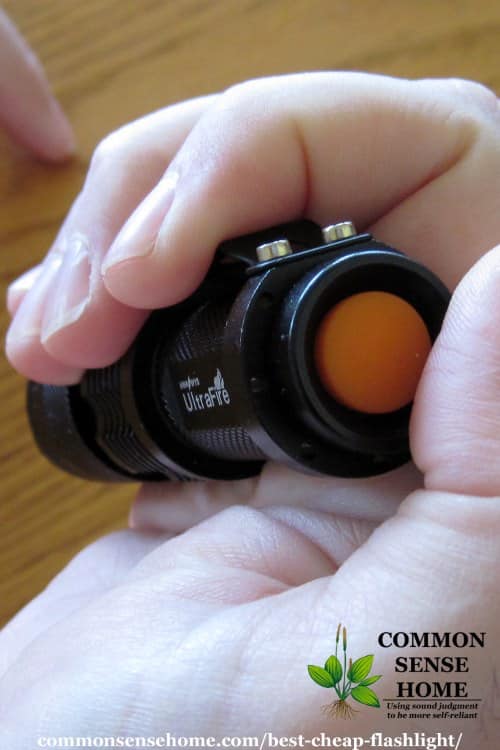 Be cautious buying the off brand / unnamed Q5 flashlights – there are many. They are similar and some are slightly less expensive, however, not all of them use the Q5 LED and even with the Q5 many only have on/off, not 3 modes. All of them overestimate the lumen output claiming 300 to 1000 lumens when they really provide 90 to 100.
The single mode Q5 one should be about $1 to $2 cheaper than the three mode unit. There are some "waterproof" versions that include an o-ring seal. We recommend you only order one flashlight (or one pack) and then order more if you like it. We ended up with a few single mode no-name flashlights when we intended to get 3 mode, so confirm the seller has a good rating and you are actually purchasing the Q5 Cree. The price has been going up, and the quality on some knock offs is poor, buy one before you buy a dozen.
Conclusion
Overall this is a solid, inexpensive, very bright, single AA battery, LED flashlight with a manual focus.
Update 2018: Our readers report that they have been using the Q5 Cree for over four years and they are still working well. August and I have ordered many for gifts, for work and friends. We have used the Q5 flashlights weekly since December 2013 in our cars, bedrooms, garage, 1st aid kit, kitchen, storage, basement, work rooms and around our 10 acre yard. They are great, cheap and bright. They have held up to being dropped, abused by teenagers and left in cars for months on end. NOTE: The number of knock-offs is making it harder to ensure you get a good unit.
We recommend you combine the Q5 mini Cree with rechargeable AA batteries and a good AA charger. Rechargeable batteries and a good charger can easily pay for themselves in a few years, and save you a lot over time.
The Best Cheap AAA Flashlight
The clear winner here is the Mini Perman CREE XPE-R3 AAA LED Flashlight. This flashlight is as bright as many AA LED lights. The unit is simple on/off only. It does have a focus which is nice. The Mini Perman is small enough to be a key-chain light and definitely light enough to be and EDC and it definitely meets the "cheap" criteria. Buy a few of the "XPE-R3" LED units. We might move this to #1 if it holds up over time.
The Best TINY Flashlight
The LUMINTOP Mini Worm uses AAA batteries. It is a 110 lumen, super small, super bright, 3 mode LED flashlight. It is great for a small emergency kits, a purse, a backpack, bug out bag, a keychain light, or other space or weight sensitive uses. We have one in all our small first aid kits. This is a close runner up to the Q5 as its is very small and very bright.
The runner up and brightest TINY flashlight is the Nitecore TIP 360 Lumen USB Rechargeable Keychain Flashlight. It is about 2x to 3x the price but also much brighter and smaller. It requires a mini-USB charger. This unit is crazy bright, and very lightweight. It is on August's keychain.
The Best Cheap 18650 Flashlight
The Best Cheap aTactical A1S 18650 LED Flashlight Bright 1000 lumen tactical 18650 LED. This is an amazing flashlight and is our go to for lighting up a 10 acre parcel. The aTactical is one inch diameter. It can be used with a mount on a weapon for tactical use. The strobe is appropriately blinding for defense use. It is slightly smaller lengthwise than our PD35 and has mode memory and a 2nd button to cycle through the Low / Medium / High / Turbo / Strobe / SOS light modes. The ATactical is IPX7 water resistant. It includes an interesting 18650 battery that can be charged with a micro-USB cable. Another interesting thing about the aTactical is the option for Cool White or Neutral color hue (different models, same price). You might want one or the other depending on use.
We also have a Fenix PD35 TAC 1000 Lumen which is a great tactical flashlight from a name brand but is more expensive and is comparable in brightness. The PD35 is a standard in the tactical flashlights. For weapon use you can purchase a Fenix PD35 kit. The Thrunite TN12 is another good alternative we tested, and its $10 to $15 more than the aTactical A1S.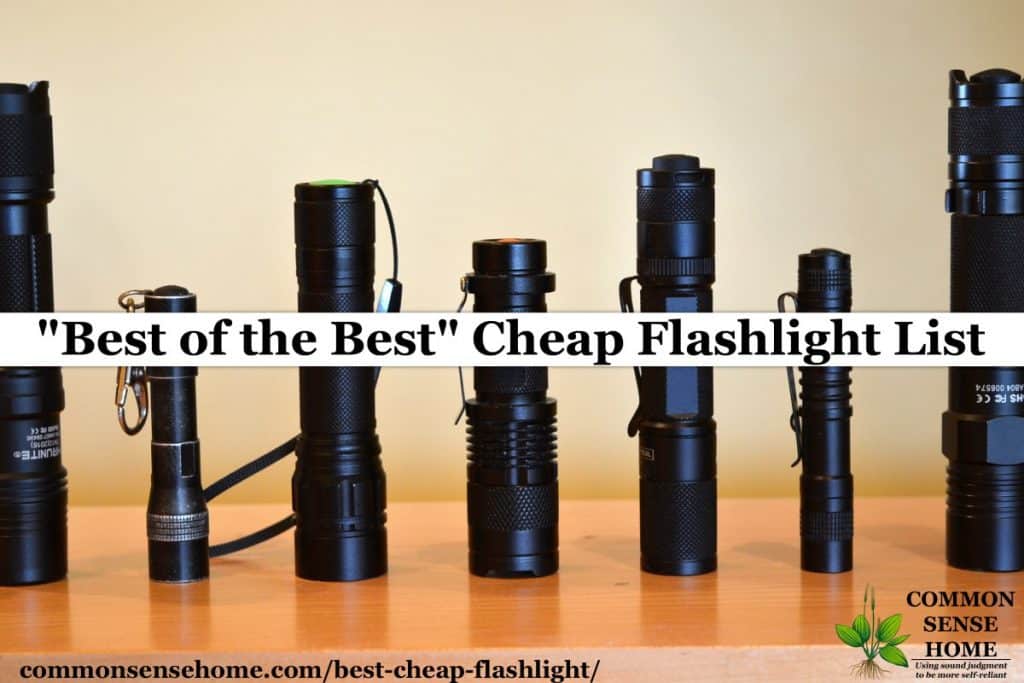 CREE LED Differences
There are many other CREE LED flashlights. The main variable on the flashlights are the LEDs used to create the light. A few of the more popular ones are the XR-E "Q5" CW, the XP-G "R5" CW, XM-L "T6". The XM-L or "T6" and the XP-L/HI which is probably the highest out there as of Nov 2017. The Fenix PD35 and aTatical uses the XP-L (providing true 1000 lumens).
The really amazingly bright XHP70 LED flashlights such as the ThruNite TN36 are excellent but don't fit the "cheap" expectation of this post. So we don't review them here. All LEDs using XHP70 LEDs are expensive varying from $50 to $500+ and require multiple 18650 or 26650 batteries. None not pocket flashlights.
The Best Cheap AA, AAA and 18650 Rechargeable Batteries
AA & AAA Batteries: Amazon Basics, Tenergy or Panasonic (Sanyo/Eneloop) 2500mAh batteries. We recommend the Panasonic Pro rechargeable batteries for high draw usage. The Tenergy and Panasonic Pro's both are low self discharge, so they hold their charge well in storage. If you want to save a few dollars and are okay with lower mAh, the Amazon Basics batteries are inexpensive alternative. We recommend the Tenergy AA and AAA or Panasonic Pro AA & Panasonic Pro AAA rechargeable batteries.
We recommend the Orbtronic 18650 "protected" 3500 mAh rechargeable battery for the bigger 1000+ lumen flashlights.
More References
For information on rechargeable batteries and battery chargers "Best Battery Chargers and Batteries" post. Check out "Brightest Flashlight – AAA, AA, Tactical, Keychain and Spotlight" for more info on the brightest flashlights in several different categories.
See also: "Electromagnetic Pulse (EMP) – What You Need to Know" for info to protect your LED flashlights from EMPs.
You may also find other posts on General Preparedness, First Aid and Food Storage useful, including:
Originally published in 2014, updated in Nov 2017.
Get Homesteading 101 FREE, plus weekly updates and Subscribers Only information delivered to your inbox.