I've owned a Foodsaver® Vacuum Sealer of one type or another for a couple of decades now, and I can't imagine my kitchen and pantry without a vacuum sealer. Okay – that's not really true. I can imagine it, and I don't like it. During harvest season, my vacuum sealer lives on the counter. It simply can't be beat for extending the freezer life of produce. (It works great for meat, too. We always get our bulk meat purchases vacuum sealed at the butcher.)
I can easily carry over food items for a year or more if needed, which is great if we have a bumper crop of something one year and a crop failure the next. Two year old vacuum sealed berries look like they were picked and frozen the day before. Try that with produce in a regular zipper bag, and you'll end up with a block of ice. Below is a comparison of two packages of broccoli, one vacuum sealed, one not. I thought I'd use the second package up quickly, so I didn't take the time to vacuum seal. Big mistake.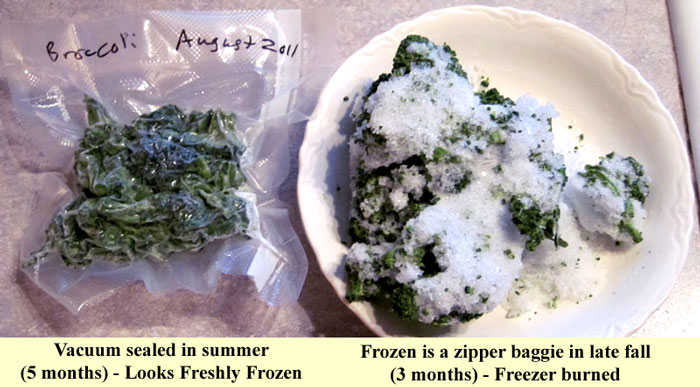 I put together a quick list of five uses for a vacuum sealer everyone should know, just to highlight some of the cool stuff that these sealers can do. We also have a review and giveaway of the new Foodsaver® FM2000 vacuum sealer, which reminds me of the original vacuum sealer I had for over 10 years, except it's black and the old one was white.
#1 – Use a Vacuum Sealer for Food Storage
I use my vacuum sealer for fresh frozen produce such as peas, broccoli, strawberries, peppers, blueberries, kale, chard, green beans and pretty much anything else that is not a puree. I like to freeze the produce on sheet pans, and then pack into meal/recipe size bags and seal. That way, when I open the bags, the peas or berries aren't all clumped in one big frozen block, and I can pour out at little or as much as I need at one time. If you cut them open neatly, you can also reseal and reuse the bags at least once, sometimes more. You can see my original vacuum sealer in action in this post about how to freeze peas. You can also seal up leftovers in meal size portions for a quick to fix meal on busy weeknights. The vacuum sealed bags can stack like books on a shelf in the freezer and take up little space.
Vacuum sealers are also great for extending the shelf life of bulk dry goods, such as dried fruit, herbs and spices, or even flour and sugar. For non-powdery dry foods, like fruit, peppercorns or rice, I place the items in a mason jar and use the jar sealer attachment. This is also know as dry canning. This is especially helpful when you have a bumper crop of something and need to store extra for a longer period of time than you would normally store foods (like the corn shown above).
For powdery items such as flour and sugar, I leave them inside their paper storage bags, and vacuum seal the entire package inside a vacuum bag cut to size. If you want to try sealing powdery material in a mason jar, make sure to form a hole in the center of the contents to increase airflow, and place a coffee filter over the contents to reduce the amount of dust being sucked into the seal and sealer.
How much longer will vacuum sealed food last? FoodSaver offers the following food storage guidelines:
| FREEZER | Ordinary Storage | FoodSaver System |
| --- | --- | --- |
| Beef, Game & Poultry | 6 months | 2-3 years |
| Fish | 6 months | 2 years |
| Soups & Stews | 3-6 months | 1-2 years |
| Coffee Beans | 6-9 months | 2-3 years |
| Vegetables | 8 months | 2-3 years |
| Bread | 6-12 months | 1-3 years |
| REFRIGERATOR | Ordinary Storage | FoodSaver System |
| Cheese | 1-2 weeks | 4-8 months |
| Lettuce | 3-6 days | 2 weeks |
| Berries | 1-6 days | 1-2 weeks |
| PANTRY | Ordinary Storage | FoodSaver System |
| Flour & Sugar | 6 months | 1-2 years |
| Rice & Pasta | 6 months | 1-2 years |
| Cookies | 1-2 weeks | 3-6 weeks |
I know I've seen a huge difference in the quality of my food storage since I started using my vacuum sealer. It was a very good investment.
#2 – Use a Vacuum Sealer to Reseal Wine, Oil or Vinegar
Once you break the seal, the shelf life on most liquids drops dramatically – especially wine. I found out while researching for this review that they now make a wine stopper attachment. Given that I make homemade wine and almost never finish a bottle of wine in one sitting, this is something that I'll likely invest in. They sell the Foodsaver® bottle stoppers in a 3 pack, so you can seal more than one jar at a time. This would also be a nice option for sealing jars of herb infused vinegar or oil.
#3 – Use a Vacuum Sealer to Protect from Corrosion
From ammunition to fine silver, air and moisture exposure tarnish and corrode metals over time. You can use your vacuum sealer to protect the shine on your silver cutlery and save yourself a lot of time polishing, Just make sure to wrap the cutlery in a cloth or thick paper before sealing, so that the fork tines or sharp knife edges don't puncture the vacuum bag.
If you want to protect ammunition, make sure to use the seal only function, not the vacuum and seal. Vacuum sealing bullets may cause the slug to "pop" out of the cartridge. You can add oxygen absorbers for extra protection.
For the welders out there, one of the members of SurvivalMonkey.com notes that they vacuum seal their Broco exothermic cutting rods and underwater welding electrodes to keep them fresh, which reduces waste from boxes being open and rods being exposed to the elements.
#4 – Use a Vacuum Sealer to Reseal Cracker Bags, Chip Bags and Mylar Bags
Chip clips and clothespins might keep bag contents from spilling all over the pantry, but they don't work very well to keep the bag contents fresh, especially under humid conditions. To keep the crunch in your crackers, simply use the Seal Only function on you vacuum sealer. (Vacuuming might crush the crackers.) I buy a lot of herbs, spices and baking supplies in bulk mylar bags, so this is a great way to keep them from going stale before I use them up.
Note: I prefer to buy the rolls of bags and cut them to the size that I need for whatever I want to store. I have also had fewer seal failures with genuine Foodsaver® brand rolls. When I tried a "bargain" brand, I had more failures and could not reuse the bags because they would not hold a seal a second time. Not much of a bargain.
#5 – Use a Vacuum Sealer for Emergency Preparedness
I like to stock up on things during sales, and make sure to keep a stockpile of certain items I always like to have on hand, since we don't have any stores really close. Welllll… when the boys were younger, we went through a ton of band-aids, because they were perpetually getting scrapes, scratches and bumps. So I bought band-aids – a lot of band-aids. Most were used in a timely fashion, but one box got shoved to the back of the linen closet. By the time I found it, the adhesive on the packaging and the bandages themselves was starting to break down, and they were basically useless. (Note to self – clean linen closet more than once a year.) Now when I catch a great sale on band-aids, I unfold and flatten the boxes with the bandages inside, and vacuum seal the whole thing. When it's time to use them, I snip open the bag, unfold the box, and it's ready to go. Great shelf life, no damaged adhesive.
You can make your own premade meals; preserve important documents and computer backups; protect matches, clothing or emergency kits; and probably one of the coolest options I read about – keep candles from melting into unusable blobs. Here's another tip from SurvivalMonkey.com:
If you place your candles into a fridge/freezer first, then vacuum seal them, they hold their shape, regardless of the temperatures. They can be cooled down before opening, and used normally. I had tested a few, due to candles melting in my BOB's (Bug Out Bags), in their cardboard boxes, which made a real disaster! Now, it doesn't matter as they are in a predetermined cylindrical shape, and stay that way even if melted!
They also mention to avoid vacuum sealing lighters, compasses and anything with sharp edges. 🙂
FoodSaver® FM2000 Vacuum Sealer Review
The FoodSaver® FM2000 Vacuum Sealer is an affordable, easy to use vacuum sealer. At 17.6 x 5.9 x 10.6 inches and 5.3 pounds, the unit is light and tucks easily away for storage when not in use. There's a cord minder compartment on the underside, so you don't have a cord danging to attract cat attacks as you move around the kitchen.
The FM2000 is a manual unit, which means you lock it down and press the button when you're ready to seal. I've also used an automatic vacuum sealer. The manual option is just as easy if not easier than the automatic, because sometimes the sensors on the automatic one get grumpy, especially when you're reusing bags. The clamshell design is also easier to use than attempting to feed a bag end into an automatic slit. I think the clamshell design also wastes less bag space. I've noticed that the new generation of FoodSaver® Vacuum Sealers has a much wider sealing area than my old sealer, which means less seal failure.
There is an accessory port with allows you to use the mason jar sealers for dry canning, handheld sealers and bottle stoppers. The accessory hose is included, but stores separately from the unit. Other accessories are sold separately. You can also use the port to marinate foods. (This is explained in the enclosed manual.)
There's a patented removable, dishwasher-safe drip tray, in case you suck any liquid into the machine while sealing, and a 5-year limited warranty. All in all, a budget friendly option for all your food storage and other vacuum sealing needs.
FoodSaver® Brands sent me one of these units to poke and prod so I could share this info with you.
Note: Since this review was originally published, other units have have come out and the FM2000 is now available only through third party sellers. The FoodSaver V2244 Vacuum Sealing System has a similar profile and is available via Amazon prime.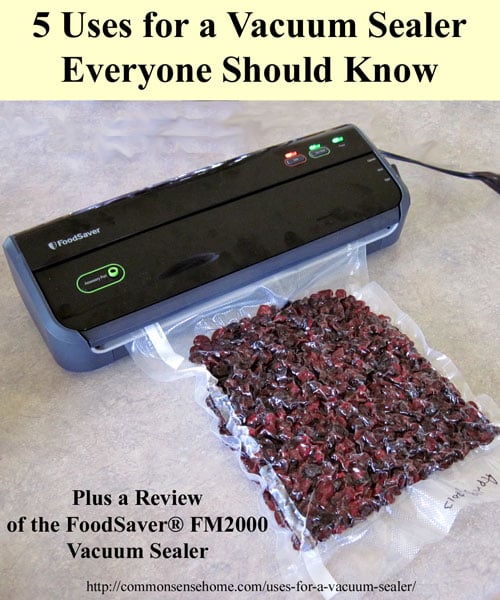 You may also enjoy:
NOTE – When originally posted in 2014, this review included a giveaway, which has concluded. Congratulations to our winner, Terri H.!
Get Homesteading 101 FREE, plus weekly updates and Subscribers Only information delivered to your inbox.