7 Tips to Stop Blossom End Rot and Save the Harvest
While annoying, blossom end rot (BER) is treatable and preventable. Caught early, your odds of a successful tomato crop are still good. In this post, I'll talk about blossom end rot causes, prevention and control; plus several photos to help you ID the problem and common mistakes to avoid.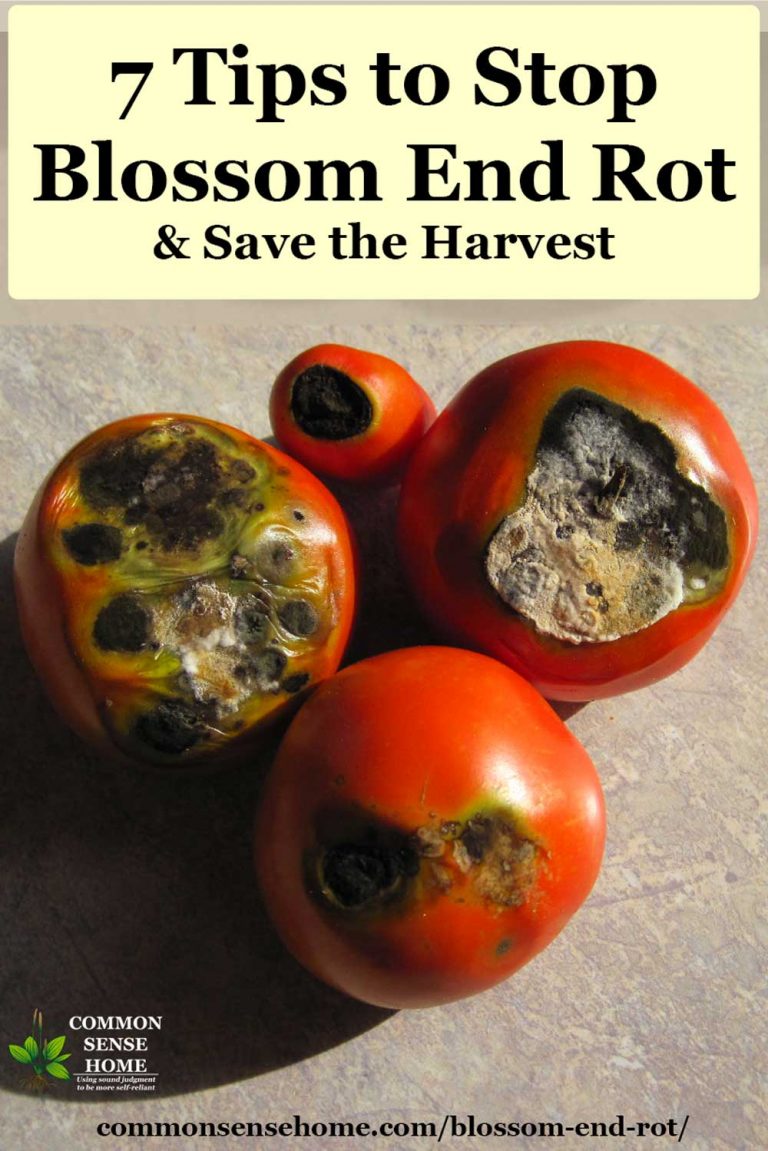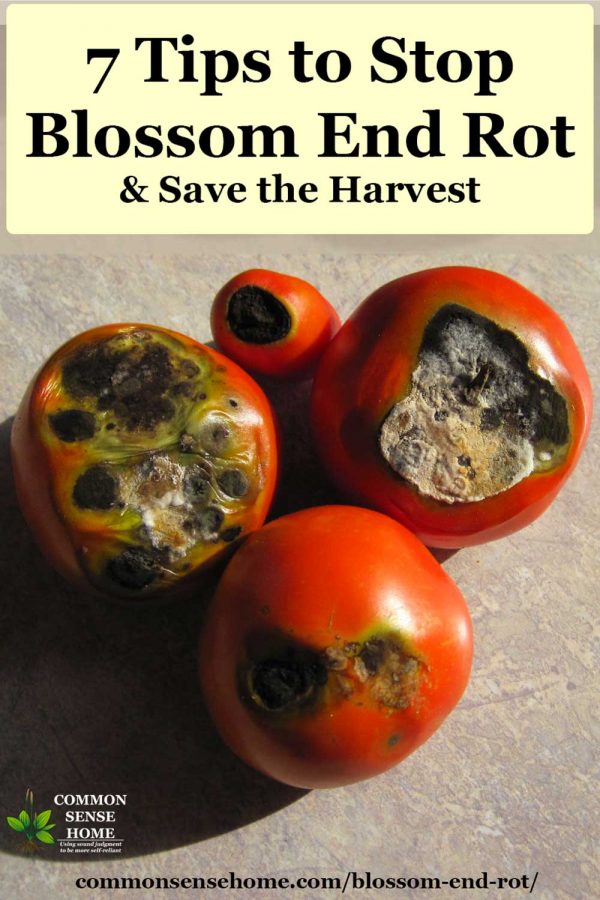 There's nothing worse than waiting for your first big, beautiful tomato to ripen – only to flip it over and find a black rotten spot on the bottom. (Black tomatoes = tasty, black bottomed tomatoes = not tasty.)
Your black bottomed tomato has blossom end rot.
What causes blossom end rot?
Blossom end rot is caused by the tomato plant not being able to get enough calcium to the developing fruit.
This calcium deficiency is not caused by a plant disease like a fungus or bacteria. (Fungicides and insecticide won't help.)
Blossom end rot may occur in tomatoes, peppers, melons, eggplants, squash and cucumbers. Some describe it as a "water soaked spot", but to me, it simply looks black or mushy and rotten.
Why don't the plants get enough calcium to the fruit?
This can be due to a number of factors, including:
Moisture – Too little or too much – We've had dry conditions this summer. Even with mulch, I have lost some tomatoes to blossom end rot. Last week I heard from two different local friends who had problems with rotten, black bottoms on their tomatoes.
Too much Nitrogen – Dump a load of fresh manure on your tomatoes, and you may be rewarded with lots of green growth and black bottomed fruit. The nitrogen salts may make the calcium in the soil less available to the tomatoes.
Soil too Cold at Planting – More of an issue for northern gardeners, cold soil can interfere with nutrient uptake to the plant.
Root damage due to cultivation – Aggressive digging around your plants (for weed control, for instance) may damage the roots. This would also interfere with nutrient uptake.
Soil pH too high or too low – Either extreme of pH can make it difficult for your tomatoes to thrive
Susceptible varieties – Certain tomatoes varieties are more prone to blossom end rot than others.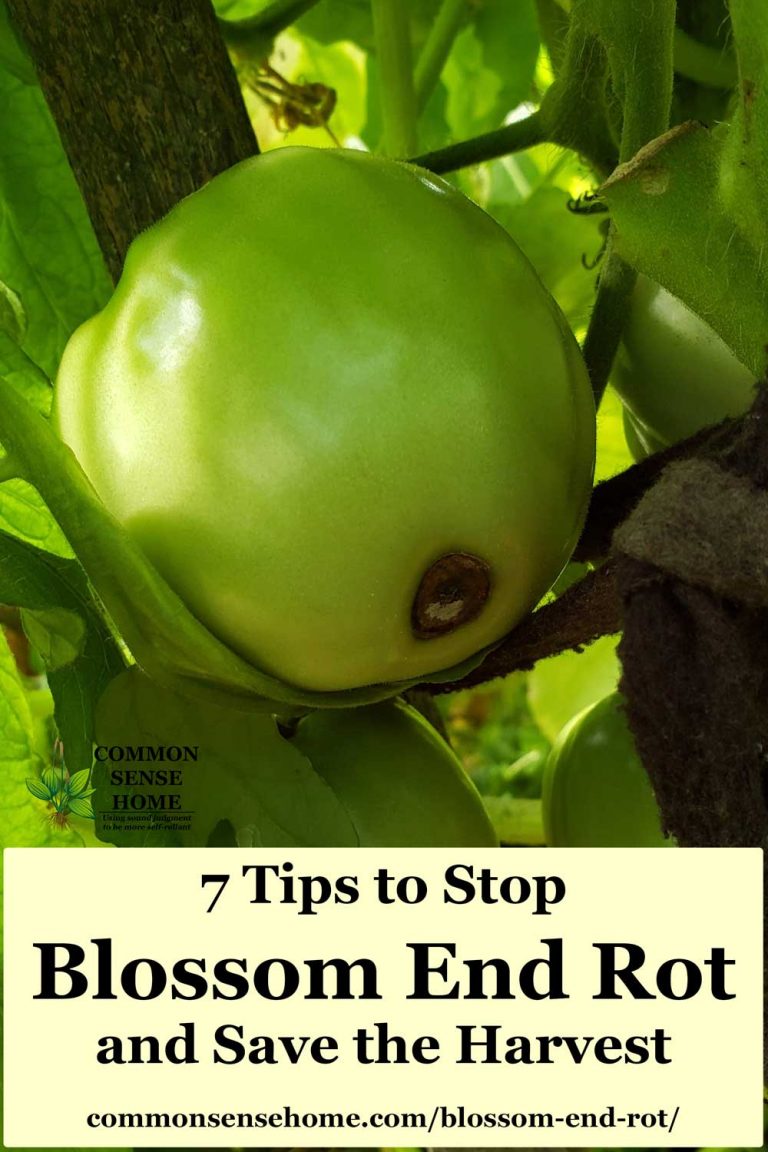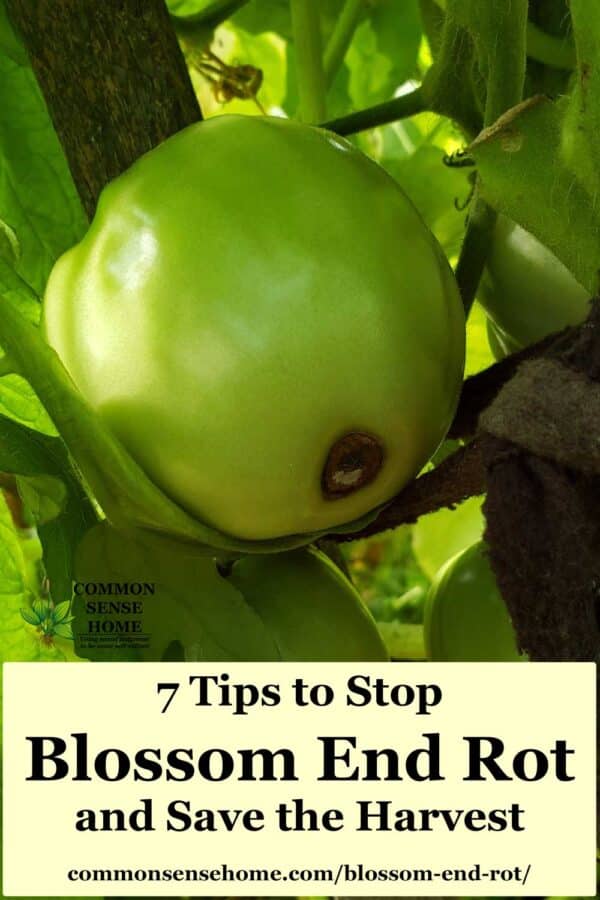 Does Blossom End Rot Spread?
Blossom end rot does not spread from plant to plant, but plants growing near each other may all be affected, since they share similar growing conditions.
Are tomatoes with BER safe to eat?
If the rot spot isn't too big, you can trim off the damage and eat the rest of the tomato. Make sure to trim well away from the spot, because the rotten taste can spread beyond the visible damage. (Ask me how I know…)
The tomato below is too far gone to salvage.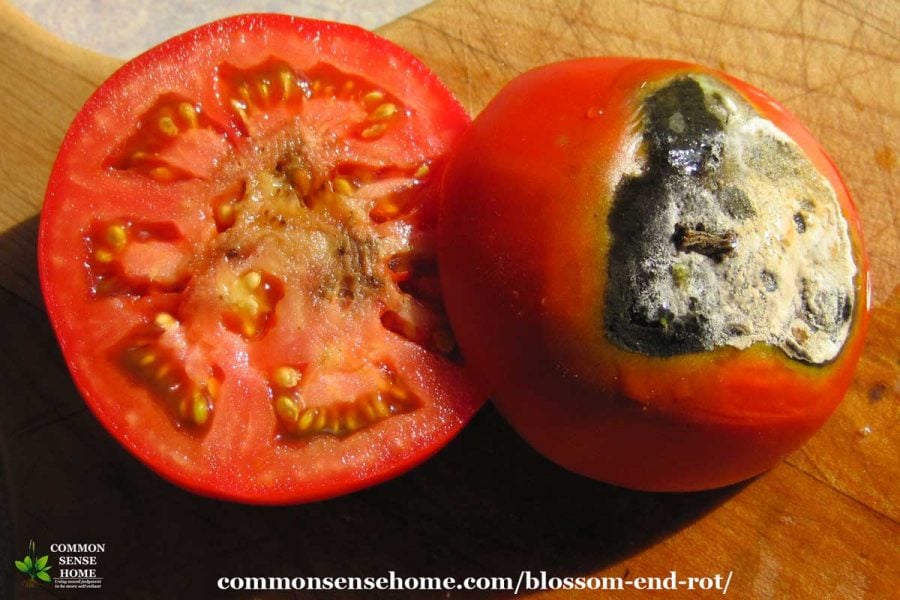 How Do You Prevent Blossom End Rot?
Once you see a black or dark brown spot at the blossom end of tomato fruits, they're a goner. You cannot "heal" a damaged tomato.
Prevention and control measures are where you need to focus to salvage the rest of your tomato season. Here are steps you can take to limit and control blossom end rot on tomatoes and other crops.
1. Maintain steady levels of moisture to your plants.
I use straw mulch to help maintain even soil moisture levels. If rains fail, make sure to give your plants a good soaking 1 to 2 times a week. Stick your fingers in the dirt around the tomato and make sure it's soaked several inches down.
You can also try water cones or soaker hoses to deliver a slow, steady supply of water. If stuck with heavy rains, trench drainage away from your tomatoes (if possible).
You may also encourage new roots above the sodden ground by heaping compost around the base of the tomato plant. (Roots can drown if the soil is too wet.)
Pot grown plants in particular may be more prone to blossom end rot, due to difficulty keeping the soil moist enough. Try self-watering containers or watering spikes in your container.
2. Use a Balanced Fertilizer.
Aged manure or compost is great, as tomatoes are heavy feeders – just don't use too much fresh stuff. There are also good organic fertilizers available to help give your plants a jump start.
For detailed planting instructions, see "How to Grow Tomatoes Organically".
3. Make sure your soil is warm enough, but not too hot.
Tomato seeds need soil temps of at least 60°F (15.6°C) to germinate. Transplants can go into soil above 55°F (13°C), but growth will be slow.
A general rule of thumb is to wait for nighttime temperatures to be above 55°F. You can easily test your soil temps with a soil thermometer.
To raise soil temperature, you can cover your planting area with black or red plastic – or be patient. In summer heat, organic mulch can keep roots from overheating.
4. Avoid working too close to the roots of the tomato plant.
Pull weeds when you need to, but don't attack the ground close to the tomato with your hoe. Mulching helps limit the need for cultivation.
5. Check your soil pH before planting.
A soil pH around 6.2 to 6.8 is best for tomatoes. If you need to do a soil test, you can visit "Soil Testing – 5 Easy Tests for Your Yard and Garden" for more information.
Adjust with additional calcium through liming the garden bed to raise the pH.
Lowering pH is best done over time through the use of organic mulches and compost. Leaf compost is particularly effective. (You can use this meter to test both pH and moisture levels.)
6. Add calcium to your soil.
I work in crushed eggshells at planting time. If you don't have eggshells, try a few cheap calcium antacid tablets.
A handful of garden lime or gypsum also works. Spread a sprinkling of lime onto the soil surface, work in gently, cover with mulch, and water well.
There are also rot stop sprays that can be applied to the tomato foliage.
7. Choose tomato varieties that are less susceptible to blossom end rot.
This is a little tricky, and is a good reason to keep a garden journal. I've seen in my own garden that some varieties are much more likely to develop rot than others.
In my garden this year, those varieties more prone to blossom end rot included San Marzano, Orange Banana and Better Boy.
Meanwhile, the rest of the crop was largely unaffected.
Amish Paste, Opalka, Blue Beauty, Stupice, Glacier, Black Cherry, Mortgage Lifter, Arkansas Traveler, Tigerella were among those without a problem.
A more scientific study was conducted by the University of Illinois. They found these varieties to have a low incidence of blossom end rot, with losses of less than 10% in severe years:
Celebrity
Fresh Pack
Jet Star
Manapal
Mountain Pride
Pik Red
Sunny
Winter
And these varieties had a loss of 15 to 30% or more in severe years:
Big Boy
Castle King
Fantastic
Independence
Supersonic
Surprise
Whopper
Wonder Boy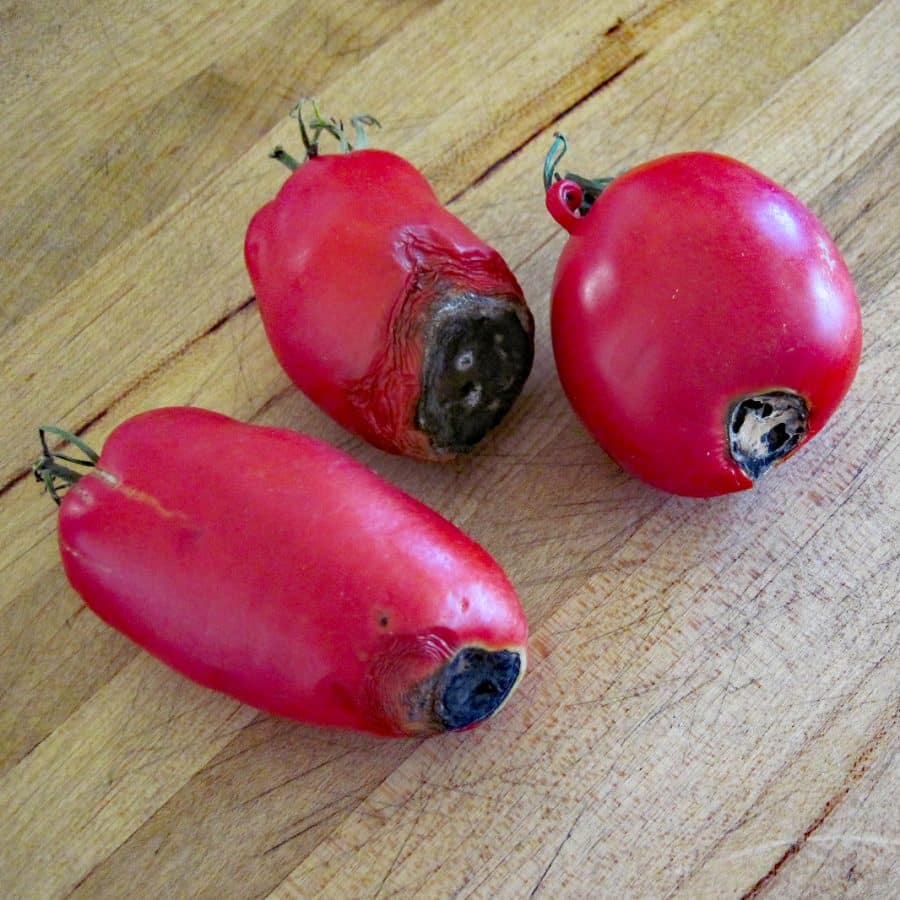 Does Epsom Salt Help Blossom End Rot?
Although commonly recommended as a "cure-all" for tomato plant, Epsom salt is not a good choice for stopping blossom end rot. It might even make the problem worse.
Epsom salt is magnesium sulfate. It contains no calcium. Magnesium and calcium ions vie for the same spots in the soil and plants, so extra magnesium may make exacerbate a calcium deficiency. It's better to use the options above to make calcium more available.
Note – a little extra magnesium at blossom time can help with fruit set. Just don't go overboard.
Can overwatering cause blossom end rot?
You betcha. Either too much water or not enough water (or rapid swings between the two conditions) can trigger BER. Use the methods listed above to help maintain even soil moisture.
I'd love to hear your experience with which varieties are more or less prone to be affected by blossom end rot in your area. If I missed any tips that work for you, or if you have any questions, please share those, too.
More Tomato Growing Tips
You may also enjoy: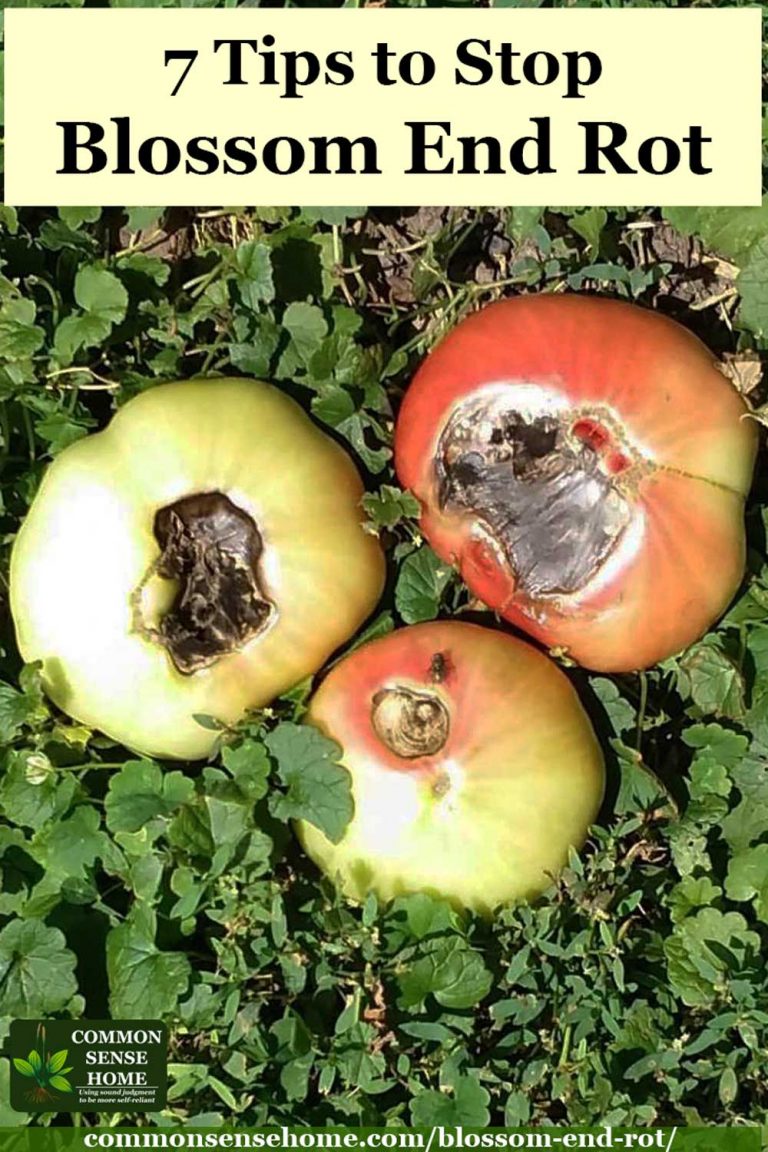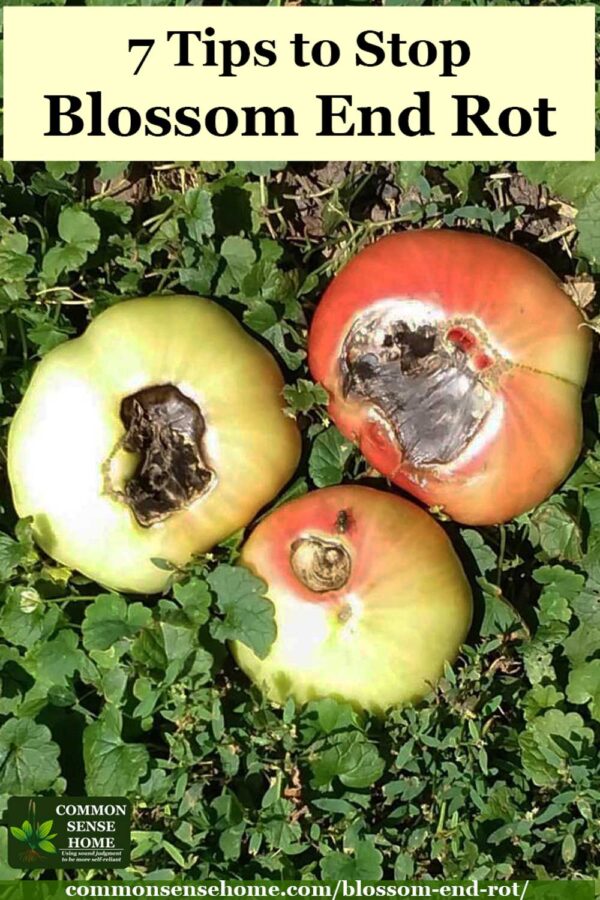 Originally published in 2016, last updated in 2019.